It's no secret that Colorado is host to some of the West's best camping: from Rocky Mountain National Park to the southern San Juans, the mountain views are seemingly endless—though many of these areas fill up fast and require reservations and site fees.
If you're camping on a budget, or simply prefer to not worry about reserving campsites, there's plenty of free camping in Colorado to be found. Venture outside of national and state park boundaries, and you'll find campsites on National Forest or BLM land that have equally stunning Rocky Mountain views and often more seclusion. So pull out a map or drive down a dirt road to see what you find.
How and Where to Find Free Camping in Colorado
Free camping in Colorado can be easy to find—if you know where to look. Sometimes it's as simple as glancing at a map or atlas to find a spot. Sometimes it requires driving down a promising dirt road until you reach a scenic pull-out with a perfect space for your tent. You may have to work a little harder to find free camping in Colorado, and you won't get the amenities of a paid campsite, but beating the crowds and finding your own little slice of Colorado wilderness is totally worth it. For last-minute camping, you can use The Dyrt PRO's Offline Maps and Map Layers to find free camping near you. These features will show you public lands where you can camp for free whether or not you have service or wifi!
Pro Tips for Discovering Free Camping in Colorado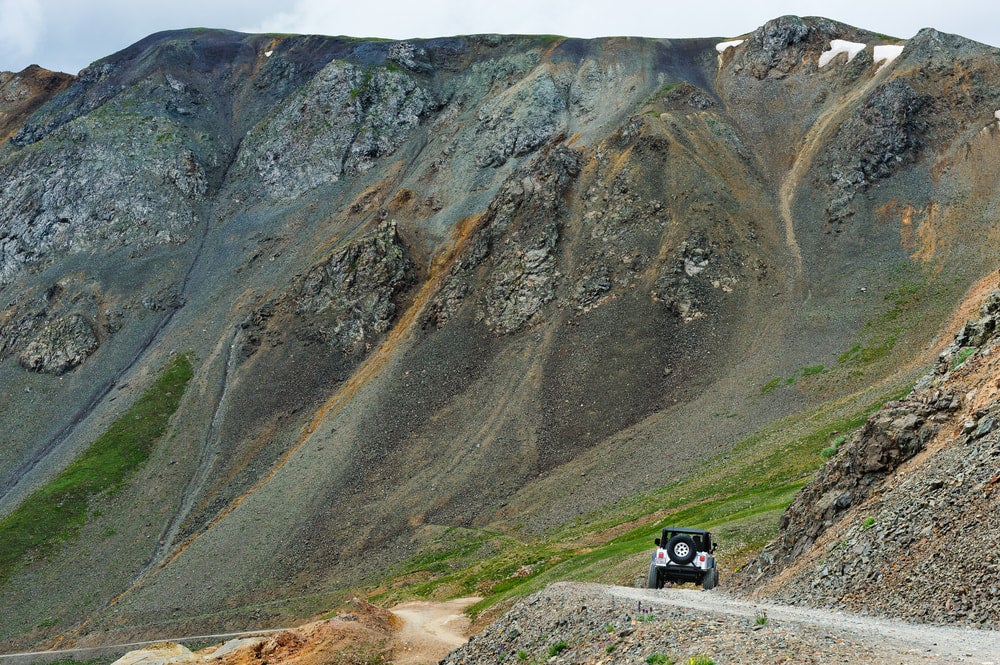 Some of the best areas to find free camping in Colorado are on National Forest or BLM land. Unless otherwise noted, camping in national forests is free, anywhere in the country. Colorado is home to 11 national forests, covering 14.5 million acres.
Arapahoe National Forest land lies on the outskirts of small mountain towns near the Front Range, like Idaho Springs. White River National Forest can be easily accessed from the Vail Valley and Summit County. National Forest land is abundant in the southern part of the state as well. You'll have a good chance of finding primitive camping areas that aren't just free, but well worth pulling out the camera for, too. You can't stay all summer (there's a 14-day limit), but you'll probably want to.
Wilderness areas in Colorado—like Mount Zirkel, Mount Evans, or Weminuche—also often have great free camping, but remember that these spaces have more regulations than National Forest or BLM land. For example, pets must be leashed in wilderness areas. USGS maps and the National Geographic Adventure Edition Road Atlas offer great resources for scouting camping spots as well. But sometimes you'll find the best camping spot by simply driving down a dirt road and finding out where you end up! If you're in a pinch you can use the offline maps and campgrounds of The Dyrt PRO to find free Colorado camping near you.
There are typically no permits or fees required for camping in these areas. Just be sure to do a bit of research on specific areas before your trip. If you're not sure about regulations in a specific area, call the local ranger station to clarify.
Perhaps the most important factor to remember when dispersed camping (or any camping or outdoor activity, for that matter) is to practice LNT ethics. This means camping at least 200 feet from lakes and streams, packing out all trash and doing your best to leave everything just as you found it. If you're not camping at an established campground, it's even more important to take responsibility of your waste; bring wag bags or bury your human waste, and be prepared to carry out everything you carry in.
Be sure to take note of fire restrictions in the areas you camp: Fires are not permitted in wilderness areas, and fire bans are often in place in the hot summer months.
5 Free Designated Campgrounds in Colorado
We can't wander down forest service roads to find all the free camping for you—that's half the fun. But if you're looking to camp at a free established campground in Colorado, here are five that campers on The Dyrt love:
When most people think of Aspen, they think of bougie skiing and fancy hotels. That's not the case with Portal Campground — and we mean that in the best way possible. You won't find much of anything free within the limits of this resort town, but make your way down the road toward Independence Pass and you'll score a camping spot that beats any ski town hotel. Nestled among tall pines and surrounded by a mountain paradise, you'll have easy access to hiking, fishing and biking right from your tent door.
It's worth noting that this particular campground is small, so opt for weekday stays if you can, or get there early to snag a spot. And, be sure to bring a vehicle that's capable of negotiating tricky dirt roads.
"This campground is located way out in the wilderness. It has incredible mountain views as well as a view of the close by Grizzly Reservoir. This is a free campground and it has vault toilets. I would love to stay at this campground again. There are also 27 free sites along the road to Portal Campground."—The Dyrt camper Kelly Z.
Great opportunities for free camping in Colorado abound along the southern Rocky Mountains known as the Front Range. Our favorite free camping spot is also surprisingly easy to get to. Head toward the town of Nederland, just north of Boulder, to score a no-fee spot in Gordon Gulch. This area is easily accessed from Boulder and Denver, making it ideal for weekend getaways. There are about 15 designated sites in the area; you'll want to be sure to pitch your tent in one of those spots (and not just anywhere you please). Easy access camping that allows you to feel far away from it all — what could be better than that?
"It wasn't a bad experience by any means. If you can get there early, definitely do so. Not all campgrounds are really that flat but it's free and it's Boulder, CO environment so I can't complain." —The Dyrt camper Elisha E.
---
Find free Colorado campgrounds from your car without WiFi. The Dyrt PRO lets you download maps and campgrounds without cell service. "My alternative to using pro would be to drive back out to cell service."
---
Just north of Silverton you'll find a dirt road (County Road 7) that veers from Highway 550 and brings you deep into a valley with a stream flowing beneath the towering San Juan Mountains. Sound like a nice place to pitch a tent for the night? Good news: You can camp there, and it's free. The road to the camping area is relatively mild for a dirt road, so you can bring your camper along—a rare treat for RVers looking for free camping in Colorado. The area is on national forest land, meaning you can stay for up to 14 days. From here, you're just a short drive to the quirky town of Silverton. Or, you can spend the day exploring the surrounding mountains via hiking trails or gnarly dirt roads.
While you're perched here, be sure to keep fire regulations in mind. Fires are allowed on national forest land, but fire bans are often in effect during peak summer months. And while there aren't modern amenities here, you've got a stream nearby to gather and filter water and plenty of big mountain views to take in.
"This is dry camping with a vault toilet- no hook ups. This is popular with RV'ers and OHV'ers as it is free. The limit is the usual fourteen days. Some "sites" have fire pits, and there are a few picnic tables scattered about. There are a few sites right on the water."—The Dyrt camper Annie C.
On the other side of the San Juans, Alta Lakes is a primitive campground just outside Telluride. There are about 20 dispersed sites in the area, but it's popular, so get there early to snag a spot. From the Alta Lakes area, you'll have impressive views of the San Juan Mountains and access to prime fishing in turquoise alpine lakes. You'd be hard pressed to find better free camping in Colorado. One thing: The road to Alta Lakes is hairy, so you're not likely to make it up with an RV or trailer.
Also, because you're so close to the lakes in the area, remember to practice Leave No Trace and set camp at least 200 feet away from the water.
"There are 16 sites, rock fire pits, need a high clearance vehicle to reach the sites. Small trailers can reach half of the sites as long as you have someone directing you! Beautiful views. Telluride ski mountain is just behind this campground and for a long hike you could hike down to mountain village about 5 miles away." —The Dyrt camper Maggie S.
Situated beneath Horseshoe Basin, the Peru Creek Road area offers primitive camping with big mountains (like 14,000-foot Greys Peak) surrounding you on all sides. You'll be pitching your tent just below treeline, with easy access to high alpine views. That also means it will be cool or cold at night, even in the mid-summer months, so bring plenty of layers. But it'll be worth the chilly nights to wake up to the sunrise high in the mountains. Spend your days exploring the trails around Horseshoe Basin, check out old mining remnants from a past era, or lace up your boots to summit one of the surrounding peaks. Whatever you choose, the Peru Creek area offers classic Colorado camping — no fees or reservations required.
"Great basecamp for adventures. We accessed further down the road with our mountain bikes. Once camping area had a picnic table, most others were typical dispersed camping. There is a super cool mine in the area that you can explore!"—The Dyrt camper Leah W.
---
Related Articles:
---
Related Campgrounds:
Popular Articles:
---

---