This article about glamping in Northern California was brought to you by GCI Outdoor. GCI Outdoor makes comfortable and well-designed camping chairs for all of your glamping adventures.
---
Northern California is a hot spot for outdoor enthusiasts. Within its boundaries are incredibly scenic areas including the northern Sierras, Lassen Volcanic National Park, and thousands of acres of national forest and national park land. Unsurprisingly, many locals and people from abroad visit these public lands every year. Some look for wild adventures in the backcountry, but others want an experience with nature that feels closer to home.
Glamping means that campers have access to many of the amenities they would at home and sometimes even resort-like services as well. Many campers consider camping in a hut, yurt, or RV as glamping. Check out these glamping spots for a comfortable stay while camping in Northern California.
Don't Miss These Northern California Glamping Spots
These spots cover Northern California territory that is highly sought after by visitors.
Burney Falls campground is located in the Shasta Trinity National Forest and the McArthur Burney Falls Memorial State Park. The park is the second oldest in the state park system and is primarily known for Burney Falls located near the entrance of the park. The falls are spectacular and are often noted for their underwater springs that make way for hanging gardens and multiple miniature waterfalls. The park hosts ample activities including hiking, fishing horseback riding, and water sports. The Pacific Crest Trail runs through the park, and visitors often make it a point to hike a small portion of it in a day.
Visitors can enjoy a glamping experience at the Burney Falls Campground. In addition to tent sites, the campground hosts RV sites, yurts, tent cabins, and even cabins. The base cost for camping is $30 per night (includes 1 vehicle), but note the cost may increase depending on site type. This is a drive-in campground that provides electric hookups, picnic tables, a market, sewer hookups, showers, toilets, and water hookups. Note that WIFI connection is not provided.
The state park system warns that "McArthur Burney Falls State Park experiences very high visitation beginning in April and continuing through October. On holidays and all summer weekends, the park will fill to capacity and the entrance will be closed." So, be sure to reserve your site early.
"The waterfalls are breathtaking, the lake is refreshing and the campground itself is relaxing and peaceful. The sites aren't super cramped, there is a general store, clean facilities, and even cool cabins if that's your thing." — The Dyrt camper Jen T.
This Northern California glamping spot is located in Lassen Volcanic National Park. It is the largest campground in the park. Visitors have plenty of hiking opportunities and see what Lassen Volcanic National Park is most renowned for: its hydrothermal areas.
The Manzanita Lake Campground includes glamping opportunities like RV camping, yurts, tent cabins, and cabins. The base-cost of camping is $26 dollars per night, but this will increase depending on the style of glamping. The grounds include sanitary dumps, toilets, showers, a market, picnic tables, and allow pets.
"We love this campground for all of its extras while still feeling like you are in the wilderness. The campground has cabins, as well as tent and trailer spots. If you forget something, there is a small store known for its soft-serve ice cream. You can rent kayaks and stand up paddleboards. Each site has a bear box which is great for keeping the chipmunks out of your food." — The Dyrt camper Jennifer O.
Kamp Klamath is renowned for being a one-mile hike away from the pacific ocean and a reasonable driving distance from Redwood National and State Parks. Another key feature that brings campers in is the salmon run that takes place at the Klamath River in late summer.
The campground is very inviting and homely, offering salmon barbecues and live music on the weekends during the summer months. For glampers, the grounds offer RV sites and tent cabins. It's a great option for glamping in Northern California. Amenities include a market, showers, water hookups, sewer hookups, toilets, and WIFI.
"We have stayed at Kamp Klamath a couple times. We go over for the Salmon run in August / September. The staff here is always friendly and accommodating. We typically stay in the meadow, however there are more improved RV campsites near the road." — The Dyrt camper Tammy H.
---
This article was brought to you by GCI Outdoor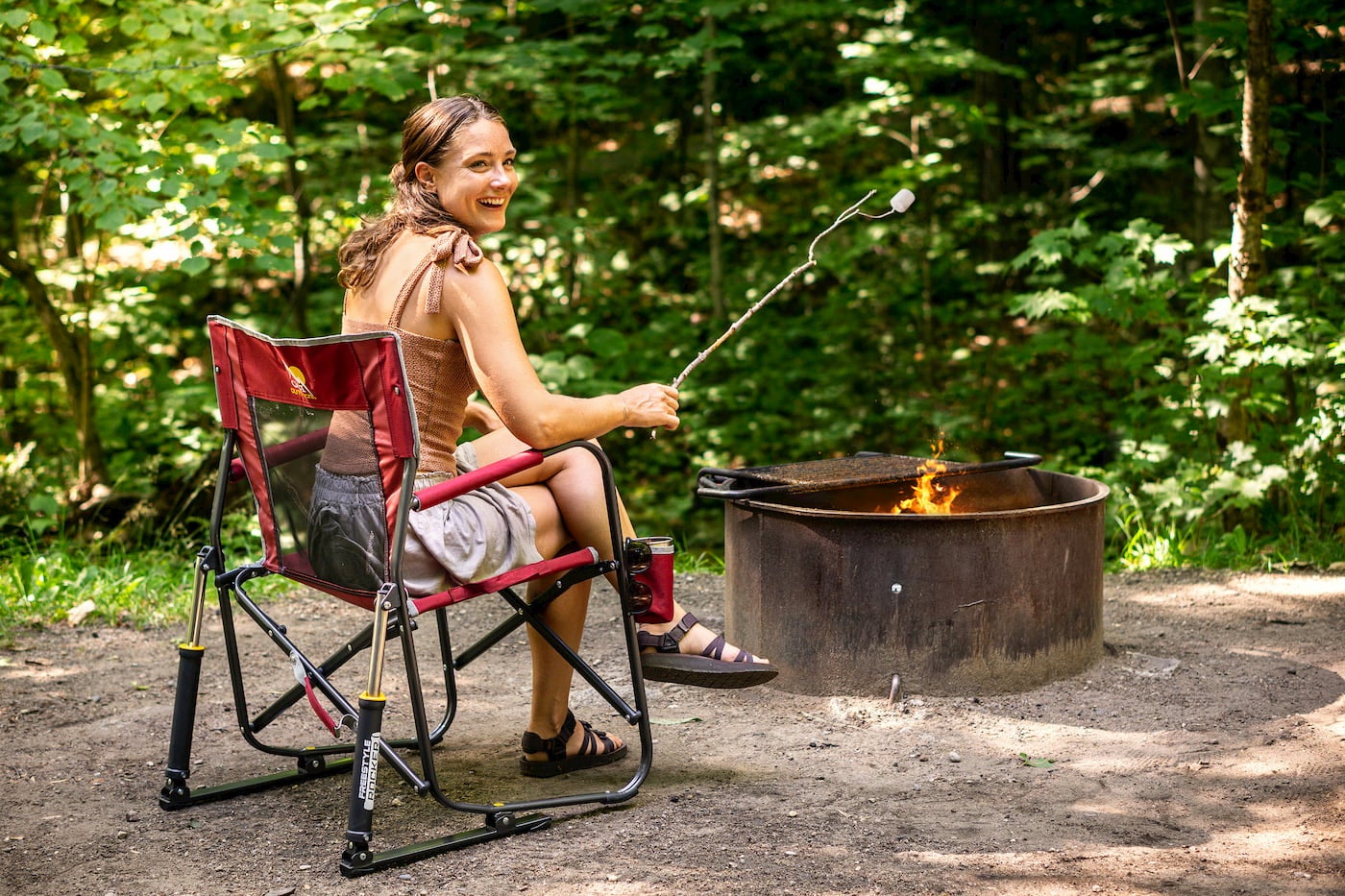 GCI Outdoor makes an outdoor recliner chair that is perfect for your Northern California glamping trips
Popular Articles: