This article is brought to you by Tentrr. Visitors to Colorado's Front Range can spend the day exploring, then spend the night at one of the great Tentrr site options nearby, for a truly unique evening of camping or glamping in Colorado.
---
Whether you'd rather climb to the highest peaks or you watch elk in the valleys, the Front Range of Colorado has something to offer every adventurer. Rich in human history stretching back for thousands of years, it's easy to see why people have been drawn to these mountains for generations. Pack your bags, book your campsite, and get ready to experience the magic of the Front Range.
The Front Range of Colorado boasts many of the state's most popular adventure destinations and some of the most rugged mountain peaks in the country. This southern section of the Rocky Mountains has a colorful past of human migration, habitation, and, of course, thrill-seeking and recreation.
Colorado's Front Range isn't just the historic home of the gold rush. It is also rich in history that stretches back for millennia, just waiting to be explored.
The Highlights of The Front Range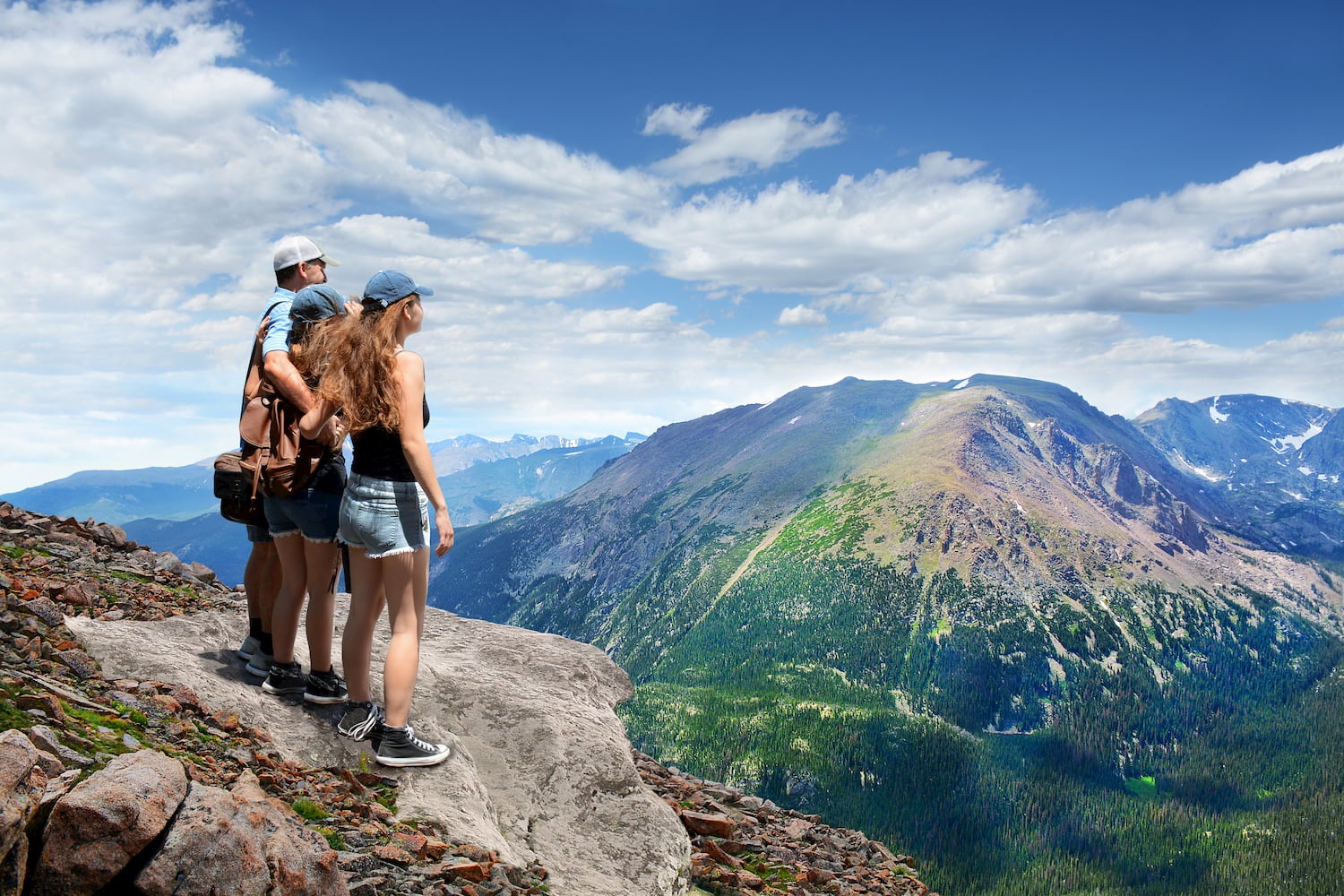 For those who are unfamiliar with Colorado's Front Range, there are a few key features to jot down on your adventure checklist.
Pikes Peak
Located in the southeastern corner of Pike National Forest and on the western edge of the Great Plains, Pikes Peak ranks 32nd in elevation among Colorado's peaks. At 14,155 ft (4,302 m) above sea level, this stunning peak is home to bike races, ancient history, and is known for its accessibility by car.
Rocky Mountain National Park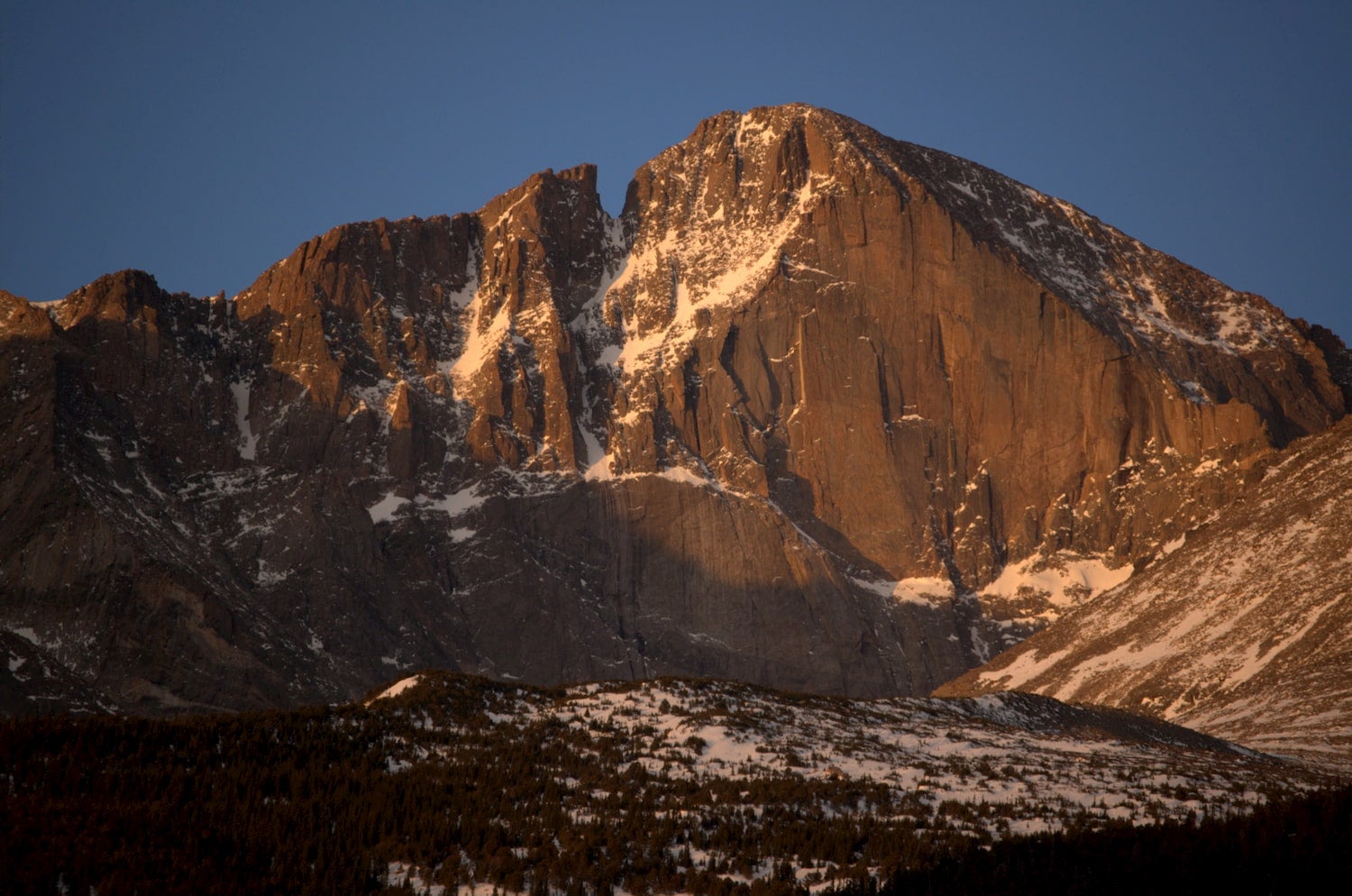 Located further north in the state, Rocky Mountain National Park is home to many of the northern Front Range peaks, including Longs Peak.
At an elevation of 14,259 ft (4,346 m), Longs Peak is the northernmost "fourteener" in the state. Several hiking trails lead to the summit. The mountain is also prized for its rock climbing, ice climbing, and big wall aid routes. Rock and ice climbs are in the intermediate to advanced categories, with big wall climbs suitable for multiple-day adventures.
Stunning nearby campgrounds include Glacier Basin Campground and Moraine Park Campground. Both boast impressive views and easy access to everything this famous national park has to offer: climbing, hiking, mountaineering, wildlife viewing, horseback riding, and mountain biking.
This Northern Colorado town is the base for Rocky Mountain National Park and is home to countless wildlife viewing opportunities. Visit this town, and you may encounter elk and bear on the drive in. Plus, there are miles of trails to enjoy.
The Geography of Colorado's Front Range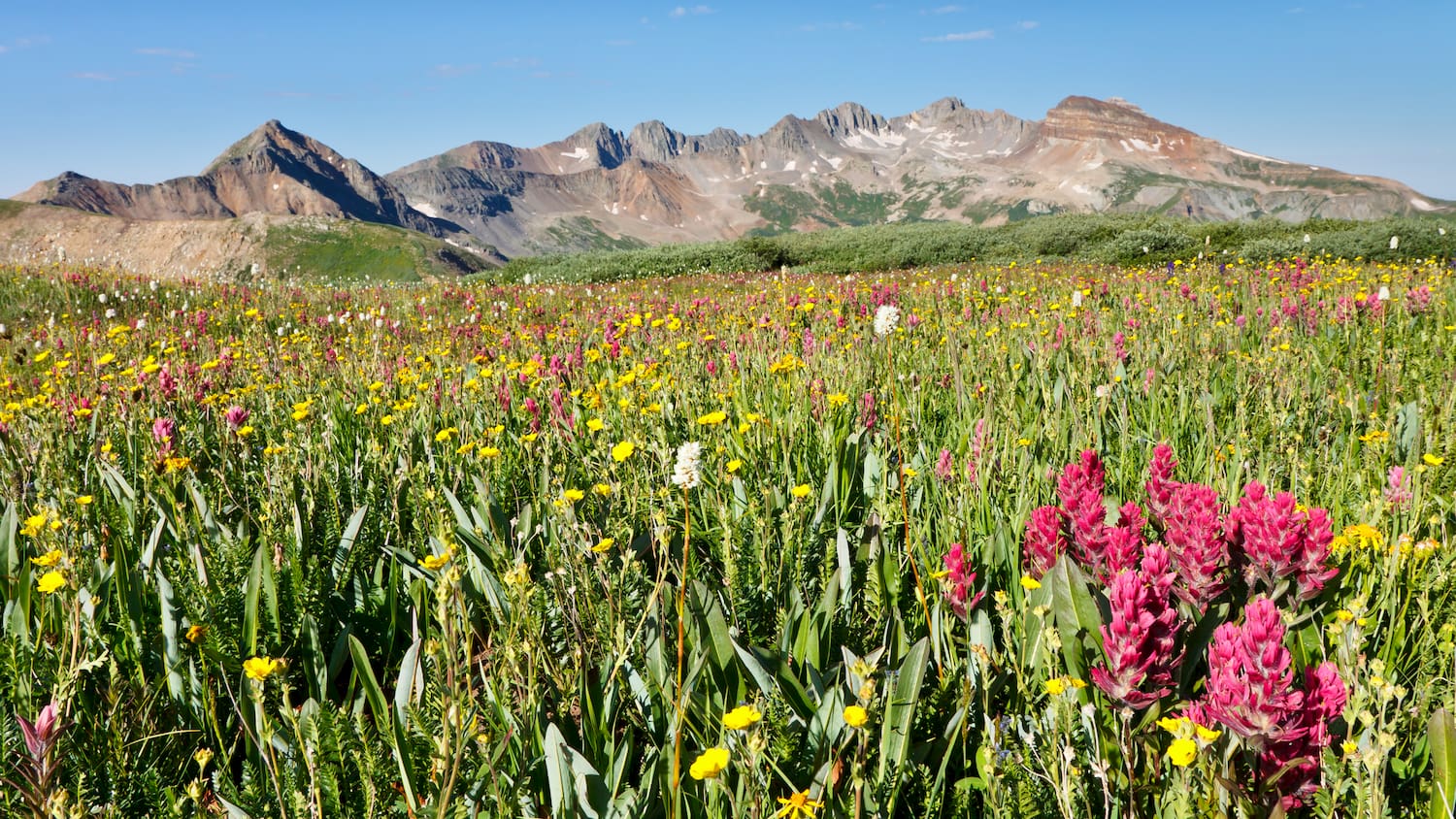 The Front Range of Colorado contains geography more complex than many people realize. Covering over 9,982 square miles and stretching from Wyoming to the Arkansas River, its vast expanse houses the tallest peaks in the lower 48 states.
The Front Range is a playground for mountain lovers of all levels and abilities. Many impressive summits exceed 13,000 feet in elevation. The eastern border of the Front Range is hard to say, precisely, where it begins and ends. That's because it borders the western edge of the Great Plains and consists of rugged foothills that gradually give way to Colorado's famous peaks.
In the west, the border is much more dramatic and clearly defined. Multiple famous sub-ranges, such as the Medicine Bow Mountains, Rampart Range, Laramie Mountains, Pikes Peak, Tarryall Mountains, Kenosha Mountains, Mummy Range, and Indian Peaks, all comprise sections of the Front Range's western border.
Guanella Pass camping provides visitors with a place to stay in the center of the state. This location grants intrepid climbers and mountaineers access to Mount Bierstadt, Grey Wolf Mountain, and the western face of Mount Evans.
These towering peaks and stunning mountain ranges and sub-ranges pose endless opportunities for exploration. Parks like Golden Gate Canyon State Park provide adventure hubs for climbers, mountain bikers, and hikers that are as rich in history as they are in exploratory potential.
Human History in the Front Range of Colorado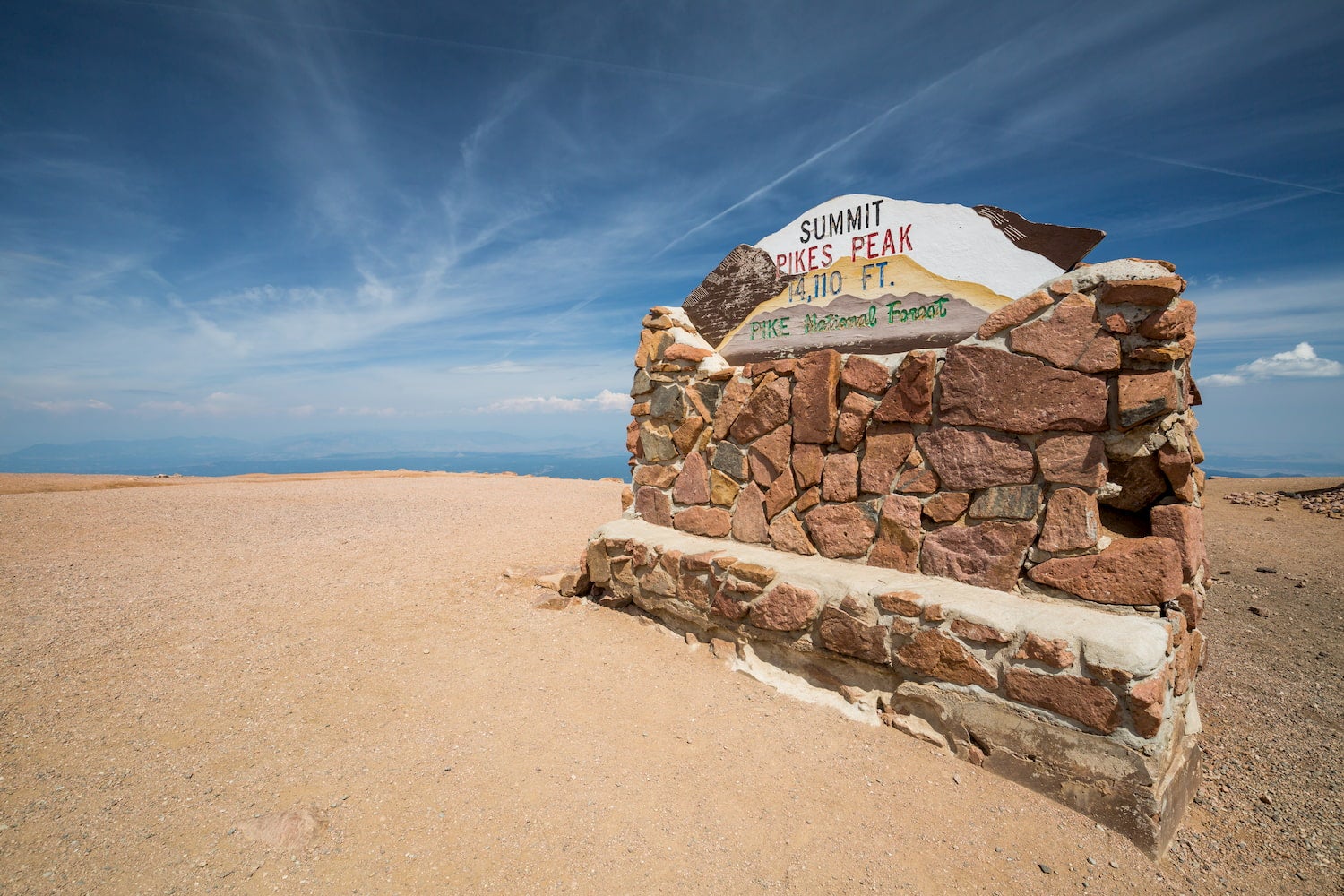 Archaeological evidence indicates that humans have inhabited Colorado's Front Range since approximately 12,300 years ago. The eastern slopes of Pikes Peak show evidence of human habitation stretching back 5,000 years, including archaeological finds of stone tools, bone needles, and red ochre paint.
More recently, the Ute Nation called the Front Range home for about 500 years, moving between valleys and mountain-sides to hunt, gather, and engage in extensive trade networks.
After the Cheyenne and Arapaho were pushed out of their ancestral land further east, they joined the Ute in the Front Range. While this sparked fierce competition for resources, all these groups shared a deep reverence for the Front Range's mountains.
American explorers at the start of the 1800s, including Major Steven Long and Lieutenant Zebulon Pike, considered the Front Range part of the Great American Desert and, therefore, unusable for traditional agrarian purposes.
After the Gold Rush came and went from Pikes Peak Country, Katherine Lee Bates wrote "America The Beautiful" from the top of Pikes Peak in 1893. This happened just as the industry and manufacturing moved into more of Colorado's towns and cities. This classic American song hinted at the change in attitude toward these magnificent peaks, and in the decades since, Colorado has experienced tremendous growth.
Outdoor Adventure in the Front Range
Climbing, hiking, alpinism, ice climbing, and big wall aid climbing are all exceptionally popular in this region. It's also a paradise for hikers, mountain bikers, and backcountry skiers and snowboarders.
However, it's not just for die-hards—The Front Range welcomes visitors to the top of Pike's Peak by car. Colorado's many Rocky Mountain campgrounds offer adventurers of varying ability levels chances to bask in the peaks' beauty. It's definitely a highly-recommended trip for any outdoor lover.
---
This article was brought to you by Tentrr.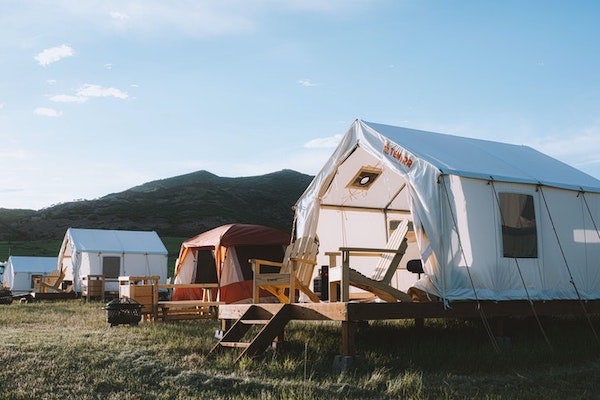 Tentrr campsites can be found across the US. If you're searching for private campgrounds, glamping in New York, or just tent camping near me — Tentrr has it all.
Popular Articles: