Being an east coaster myself, I thought I'd share some of the best spots to go camping in New England. I grew up the child of two West Point Army officers, so camping and self-sufficiency in the wild have been with me since I can remember. I don't want to over-glamorize… I didn't grow up making fires by hand or even camping every weekend. I stopped Boy Scouts at Tenderfoot. But I learned the art of appreciating outdoors activities like camping and hiking in states across the northeast.
If you're ready to tackle camping in New England – and its neighboring states, you'll want to check out these 9 popular campgrounds along the way:
For everything sand and sea, Connecticut's Rocky Neck State Park provides a top notch camping experience.
With 160 campsites, Rocky Neck is definitely one of the bigger campgrounds on this list. But it doesn't feel too cramped, and the nature here is nothing short of breathtaking.
The park itself is huge, with over 700 acres of land and more than half a mile of beachfront. In addition to the beach there are forested trails and a salt marsh. Between the salt marsh, oceanfront, and forest, birdwatchers and fishers are busy in Rocky Neck.
The one downside of Rocky Neck is the distance from the parking lot to your car. If you're not prepared to carry your camping gear, you'll have to make a couple trips from your car to the campsite. This is by no means a deal breaker, but it can be a pain point for families with a lot of gear and kids to keep track of.
In all, Rocky Neck is everything you'd expect from camping in New England. Quaint sand beaches, rich wildlife, and incredible views.
Delaware's coast is a gem of the east, and Delaware Seashore State Park stands out for its access to the seaside.
We can all agree that camping is great, but camping on the ocean is its own special breed of camping in New England. There's something about a salty sunrise swim and breeze-blown campfire that make it easy to cherish your time outdoors.
Camping is available for both tents and RV cars/vans. It's important to realize, too, that when you camp at Delaware Seashore State Park, you're on the seashore. The seagulls are present and can be loud. If you're a light sleeper, they might wake you up just in time for the sunrise.
---
Prepare for your next adventure by downloading maps. The Dyrt PRO lets you download maps and campgrounds without cell service. "My alternative to using pro would be to drive back out to cell service".
---
When you think camping in Maine, you think of Acadia. And for good reason–it is one of the most spectacular parks in the contiguous US.
Camping in Acadia, you have a couple campsites to choose from. Seawall Campground is one of the best.
Seawall Campground gets less traffic than other Acadia campgrounds and tends to be more quiet. From your campsite, you're able to walk to the beach in a matter of minutes.
Activities abound in Acadia. From exploring the coast to boating to mountain hikes, you'll have a full agenda.
Ever camp with wild horses? Maybe in the southwest, but probably not in Maryland. But that's exactly what you can do at Assateague Island National Seashore.
Assateague is an island, of which the park occupies about half. With over 40,000 acres to explore, it is a sort of camping oasis on the east coast.
The sites at Assateague are your traditional campsites: plots of land. Picnic tables and fire pits are the only indication that this is a dedicated campground. To a camping purist, Assateague is heaven.
The only downside with this seaside location is the mosquitos. If you go in the summer, you're going to have to fend them off. Bug spray and making sure to close your tent are recommended.
New Hampshire's white pine forests provide some of the best summer experiences while camping in New England. White Lake State Park is a great place to enjoy the nature New Hampshire has to offer.
From the park you have access to White Lake, a view of Mount Chocorua (which is a great 10 mile hike), and forested serenity that rivals some of the country's great state parks.
Summer weekends can see high levels of traffic as people flock to White Lake for its large beach. You can enjoy White Lake as a camper or as part of a day trip, which means there is an influx of people into the park during the day. Things tend quiet down at night.
There's something special about seeing the ebb and flow of people coming to appreciate nature, and camping at White Lake lets you do that. Hikes, fishing, swimming–you can do it all from your tent. It doesn't get much better.
Round Valley Recreation Area is something you would expect from the boundary waters in the midwest, but wouldn't expect to find in New Jersey.
It's a hike-in or canoe-in camping spot, which makes it less traveled than more convenient car or roadside camping options. But there are few things that compare with the experience of packing all your gear into a canoe and paddling down a river to your site for the night.
And once your tent is set up, exploring is a tent flap away.
Round Valley Recreation Area is a great way to get solitude and seclusion, and it is close to Philadelphia and New York City. Given that you have to hike-in or canoe-in, this might not be the best site for small children, although it would be a great experience for families.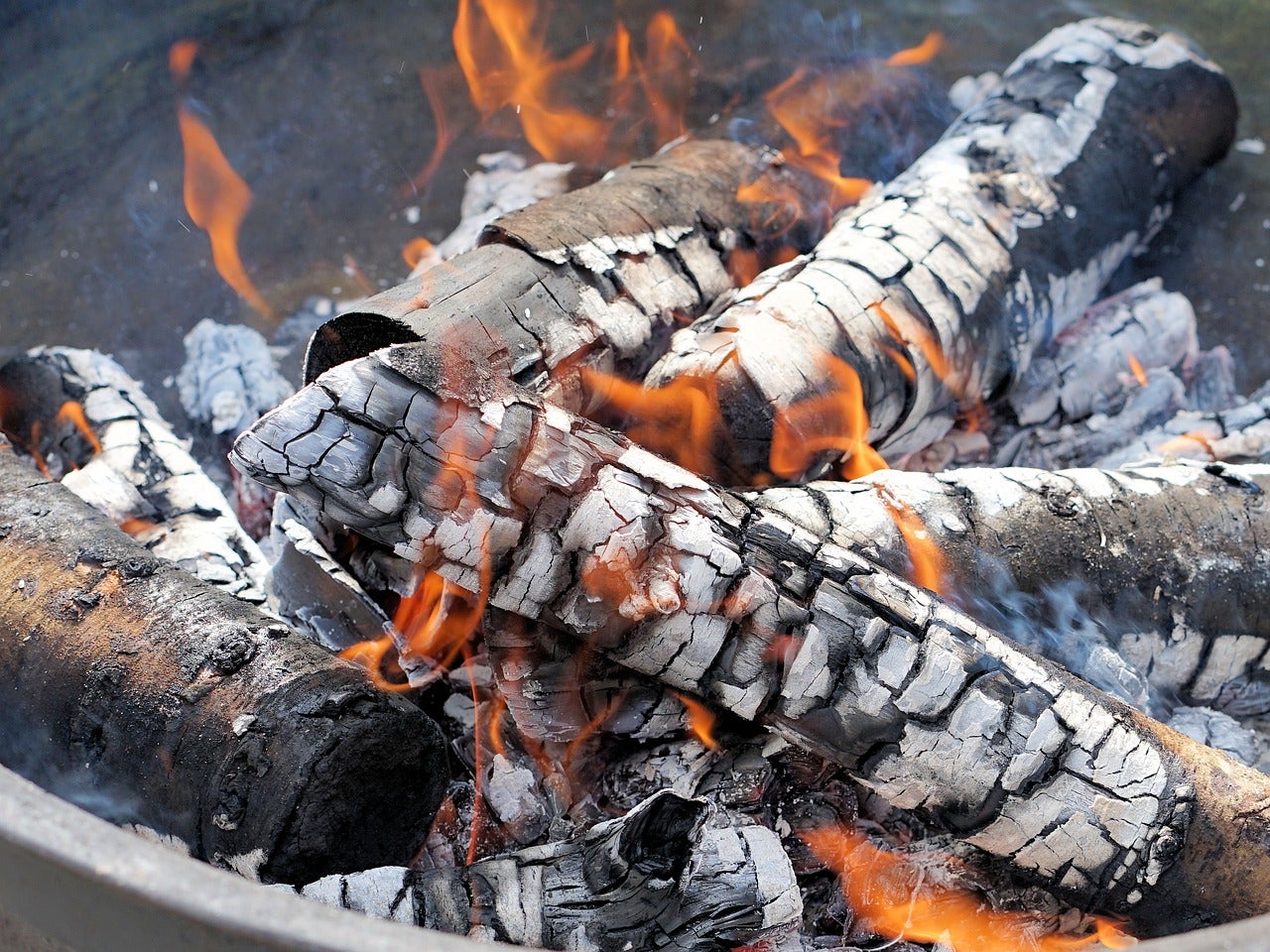 Sachuest Beach is everything you could hope for in a Rhode Island beach.
The beach itself is large enough to not feel crowded, and the area is almost always clean. The ocean has sizable waves that are good for beginner-level surfing, although even advanced surfers would have fun riding them out.
To camp close to such a great beach is what makes Middletown City Campground so good. Unlike other beaches in Rhode Island, Sachuest is not rocky, which makes it perfect for every kind of beach activity: swimming, running, a game of catch (or fetch), the list goes on.
Quick tip: there aren't any trash cans, so be ready to carry your trash out.
Little River is one of many great camping spots in Vermont, but it stands out for its variety of activities.
From your tent you have access to miles of trails and historic self-led nature walks, you can fish and go boating, and you are just 30 miles from Burlington. You can rent boats for the day, which is one of the best ways to get a new perspective of a park.
There tends to be a good amount of traffic at Little River, although that doesn't do anything to take away the park's charm. There are 81 tent or RV sites, 20 lean-tos, and 5 cabins for rent, so you also have a variety in camping options.
For camping in New England with family or friends, Dean Pond is a clear winner.
The pond's swimming area has received a considerable amount of improvement in recent years, with good quality sand and a large portion of the pond available for swimming.
There are occasionally school trips or other group trips that come to Dean Pond and can make it feel crowded, but they are often only day trips. When you camp at Dean Pond, you feel as if you're in a place all to yourself.
The constant access to the pond, its sandy shore, and grassy banks make Dean Pond Recreation Area one of the best sites for tossing a frisbee, having a picnic, or just lounging with some good friends, then huddling around a fire and calling it a night.
---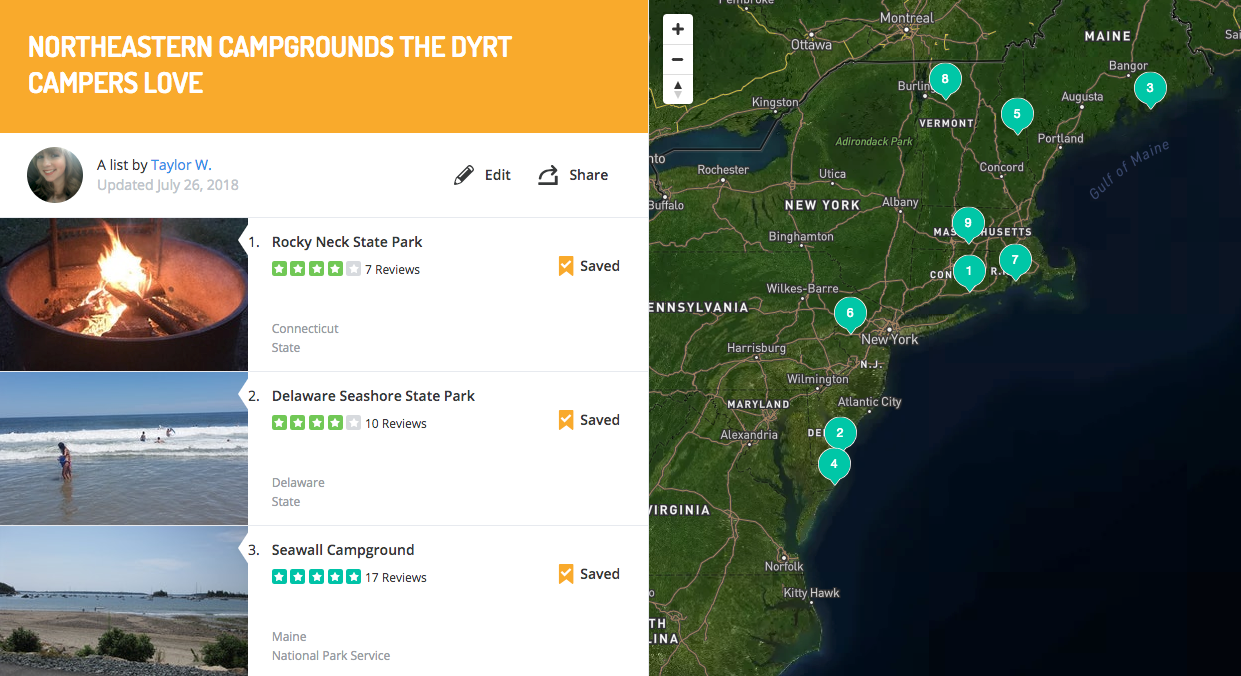 Save this list of popular destinations to find camping in New England today!
---
RELATED CAMPGROUNDS
Popular Articles: