The Dakotas have incredible camping options. Whether you want to find a site on the range where the bison roam, near Mt. Rushmore, in a National Park named after our 26th president (Teddy Roosevelt), or on the water, you're going to find something for you in the Dakotas.
Not sure where to start? We've curated this list of campsites to help get your planning underway.
Where to Go Camping in North Dakota

Go to Theodore Roosevelt National Park and camp at the Cottonwood Campground to experience what North Dakota's nature has to offer. Some of our reviewers have reported bison grazing in the campground just yards away as they were crawling out of their tent in the morning. This park is less-trafficked than the more well-known parks and provides for great opportunities to get away from the crowds.
Located in the northeast part of the state, Turtle River State Park provides families with a multitude of outdoor activities. There are great hiking and biking trails nearby with great fishing along the Turtle River. As you might have guessed, the Turtle River got its name from all the turtles that call the river home.
---
---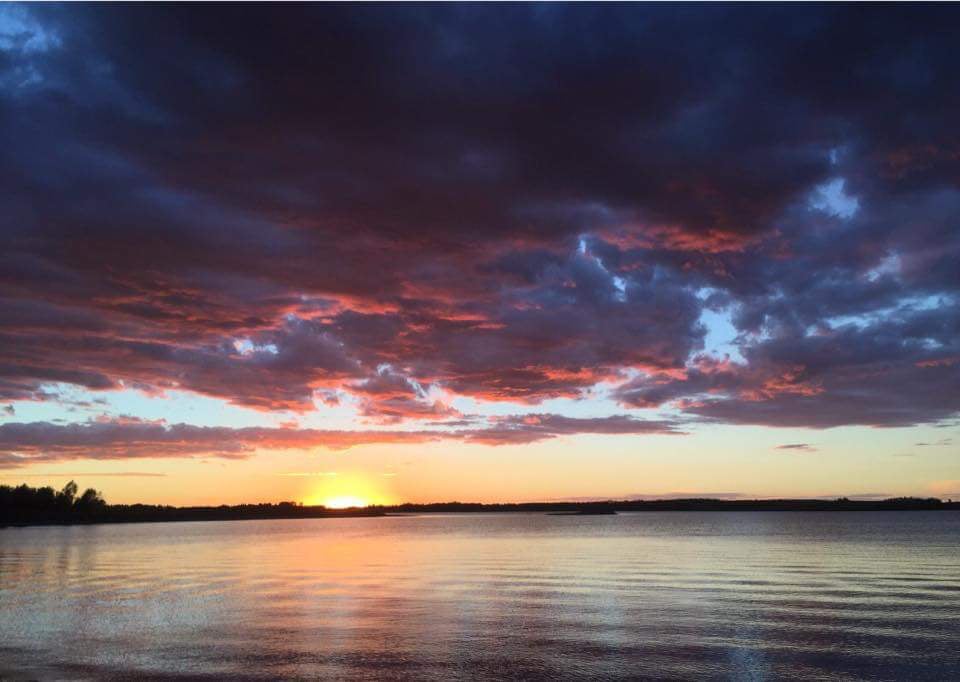 You know it's a great sight when visitors have been camping here for generations. The campsites at Lake Sakakawea State Park are clean and offer a hearty list outdoor recreation activities near your campsite. The lake is a terrific place to go for a swim after a hike on one of the hiking trails. And at the end of the day watch the sun set over the lake as gentle waves lap up on the lake's shore.
Think we missed a spot? Review it on The Dyrt to let us know.
Where to Go Camping in South Dakota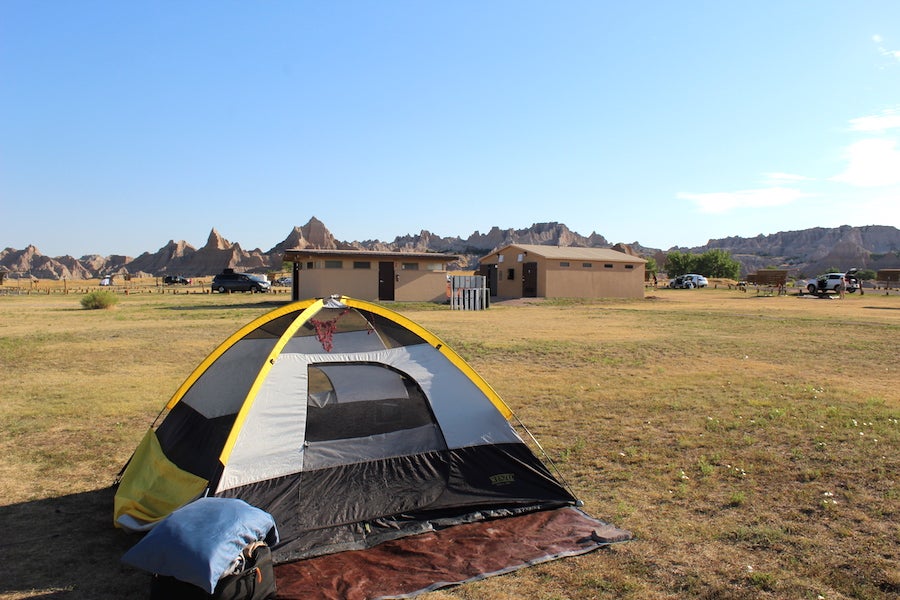 Cedar Pass Campground is a great for wide open views of Badlands National Park. Catching the sunrise over South Dakota's Badlands is something you can't put into words. While the site can be windy, the views and Badlands access make it all worth it.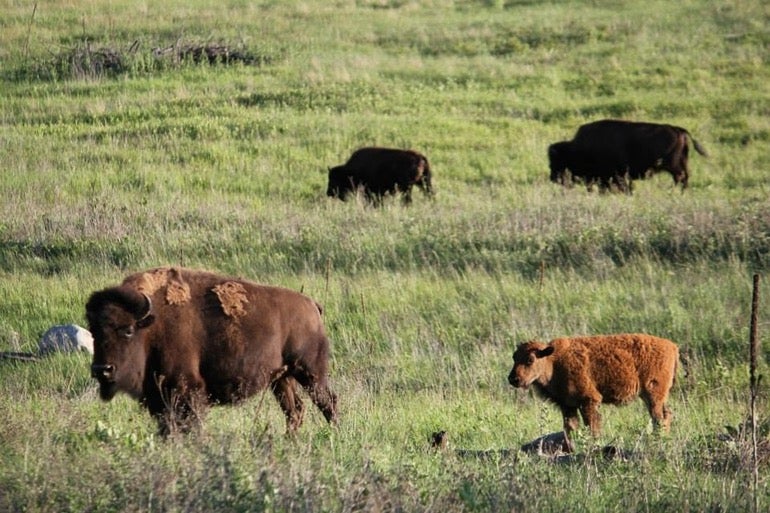 If you want to camp near Mt. Rushmore, go to Blue Bell Campground in Custer State Park. The park and campground can get crowded, but the views of the ponderosa pines and the bison grazing are well worth the trip.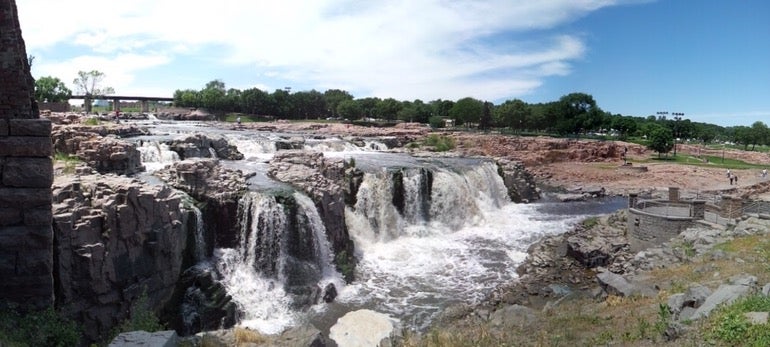 When you find yourself wanting to camp by the river, look no further than Big Sioux State Recreation Area. The Sioux River flows nearby and is a great place to launch a kayak and go for a paddle during the day. The campsite itself has a lot of trees to provide shade, which makes this park ideal for an afternoon nap.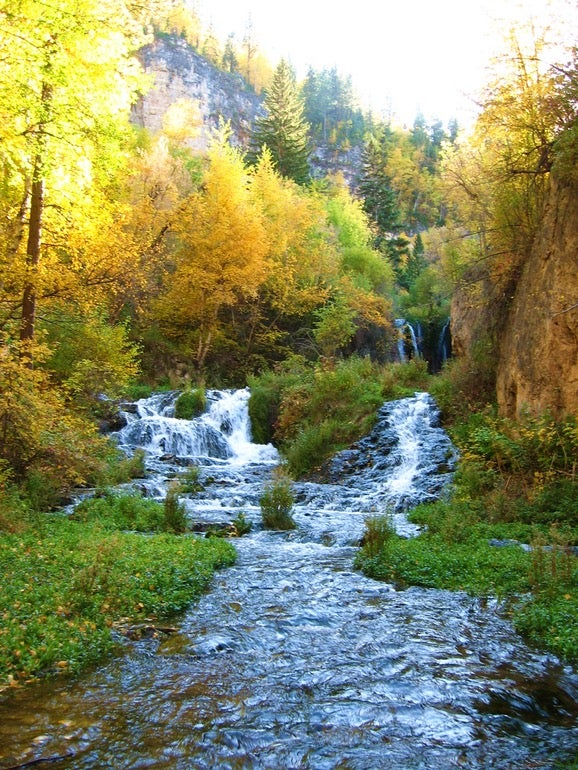 Spearfish Canyon is a hidden gem in South Dakota overshadowed by Mt. Rushmore and Badlands National Park. Spearfish Creek flows right through the campground and it's crystal water is clear. Bring your rod and cast a line.
Think we missed a spot? Review it on The Dyrt to let us know.
As you can see, the Dakotas have some incredible camping options, as does the surrounding region.
Win Gear for Camping in the Dakotas
This summer, just by reviewing campsites in ND, SD, NE, KS, MN, IA, MO on The Dyrt you can win gear from two amazing brands: Klymit and OOFOS.
Klymit has mastered the art of sleeping outside. The next time you're going to #SleepOutside, Klymit is your go-to. Whether it's backpacking or car camping, they're there to help you get the best outdoor sleep you've ever had. Before you head out on your next adventure check out their selection of sleeping bags, pads, seat cushions, and other comfort items.
The original recovery shoe, Oofos is your ideal shoe at the end of a long day. Their patented OO-foam technology is uniquely designed to aid and accelerate recovery, which means you can get back out there even quicker. With less shock hitting your tired feet, legs, and lower back you feel stress relief faster than most performance shoe foams currently on the market.
See the contest here, and remember to always #CampOnDyrt!
Write reviews on The Dyrt, earn points, win prizes. Contests start fresh every month!
---
Related Campgrounds:
Popular Articles: