Dogs are a human's best friend for their unwavering loyalty, up-for-anything spirit, and adoring heart, lack of judgement, and a seemingly endless wealth of empathy. The only fault that a dog has? The fact that they live such a short existence. That's why keeping them safe in the outdoors with a pet first aid kit during any activity will put your mind at ease.
Creating a pet first aid kit is an easy, affordable, and responsible task to undergo before your next hiking or camping trip. Dogs are a hiker's companion, and although trails are mostly safe, there can be unforeseen instances in which a pet first aid kit is key to keeping your beloved pet cared for in emergencies.
9 Items to Keep in Your Pet First Aid Kit
These essentials can be added to your own pack, or they can be made into a carry-pack for your dog to carry on their own. Each item can be found at your local pet supply shop; check with your veterinarian for any additional recommendations or specific information. It also doesn't hurt to go over pet first aid with your vet, and keeping a canine first aid manual in your pack is always welcome in the face of an emergency.
Keep your vet emergency number on hand–written in permanent marker on the inside of the pet first aid kit is a solid option. Otherwise, tags on a collar with specific information (pet name, your phone number) is necessary as well.
1. Muzzle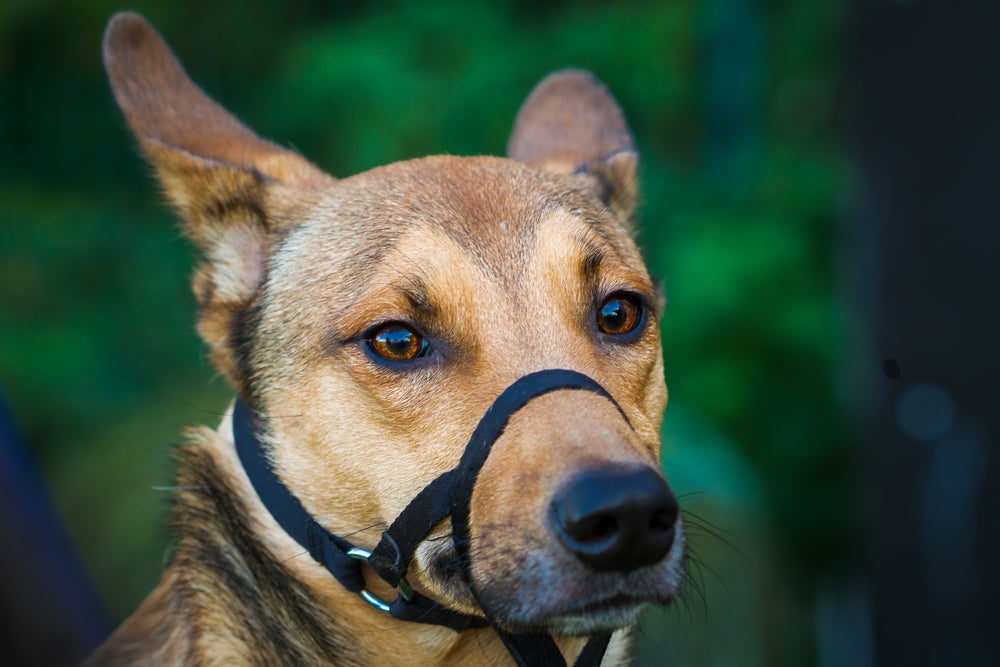 A muzzle is important to keep stocked in your pet first aid kit, regardless of how typically calm your dog is or how well you know them. Even if you have the most chill pup, when an animal is injured they become unpredictable.
Keeping a muzzle on hand will allow you to keep your pup, as well as yourself, safe during any examinations, extractions, or other necessary trail-side procedures.
2. First Aid Gel for Pets
One of the most important items to keep stocked in your pet first aid kit is a first aid gel. Applied to a wound, first aid gel reduces bleeding, helps diminish pain and itching, and forms a protective barrier over wounds, reducing chances of infection.
First aid gel can be used on cuts, injured pads, burns, and tears.
3. Tweezers/Pliers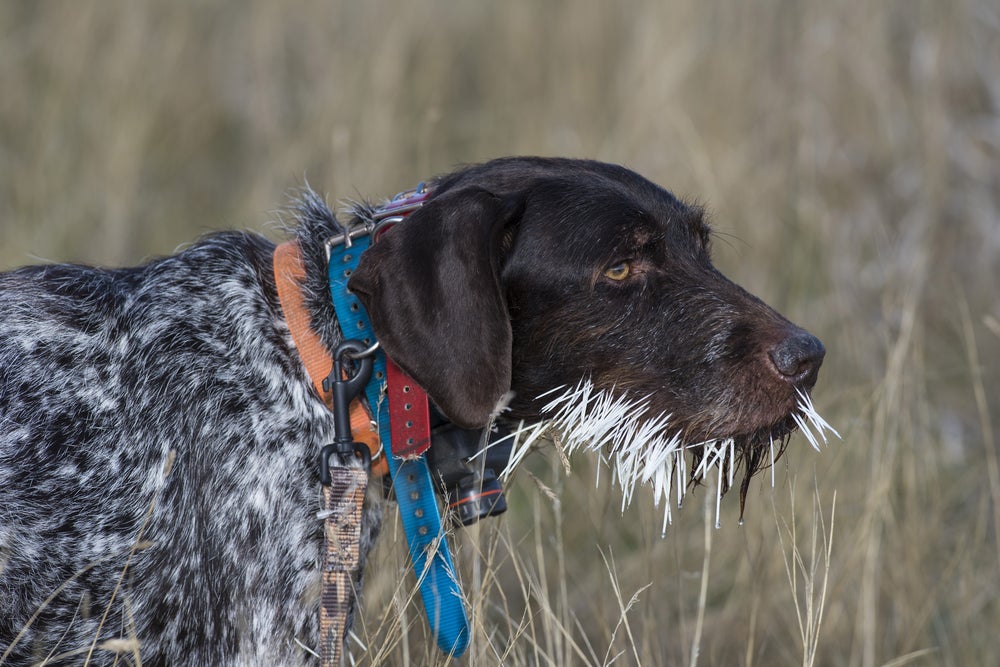 Tweezers and pliers can act as a multitool in the pet first aid kit—they can be used for removing ticks, splinters, or large debris from a cut, even.
I'll never forget when my hound dog came back from a jaunt in the woods…with porcupine quills sticking out of her paws, neck, and face. It wasn't so bad that we had to go to the vet, so my husband quickly, carefully pulled all of the quills from her poor skin with a pair of pliers he just so happened to be carrying with him.
4. Rubbing Alcohol/Antiseptic
Useful for rinsing and cleaning slight wounds, rubbing alcohol or other type of antiseptic is key to keeping in your pet first aid kit. Rubbing alcohol is not recommended for deep wounds or punctures.
5. Ear and Eye Drops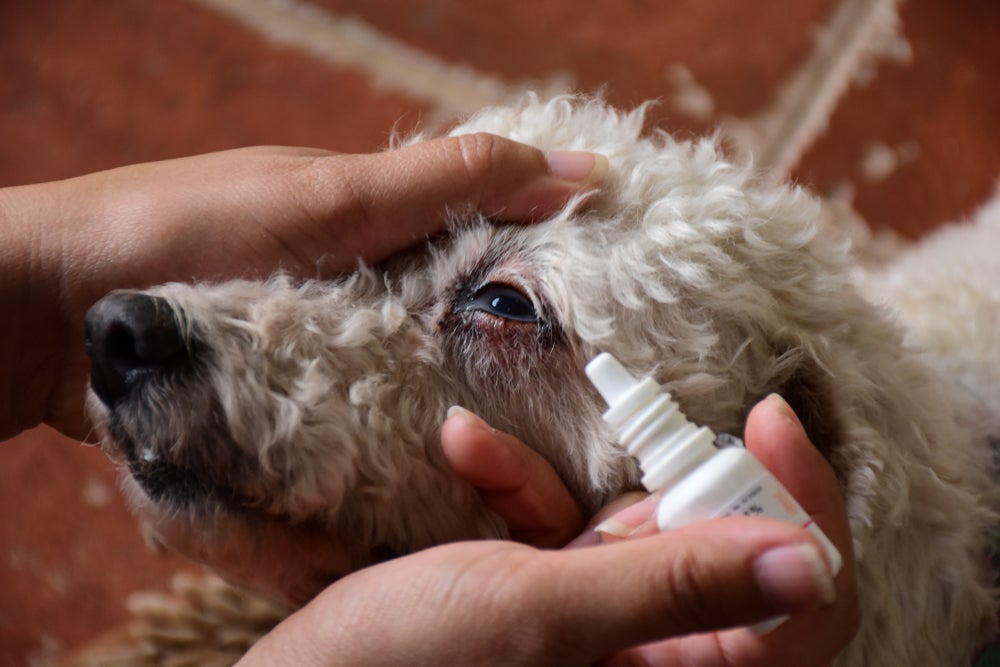 It's pretty easy for dogs to get dirt, sand, insects, or seeds lodged in their eyes, which can in turn irritate and cause pain. Keeping ear and eye rinse on hand helps to keep things clear of infectants.
6. Kwik Stop/Styptic Powder
Kwik Stop Styptic Powder are best for external use on your pets when you need to quickly stop your animal's bleeding. These can be used on broken, bleeding nails or minor cuts.
7. Bandages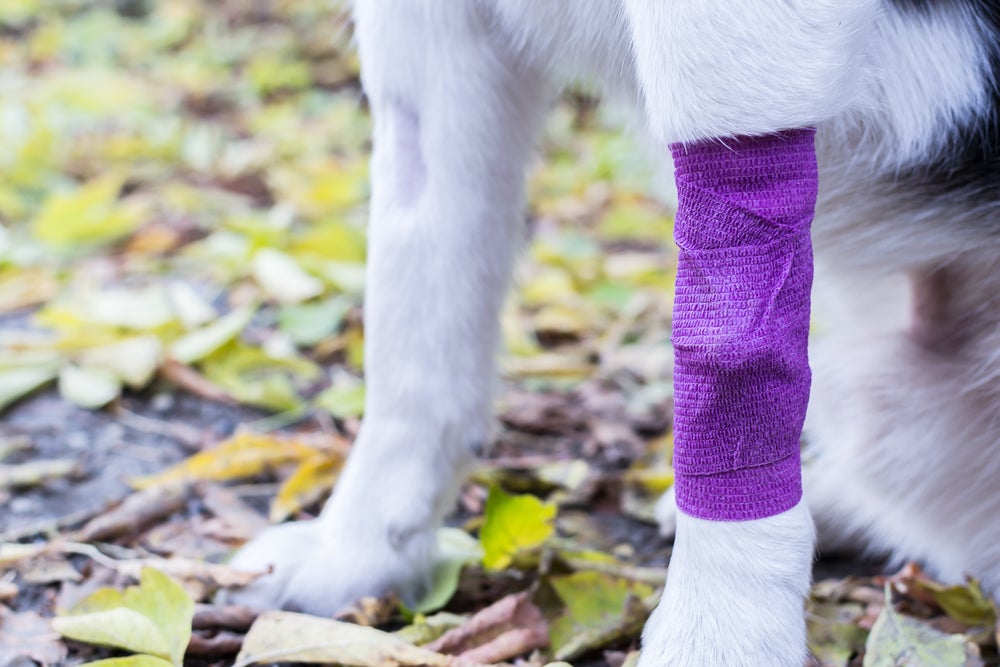 Gauze, vet wrap, waterproof surgical tape, and butterfly bandages are all useful bandages to stock in a pet first aid kit.
If you need to keep your pet's wound clean, a vet wrap is key. It won't stick to the wound nor to their hair, and yet stays wrapped tightly, keeping your dog's wounds protected and lowering their risk of infection.
8. Pet-Friendly CBD Oil & Chews
CBD oils or chews are a hot item in every pet owner's anti-anxiety pet arsenal kit—depending on the legality of them in your state. Research has shown that the extract helps with everything from anxiety to altitude sickness to pain, meaning CBD oil or chews for pets are a safe item for a pet first aid kit.
9. Baking Soda or Salt
If your curious pet has a habit of munching on leaves and mystery items found along the trail, then you shouldn't leave home without a bit of baking soda or salt. Plenty of plants and berries can be extremely toxic to dogs, especially smaller pups. And if your pet feasts on anything dangerous, the key to protecting them lies in a good old fashion stomach pump. But don't freak out! Baking soda or salt can help safely induce vomiting so your trail buddy has a clear their system for the rest of their trek.
Not sure how to make it happen? Mix a teaspoon of baking soda with half a cup of water and present it to your pooch. The reaction won't be immediate, but 10 minutes after they finish drinking, you just might end up in the splash zone. And for dogs who are less inclined to drink on command, simply place a teaspoon of salt on the back of their tongue. This reaction is usually much more immediate, so beware!
---
Our recommendations are based on providing value to campers across the country. Some articles may contain affiliate links. By purchasing through our articles, you help support this camping magazine.
Popular Articles: