This article is brought to you by INNO, whose surfboard rack can hold up to 3 short boards or 2 longboards, and includes a universal mountain system for any vehicle type. It's the only way to go, whether you're river surfing or stand up paddling at your local park.
---
If you live in a landlocked state, you might dream of sandy coastal getaways each summer. Or maybe you'd skip the sand for the rocky shores of Maine or the rugged, chilly coastline of Oregon. If you're a sun-tanned surfing machine, your summer plans might look like Maui, Venice Beach, or San Diego.
Of course, landlocked states offer plenty of water fun on their lakes and rivers in the form of boating, tubing, fishing, and swimming. But surfing? Turns out, you can do that, too. Why not skip the plane ride to California, and try a river surfing excursion instead?
Here's How You Can Hit the Waves with River Surfing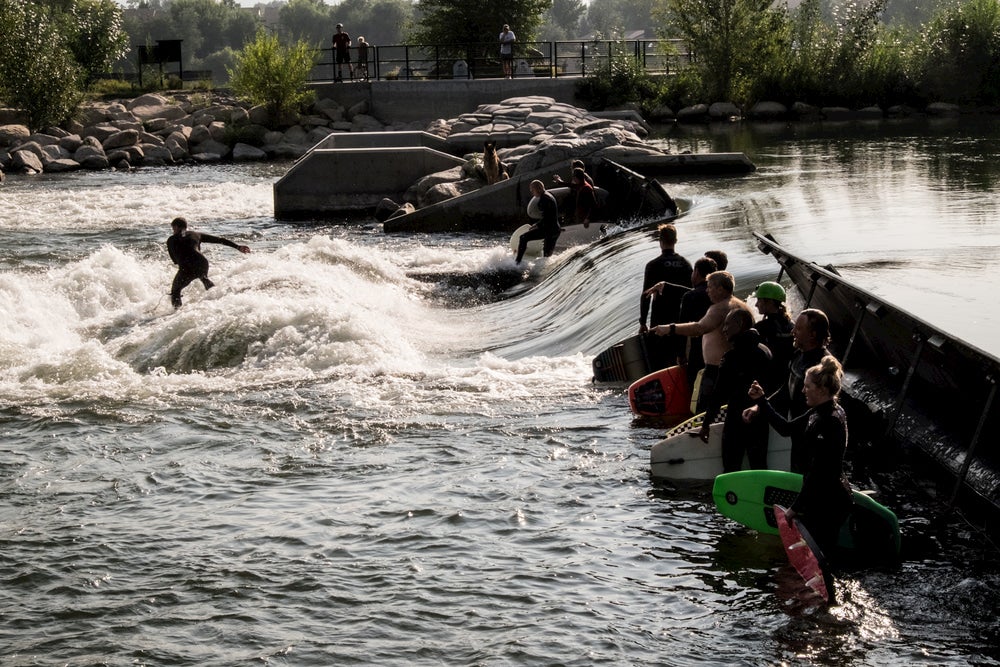 River surfing is a sport that's garnered much attention in the last few years, if not for its convenience for the landlocked among us, than for its ability to function as a gateway for beginners to the sport of surfing without the cost of getting to a beach.
The origins of river surfing are as muddy as many of the waters used for the sport, but river running historians have vaguely claimed that it all started in the mid-1950s, when a surfer made his way 1.5 miles along the tidal bore in a Great Britain river known as the Severn. However, more recent claims to ownership over the sport originate in Munich, Germany, where urban river surfing has been a central part of the outdoor recreation scene since the early 1970s.
At its core, river surfing is about taking advantage of natural rock and river formations that create various kinds of waves or water movements, thus allowing for a river to be surfed. While the mechanics of surfing are relatively similar between traditional and river versions, the waves and water vary significantly.
What to Know about Surfing River Waves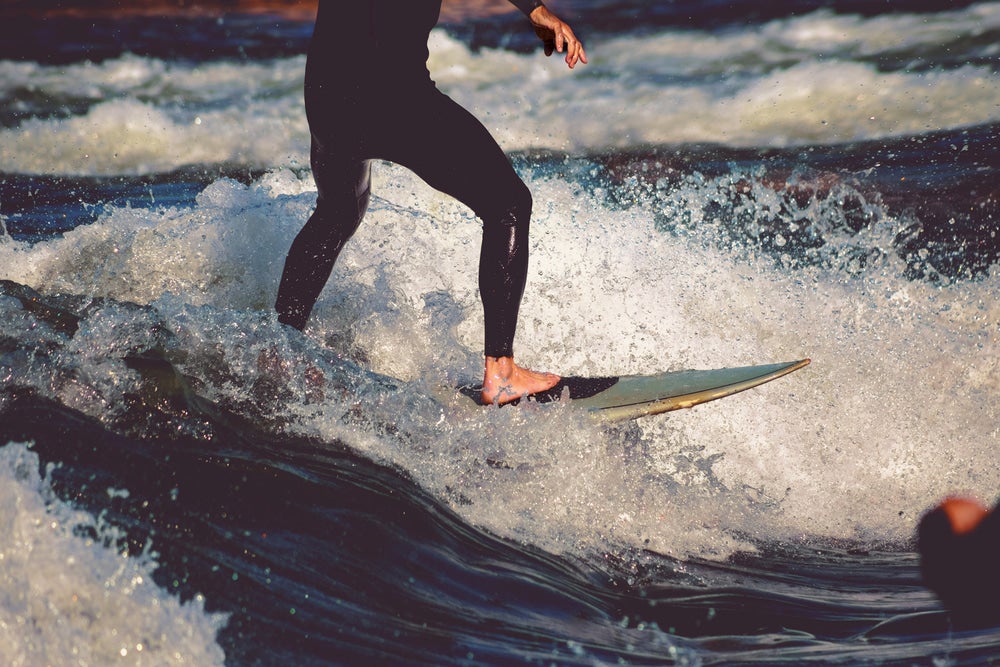 Generally speaking, river surfing waves are broken into three categories: standing waves, tidal bores, and upstream river waves, each of which demands a slightly different style of river surfing.
Standing Waves
These are waves that are stationary on the river, and are mainly caused by fast-flowing water that's constricted into a point (by flowing over a rock or other natural obstacle), thus creating a wave behind it. These standing waves are surfed facing upstream, and allow for river surfing to be done while staying in a single place on the water. Standing waves are the most common river surfing waves.
Tidal Bores
The rarest of river surfing waves, tidal bores occur in only a few rivers worldwide, leading to the creation of international river surfing hubs around them. Tidal bores form when incoming tides from a broad bay are swept into shallower, narrow river waters creating natural waves throughout the entry to the smaller river. Tidal bores only occur during flood tide, when the sudden increase in water flow creates the optimal conditions for surfing the roiling waves. Since tidal bores are created by a continuous flow of water from the bay, these types of waves allow for surfers to enjoy extended rides upwards of 3-4 miles long.
Upstream River Waves
Upstream river waves are also rare, and are formed by ocean swells that travel from open ocean waters into a narrower river, creating rolling swells that mimic waves and make for optimal river surfing conditions. This type of wave is similar in appearance to tidal bores, but are caused by swells and therefore not dictated by the tidal calendar.
The Best Places To Go River Surfing In the United States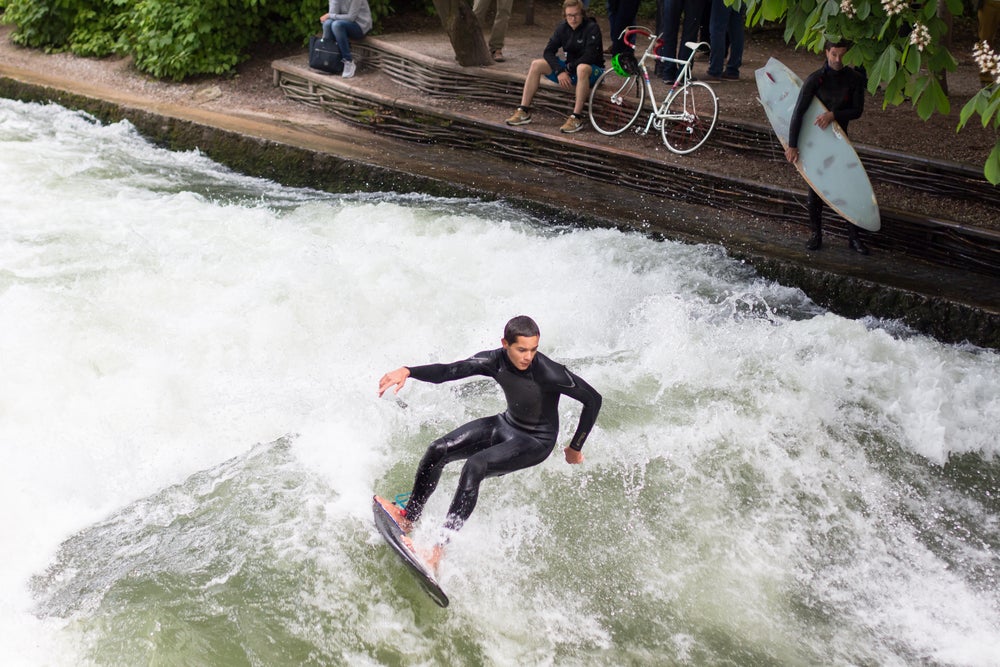 Although Europe and Canada are full of river surfing destinations, we'll focus on the U.S., where thriving river surfing communities are growing each year.
1. Jackson Hole, Wyoming
The already-famous landlocked outdoor hub owns yet another spectacular title as the most famous river surfing city in the country. The Snake River has been a haven for river surfing since the late 1970s, and the community has grown significantly since awareness about the sport has increased. The main wave on the Snake is called the Lunch Counter, and is a standing wave that is super active between May and August, when the snowmelt from the mountains is flowing strong.
Surfing here? Make it an overnighter at the Jackson Hole KOA, right on the Snake River.
2. Pueblo, Colorado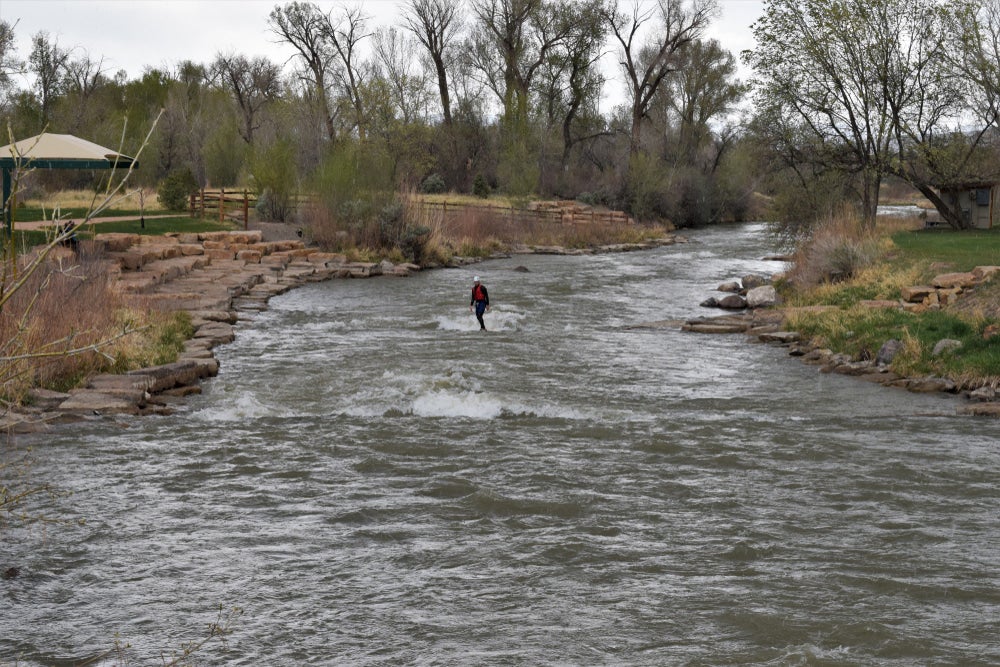 If you're from Colorado, this city named with anything related to the outdoors might have you scratching your head, but this little-known, arid Colorado town south of Colorado Springs has risen in reputation in recent years, in part for its growing river surfing community. The city of Pueblo has gone all in on its favorite recreational sport, building a kayak and river surfing park right near downtown that has kept the outdoor community invested and engaged.
Stay near the waters of downtown at Lake Pueblo State Park.
3. Lowell, Idaho
Popular for its year-round surfability, the Lochsa Pipeline wave is an ocean-like standing wave that offers both technical challenge and a noticeable peak, which attracts eager river surfers from all over the country. Situated in a canyon, the Lochsa River is a premier destination in a state not-otherwise infamous for its extreme outdoor activities.
Powell Campground offers direct access to the Lochsa, so you can fulfill all of your camping and river surfing dreams!
4. Missoula, Montana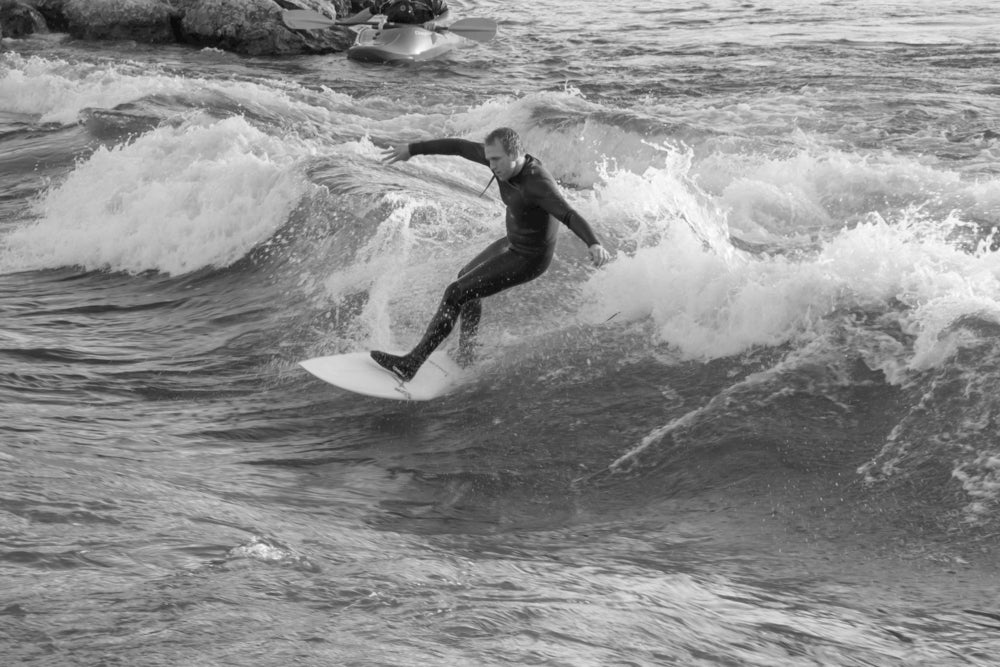 Similar to some of the waves in Pueblo, Missoula is home to the human-man Brennan's Wave, located on the Clark Fork River. This standing wave is extremely popular in the summer months, but is open from early spring into the fall, giving kayakers and river surfers alike a chance to shred away from the high-season crowds.
Looking for a convenient place to stay? Try the Missoula KOA!
5. Sheridan, Colorado
Two famous waves reside in the River Run Park in Sheridan, Colorado. Benihana and Chiclets are human-made standing waves that are customizable depending on the river's flow rate on a day-to-day basis. Although both are popular, most dedicated river surfers consider Benihana to be among the best waves in the entire state. That said, these waves offer both beginner-friendly wave terrain and more technical water for advanced surfers, making it ideal for groups with varied experience.
Chatfield State Park is the perfect spot for river surfers seeking some solitude in between their wave days.
Wild Card River Waves May Exist Right Outside Your Door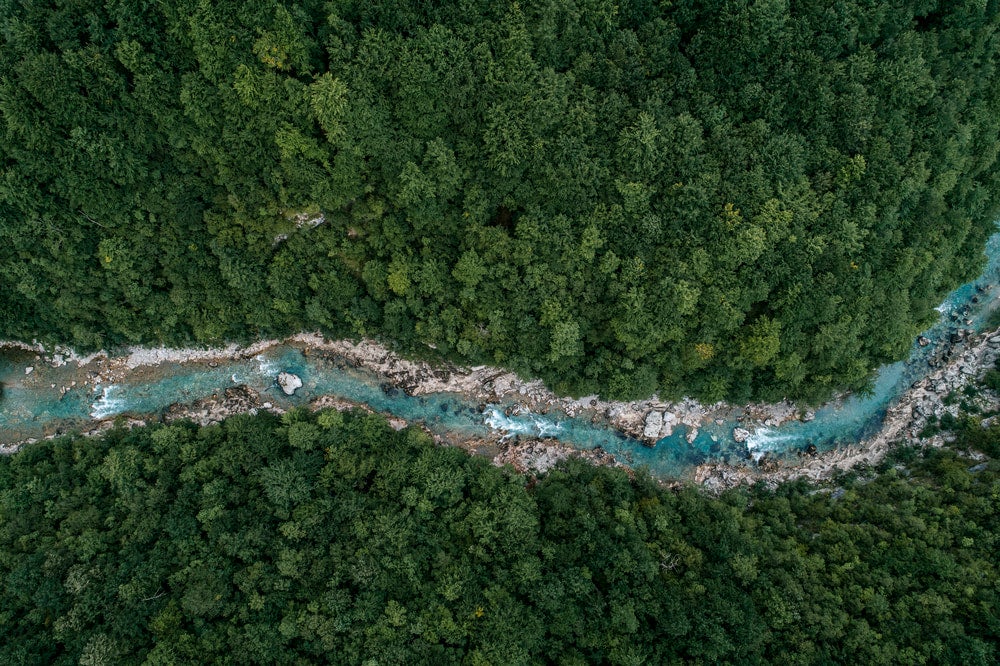 All that said about the best waves, the worst waves, and the types of waves suitable for river surfing, the conditions of a river are different from an ocean, in that the flow of a river changes from season to season, and, depending on weather conditions, even from day to day. It's believed that hundreds of perfect river surfing waves have yet to be discovered, simply because a lucky surfer hasn't been in the right place at the right time. So, the next time you're headed to your hometown river, bring your board along. You just might discover the next great river surfing spot!
---
This article was brought to you by INNO

Order your sup roof rack today, and increase your outdoor summer fun!
Popular Articles: