What's better than a day on the beach? Camping on the beach, that's what.
The East and West Coasts of the country have their differences, but everyone from New York City locals to Southern California surfers can agree that falling asleep to the sound of crashing waves is a magical experience.
Still — the rivalry remains. Which coast does beach camping better? After a summer of fantastic camping on both sides of the country, we dug into campground reviews on The Dyrt to try and name a coastal victor.
Which Coast Has Better Beach Camping?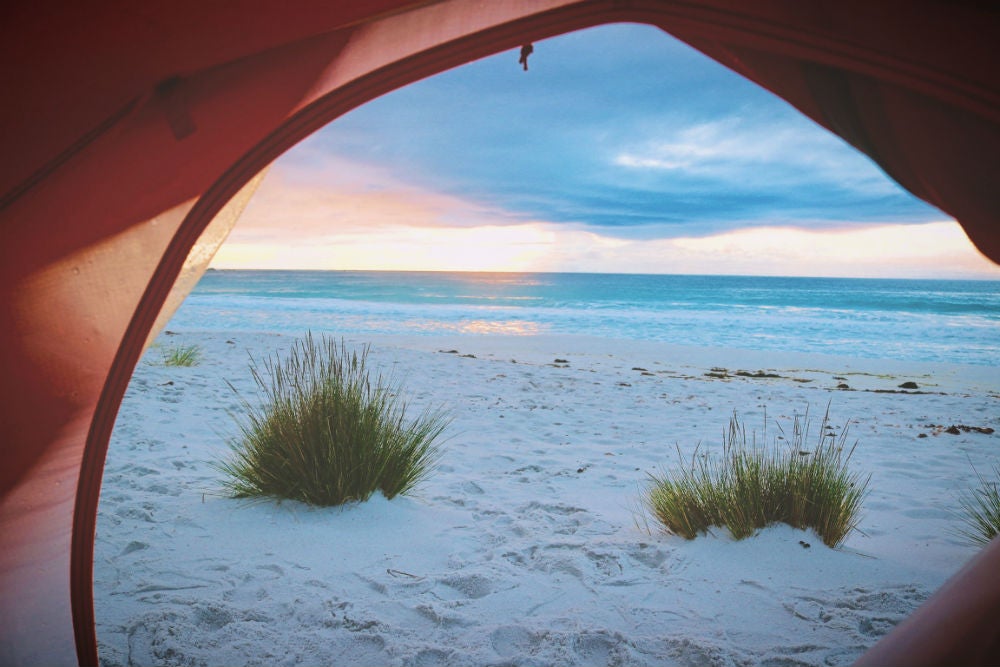 Both coasts have incredible beach camping options, but which one is best?
West Coast Beach Camping Highlights
Highway 101 & Highway 1: These iconic roads trace the curves of the Pacific coast of California, Oregon, and Washington. If you road trip down these twisting, scenic highways, you can take in some of the most beautiful views the West Coast has to offer. Plus, you'll have easy access to some of the top-rated campgrounds along the way, such as Gold Bluffs Beach Campground in northern California. At this campground, you're close to the beach as well as California's legendary redwood forests.
Huge beaches: If you like giant, sweeping views of the ocean and miles of rolling sand dunes, then the California coast is the place for you. Check out campgrounds like Point Reyes National Seashore Campground. For nothing but sea and sand for miles in either direction, this campground can't be beat.
Surfing: Believe it or not, California isn't the only good surf spot on the West Coast. Washington and Oregon also have their secret surfing havens, like the one not too far from Carl G. Washburne Memorial State Park in Oregon. The water might be a little chillier up north, but the smaller crowds and great waves make up for the chill.
Our 3 Favorite Campgrounds on the West Coast
"Every campsite has a view of the ocean. Some have shade and they're all well situated. The hosts were so kind and chill." – Jess F.
"This park Is very family oriented and also has a group area. The beach is right around the corner from the grounds under a sweet hwy 101 bridge." – Tj B.
"Walked about a mile on the beach to find a perfect spot. We were able to set couple of tents in the shaded area in the woods and few on the beach. The shaded area was perfect in the afternoon." – Gagan K.
East Coast Beach Camping Highlights
Lighthouses: There's just something especially magical and haunting about lighthouses on the Atlantic. These tall, distinctive beacons, like the one at Cape Point Campground in North Carolina, can be found dotting the whole East Coast. Often, you can tour thee lighthouses and find spectacular beach camping nearby.
Historical sites: If you're a history buff, you'll love the historically significant beach camping options on the East Coast. In Virginia, you can camp at First Landing State Park. This campground is built on the spot where English colonists first landed in the New World in 1607, and it also saw action during the Civil War. There are many places like this along the Atlantic Coast where you can turn your beach camping adventure into a stroll through history as well.
Endless sunshine: Just like the West Coast has California, the East Coast has Florida, where you can find long, warm, sunny days pretty much year-round. Sunbathers, surfers, snorkelers, scuba divers, and warm-weather-lovers, rejoice. Florida and its many beach camping options (such as John Pennekamp Coral Reef State Park) can give you a lifetime of sunny adventures.
Our 3 Favorite Campgrounds on the East Coast
"If you love ocean front campsites, the beach life, fishing, water activities, and hiking, then this is definitely the place for you! The campsites/campgrounds are well taken care of and very clean." – Sasha W.
"Great location off the beaten path on a dirt road. Campsite 9 backs up to the marsh andhas a great area for watching the sunset. You can also kayak or canoe here. Toilets and water available, nice hosts." – Natalie B.
Seawall Campground, Maine
Which One Wins?
The truth is, both coasts have so much variety that it's really impossible to choose. Everyone can find their perfect beach camping haven on either coast, if you're willing to get out there and explore.
Personally, I'll always be a West Coast kind of girl. I love the long, gray stretches of rocky beach that the Pacific Northwest is famous for.
Share Your Favorite Beach Camping Spots
Our friends at Grand Trunk are also torn on which coast is better for camping. But their Parasheet Beach Blankets are perfect for any coast. The corner pockets can be filled with sand to keep your blanket in one place on the windy beach, or you can use the stake loops to keep it grounded.
What about you? Is your favorite beach camping spot on the East or West Coast? What makes it the best? Find your favorite coastal campground here on The Dyrt and then tell us all about it.
---
---
Related Campgrounds: