This article is brought to you by Wenzel, whose butterfly chair is made with powder coated steel and water resistant polyester to ensure your next camping fail isn't related to your gear. 
---
If there's a law of playing in the wilderness, it's that the unexpected will happen and things will go wrong—hopefully hilariously wrong and not dangerously so. No matter how much experience you have, no matter how many hours you've logged in the backcountry, no matter how expensive your RV or fancy your sleeping bag, Murphy's Law is cackling behind a tree, just waiting to watch your camping fails.
Look at the short version of my own litany of camping fails: The time I yorked all over the Appalachian Trail because I decided to hike through a case of food poisoning. The time I left my shoes outside my tent and got a scorpion stuck to my hand the next morning. The time we had to make an emergency late night pizza run in a tiny Southern town because we forgot to pack any food. The time other campers left so much trash I was afraid it had attracted bears, and checked into a motel. The time the firewood was wet, so I just went home. And the time I brought a whole beef brisket on a backpacking trip to impress my attractive wilderness partner.
It's not just first-time campers who fall victim to Trail Fails, either. Everyone has these stories of wilderness woe, and there's a lot you can learn when things go sideways.
That's why we asked dozens of outdoor enthusiasts to share their stories of backcountry bummers and RV park regrets. This is what we learned: weather is going to happen. Important gear is going to be forgotten. Animals and humans alike are going to do weird things. Nothing is more inevitable than the dark, the cold, the wet and the poop.
25 Campers Who Bounced Back From Epic Camping Fails
1. Hot Stone Treatment
"I was with a group that included one person who had never camped before. It was surprisingly cold for the season, and her borrowed gear wasn't warm enough, but one of the guys in the group promised he had the perfect plan! He put a big rock in the fire and left it there while we ate and hung out. When it was time to sleep he wrapped the hot rock in her towel for her to put in her tent. But the rock was clearly too hot—the towel caught on fire." — Emily V.
2. Cathole Catastrophe
"The first time I ever dug a cathole, I squatted to do my business. I then turned around, and the cathole was empty. Confused, I turned around a few times and eventually found my soil…under my shoe. I have since learned to have amazing aim." — Emily G.

3. Not My HayDay
"I once saw a guy in a new Class A RV try to turn around next to an alfalfa field. The sprinklers had been moved a couple hours before and he ran onto the wet portion, and sank to his axles. It took two diesel trucks and a tractor to pull him out. Fortunately there was no damage to his rig and no cost except for a 'thank you' to the farmer." — Brent D.
4. Bear Kibble
"I invited my younger sister for a spontaneous overnight trip at a campground at the northern end of Shenandoah National Park. Despite meticulously putting every last crumb of food in the car, it didn't occur to me to put up the dog food. We woke up in the middle of the night to a black bear chowing down! My sister was terrified and I was worried the dog would attract the bear's attention, so I set off the car alarm (briefly!) and then we made a run for it. We spent the rest of the night in the car." — Stephanie J.
5. T-Shirt TP
"I learned on my first big multi-day backpacking trip to always bring more toilet paper than you need. By day 3 of the 6-day trip I ran out and got a stomach bug. Yikes! I came home with several fewer t-shirts since I had to cut them up for TP. So now, I always bring a few rolls—plus a t-shirt I don't mind losing." — Kayla H.
6. Underwater Camping Fail
"Campsite selection is a fine art. Sometimes those attractive, flat spots free of plants and rocks can, in fact, turn into lakes after a significant rainfall. My boyfriend and I had set up camp on a sunny afternoon on the rim of an alpine lake basin in New Mexico. The clouds started rolling in, dumping hail and rain on us while lightning flashed as we huddled in the tent. Within minutes our whole tent was standing in several inches of water. Lesson learned: pay attention to drainage." — Caledonia H.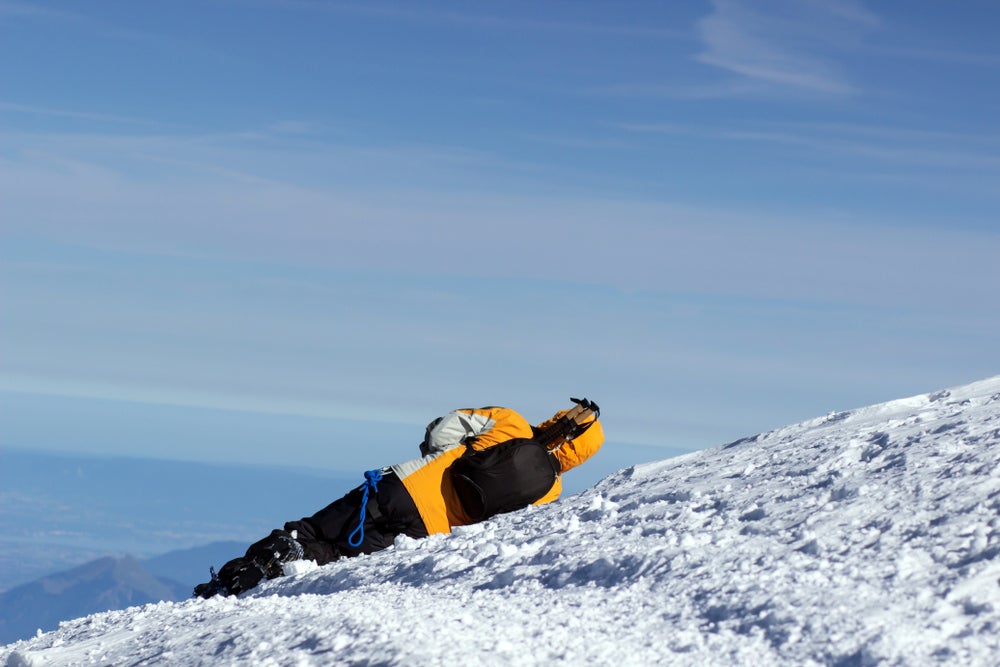 7. Next Time, Boxed Wine
"We packed wine but no bottle opener. So I tried one of those life hacks where you wrap a towel around a wine bottle and hit the base against a flat surface to force the cork out. Except I definitely smashed the whole bottle in my hand, cutting my palm pretty bad. We proceeded to use a maxi pad, a hair tie, and rope hung from the top of my tent to keep my hand compressed and elevated until morning, where we then hiked out and back to a real med kit." — Daniel B.
8. Hunting Island Hernia
"We were at Hunting Island and discovered that laying on a thin pad on the ground is not good for your hernia. Also, sand is unforgiving when you are used to sleeping in you soft, smooshy bed. My husband was so uncomfortable, and there was nothing we could do about it. " — Kathryn H.
9. 1 Tent + 3 Grown Men = Ultimate Camping Fail
"I had a camping trip in college with a couple of buddies. We borrowed two tents from our old scout troop and got to the camping spot just as the sun was setting. As I pulled out my tent, I saw my friends off to the side cackling with laughter. Turns out, they had each assumed that the other had grabbed the tent. And that was the night that I learned that if you squeeze 3 fully grown men into a tent meant for two boys, that you don't need sleeping bags even if it is 30 degrees outside." — Alex N.
10. These Boots Were Not Made for Walking
"My new boots fit at home, but I didn't realize my feet were going to swell so much on a three day backpacking trip! I lost 4 toenails and had the gnarliest heel blisters. Nothing teaches you to pay proper attention to footwear like destroying your feet! After that, I got way better boots." — Katherine B.
11. Black Out in Vegas
"We lost track of time while enjoying a winter hot spring. We didn't think about how early the sun was going down, and thought we had allowed enough time to get back to the car. But we got off course, had to double back, and by the time we actually were headed in the right direction the sun was going down. We had planned a day hike and had no flashlights, so literally were stuck walking through the Nevada desert in the dark for almost a mile with only the faint lights of Vegas in the distance for direction. This taught me no matter where I go be like a Boy Scout and always be prepared!" — Crystal C.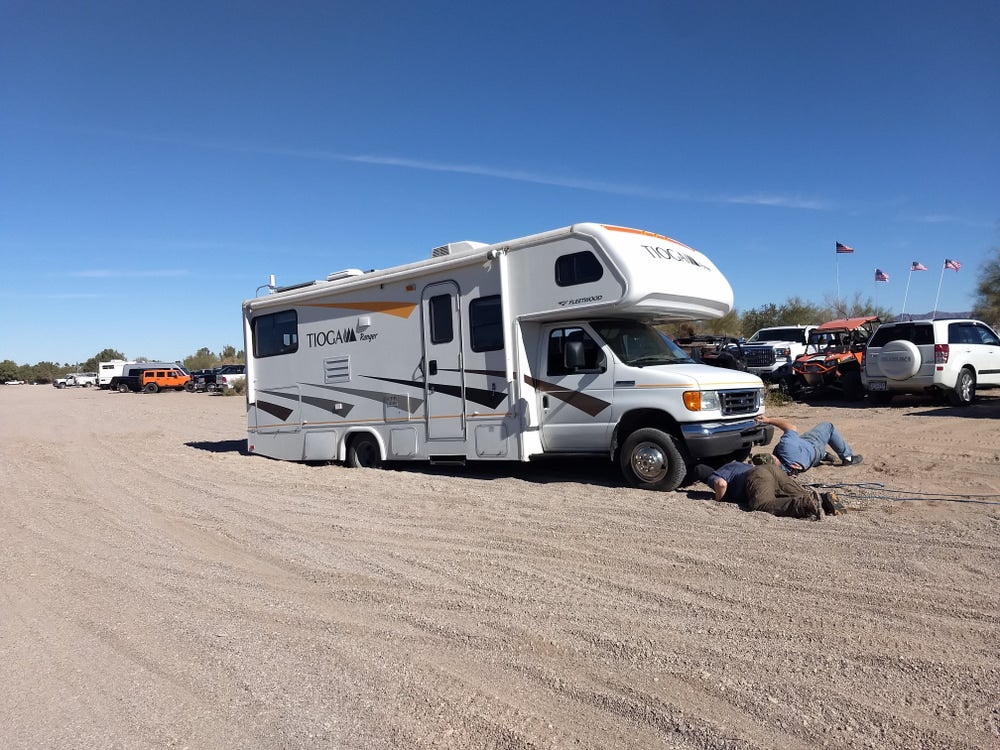 12. Spring Broken
"The time we went camping for spring break and lasted one night because the wind destroyed our tents. We gave up and went to a pancake house in Gatlinburg. We learned to heed the warnings of empty campgrounds. The only other group was in a rental camper and even they gave up!" — Bailey B.
13. Hot and Hypothermic
"On my first ever backpacking trip, I underdressed. I really was getting hypothermic, and no amount of hot liquids and clothing seemed to be getting me warm. The solution presented by my boyfriend at the time? Two naked bodies in two sleeping bags that zipped together. We weren't quite that far along in our relationship, so I just thought it was a come-on, and it probably was. But as I got more clumsy and more cold, I finally gave in. And to his credit, it worked, very well actually!" — Anonymous
14. Solo and Spooked
"One time I camped solo, but realized I'm afraid of the dark. So I called my best friend at 4AM and made her stay on the phone with me until sunrise." — Kara O.
15. Croc Crawling
"My first week on the PCT I hiked 22 miles in Crocs because my boots ended up being too small. Only lost two toenails though. From then on I switched to trail runners for all my hikes." — Kristen D.
16. Leaves of Three, Let It Be
"Girl Scout camp. One of my tent-mates got her period (for the first time ever; we were 11) and used a handful of leaves as a makeshift pad because she didn't want to tell anyone. Turns out, she grabbed poison ivy." — Jennifer C.
17. Freezer on Wheels
"You need a ground pad even if you sleep on a van floor! I became truly hypothermic after I did that sans insulating under layer when I was 20. I then wore a hat for a year after that. Stay warm, friends!" — Cassandra G.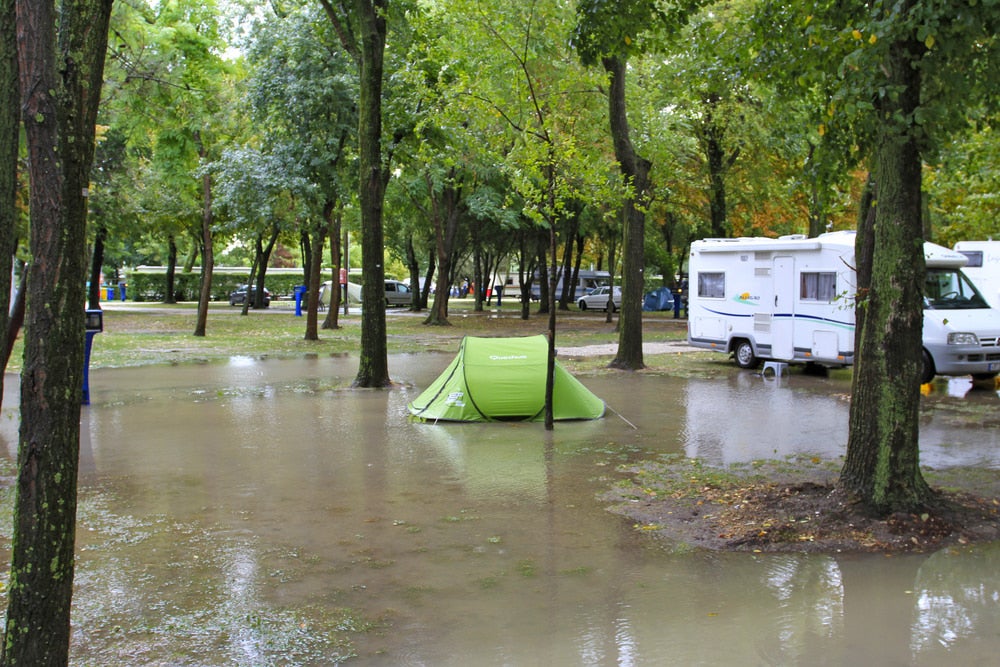 18. Cold, Wet, and Humbled
"I planned a weekend camping trip on the mainland in Washington. I worked so hard to make sure everybody had all the materials gathered up, bags packed, and everything was ready to go because I was sure they would forget something. When I got off of work and loaded everyone up in the truck and went to the campground, we got there and it was raining heavily (though not unexpectedly), and I had forgotten everything I needed for a change of clothes, coat, or even pants. Everyone else had what they needed. I spent the night cold, wet, and humbled." — Tim B.
19. Ranger Recommendation
"Once I headed to an upper meadow at Sequoia, at the suggestion of the rangers who had just been there. They assured us there was no snow and it was lovely. Never take this for granted, things change quickly at high altitudes! The hike to said meadow was hip deep snow for what seemed like hours, no clue how long it was. There was indeed one spot in the meadow, clear for our tent, and it was lovely, but not sure I've ever been so cold, tired, and wet. You gotta prepare for everything, and even rangers can be fallible!" — Winnie W.
20. Sleep and Slide
"I was free-style camping in Andermatt, Switzerland with my husband and two kids. We set up our borrowed pop-up tent on the side of a hill. The next morning we woke up in a different place, having slid down the hill!" — Toni G.
21. The Silent but Deadly Camping Fail
"I was backpacking in the Smokies during the Blizzard of '93. I had taken a day hike and the rain began to fall. I made it back to the tent, soaking wet and hoped for it to stop. Later that night I was so glad to hear that the rain was no longer striking the tent. What I didn't realize is that snow doesn't make a sound as it falls on your tent. I woke up the next morning to feet of snow and below freezing temps, and abandoned everything to try and get out alive." — Eddie Y.
22. Sleepless In The Snow
"The first time I went winter camping, I didn't think I needed a ground pad. I was tough and hardy and no trail princess! Of course, all that backwoods bravado was undercut by the fact that I didn't realize that your ground pad was as much for insulation as for comfort. Stuffing some hand warmers into my ski overalls didn't do me much good, so I laid there freezing for hours until dawn, rueing my poor planning." — Anonymous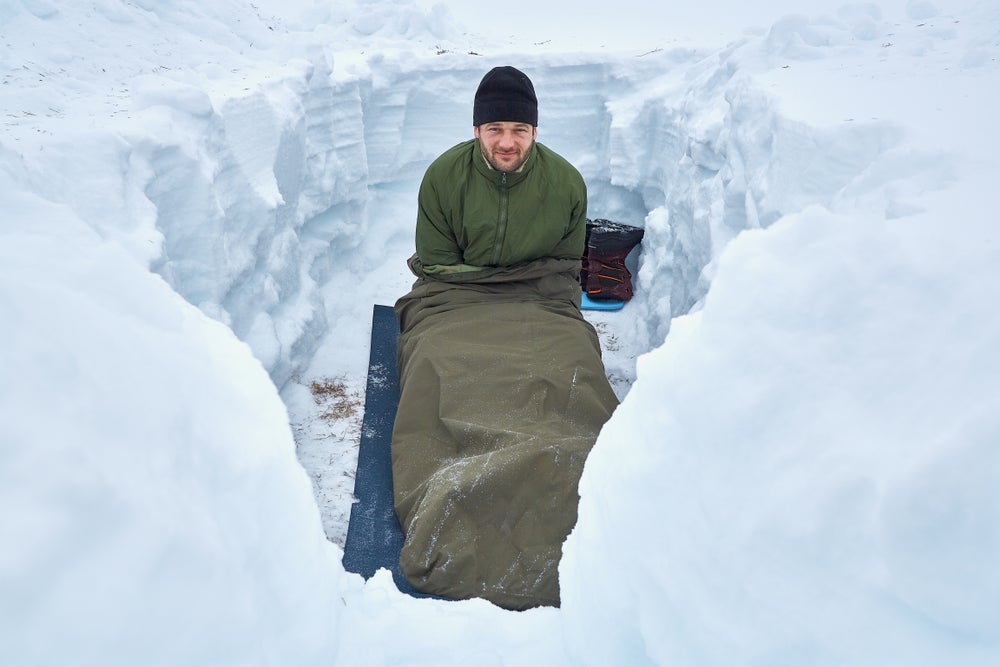 23. Flip Flop Fail
"We first started camping long ago, we used an air mattress because we didn't know about those nice individual, thin pads you can use. My husband has a condition where he doesn't roll over in his sleep, he FLIPS his whole body at once. All night, I was woke up being bounced. It was terrible. We laughed about it and didn't use one again." — Cindy P.
24. Minimalist Backpacking
"I went on an overnight trip but couldn't fit all my gear in my pack, so I sacrificed my sleeping bag (since It was summer) and packed extra clothes and a blanket, which were cotton. Those scattered summer storms might leave beautiful sunsets, but create very humid camping conditions. Needless to say, the dog and I had a serious snuggle fest that night!" — Olivia K.
25. Dump and Ditch
"My friend took out the Airstream on her own for the first time. Everything went as planned until it was time to dump the 'black' tank. She had watched her husband do it several times and was certain it would be something she could handle. She hooked the 'slinky' up to the trailer & receptacle perfectly! Then she released the valve and the sewer tank must have been full. Raw sewage starting spilling over the dump station! She was so grossed out that she closed the valve, unhooked the slinky from the trailer, left it there and drove off!!" — Peg B.
---
This article was brought to you by Wenzel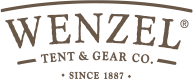 Try Wenzel's solar shower on your next camping getaway!
---
Related Campgrounds:
Popular Articles: