If you love the snow and embrace a challenge, then bundle up and hunker down in the peaceful winter woods. But let's face it — winter camping is going to be cold. Not everyone is into that.
You could camp in a tent this winter, but getting off the frozen ground can make a big difference. And there are a variety of options that allow you to get outside, sleep elevated, and enjoy winter camping. (OK, a vintage trailer doesn't really count as being outside. But we want to give you options!)
Winter Camping Options That Keep the Season Going Year-Round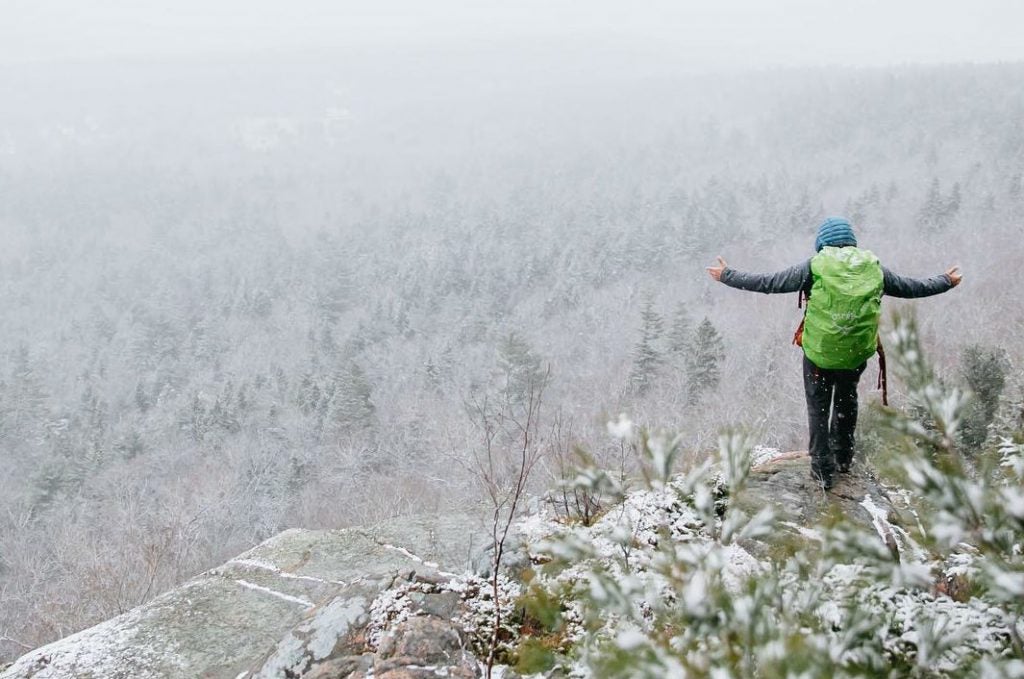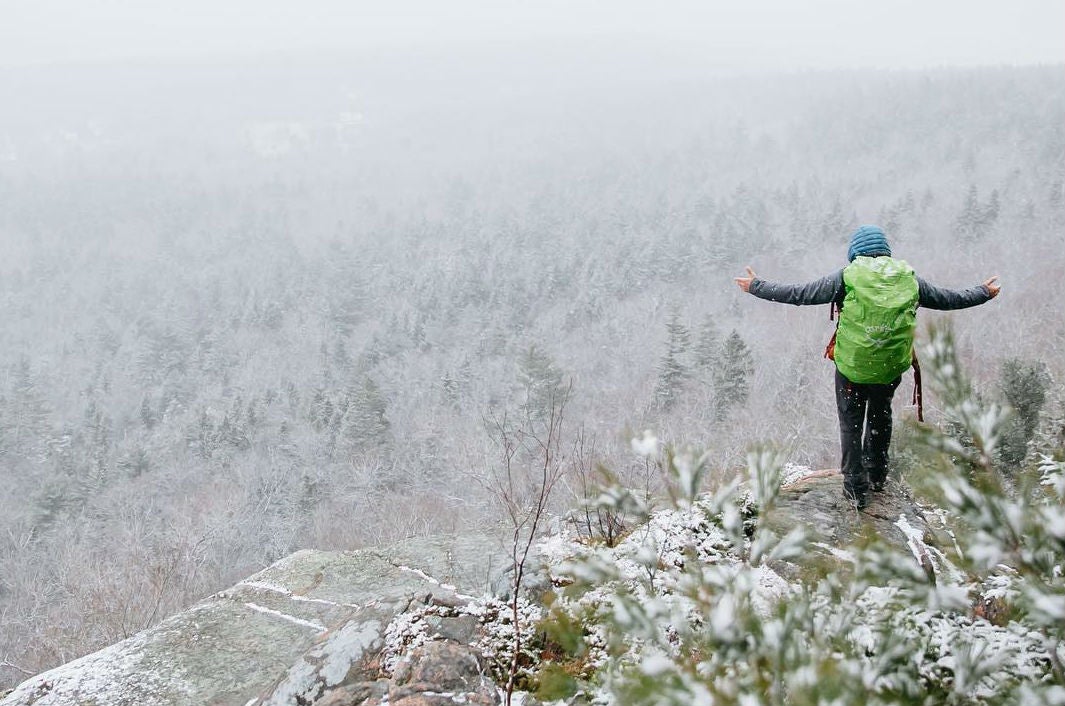 From swinging in a simple hammock, to luxuriating in a decked out Airstream, these winter camping options run the gamut of camping styles. Not only that, they all have one thing in common; they give you enough shelter to stay warm, dry, and to keep your snowy excursion going.
1. Avoid the Ground with Tentsile Tree Tents
Tree tents from Tentsile are so ingeniously designed, they put them in an art museum! Tree tents are lifted off the ground by three suspension points; attach them to three trees, or whatever grounded points are available.
Not only do they look cool, but getting off the ground in a tree tent keeps you away from the cold, wet snow. Line the floor of your Tentsile tree tent with their skypad mattress for extra insulation beneath your sleeping bag. You'll feel like you're floating in a winter wonderland.
You can take a tour of the Flight+ tree tent with The Dyrt Ranger Christy C.:

2. Watch the Land from the Sky in a Fire Tower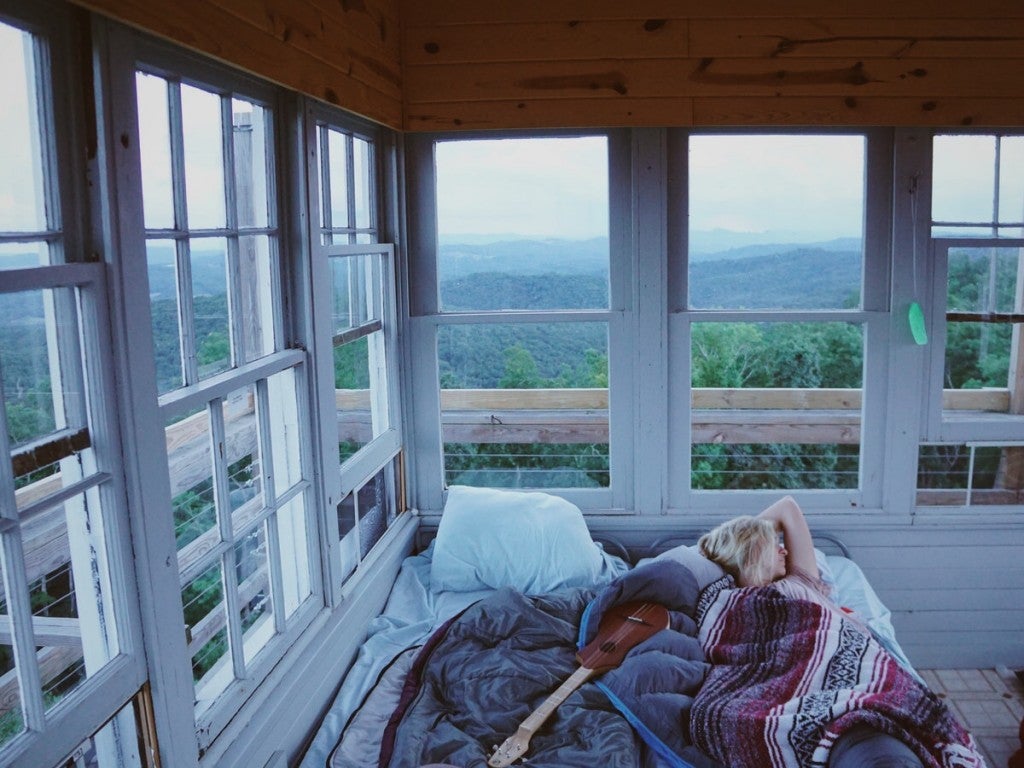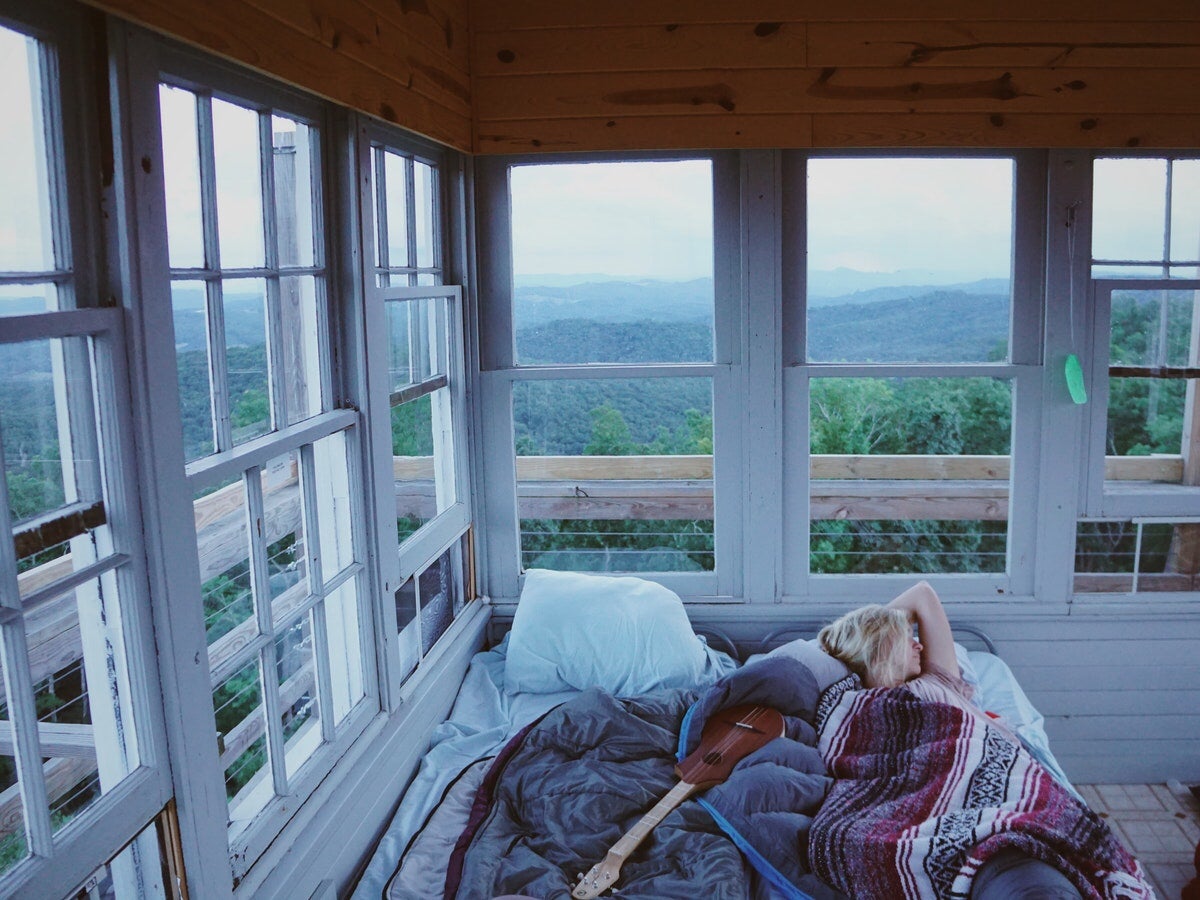 Embrace the romance of escaping regular life with your own little hideaway on top of a mountain. Fire towers were once the temporary homes of fire lookouts who spent their summers watching the forest line for smoke. It was their responsibility to spot a fire and alert the fire station.
Today, most fire towers are decommissioned but many are still available to rent for camping. The structures are simple but kind of perfect. Standing on large stilts on top of peaks, with big windows on all sides, they're designed for breathtaking views. You'll wake up to the sunset and fall asleep in the stars.
Fire towers are rustic, but they usually come with stoves and gas heaters to keep them toasty. To rent a fire tower, you'll need to make reservations as soon as the window opens — or about 6 months before you want to stay there.
3. Use a Camping Tent Trailer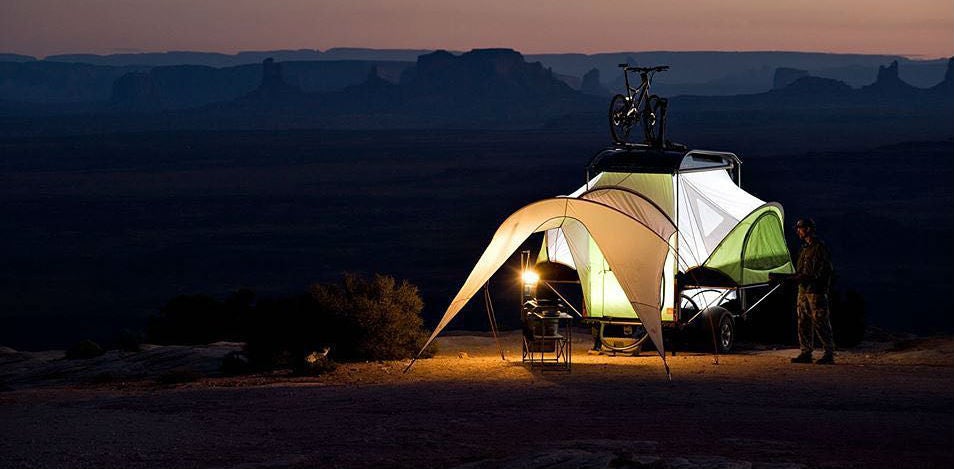 The Sylvan Sport Go is somewhere between a tent and a trailer. It's lightweight (any car can tow it), easy to set up, and provides more protection than your average tent. Bring your warmest sleeping bag and blankets and get cozy in a range of sleeping arrangements that fits 1-4 people. (Pile your friends in to the Go for extra warmth when winter camping!)
Check out this video of The Dyrt Ranger Andrew S. showing off his favorite features:

4. Snowcaves and Igloos Make a Great Winter Campout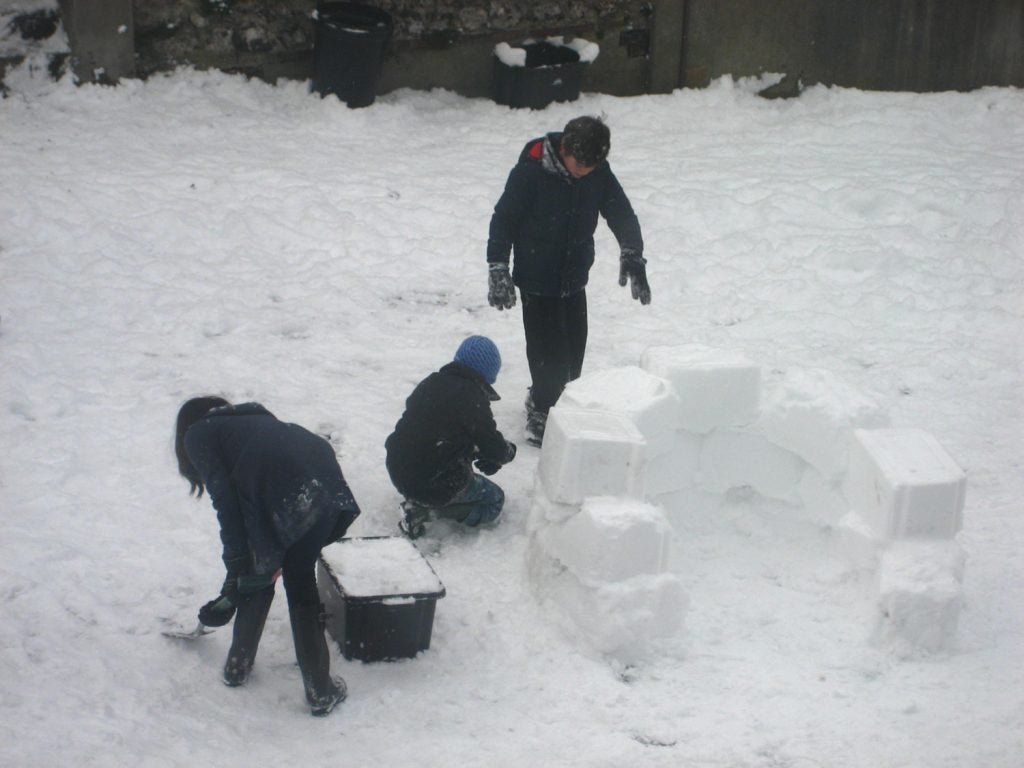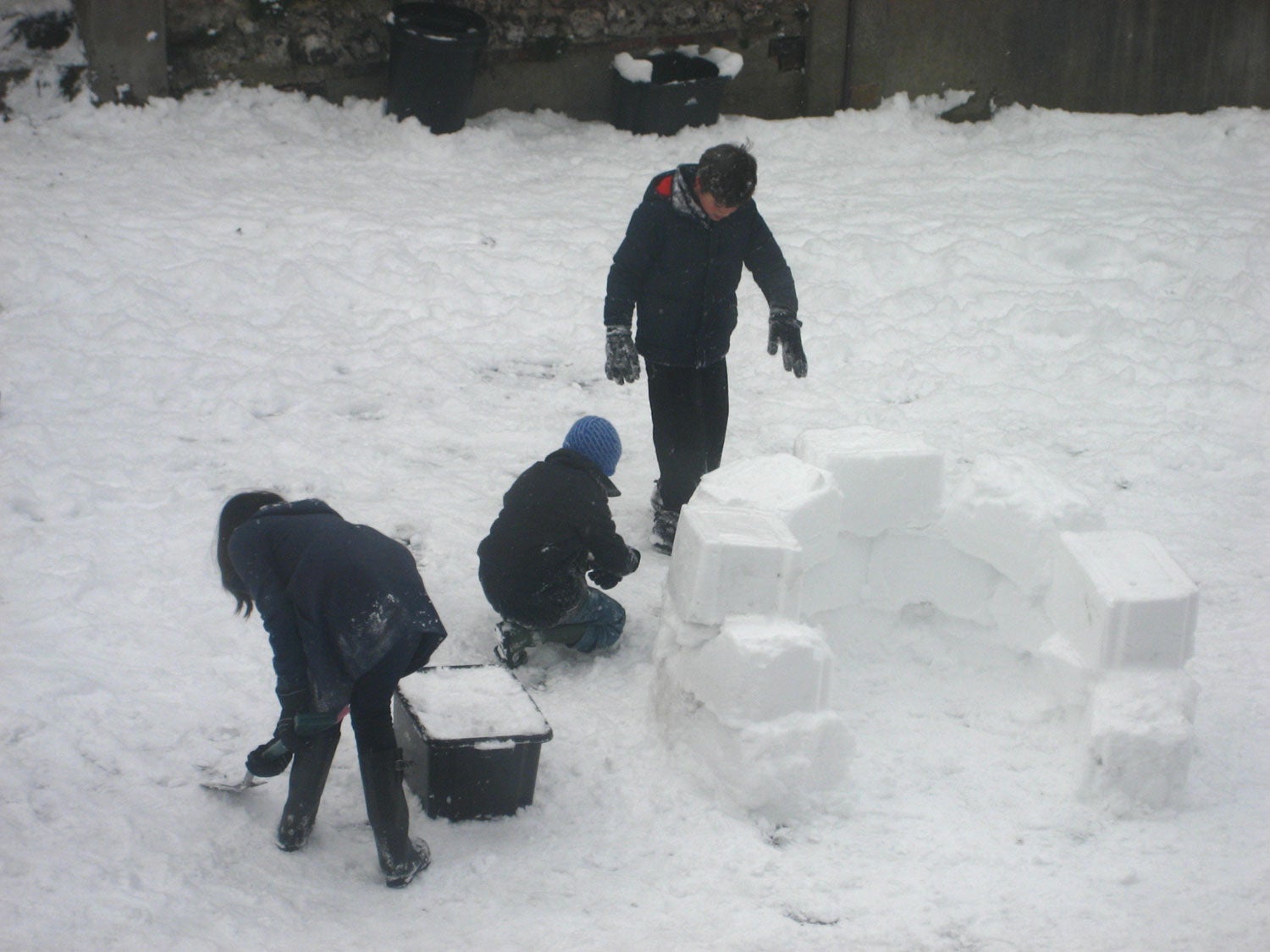 Snowcaves and Igloos are a fun way to get your friends and family out during the winter. Surprisingly, the insides of snowcaves/igloos actually stay extremely warm when camping in them! Temperatures can stay reach as high as 61 degrees Fahrenheit when warmed up by the human body. Making a snowcave is usually as simple as finding the right spot in a snow-packed hill, and digging a cave out, then compressing with ice.
Winter camping in an igloo requires a bit more finesse. An igloo is made by carving blocks of ice or compacted snow, and stacking them in a conical formation for maximum strength and warmth. In general your snow needs to be hard-packed or you need to have loose blocks of ice to work with, however Igloos can be made in a variety of shapes and sizes.
5. Trailers Are Still The Warmest Mobile Camp Shelter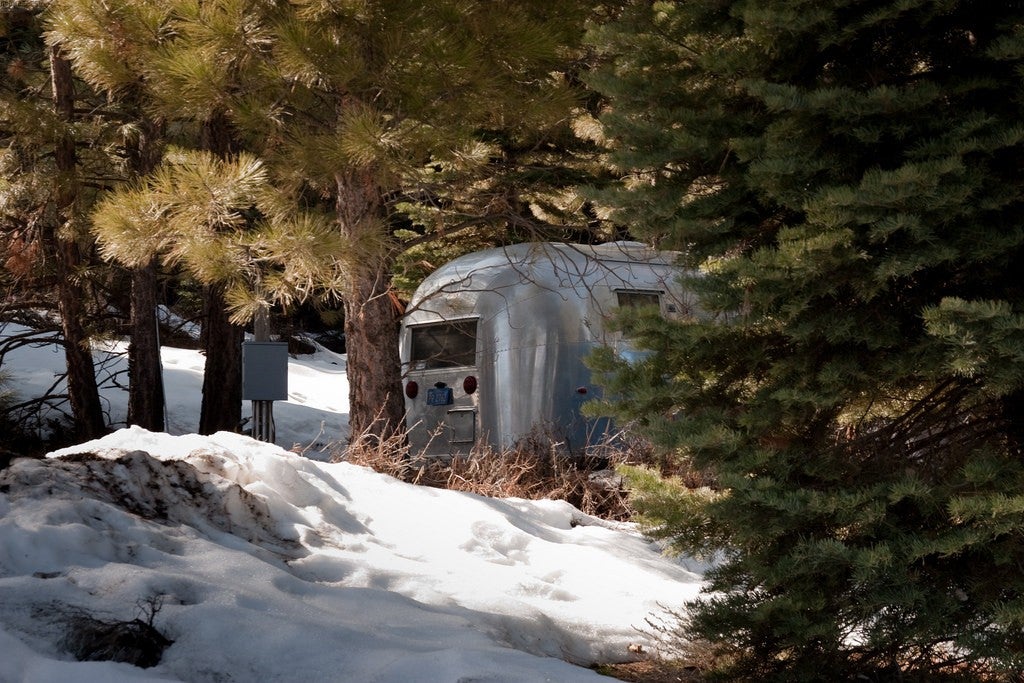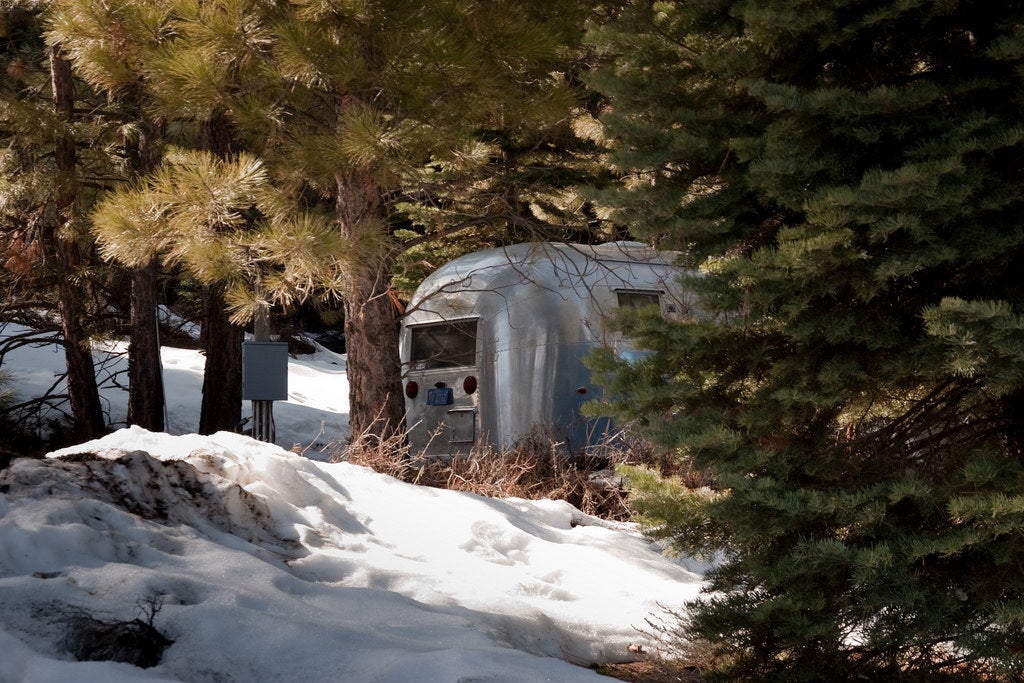 While not always the most convenient (or the cheapest,) winter camping in a trailer is one of the easiest ways to keep your outdoor excursions rolling. You probably don't want to invest in a vintage Airstream or a brand new 5th Wheeler just for the sake of winter camping. So why not rent one? The growing popularity of tiny living and minimalism has spurred lots of rental opportunities for trailers, RV's, and vans.
For example, The Vintages in Dundee, Oregon are a fun option for "glamping" in Oregon's wine country. These vintage Airstreams each rock their own unique style with decade-appropriate and undeniably adorable interiors. The trailers are heated, and a few of them are even dog-friendly! Of course, you're not limited to Oregon. A quick Google search will show you plenty of opportunities to rent all kinds of mobile campers for your next winter outing.
6. Escape the Winter Snow Camping in a Tree House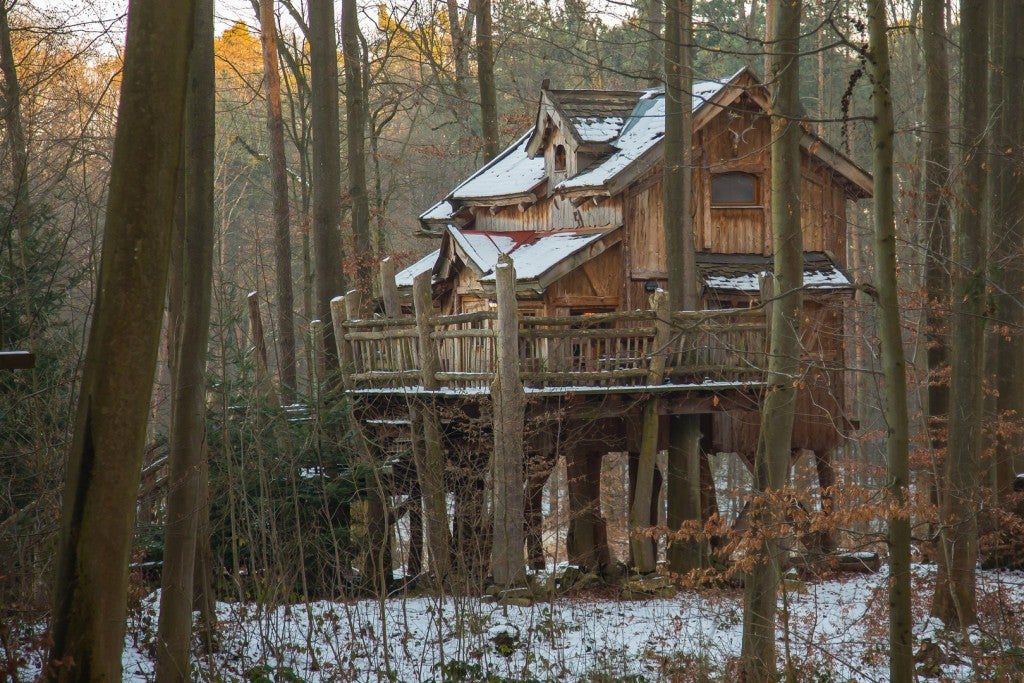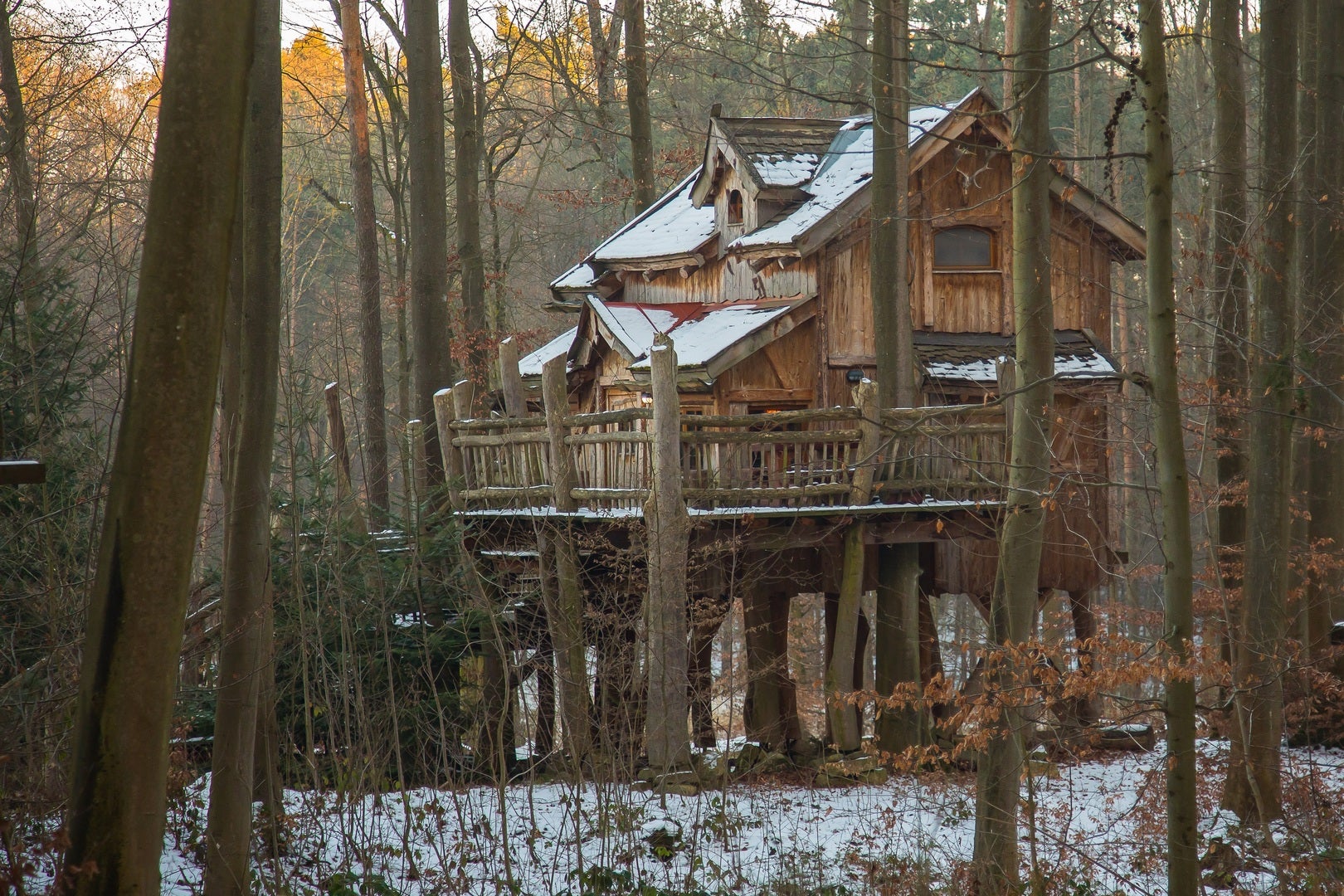 If you didn't have a tree house as a kid, it's not too late to live the dream. You can rent tree houses from all over the United States from the Redwood Forests to the Smoky Mountains. Lots of options are available as part of tree house resorts, like Treehouse Point outside of Seattle. Or you can find individual tree houses on AirBnB. Tree houses can range from the dubious platform of the sort that your parents might have built in the backyard, to mansions sprawling across the canopy of a forest.
7. Yurts and Cabins Make for Cozy, Snowy Getaways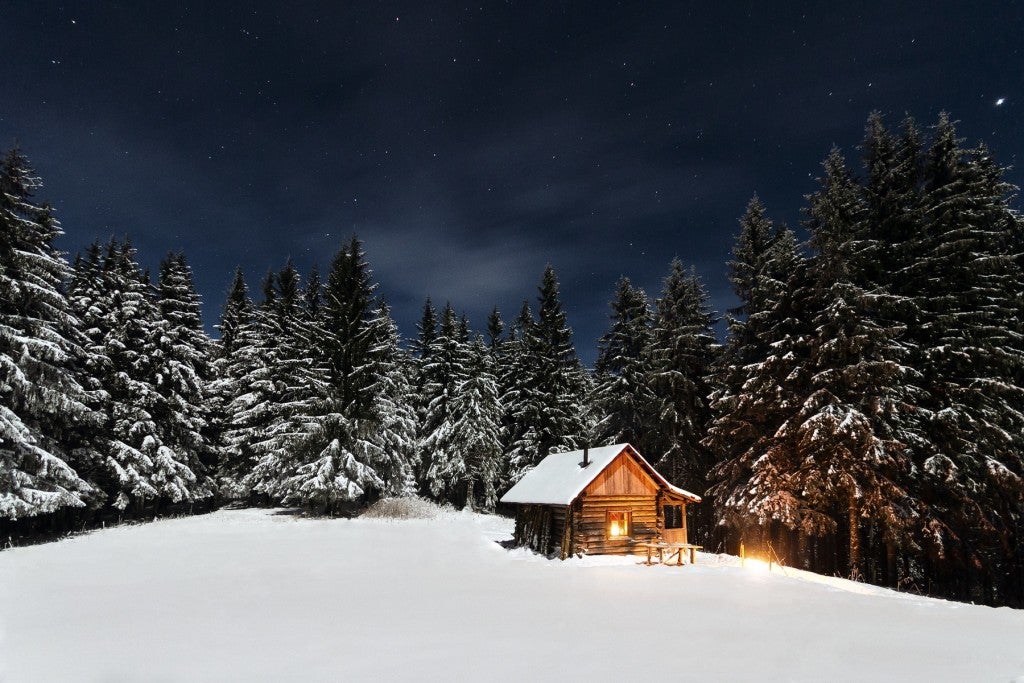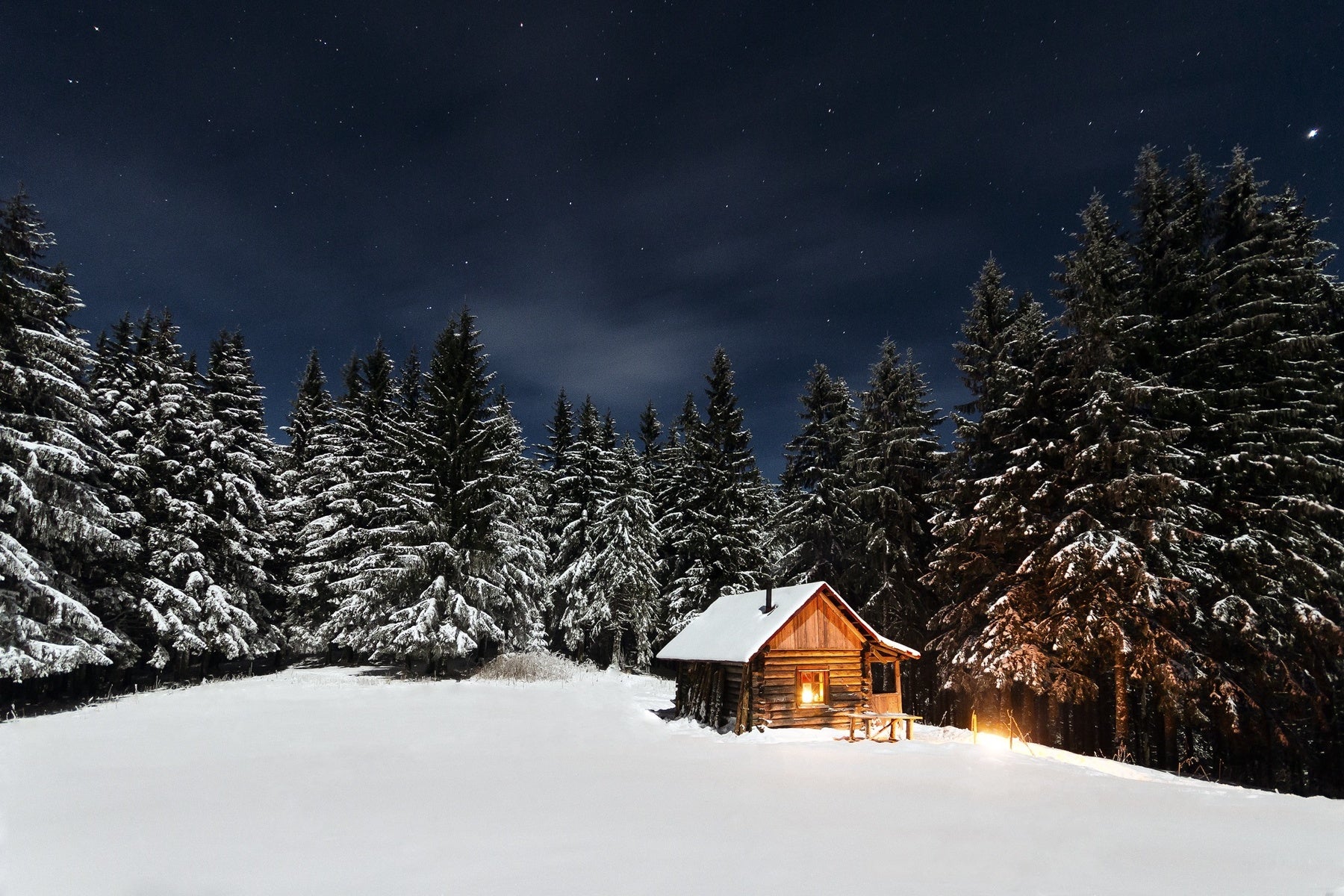 Lots of campgrounds offer warmer camping options  in the form of yurts and cabins. Yurts are round, collapsible structures that were traditionally used by nomadic people in Mongolia, Siberia, and Turkey. And of course, your standard cabin is a wooden structure that can range from rugged to extravagant. Campsite yurts and cabins are often outfitted with stoves or small heaters that will keep you warm and cozy.
---
Looking for more campground information, even in the winter? The Dyrt is a FREE app solving the pain of finding campsites online. Like Yelp for camping, you can find the perfect campsite for you with photos and reviews from real campers across the country. And if you write reviews, you can WIN free outdoor gear all summer long.
Popular Articles:
---

---