My dad heard good things about his sleeping bag before he purchased it, but I heard none of those good things from him during our six days on the Chesapeake and Ohio Canal Trail. As I slept snugly in my sleeping bag, my dad tossed, turned, and struggled to stay warm. It turns out that the best sleeping bag for one person is not necessarily the best sleeping bag for another.
There are many different styles of sleeping bags for different types of campers and camping. When making a big gear purchase like this, it's worth taking the time to decide which style is the best sleeping bag for you.
The Best Sleeping Bags for Your Camping Adventure
When choosing the best sleeping bag for your camping needs, there are several questions to ask yourself:
What temperatures do you expect to be camping in most frequently?
Are you a side sleeper? Stomach sleeper? Back sleeper?
What's your budget for a new bag?
Would you rather have a down sleeping bag or are you looking for a synthetic fill?
Will your sleeping bag be used primarily for car camping or backpacking?
Are you looking for a stand-alone bag, or one that comes with a built-in sleeping pad?
We asked around and gathered a list of some of the best sleeping bags to help you decide. With insight from members of The Dyrt's Facebook Campfire Group, we've organized these sleeping bags by category.
1. Best All-Around Sleeping Bag — Kelty Cosmic 20

If you don't want to fuss with all of the details, the Cosmic 20 from Kelty might just be the best sleeping bag for you. This 3-season sleeping bag is Kelty's most popular for a reason. Rated to 20 degrees, it's constructed with quick-drying 600 fill DriDown and a super soft but durable 20D nylon taffeta shell. You can grab this bag in a short, regular, or long size. It also comes with a handy stash pocket for small items you might need in the night, such as your headlamp. No matter the trip, the Cosmic 20 from Kelty is likely up for the job, which makes it our pick for the best all-around sleeping bag.
"I prefer the Kelty Cosmic 20. I cinch it down tiny in an Outdoor Research drybag 10L compression sack along with a Klymit Static V Lite and Klymit XL pillow. Super light combo for backcountry trips." —The Dyrt camper Dave V.

Buy Now: $179.99
2. Best Sleeping Bag on a Budget — EMS Solstice
We get it. Gear can be pricey. However, you don't have to drop several hundred dollars to get a great sleeping bag. Eastern Mountain Sports offers campers high-quality sleeping bags at affordable prices. Our pick for the best sleeping bag on a budget is the EMS Solstice 0-degree sleeping bag. Priced at less than $130, this sleeping bag will keep you warm with its Omniloft polyester insulation when the temperature starts to drop. A two-way zipper also allows campers to kick a foot out in the night if things feel a tad too toasty. Best of all, these sleeping bags are designed to last.
"Eastern Mountain Sports has a wide variety of sleeping bags at very good prices. Down is the best fill, but the synthetics are good if you are in a situation where there could be moisture. I've had mine for several decades and they are still wonderful." —The Dyrt camper Marilyn M.
Buy Now: $129.00

The Egret UL from Feathered Friends received an Editors' Choice award from OutdoorGearLab. Based on the company's best selling sleeping bag, the Swallow, Feathered Friends consulted its customers to design the Egret specifically for the female form—or, really, anyone looking for more room in the elbows/chest area, a warmer footbox, and space to draw up your knees within the sleeping bag. It quickly became the company's most popular bag in its women's line. This ultralight sleeping bag uses Pertex Endurance 10D water resistant and breathable fabric with a 950+ goose down fill, and is our pick for the best sleeping bag for women.
"I have a Feathered Friends Egret bag that I love. So warm and weighs just 1.7 lbs." —The Dyrt camper Brooks P.
Buy Now: $489.00
Finding the best sleeping bag for kids can be tough. As soon as you've found one you like, your little one seems to have outgrown it! That's why the REI Co-op Kindercone 25 is our pick for the best sleeping bag for kids. This bag includes an attached stuff sack that you can cinch down to adjust the length, which means that the sleeping bag can grow as your child does. It also comes in lots of fun colors that your mini-camper will love.
Buy Now: $59.95
5. Best Sleeping Bag for Tall or Curvy Campers — Big Agnes Hog Park Bag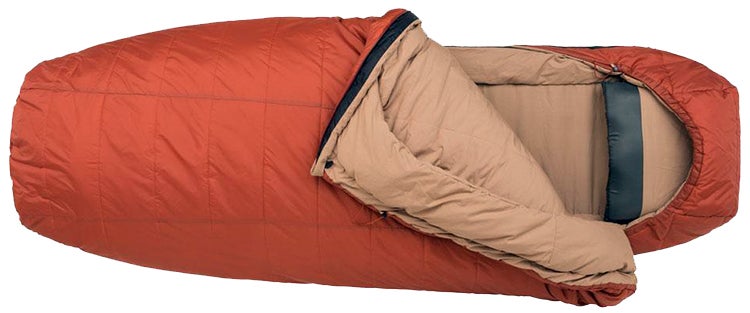 If you're a tall or curvy camper looking for a sleeping bag that's cozy without being constricting, take a look at the Hog Park 20-degree sleeping bag from Big Agnes. This synthetic-fill sleeping bag is cut tall and wide for campers of a larger stature or those who want some more wiggle room. The Hog Park 20-degree sleeping bag incorporates a back sleeve that will fit a sleeping pad up to 25 inches in width. Big Agnes actually offers several sleeping bags in its Park Series, both down and synthetic, that incorporate a quilt-like construction and extra girth. So, if you're a camper who tosses and turns, this series of sleeping bags is a great place to start your research on finding the best sleeping bag for you.
"I use a Park Style Big Agnes down sleeping bag. Because I toss and turn a lot, the larger sleeping bag was attractive for turning around in without getting twisted up, and I liked that it attached to the sleeping pad. Plus, because the bag is down, I can still compress it enough to fly with it if I do any road trips in areas I can't drive to." —The Dyrt camper Ashley L.
Buy Now: $189.95
The Backcountry Bed Duo 35 from Sierra Designs is the double sleeping bag you and your partner have been dreaming of. It uses a patent-pending zipperless design to increase your comfort, and keeps drafts out with insulated hand/arm pockets and a stretch cord closure system. You'll stay warm with its 700FP PFC-Free DriDown fill. If you're looking to head out for an adventure but still want to snuggle up at night, this is our vote for the best sleeping bag for two people.
Buy Now: $449.95
7. Best Sleeping Bag for Thru-Hiking — Patagonia Hybrid

Whether you're just getting started with thru-hiking or are an old pro, the Patagonia Hybrid is our pick for the best sleeping bag for thru-hiking. This is an "elephant's foot" sleeping bag—one that only covers you up to your mid-chest, but pairs with your favorite puffy or parka for full-body warmth. This system allows you to cut weight from your pack while making your jacket multi-use. It weighs in at just 17.3 ounces, which you'll be appreciating come mile 1,000 of your journey.
Buy Now: $299.00
We've shared our love for Feathered Friends' cold-weather sleeping bags before in our holiday gift guide and our tips for winter tent camping. So, unsurprisingly, we're heading to this Seattle-based gear company again for our choice of best sleeping bag for winter camping. The Snowbunting EX 0 sleeping bag from Feathered Friends is the company's most popular winter bag, and also won Outside Magazine's award for Best Winter Camping Gear. This sleeping bag is made in the United States with responsibly-sourced down and has helped keep campers warm from Nepal to Mount Rainier.
Buy Now: $619.00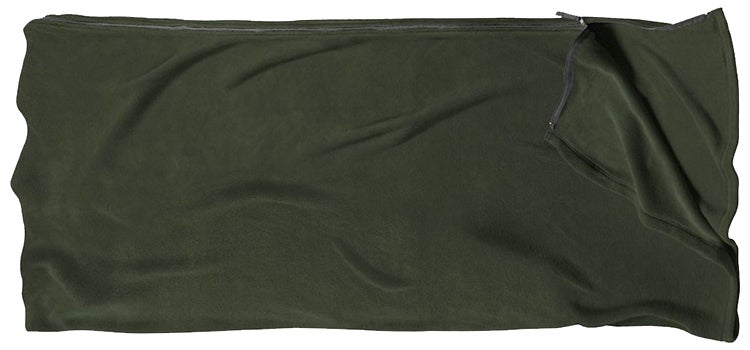 If you don't expect to do much camping in climates that drop below 60 degrees Fahrenheit at night, it's likely you can get away with buying a much lighter sleeping bag. Our pick for the best sleeping bag for warmer climates is the Cabin Fleece sleeping bag from L.L. Bean. This soft, reasonably-priced sleeping bag comes in multiple colors and offers just enough coziness for Florida beach camping. It can also be used as a sleeping bag liner if you want to add a little extra warmth to another bag.
"In the Southeast where all seasons are basically summer, I've often used a fleece bag alone like this one from L.L. Bean." —The Dyrt camper Elliott B.
Buy Now: $39.00
10. Best Sleeping Bag for Changing Temperatures — The North Face One Bag

Want one bag that can handle a large range of temperatures without ending up too cold or too hot? We're loving the The North Face One Bag for exactly that reason. This is the best sleeping bag for changing temperatures, as it incorporates a 3-in-1 system where campers can configure the interchangeable layers, making it the perfect bag for 5-degree, 20-degree, or 40-degree conditions. This is a great bag for campers who do both car camping and backpacking.
Buy Now: $289.00
11. Best Sleeping Bag Without a Zipper — UGQ Outdoor Bandit
Sometimes zippered bags just feel too constricting. This is one reason why many campers are turning away from traditional sleeping bags and toward camping quilts. Enlightened Equipment and UGQ Outdoor LLC are both leaders in the quilt industry and offer camping quilt options that are made to order in the United States.
Given their customizability, it's hard to pick just one as the best. However, we're going to go with the Bandit from UGQ.
"I have the Bandit with the tapered footbox and snaps. It has straps that connect around a sleeping pad to keep it stationary. With the footbox completely cinched and snapped close, it feels exactly like a sleeping bag, plus it has snaps towards the top to close it in around the torso. The biggest benefit of quilts is that they are way lighter, and pack down smaller, so they are ideal for backpacking. Plus, it's nice to use as a blanket when it gets cold around camp." —The Dyrt camper Kyle V.
Buy Now: $209.95
---
Our recommendations are based on providing value to campers across the country. Some articles may contain affiliate links. By purchasing through our articles, you help support this camping magazine.
Popular Articles: