This article was brought to you by Stream2Sea, the makers of reef-safe sunscreen that helps protect both your skin and the wild places we love. 
---
It's been almost forty years since the term "ecotourism" was coined by Mexican architect Héctor Ceballos-Lascuráin, but as a concept it's been around much longer. What Ceballos-Lascuráin originally defined as ecotourism was travel "to relatively undisturbed natural areas with the specific object of studying, admiring and enjoying the scenery and its wild plants and animals, as well as any existing cultural aspects (both past and present) found in these areas."
As anyone who has visited Niagara Falls since the 1850s knows, or anyone keeping up with news about the ever-present threat of development near the Grand Canyon, that line can be a tough one to walk. How do you make a place accessible to hundreds or thousands of visitors without damaging or overdeveloping the ecosystem and existing community? That can be a tough question to ask— especially when ecotourism is more popular than ever.
This interest in natural, unspoiled destinations had grown more prominent and more profitable thanks in part to the environmental movement of the 60s and 70s, combined with increasingly cheap air travel, not to mention shifts in colonial geo-politics. But it was also rooted in something very simple and essential— that people in need of a vacation are increasingly drawn to wild places where they can slow down, soak up the beauty of their surroundings, and know their money is more likely to be going back into local communities and towards conservation.
What Does an Ecotourism Vacation Look Like?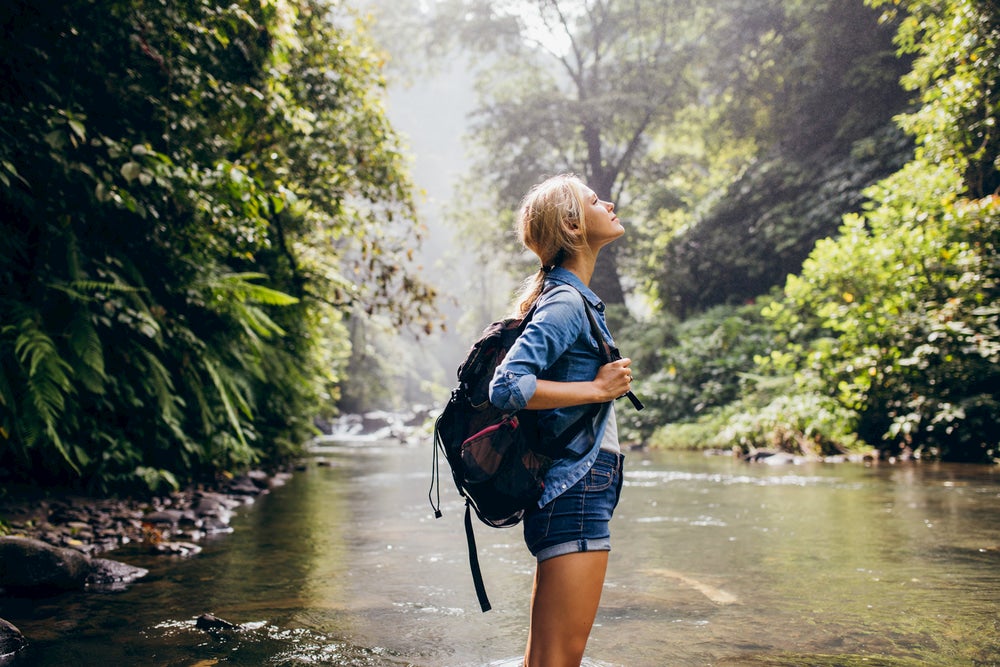 Ecotourism might call to mind epic, bucket-list adventures like scuba diving in Fiji at the Jean-Michelle Cousteau Resort or ziplining through the jungles of Nicaragua. But ecotourism is as diverse as any other travel niche, ranging from the luxurious to the charitable, from far-flung destinations half a world away to opportunities to enrich the environment of your own back yard.
An ecotourism vacation might look like a trip to one of Ted Turner's luxe New Mexico retreats, including Vermejo Park Ranch, Sierra Grande Lodge and Spa, or Ladder Ranch, all of which balance niceties like spa treatments with world-class wildlife viewing opportunities that biologists dream of. An ecotourism vacation might also look like spending the weekend helping to clean up the Oregon Coast Trail, camping out along the way. Thru-hiking the fabled Triple Crown is ecotourism. So is unwinding afterwards at a palatial National Park lodge like the Grand Canyon's storied El Tovar. Ecotourism can look like an afternoon spent on a marine biology boat tour in Sarasota, Florida or assisting archeologists studying ancient pueblo cultures in rural New Mexico, or somewhere much, much further afield.

No matter where you go, from the volcanoes of Hawaii to the beaches of Maine, as long as you're benefiting local communities, upholding environmental and human rights standards, and working to reduce the impact of your vacation on both ecosystems and our human community, you're participating in ecotourism. And it's easier than ever now to take a trip that aligns with your values from take off to landing.
How to Participate in Ecotourism Responsibly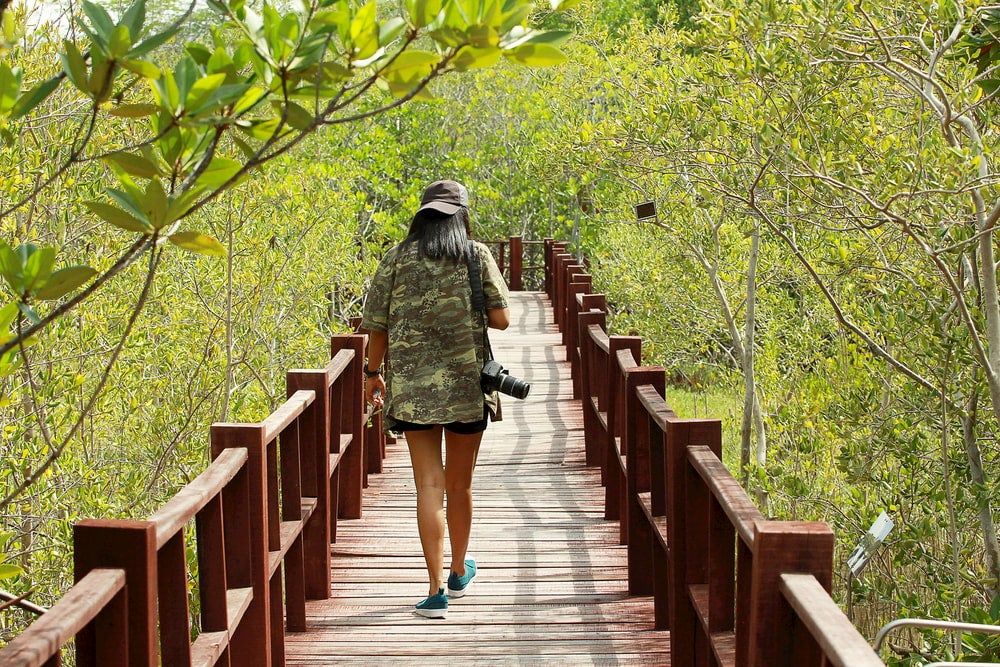 According to UNESCO, "Ecotourism encompasses all nature-based forms of tourism in which the main motivation of the tourists is the observation and appreciation of nature as well as the traditional cultures prevailing in natural areas." But depending on people's travel styles, cultural backgrounds, and other factors, we can have wildly different ideas about how to appreciate nature and traditional cultures without doing harm.
For example, Instagram influencers and the global gig economy have popularized "living like a local" during travel, emphasizing short-term vacation rentals like AirBnb over traditional hotels, or residential neighborhoods over the old commercial centers where tourists would flock. That sounds like a great way to travel deeper and have a more intimate connection with a place— but these shifts to the hospitality industry have had a very real impact on neighborhoods around the world.
In many cases, that desire to experience a place in as un-touristy a way as possible has edged out the very locals travelers are hoping to emulate through gentrification or homogenization. That means that instead of traveling to see a place that's decidedly unique, we're increasingly traveling to places that look like endless facsimiles of one another, or at least become so in our Instagram feeds.
Furthermore, the problem of determining what qualifies as a traditional culture, and how to protect something so esoteric, has been a subject of debate for decades. It can be very confusing for a well-meaning ecotourist to try and wade into these murkey questions of authenticity, localism, and ethics in an increasingly global era. But there are a few concrete steps you can take to minimize your impact—both on the environment and the communities you're visiting.
Get educated. The more you know about a place, a people, a history, or even hot-button issues like cultural appropriation, the easier it will be to sensitively navigate ethical travel.
Own your privilege, and check it at the door. It's not inherently a bad thing to be privileged, but it can be harmful if you aren't self-aware about the way your gender, nationality, ethnicity, and economic class impact power dynamics where you travel.
Do you research. Find out ahead of time if the businesses and organizations you're spending money with are benefiting the local community. Prioritize hotels, restaurants, tour companies, etc. that are run by locals, that are an economic and cultural asset to the community, and that don't uphold harmful power structures.
Avoid problematic practices like orphanage tourism, poverty or slum tourism, or unethically managed wildlife tourism— three examples of types of tourism that might appear on one level to be about authenticity or privilege-checking but are almost always gateways for exploitation. Ecotourism should always be about respect for land and locals, first and foremost.
Consider your environmental impact. Flying is almost always more damaging to the environment than driving, and both have a bigger impact than bicycling. Consider skipping a cruise next year in favor of an epic road trip, a backpacking trip, or traveling by train on a multi-destination trip instead of several flights.
Skip the trendiest destinations. The numbers don't lie— the more people who visit a destination, the greater the impact. Check out lesser-known national parks, avoid contributing to the crush at already-stressed environments, and keep your eye out for off-the-beaten-path ecotourism destinations or eco-retreats in line with your low-impact mission.
What to Pack For an Ecotourism Adventure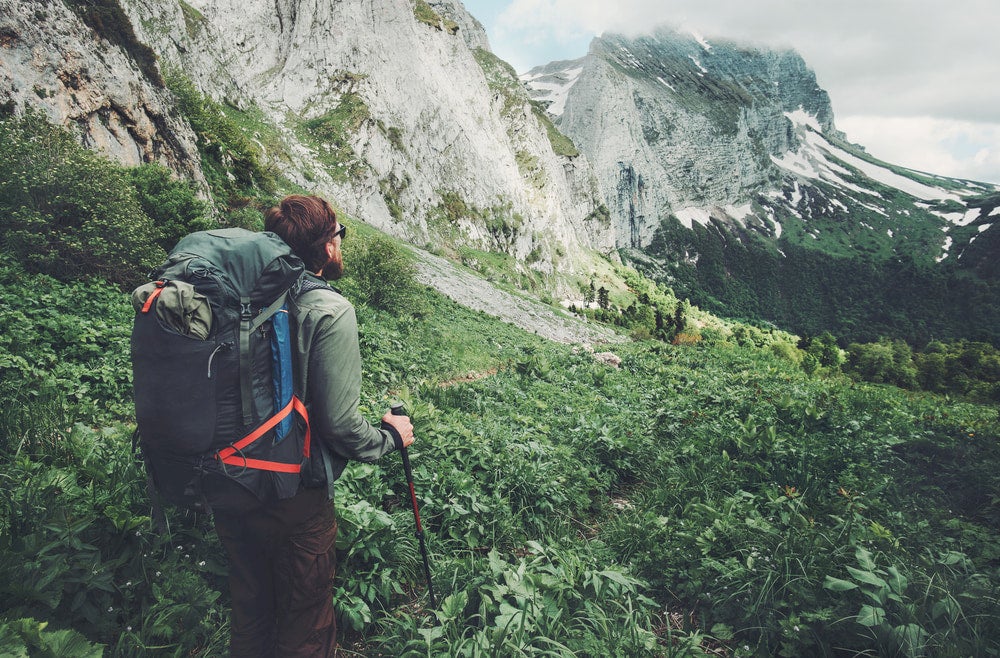 If you're eagerly planning your next ecotourism vacation, there's a few extra things you should pack. After all, this isn't any ordinary getaway you're embarking on! Filling your bag with items that will help you make the most of a natural environment while Leaving No Trace is the first step to being a responsible ecotourist.
Reef-safe sunscreen: It's good for you, it's good for the environment, and popular ecotourism destinations like Hawaii and the Florida Keys are increasingly requiring reef-safe sunscreen free of oxybenzone to protect their remaining reefs and marine life.
Reusable containers for toiletries: Purchase a multi-use cleanser like a hard shower bar designed for both body and hair, or pour your favorite products into reusable bottles instead of buying single-use travel-size versions.
A reusable water bottle: Using your hydropack or water bottle with a steripen, Lifestraw, purification tablets, or boiled water are all great ways to reduce waste without getting sick from foreign or wild water sources. You can also use an app like Refill My Bottle to find safe water sources when traveling.
A lightweight backpack: Packing light will help reduce the amount of fuel needed to get you to your destination. A lightweight backpack will help distilling your packing list down to the essentials, and ensure you aren't bringing along more than you can carry.
Versatile clothing: A smart, eco-friendly travel wardrobe will be full of items that perform just as well on the city streets of Chiang Mai as Mojave National Preserve. Built to last, easy to mix and match, and comfortable in nearly any weather, quality essentials like full-zip pants and poncho jackets, for example, will keep you dry and comfortable for years, and not just during your trip!
Ecotourism Resources
If you want to learn more about ecotourism, or check to see how your vacation plans align with the principles of ecotourism, there are a lot of resources out there you might find helpful. One is The International Ecotourism Society, aka the forefront of the ecotourism movement. TIES has been promoting the ecotourism movement since 1990, and has been instrumental in setting the standards that define this niche.
If you're looking for tour companies that will help you plan an ecotourism adventure, whether in the United States or further afield, there are several great organizations that can help check those trips off your bucket list. One of the best is Earthwatch, which pairs volunteer adventurers with scientists conducting research in some of the most beautiful and fascinating places on earth. Unlike a lot of feel-good voluntourism that is problematic for local communities, you know you're making a positive impact with Earthwatch's trips, whether you're counting caterpillars in the Chiricahua Mountains of Arizona or assisting with reef recovery efforts in Australia.
Another great eco-friendly option is VBT, the bicycle vacation experts. They plan bicycle-only, bike + boat, and bike + air packages that have a little something for everyone, from bikepacking the Natchez Trace Trail in Mississippi and the winding streets of Cape Cod to cruising near penguin colonies and the Indian Ocean in South Africa. Not only are these well-organized tours environmentally friendly compared to getting around by coach or individual cars, they've also received Travel + Leisure magazine's World's Best Awards eight times.
Unbound Travel is a sustainable tour company that actually predates the ecotourism movement. For almost forty years now, they've been engaging with local communities to build itineraries that embody responsible travel, from the Galapagos to Baja. But Unbound also walks the walk on ecotourism by giving a portion of the proceeds back to conservation organizations including Idaho Rivers United, Save Our Wild Salmon, the Hells Canyon Preservation Council of Eastern Oregon, the Clark Fork Coalition, and Leave No Trace.
---
This article was brought to you by Stream2Sea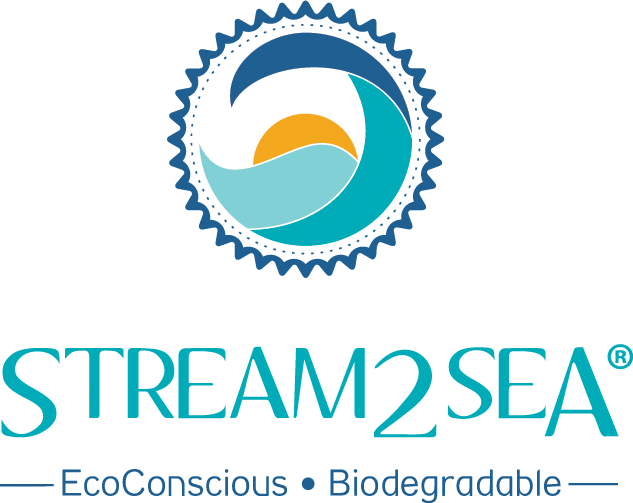 Pick up a tube of chemical free sunscreen for your next outdoor adventure!
Popular Articles: