This guide to the The Shining Sea Bikeway in Cape Cod is brought to you by INNO, the makers of innovative and technologically advanced car racks for active sports enthusiasts. INNO's bicycle carrier allows you to bring your bicycles on coast-to-coast adventures.
---
Cape Cod looms large in the popular imagination. Even if you've never been to the east coast beach haven, you probably harbor images of summer cottages, lighthouses, and generations of families escaping the heat of Boston and New York for a sea breeze off the cold, blue Atlantic. But there's more to Cape Cod than coastal cliches. Explore the Cape and you'll travel along not only the contours of colonial life, but also New England's long-ago geologic history.
You could certainly rent a little cottage or a beach-themed hotel for your weekend getaway. But if you really want to get to know the Cape and its history, then pack your bike and head to the Shining Sea Bikeway.
The old railroad bed turned bike path is an ideal introduction to bikepacking, thanks to its level surface. At 11 miles, the length isn't too intimidating, and there are plenty of sites to see along the way, building a leisurely pace into the whole adventure. You can camp at Sippewissett or take advantage of the numerous lodging options throughout Falmouth and its villages. Best of all, you can enjoy some of the best views of the Cape and a variety of natural wonders without venturing far from civilization. For newbie bikepackers, staying close to town provides a sense of security and convenience.
The History of the Shining Sea Bikeway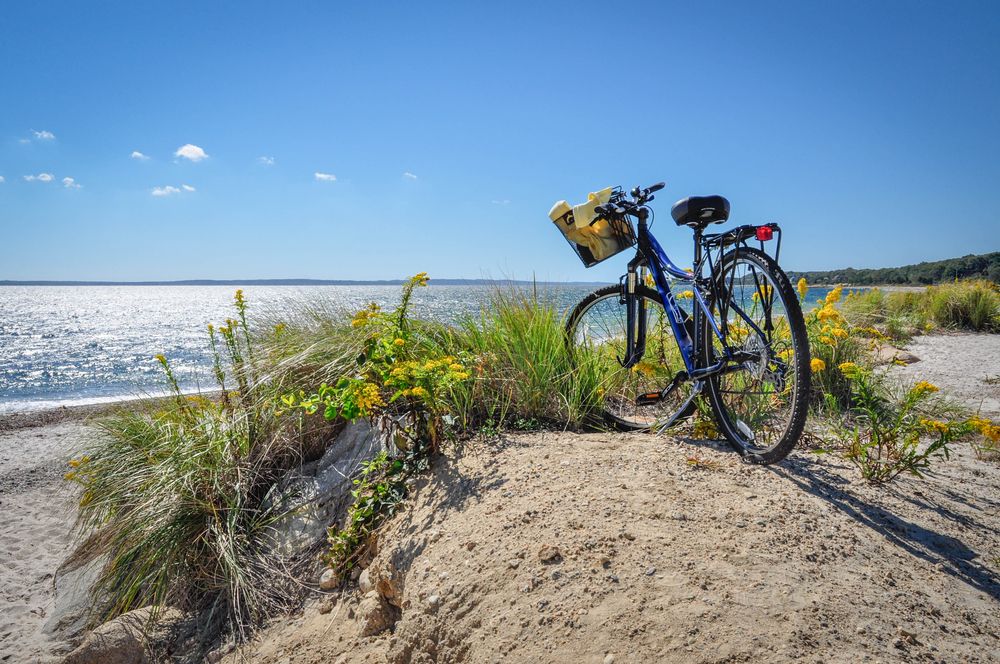 The Shining Sea Bikeway curves through one of the oldest villages on Cape Cod. Quakers settled here in the 1600s and lived alongside the local Wampanoag tribe for many years. Long before any human inhabitants occupied the Cape, however, it was formed by the massive Laurentide Ice Sheet. Cape Cod is the product of all the silt, rock, and aggregate pushed south by this massive glacier, and you can see evidence of the geologic activity in the rolling hills between Woods Hole and North Falmouth.
One of the country's earliest rail-to-trail conversions, the Shining Sea Bikeway runs for eleven miles along one of the very routes that once made the Cape so popular with vacationing urbanites in the 19th century. Before it was filled with cyclists out for weekend jaunts or adventurous bikepackers camping along the Cape, the Shining Sea Bikeway was the Old Colony Railroad's Woods Hole branch line.

There were several rail routes onto Cape Cod at that time, which went by various whimsical names over the years, including the Day and Night Cape Codder, the Neptune, the Islander, and even "the Flying Dude." Service to the cape began in 1848, and within fifty years the routes, including what is now the Shining Sea Bikeway, became part of the larger New York, New Haven, and Hartford Railroad network. In another fifty years, however, the age of the automobile had arrived, and passenger service ended in 1958 except for seasonal jaunts.
The Town of Falmouth purchased the Old Colony branch that had run through the village in the 1970s, and set about transforming it into a trail for pedestrians, cyclists, and even cross-country skiers in time to celebrate the country's 1975 bicentennial. In that patriotic mood, the new path was named in honor of the song "America the Beautiful," written by Falmouth resident Katharine Lee Bates, who was born on Cape Cod in 1859. The Shining Sea bikeway was further expanded in 2009 to extend from Falmouth and Woods Hole on up to North Falmouth, covering the majority of the town's coastline.
What to See and Do Along the Shining Sea Bikeway
When Henry David Thoreau visited Cape Cod in the early days of its reputation as a beachside destination he declared, "This bare and bended arm it is that makes the bay….Here is the spring of springs, the waterfall of waterfalls. A storm in the fall or winter is the time to visit it; a lighthouse or a fisherman's hut the true hotel. A man may stand there and put all America behind him."
If you're looking to put "all America behind" you and your bike, here's what we recommend checking out in each section of The Shining Sea Bikeway.
Start Your Journey from North Falmouth
Thanks to more plentiful parking and bike shops, it's advisable to start your bikepacking trip along the Shining Sea bikeway in North Falmouth, rather than at the southern terminus in Woods Hole. You can rent a bike or get yours tuned up at Art's Bike Shop, which has an old school rental policy of "keep it as long as you want and settle up later." Another option is Bike Zone of Cape Cod, which leads all-levels group road rides in the summer months, if the Shining Sea Bikeway leaves you wanting more.
Before you set out, take in the views of Buzzards Bay from Megansett Beach, where a rock jetty extends into the water and yachts bob on the waves. If you need to fuel up, Epic Oyster is close to the trailhead and features classic New England seafood like a buttery, Old Bay-powdered crab roll, Portuguese-inflected dishes, and more modern dishes like raw oysters in a Gin and Tonic mignonette. If seafood isn't your thing, Silver Beach Pizza is an old standby.
Bike through woodlands lush with American holly, oaks, and pines. You'll have about two miles of forest before the trees give way to marshes and wetlands. Here the Shining Sea Bikeway follows along the western edge of the Buzzards Bay glacial moraine, which is now dotted with cranberry bogs and kettle lakes. If you're bikepacking in the fall to dodge the height of tourist season and peep some New England foliage, you might have a chance to see the cranberry farmers at work, harvesting their crop in time for Thanksgiving.
Grab a Bite and Go for a Float in West Falmouth
Next, you'll encounter Bourne Farm, which dates to 1775. Nowadays it's home not to cattle, but to the feathered friends of the Salt Pond Area Bird Sanctuaries. There are 49 acres overlooking Crocker Pond in West Falmouth, where you can stop to hike pedestrian trails that give you a closer look at the stone walls and pumpkin patches that are all a glimpse into New England's picturesque past. Birders will have fun keeping an eye out for yellow-breasted chats and orange-crowned warblers, mallards, buffleheads, herons, and egrets.
Bourne Farm is just ahead on the trail from West Falmouth, where you can stop for a bite to eat or picnic supplies at the historic West Falmouth Market. It started as a door-to-door butcher operation in the late 1800s, and settled into a brick and mortar location in 1902. Today, it's still open as a butcher shop, bakery, and deli with breakfast and lunch sandwiches, pizzas, and more.
If you want to take a break from your bike and try paddling in the West Falmouth harbor, you've got several options. Cape Cod Kayak will deliver a 'yak to you in either North or West Falmouth, and from there you can really explore Buzzards Bay. The harbor here is well protected from the wind and choppy seas, so you'll have fairly gentle conditions even if you aren't an experienced kayaker. Paddle out to Chapaquoit Island or Little Island for a little fishing, or try heading for the salt marshes of Snug Harbor a little north.
There are also numerous hiking trails in the area that will let you explore Cape Code's glacial history up close and personal, like the Falmouth Moraine Trail. It's just two miles from the Shining Sea bike path and will give you a chance to see the harbor from higher up, as well as explore the Kettle Holes Conservation Area.
Camp The Shining Sea Bikeway at Sippewisset
At mile marker 6.4 (or 4.3 if you're going South to North) sits the Great and Little Sippewissett Marshes. This place gets its name from the Wampanoag people, with Sippewisset translating to "little river." These areas are also protected as part of the Salt Pond Area Bird Sanctuaries, as well as the Massachusetts Audubon Society and the Town of Falmouth.  You can see rare stands of White Atlantic Cedars, which used to dominate many more marshes along Buzzards Bay before the cranberry industry moved in.
Mixed in with the cedars are beautiful highbush blueberries, swamp azaleas, and maples, home to terns, plovers, and gulls. This is another great place to lock your bike and go kayaking, as well as birding and wildlife watching. Be careful exploring the sand dunes, however. All of Cape Cod's coast is fragile, and slowly being worn away by tidal erosion. That's one of many reasons that Sippewisset is one of the most studied saltwater marshes in the world.
Camp at Sippewisset Campground, where you can choose from tent sites, RV sites, cabins, or tipis. You can rent bikes and camping gear here, if you're doing sections of the Shining Sea bikeway, or if you're still getting used to the whole bikepacking thing. The Tessier family, which has run the campground since the 1960s, offers nice amenities like free daily shuttle trips to the ferry and the beach.
"Right on the shining sea bike/walk/running trail. Close to beaches and cape attractions. Staff is very friendly. Some sites are very small, especially the ones will water and electric. We have stayed several times and enjoy the quiet laid back lifestyle." –The Dyrt camper Sue M.
Get Yourself Tuned-Up in Falmouth
Cape Cod's fashion of grouping several similarly-named villages (and some dissimilar ones, too) all under one Township can take a little getting used to if you aren't from New England. For example, you can bike through a large swath of the Town of Falmouth before you ever reach the village of the same name.
If your bike is in need of attention, pay a visit to Corner Cycle, or grab a bite to eat at the delightfully named Crepe Cod, or Quarterdeck, which has been serving up seafood since 1967. If you're after the good regional staples of a cold beer and a hot cup of chowder, stop a spell at the reliable, no-frills Quahog Republic.
Other attractions in Falmouth include Beebe Woods, an old farm saved from development and laced with pretty walking trails. Many of the trees here were tenderly grown from saplings by the Bebe family generations ago when this was still their summer retreat. You can even get a sense of what life was like on a farm like this, hundreds of years ago. Not only is the Highfield House still standing, so is the old ice house that provided refrigeration year-round — a luxurious rarity in the late 19th century when the estate was built.
You can also explore Oyster Pond, which hasn't had any oysters growing in it for about a hundred years, but is an interesting example of how freshwater and seawater meet, and how hydrology can change over time. Originally a glacial kettle lake like the ones you saw further north, Oyster Pond was once an estuary with high enough salt content to support shellfish like oysters. Ironically, the construction of the railroad that now forms the Shining Sea Bikeway was one of the factors that contributed to the ratio of fresh to saltwater shifting.
Finish Out Strong in Woods Hole
Finish up your bikepacking trip in Woods Hole. Facing towards those other celebrated New England vacation destinations, Martha's Vineyard and Nantucket, you can see the ferry traveling across Vineyard Sound. You can stock up on candy at a classic New England candy shop on Luscombe Avenue, take a dip beneath the beloved lighthouse at Nobska Beach, or visit the world-famous Woods Hole Oceanographic Institute.
Woods Hole is famous as a hub for marine researchers, including Robert Ballard, who accidentally discovered the wreck of the Titanic while on a top-secret mission searching for lost Cold War submarines. There's an interactive exhibit on Ballard's discovery at the Woods Hole Oceanographic Exhibit Center. You can also get a free tour of the Marine Biological Laboratory in the summertime.
Go Beyond the Shining Sea Bikeway
Now that your journey is complete, you have a few different options. One is to turn back and return to North Falmouth— which you'll definitely want to do if you rented a bike there, or need to get back to your car and your bike carrier. Another option is to hop the ferry to Martha's Vineyard and continue exploring coastal Massachusetts.
You can also continue along toward Cape Cod's famous National Seashore, which is "downcape" from Falmouth. That doesn't mean south, however— "upcape" and "downcape" refer to how close to or far from the mainland you are traveling, respectively. Though it doesn't connect to the Shining Sea Bikeway perfectly, the Cape Cod Rail Trail is another great option for bikepackers hoping to see as much of the Cape as possible.
Several groups are currently working on plans to connect the Shining Sea Bikeway to more trail projects on the Cape. Most notably, studies are in the works as to how the Cape Cod Canal Recreation Path could be linked to the Shining Sea trail via the Bourne Rail Trail. Though that project is years from fruition, it's heartening to see studies are being done into how to expand bikepacking options throughout Cape Cod.
Thoreau might not have been a bikepacking aficionado, but he certainly understood what makes this place so magical for cyclists and other visitors. "This shore will never be more attractive than it is now," he opined over a hundred and fifty years ago. "Such beaches as are fashionable are here made and unmade in a day, I may almost say, by the sea shifting its sands." One can easily imagine standing at Nobska Point, or any other beach on the Shining Sea bikeway, and thinking the exact same thing.
---
Related Campgrounds:
Related Articles:
Popular Articles: