Car camping is the new #vanlife—and we don't just mean loading up your vehicle for a tent-camping adventure. We're talking about turning your car into a smaller version of a camper van conversion, with a vehicle you already have, to create a micro-motorhome.
Sure, vanlife is great. But it's not practical for everyone. Those fancy van conversions are gorgeous, but they can be expensive and take considerable time to build. If you just want a vehicle that's comfortable for camping, and you don't necessarily need to stand up and walk around, your car might be everything you need to build the ultimate camping rig.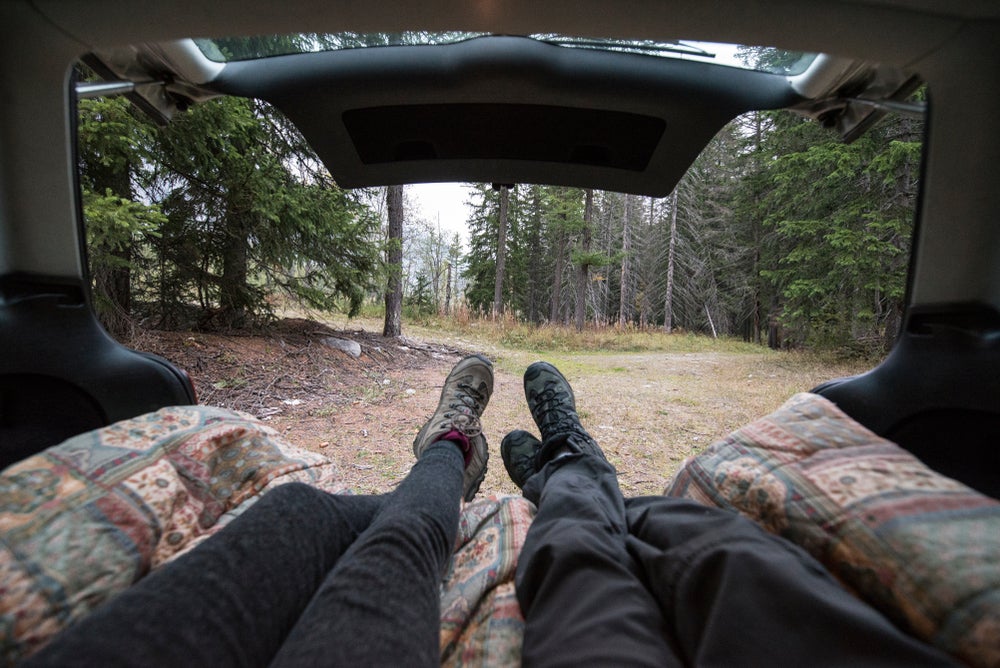 Here are the important steps to follow when pursuing your car camping conversion:
1. Assess Your Vehicle
First things first: what kind of vehicle are you working with? Even a two-door vehicle can make a cozy adventure rig, so don't be discouraged by the size of your current car. There's a big bonus to smaller cars: better gas mileage. Typical motorhomes get anywhere from 8-13 miles per gallon, and road trip budgets can be quickly used up on fuel.
Whatever type of vehicle you're working with, take a look at the space you have when you lay down your back seats. If there's enough room for a person to be horizontal, you can create a car camping rig that includes a bed. If you can't, there are always rooftop tents.
2. Decide on a Layout
Now it's time to decide on a layout for your car camping rig. Maybe you'll build a platform bed with storage underneath and a smoother sleeping surface, or throw a camping mattress in the back for a refreshingly simplified car camping unit.
Ask yourself these questions:
Do you need storage inside your vehicle?
If so, what do you plan on keeping inside? The less stuff you have in your car, the more room you'll have for yourself. Attachable rooftop storage boxes are your best bet for space-saving storage, in addition to whatever storage you build as part of your bed platform. Consider the activities you most enjoy while camping and what type of gear you need to bring along.
How many people will be sleeping in this space?
The more people involved, the bigger the bed space you'll want. Will your dog be joining you? They'll need space, too.
How long will you be on the road?
The more you'll be using your car camping rig, the more creature comforts you'll want over time. If you're just using this the occasional weekend getaway, maybe you can get by with a bed that isn't so plush. If you'll need to use your car for everyday errands or shuttling a family to school and soccer practice, you'll want easily removable options for camping.
If you want to build a platform bed, read on. If you're opting out of a platform, throw down your mattress and skip this next step.
3. Build Your Platform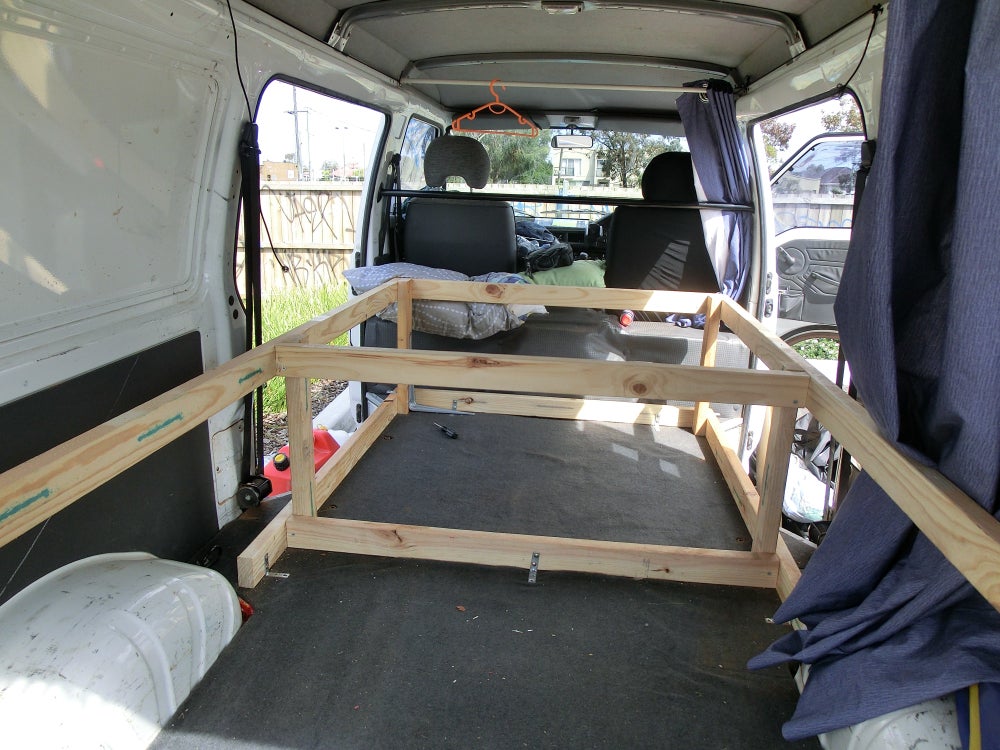 If you have some carpentry experience, this will be a fairly easy build. If you don't, chances are you have a friend who does.
There are a number of platform designs out there; spend some time browsing the internet for inspiration on how you'd like to design yours. This is a simple build with four legs and a plywood plank.
To begin, first measure the interior length of the space where you'll fit your mattress. If you want about to maximize the sleeping area, push your car seats forward to a place that's still comfortable for driving. And don't measure all the way to the end—you still have to close your trunk.
To measure your available height, first look at what you'll need for clearance. What structures need to be cleared? How much headroom do you want? What type of storage bins do you want underneath your platform? Once you have this planned out, you can measure for your height.
And once you have mapped out the length, width, and height, you can begin the actual build.
To do this, you'll create two identical supports. Each will have two legs and one longer post connecting them.
Start with measuring and cutting four identical legs out of 2x4s. Screw these to a 2×2 that's measured according to width. Then screw your plywood plank onto the supports.
Car Camping Gear Essentials
For a successful trip with your new car camper conversion, these essentials will keep everything running smoothly:
1. Organizers
For car camping organizers, you have a few options. If you went with the platform bed, chances are you have plenty of storage underneath and a simple crate or basket up front will hold your bedside essentials.
If your bed doesn't take up the entire backspace, you can create a mini storage nook out of crates inside your car. Things you might consider keeping nearby: books, headlamps, and personal hygiene products.
2. Power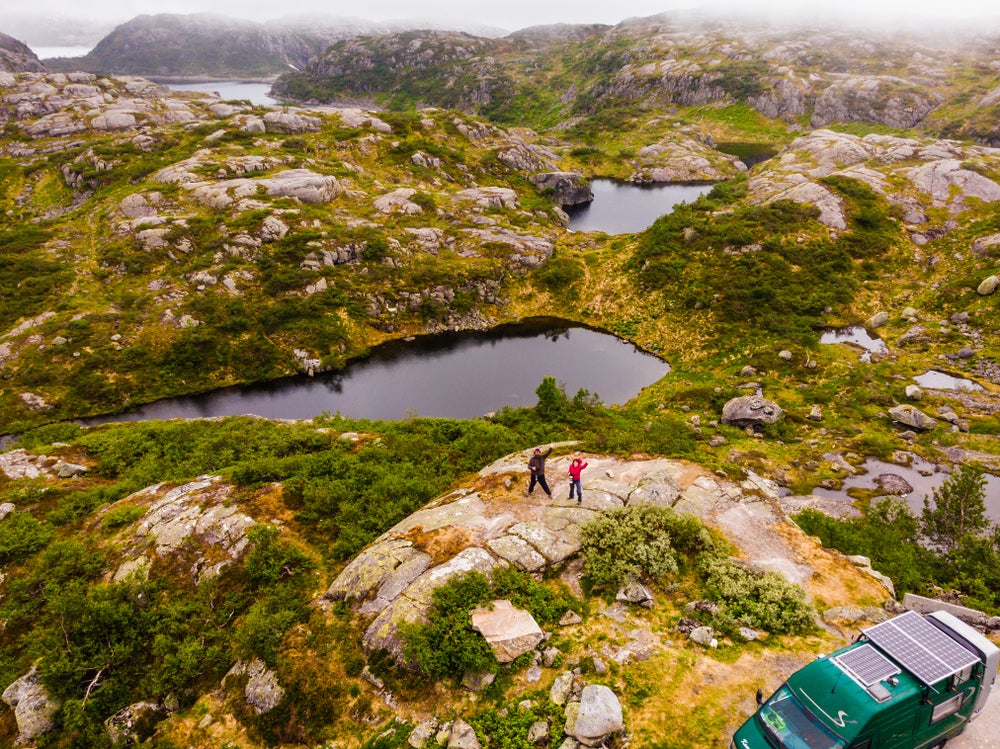 If you're planning on being on the road for a longer amount of time, consider solar panels. They can keep your propane and gasoline costs down and help save the environment. Solar panel installation isn't as difficult as you might think.
3. Warmth
If you're sleeping in your car in cold weather, there are plenty of hacks available to keep cozy; everything from multi-layered bed insulation to a pair of camping slippers. You don't have to carry everything on your back when you have a whole car to carry your stuff, so bring those extra blankets! Wool is always better than cotton. You might also want a heater that runs separately from your vehicle. (Using a heater inside your car can be very dangerous. Always crack a window and never run a heater while you're sleeping.)
4. Accessories
If you're an interior design geek like me, creating the aesthetic should be the fun part. In a small space, everything you bring on board should matter—and it should be minimal. There's nothing that sucks the life out of road tripping than the constant re-arrangement of unnecessary items.
With that being said, if you bring along things you really love, you'll have a micro RV that feels like home. Blankets, pillows, and lighting are all ways to accessorize your space. And whatever you bring, keep it clean. A tiny space will feel much bigger if you keep it clean.
Additional Car Camping Tips to Get You Started
Now that your bed is in place, your storage needs are accounted for, and you're ready to hit the road, let's talk additional tips to ensure long-term car camping success.
For added warmth, keep a space blanket, reflective side up, under your mattress. This helps to insulate against the cold. If you're by yourself, sleeping bags are typically warmer than blankets in colder climates.
For sound and light blocking, cut reflectix panels to the size of your windows.
For food, you'll want a cooler. This can stay in the back while you're driving. When you're sleeping, keep it in the front seat (animals can get into if you leave it outside of your vehicle). Find one that fits your front seat area even with your car camper conversion.
For the safety of yourself and the animals around you, keep food and toiletries in a bear-proof canister. A number of bear canisters are available from outdoor retailers that are appropriate for car camping.
For showering, you might want to try a solar shower that can be attached to your vehicle.
For cooking, a compact camping stove or backpacking stove works best.
It's easy to get discouraged by those fancy conversions you see at trailheads and campgrounds. #Vanlife can feel impossible on a tight budget. But, as you can see, all you really need is a car and the commitment to get out there. Often, it's the simple things in life that bring the most joy—car camping included.
Popular Articles:
---

---