With Instagram and social media helping to create an astronomical upswing in tourism to both state and national parks and monuments, camping, often hand-in-hand with park visits, is also on the rise. And as budget airlines with hubs within driving distance (or at least epic road trip distances!) away from parks, a slew of companies are popping up around the country offering ways to rent camping gear and other essentials for a range of outdoor needs.
Alternatively, as more folks are curious about the outdoor lifestyle and quality gear is anything but budget-friendly, folks are using gear rental companies as a way to try-before-they-buy. There is, of course, cheap camping gear readily available for last-minute trips, but these companies are not concerned with quality, and the result is that poorly-made gear ends up in a landfill not long after purchase.
If you care about the environment in which you're exploring, this is a big deal. The option of trying a quality, albeit more pricey, item out allows you to make smart purchases down the road…effectively putting your money where your mouth is.
How To Save Money And Rent Camping Gear Across the U.S.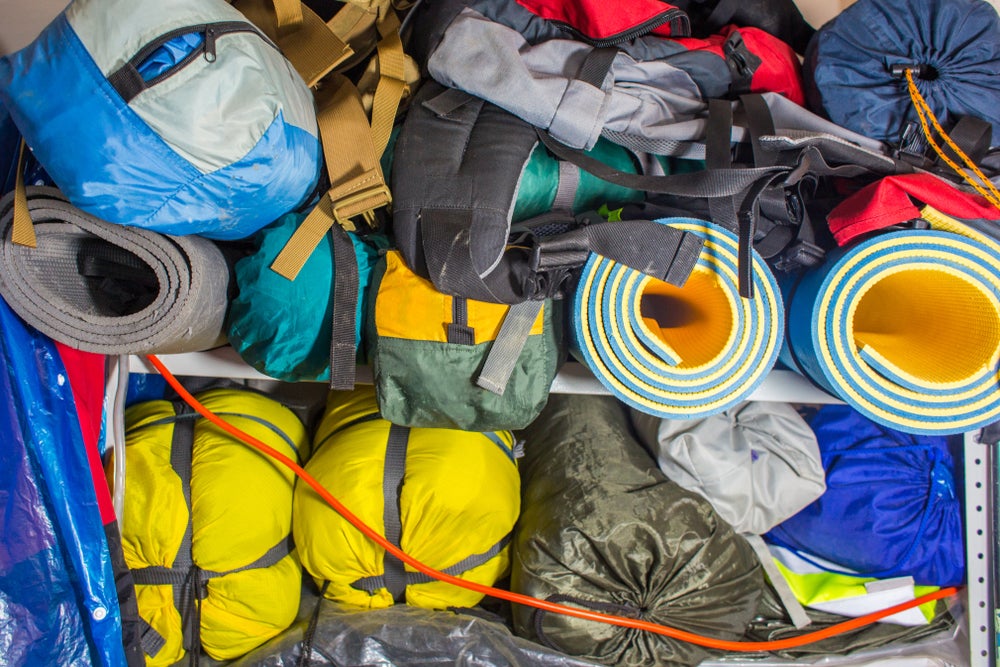 No matter what your recreational plans are, these companies offer ways to rent camping gear that will fit even the most basic needs. Many of these companies will ship their gear nationally, if you're looking to rent a specific item from any of these outfitters.
A note from the author: as research was conducted for the purposes of this article, I discovered that many colleges have an outdoor gear rental system. Some rent gear only to college students, others to community members and visitors. If you're able to go this route, rental prices are super affordable. Availability is limited and there might be a catch if you're not a student, but prices are incredibly low. It might be worth it to do a quick search of the area colleges to see what you can find.
Now based out of Woodstock, New York, with national shipping options, Gear to Go Outfitters started in 2009 when founder Kevin J. Rosenberg created an online rental space for hiking and camping gear out of his Brooklyn apartment.
With both a brick and mortar store as well as online rental options that ship directly to you, Gear to Go has the east coast region covered. They even offer shuttle services from NYC to their Woodstock store. Gear to Go has all the necessary items needed for your next East Coast adventure…from backpacks to tents to kitchen supplies. Items are rented individually, so you can build the appropriate gear list of items you'll need for your trip.
Notable Gear Rentals
SPOT Personal Locator Beacon
Water Purifier
Bear Canister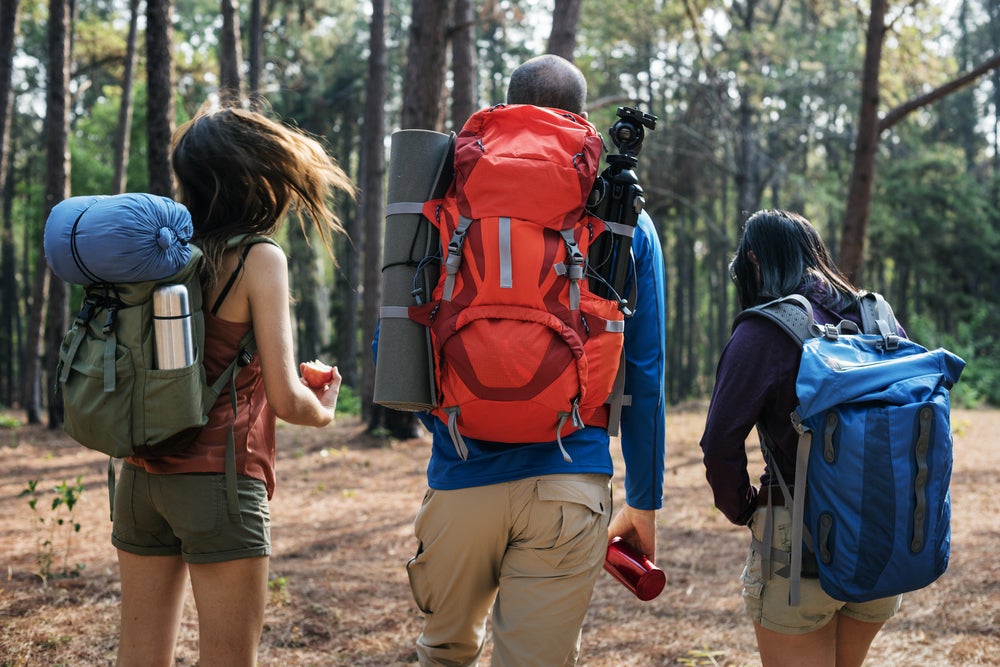 There's a common saying about the Midwest that's both wrong and unfair: these states are just fly-over states. Nothing could be further from the truth. With some pretty spectacular outdoor scenery (think: endless undulating fields, enormous skies, and stunning hikes in their own right), the Midwest has some of the best camping in the US.
If you're new to camping, in need of gear, or visiting the Midwest to see the beauty for yourself, Rocktown Adventures has quality gear and affordable prices–prices can be by the day, long weekend, or full week. They have multiple tent styles and sizes to choose from, cooking stoves, and more.
Notable Gear Rentals
MSR Cook Sets
Big Agnes Tents
Sleeping Bag & Sleeping Pad Combo
With multiple locations in three prime southern states, Tennessee, Georgia, and Alabama, Mountain High Outfitters is the gear rental company for whatever southern adventure you're planning. In addition to tents, backpacks, and other typical camping gear rental items, Mountain High Outfitters rents directly from select stores.
As a bonus, whatever gear you cannot rent (we doubt you'll have this problem, though), you can buy in-store whatever products you need. They carry top outdoor brands for your gear needs, such as Chaco, Patagonia, Marmot, and Hydro Flask.
Notable Gear Rentals
Stand Up Paddleboards
Kayaks
Bikes
In the more mountainous, landlocked region of what is still considered the northwest, Montana is a bucket-list kind of state for outdoor lovers and adventure fiends. For whatever adventure you're about to embark on here, if you need to rent camping gear, Big Boys Toys has you covered. Offering rentals from the most low-key to extreme outdoor activities (they even rent ATVs!), prices are relatively affordable (a two person tent rental starting at $9/day).
Notable Gear Rentals
Four-Wall Camping Tent
Bear Spray & Electric Fencing
Cylinder Charcoal Stove
If you're flying into Vegas and adventuring from there, Basecamp Outdoor Gear is the gear rental company you're going to want to use. They have top of the line gear, super friendly and accommodating owners, and bonus, you'll be supporting a small, local, start-up company.
Pick-up is easy: they're located less than a mile from McCarran International Airport. They have various options for gear outfitting packages, such as all of the necessary gear needed for a successful hike down into the Grand Canyon. Everything you need comes packed neatly in a tote that's easy to load and unload. They have everything from baby backpack carriers to top-of-the-line headlamps, multiple-sized tents, camp chairs, and stove, fuel, and cooking accessories.
Notable Gear Rentals
Double Nest Hammock
Child Carrier Backpack
Camping Stove Fuel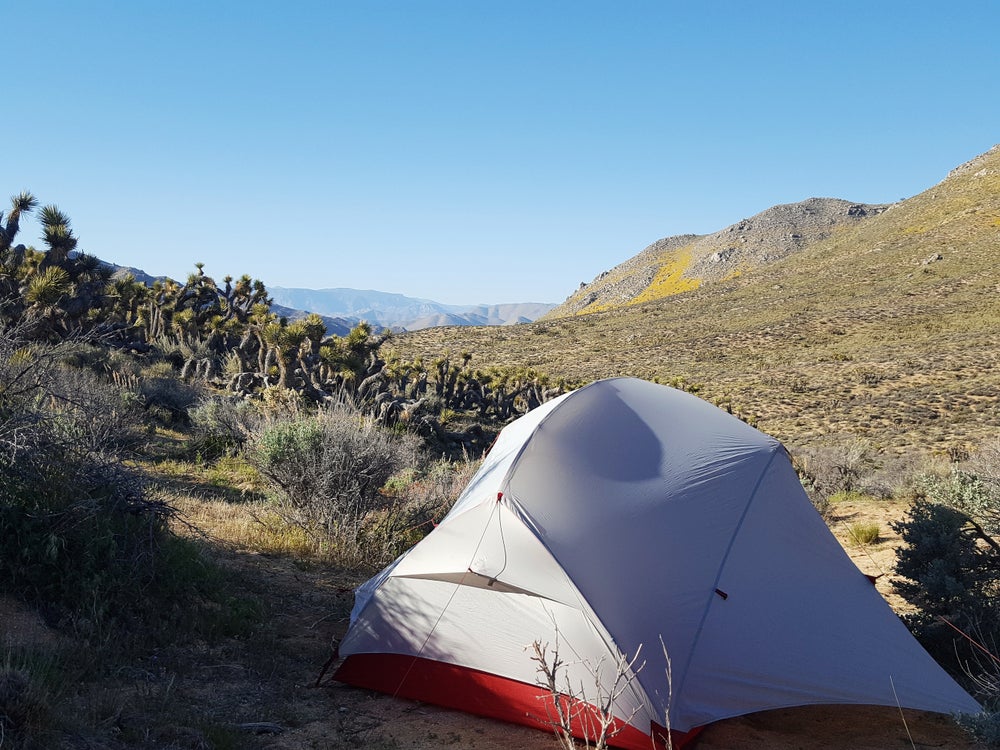 With free local delivery and quality brands, Wilderness Trio has all of your must-rent camping gear items for a dream camping trip from a California base. The outfitter has operations working out of SoCal and NorCal, and offer tent rentals, sleeping gear, backpacks, and even snowshoes, if you're planning on an escape to the mountains. Going backpacking? On top of appropriate rental gear, you can also purchase water filtration and backpacking food.
Notable Gear Rentals
Snowshoes
Campsite Canopy
Camp Hatchet
For those heading to the Pacific Northwest Region of the West Coast, Xscape Pod is your go-to gear rental company. They offer national shipping, local delivery, or store-front pick-up in their Portland, Oregon space.
The idea is simple: if you need to rent camping gear for the short-term, Xscape Pod has created the perfect pod-like package for your camping needs. Each pod includes everything you'll need for a fun camping trip (minus the munchies!).
What does this look like? An expertly packed pod, packed with such items as a tent, hammock, sleeping bags, camping stove and cookware.
Notable Gear Rentals
Winter Camping Pod with Snowshoes and Trekking Poles
Camping Pod with Cooler, Sleeping Bags and Tent
Backpacking Pod with Lightweight Gear & Backpacking Pack
---