A mashup of glamor and camping, glamping promises the comforts of home against the backdrop of mother nature. It can be a way to ease into the ruggedness of camping, without sacrificing all of the luxuries of a traditional vacation. Glamping might look like a cozy cabin in the woods, or fancy glamping tents with lots of extra amenities that make us feel cozy.
Whether you take the glamping trend seriously or not, it's become a multi-billion dollar industry—so people are enjoying these over-the-top glamping tents with a side of champagne and s'mores made with artisanal chocolate.
And we maybe want to be their friends.
8 of Our Favorite, Slightly Ridiculous Glamping Tents
Whether you're looking to add some luxury to your next camping experience, or just want to ogle at the opulence, these glamping tents are sure to impress: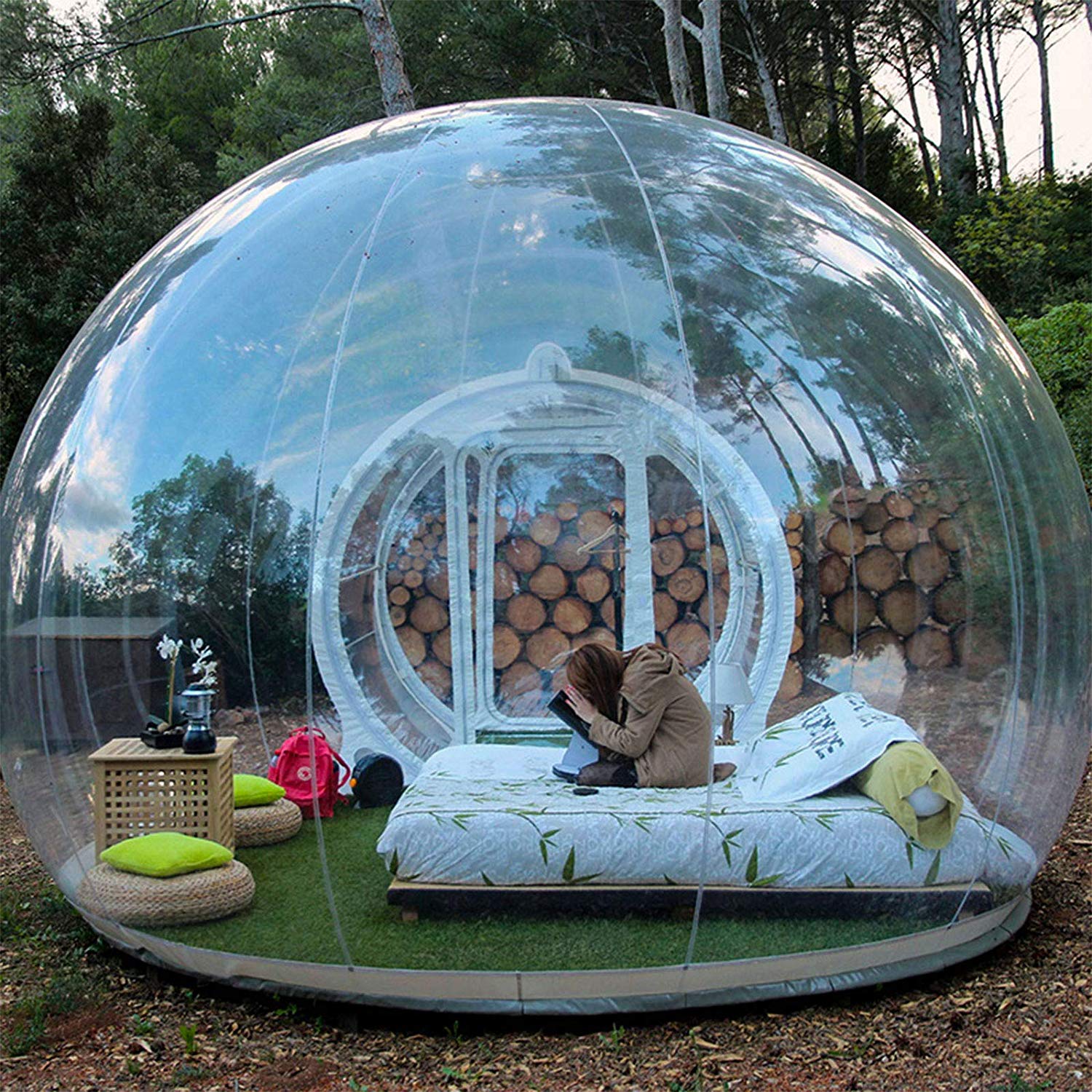 Set up camp in this uber-futuristic Inflatable Bubble Tent. The dome area is about six feet in diameter, while the attached tunnel is just over six feet long. The tent comes with an 110-volt blower to keep the bubble inflated, so you can't really go off-grid without some portable power. However, it's a fun way to sleep under the stars—with nothing blocking you and the stars.
Buy Now: $730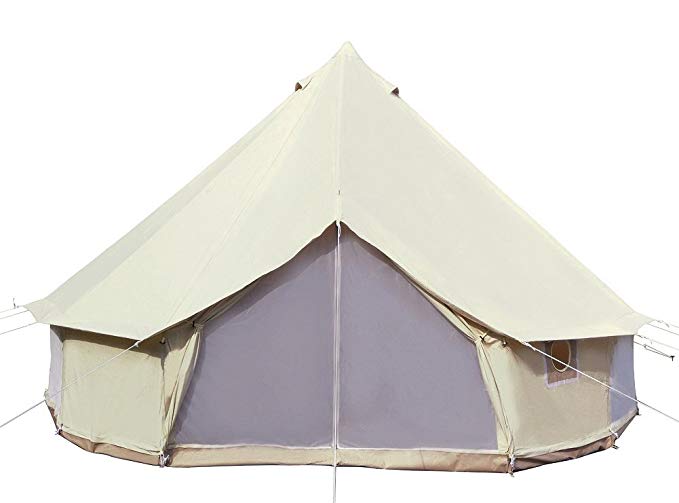 A plain canvas yurt might not scream "glamour" from the outside, but with a 20-foot diameter, you can fit a lot of comfort inside of the four-season glamping tent. This option is significantly more practical than the bubble tent, since its neither see-through nor electric-powered. With screened doors and windows and a rain-resistant coating, it'll keep the comfort in and the elements out year-round. It weighs 90 pounds, so we don't suggest carrying this into the backcountry. But for a long-term getaway for a group, the canvas yurt tent will have you feeling right at home.
Buy Now: $360 – $670
Lotus Belle Tent offers 400 square feet of space (20 feet in diameter) and more of a circus tent vibe. This is a higher-end glamping tent, at about $3,600. Designed to be suitable for all climates, the Lotus Belle Tent has roll down canvas blinds, mosquito nets behind its doors, and large roof vents to maximize breathability. (It also looks like an upside-down lotus flower.)
Buy Now: $3,600
The Cocoon Tree Pro is made of aluminum covered with a waterproof membrane. It can be suspended from trees or placed on the ground. Empty, it weighs around 500 pounds, so it's typically suspended between two or three big, healthy trees. Inside fits a double bed and promises to support 2.3 tons of weight. Most importantly, it looks very, very cool on a beach.
Buy Now: $20,000
Who doesn't love a giant, inflatable igloo? Heimplanet Tents have a science fiction meets the arctic vibe. Designed to accommodate 10 people, the massive Mavericks tent (pictured) sports five closable doors and windows and promises to withstand winds up to 180km/hr. Just as sturdy, the Cave tent is rated for 2-3 people and comes at a much more affordable price point.
Both fully inflatable, they're one of the few glamping tents that aren't impossible to carry. Stop fumbling with tent poles and relax with Heimplanet.
Buy Now: $700 – 6,500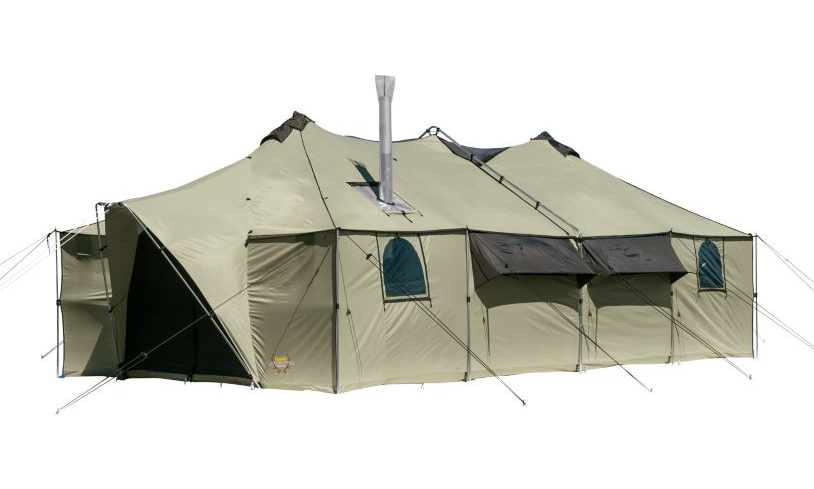 We're loving this glamping tent for its sheer ginormous-ness. The 13 by 27-foot structure is the perfect tent to build a home-away-from-home. The most distinguishing feature is a zipper panel that accommodates a wood-burning stove. With room for 11 large cots, it makes the perfect base camp for groups of adventure seekers. (Or you can kick everyone out and do a bunch of cartwheels inside.)
Buy Now: $1500

Whether you're shelling out for an event or just the ultimate glamping gear, the Baby Tipi from the Tipi Company is sure to impress. Designed to fit eight people sleeping (or 20 people standing), this glamping tent measures about 20-feet in diameter and 14-feet in height. It is just begging for some extras like twinkle lights, a colorful rug, and some decorative throw pillows. Dress it up and make it yours!
Order this glam alternative directly from The Tipi Company, where you can customize your camping experience with doors, windows, flooring, and more. Check out their brochure for more details.
Get Started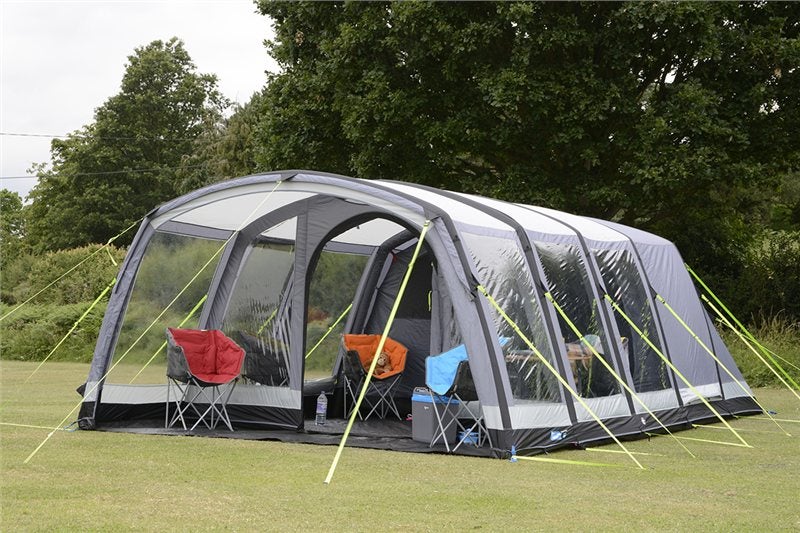 Another inflatable option, the Kampa Hayling 6 Air Pro Tent is allegedly a breeze to set up. With separate rooms, your family and friends can enjoy each other's company around the campfire and then get away from each other when everyone is ready for some privacy. The front canopy gives you roomy living space to enjoy on those not-so-sunny camping days. Bring your board games and all your favorite camping accessories. With all this space, who even needs to roam around outside?
Buy Now: $668
---