A team of researchers last week removed a behemoth 17-foot, 140-pound Burmese python from the Big Cypress National Preserve in the Florida Everglades, the largest to be captured and killed in the area. In a post on the park's Facebook page, the park reported that the  female snake was found pregnant, with approximately 73 developing eggs that contributed to a majority of the snake's weight. Researchers had reportedly been using a new tracking method for snakes in the park—tracking males to lead them to females during mating season—when the researchers came across the record-sized python in the Everglades.
Florida Everglades Python Measured 17 Feet, Weighed 140 Pounds When Captured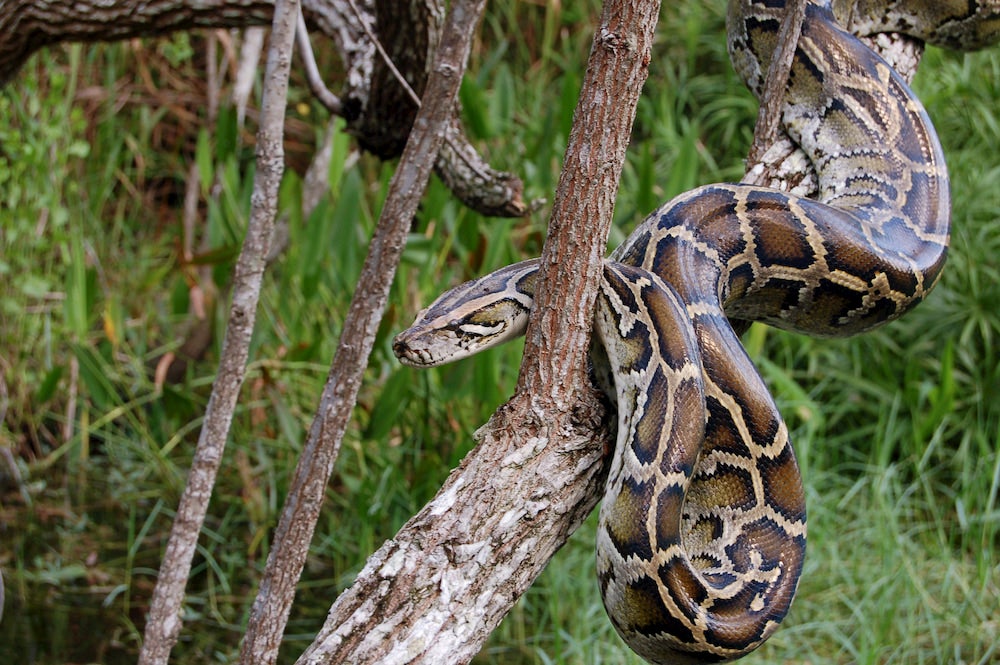 Officials with the preserve explained that these pythons are a non-native and invasive species, and are captured and killed to protect wildlife. "They are being humanely euthanized because they are having a huge, negative impact on native animals such as deer, wading birds, and even Florida panthers by taking away food from the endangered native Panther," officials stated on Facebook.
It is believed that Burmese pythons came to the Everglades after residents in South Florida released pet pythons into the wild. The first sightings of pythons in the Everglades were in the 1980s, and the population has grown since. The U.S. Geological survey reported that since 1997, there have been major decreases in population for local wildlife including raccoons, bobcats, and marsh rabbits.
Before this capture, the size record was held by a python caught in 2017, at 17 feet long and weighing 132 pounds. South Florida's Sun Sentinel reported that the 2017 capture was performed by hunters participating in South Florida Water Management District's python elimination program, where hunters are paid for their catches by the foot.
---
Related Campgrounds:
Popular Articles: