As a native of the Pacific Northwest, I'm not ashamed to admit I'm a waterfall snob. Where I'm from, you can barely hike a mile without drowning in a spectacular waterfall. When I moved to the desert, the last thing I expected to see was a waterfall that impresses me. Alas, there's not one, but several waterfalls in Utah that have humbled my evergreen soul.
The 5 Best Waterfalls in Utah and Where to Camp Nearby
From the deserts to the mountains, waterfalls in Utah are spread across the state—sometimes in the most unexpected places. No matter where you find them, you're sure to find excellent camping nearby as well, so you can turn these day hikes into your next favorite overnight trip.
Before heading out to these waterfalls in Utah, be sure to learn about the policies of Leave No Trace. These waterfalls, like many natural wonders in Utah, are delicate and require visitors to practice LNT policies to best minimize the impact dealt to the areas around these waterfalls.
1. Lower Calf Creek Falls—Grand Staircase-Escalante National Monument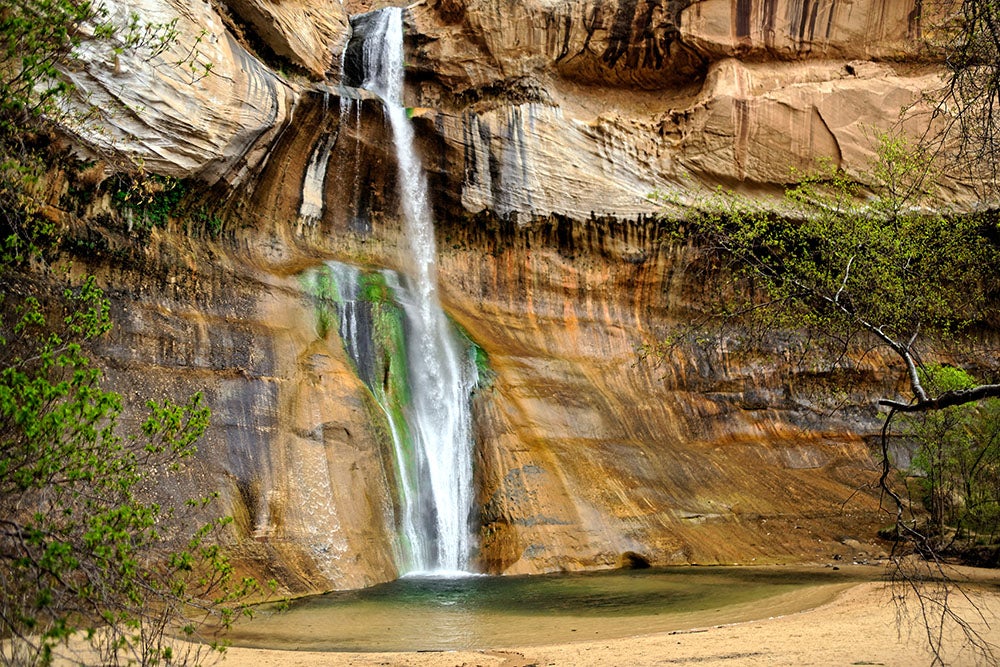 The hike to the Lower Calf Creek Falls is a 5.5-mile hike through an impressive canyon outside of Boulder. The trickle of calf creek and shade from the cottonwoods make the trek pleasant. Marks left by the natives streak the canyon walls. The 126-foot waterfall is remarkably beautiful. The water cascades against a backdrop of green, yellow, and orange algae, and into a pool of clear blue. And the cottonwood trees surrounding the falls offer shade for a family picnic.
The Calf Creek campground has 13 first-come, first-served campsites with access to the trailhead for the Lower Calf Creek Falls. The campground fills up by the afternoon on summer weekends, so be sure to start your day early. Campsites are available year-round for $15/night. Most sites are tent-sized, so RVers might want to look for a spot at the nearby Canyons of Escalante RV Park. The Calf Creek campground fee includes access to a toilet, picnic table, and grill.
"Love this campground! Better get there early but once your in, plan an extra day! Trailhead is incredible! Pack it in, pack it out but clean flushable toilet at entrance and clean vault toilets at throughout. The creek itself was a nice place to soak the feet after the hike to the beautiful Lower Calf Creek Falls. Very clean and quiet!" — The Dyrt camper Marlin B.
2. Stewart Falls—near Sundance, Utah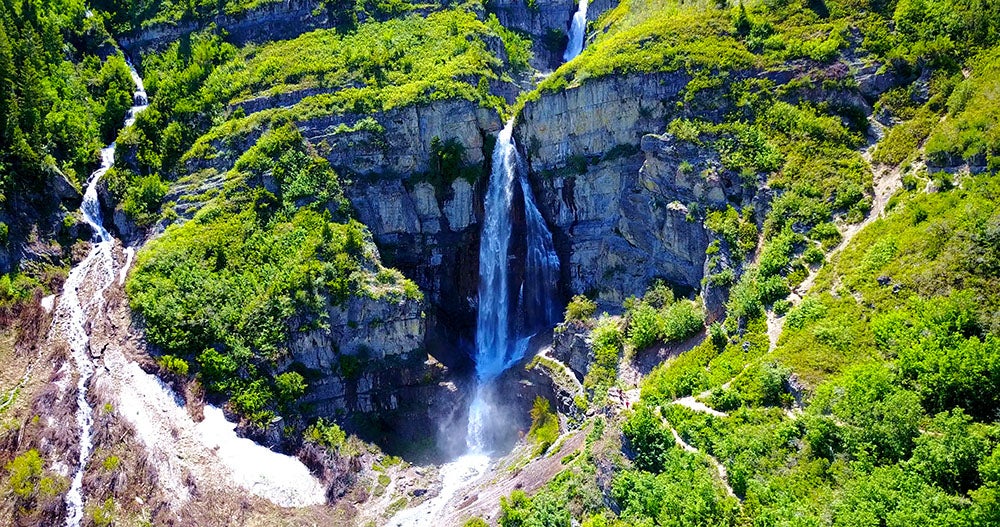 Stewart Falls is in close proximity to the famed Sundance Resort—home to a portion of the Sundance Film Festival, and a charming urban center with some of Utah's best landscapes around it. The 3.5-mile hike to Stewart Falls is easy, making it great for families. The 200-foot waterfall is best viewed in the morning. It cascades in two ribbons, meeting again for the lower tier. The hike is lovely in the autumn when the aspen groves turn brilliant shades of yellow, orange, and red. Be sure to sneak behind the falls to get a different perspective.
The Mount Timpanogos campground is where most visitors like to stay when visiting these falls. There are aspen and maples throughout, and 360-degree views of Mt. Timpanogos. Fall brings vibrant foliage and spring and summer provides droves of wildflowers. There are 27 spacious and relaxing sites available; some are first come, first served, some are reservable online. Campers have access to picnic tables, fire rings, flush toilets, and water.
"This is a must-see spot. This area, really all of American Fork Canyon is among the prettiest places in Utah Valley. Go! Camp! Hike Timp!"—The Dyrt camper Brendan A.
3. Kanarraville Falls—near Zion National Park
Kanarraville Falls can be reached through a 5-mile hike over three waterfalls in Kanarra Creek Canyon. Hikers pass by the first 15-foot waterfall, and climb it using a ladder on the side. The second, smaller waterfall can be scaled by scrambling over a large boulder. Finally, you'll pass the third waterfall using either a ladder or wooden log(s). The rare combination of slot canyon and waterfalls make these falls highly photogenic. A note before heading out—this hike is mostly through water, so come prepared with waterproof shoes or waders for the hike. Visitors are required to get a $9 permit from the Kanarraville Falls website before entering the canyon.
The Red Ledge RV Park and campground is just a short mile away from Kanarraville Falls, and The 22 reservable sites are $30 per night; a bargain for the comfort and scenery surrounding you. The fee includes access to water, a propane grill, a playground, showers, 24-hour laundry, a hot tub, and wifi. And for a $5 upgrade, you can stay in a swanky mini-cabin.
"Red Ledge RV Park is perfectly located between Zion and Bryce Canyon National Parks. And, Cedar Breaks is just a few miles away. This is a quiet, beautiful, clean, and friendly campground. So there, my secrets out!" —The Dyrt camper Keith W.
4. Doughnut Falls—near Salt Lake City, Utah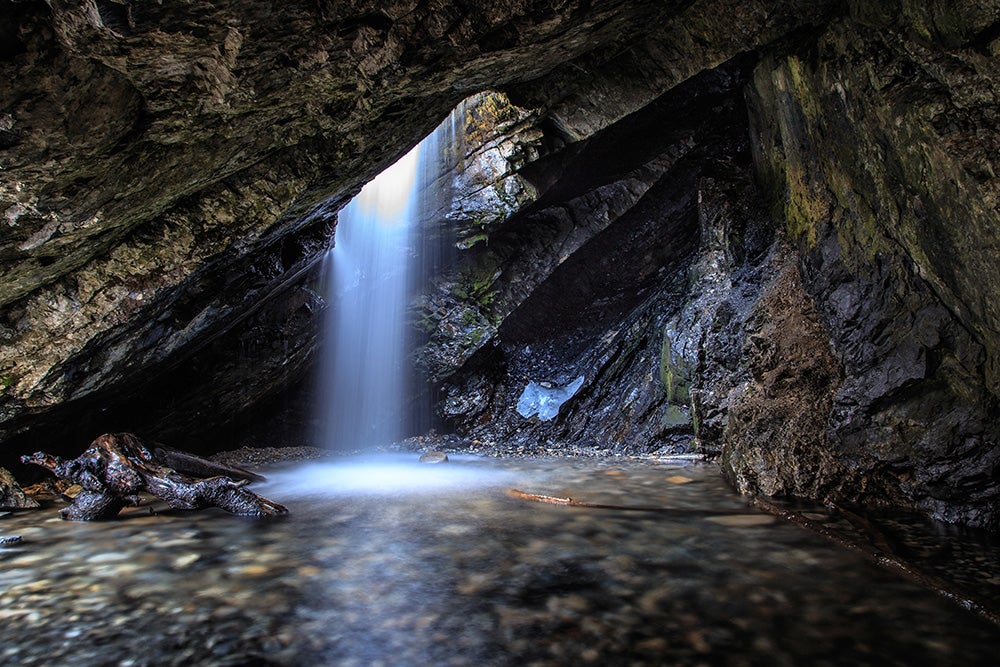 Doughnut Falls isn't one of the most grandiose waterfalls in Utah but it will leave a mark in your memory. The easy 3.5-mile hike is outside Salt Lake City, in the Wasatch mountains. Expect to get wet, you'll be scrambling up the runoff to see the "doughnut" part of the falls. At the top, you climb into a small cave, where the water cascades through a ring-shaped hole (get it?) and out the bottom. If you're lucky, you'll be the only one in there. For that to happen, avoid the busy summer weekends. These falls are also scenic in the winter, when the water freezes as it flows through the hole.
The Spruces campground is right next to the Doughnut Falls trail, featuring are 81 campsites, with a number reservable online, and the rest available on a first-come, first-served basis. If you can't reserve, try to visit on a Thursday to snag a walk-up site. Campers have access to picnic tables, grills, flush toilets, water, a baseball field, a volleyball court, and horseshoe pits.
"This campground is gorgeous! for $26 a night, you cannot beat it. There are nice flush toilets, fire rings, picnic tables, large areas for putting up tents, etc. There is an entire loop of the campground dedicated to trailers and RVs. It is deep in Big Cottonwood Canyon in a very forested area with a beautiful little creek running right through the center of the campground." —The Dyrt camper Jason H.
5. Bridal Veil Falls—near Provo, Utah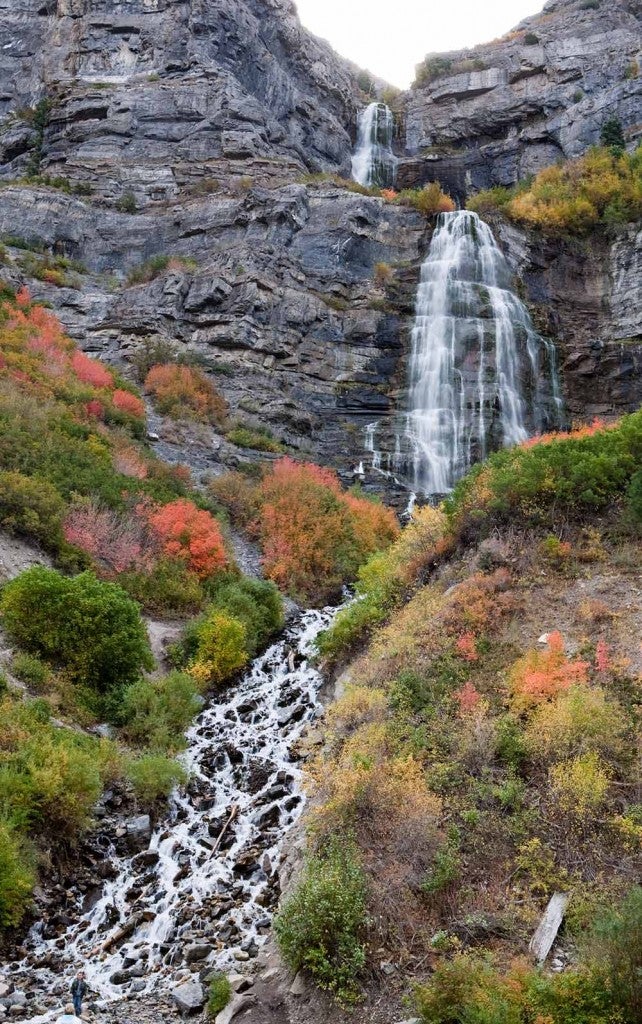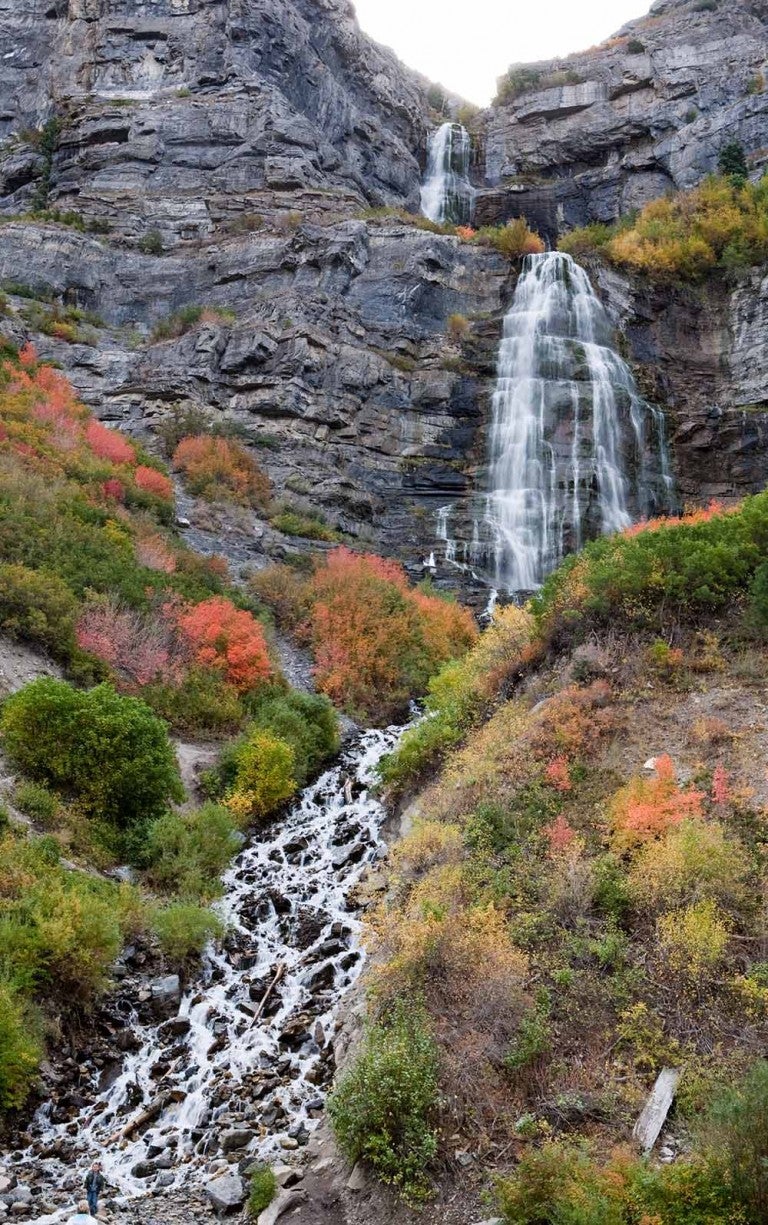 At 607 vertical feet, Bridal Veil Falls is thought to be the tallest of the Utah waterfalls. It's ranked as one of America's top 100 waterfalls. Nested in the Utah Valley off Hwy 189, the easy 1.3-mile hike to the base of the waterfall is family friendly. A separate parking lot and 0.5-mile trek will take you to the top tier. But the falls are most impressive from the bottom; from there you can see most of the plummeting water in all its roaring glory. For the best lighting, visit in the afternoon.
The Nunns Park campground is half a mile from Bridal Veil Falls. There are 19 first-come, first-served campsites with access to picnic tables, fire rings, grills, flush toilets, water, trails, and fishing. There's also an access point to the popular Provo River Parkway Trail. Even though it's close to Provo, it's quite peaceful.
"The camp spots here are super nice. The best part is how close it is to Provo. Super convenient. We didn't stay very long but would recommend this spot to anyone who wants some nice car camping." —The Dyrt camper Joshua C.
---
Related Campgrounds:
Popular Articles: