The Skyline Drive in Shenandoah National Park winds through the Blue Ridge Mountains, twisting and turning at the base of ancient peaks. The scenic highway is open year-round, providing access to vast wilderness with overlooks, trails, and campgrounds, just off the road. Enjoy the views from your car or park and venture further on foot—it's up to you.
The park is only half a day's drive from major cities like New York and Philadelphia. From Baltimore, it's only two hours, while from Washington, D.C., you can get there in less than one and a half. If you want to get away from the bustling East Coast cities, the Skyline Drive is a stunning road trip and a convenient escape.
Keep it in low gear and take your time. This paved tour of Shenandoah National Park is just the beginning.
Experience the Best of the Skyline Drive
Skyline Drive is the only road through Shenandoah National Park. This 105-mile stretch runs the entire length of the long and narrow park, following the crest of the Blue Ridge Mountains. Some 70 overlooks line Skyline Drive, offering you a scenic view every 1.5 miles on average. With the exception of Old Rage (see hiking below), all attractions, points of interest, trailheads and visitor centers are on Skyline Drive.
The groundwork for Skyline Drive started in 1931, creating thousands of jobs during the Great Depression. In 1934, the first section of this brand-new scenic mountain road was opened. Shenandoah National Park was established a year later, in 1935, and officially opened by President Franklin D. Roosevelt in 1936.
Mileposts line the entire length of Skyline Drive, from MP 0 in Front Royal in the north to MP 105 at the park's southern end, which incidentally is where the phenomenal Blue Ridge Parkway begins. These regular mileposts make it easy to find trailheads and other destinations.
---
Prepare for your next adventure by downloading maps. The Dyrt PRO lets you download maps and campgrounds without cell service. "My alternative to using pro would be to drive back out to cell service".
---
Skyline Drive Entrance Stations
There are four places where you can enter Skyline Drive and, therefore, Shenandoah National Park.
Front Royal Entrance Station at mile 0 (near I-66 and off Route 340)
Thornton Gap Entrance Station at mile 31.5 (off Route 211)
Swift Run Gap Entrance Station at mile 65.7 (off Route 33)
Rockfish Gap Entrance Station at mile 105 (off I-64 and Route 250)
There are numerous blind turns and one tunnel, so drive carefully. Additionally, the park is home to thousands of white-tailed deer and hundreds of black bears, so drive carefully and pay attention to the road. The speed limit on Skyline Drive is 35 mph.
---
Access Visitor Centers from Skyline Drive
The first thing to do when visiting any national park is swinging by one of its visitor centers. There are two Shenandoah National Park Visitor Centers just off of Skyline Drive.
Dickey Ridge Visitor Center
The Dicky Ridge Visitor Center is located on mile 4.6 on Skyline Drive. It's the first point of interest you'll encounter when starting your drive in the north. This is also the only visitor center that has that classic national park orientation movie, arguably the best introduction to any park.
Additionally, there are restrooms, an information desk, a bookstore, and exhibits. You can get backcountry permits, publications, and maps here as well.
Harry F. Byrd Visitor Center
On Skyline Drive's mile 51 lies the Harry F. Byrd Visitor Center, the main visitor center in Shenandoah National Park. It's situated right across from Big Meadows, its large windows offering great views of this huge grassland.
Here, too, you'll find exhibits, restrooms, an information desk, and bookstore. Ranger programs are held here on a regular basis, while backcountry permits, maps, and other publications are available as well.
Near the Harry F. Byrd Visitor Center you'll also find a gift shop, snack bar and the only gas station in the park. Big Meadows Lodge and the Big Meadows Campground lie off a spur road behind the visitor center.
---
Hiking Off of Skyline Drive
In addition to driving Skyline Drive, hiking is arguably the most popular thing to do in the park. There are more than 500 miles of trails in Shenandoah National Park, from short strolls in meadows to thigh-burners and granite summits. Waterfall hikes are among the park's highlights as well. Often located in its characteristic wooded hollows, there are more than fifteen waterfalls in Shenandoah.
"I love camping in Shenandoah National Park, because there is a ton of hiking in the area. Some of my favorites are the Rip Rap Trail, Jones Run Falls, and Whiteoak Canyon, but there's plenty more to explore." —The Dyrt camper Sam M.
Skyline Drive Mile 41.7
1.6 easy miles, there and back
Expansive panoramic views of the Blue Ridge Mountains and Shenandoah Valley, including a section of Skyline Drive
Skyline Drive Mile 45.5
2.6 moderate miles, loop
Fun woodland hike to the highest summit in Shenandoah National Park, amazing views
Cedar Run – Whiteoak Canyon Loop
Skyline Drive Mile 45.6
9 strenuous miles, loop
Difficult hike down from Skyline Drive and back up, passing by several large waterfalls and numerous cascades
Old Rag Mountain Parking Area at the eastern boundary
8.6 strenuous miles, loop
Most difficult and dangerous, yet most popular, hike and rock scramble in Shenandoah National Park to a barren summit offering superb views
Skyline Drive Mile 50.7
1.4 moderate miles, there and back
Short but steep hike to the park's most visited waterfall, near Big Meadows
Skyline Drive Mile 56.4
1.2 moderate miles, loop
Fun rock scramble to a fantastic 360-degree vista
Skyline Drive Mile 79.5
1.2 moderate miles, loop
Delightful woodland loop hike to a scenic rocky outcrop
Skyline Drive Mile 81.1
7.8 moderate to strenuous miles, loop
One of the best waterfall hikes in Shenandoah National Park, passing the Upper and Lower Doyles River Falls and Jones Run Falls
Skyline Drive Mile 84.4
1 easy mile, loop
Easy walk on a well-trodden trail to a talus slope and boulder-strewn summit providing great views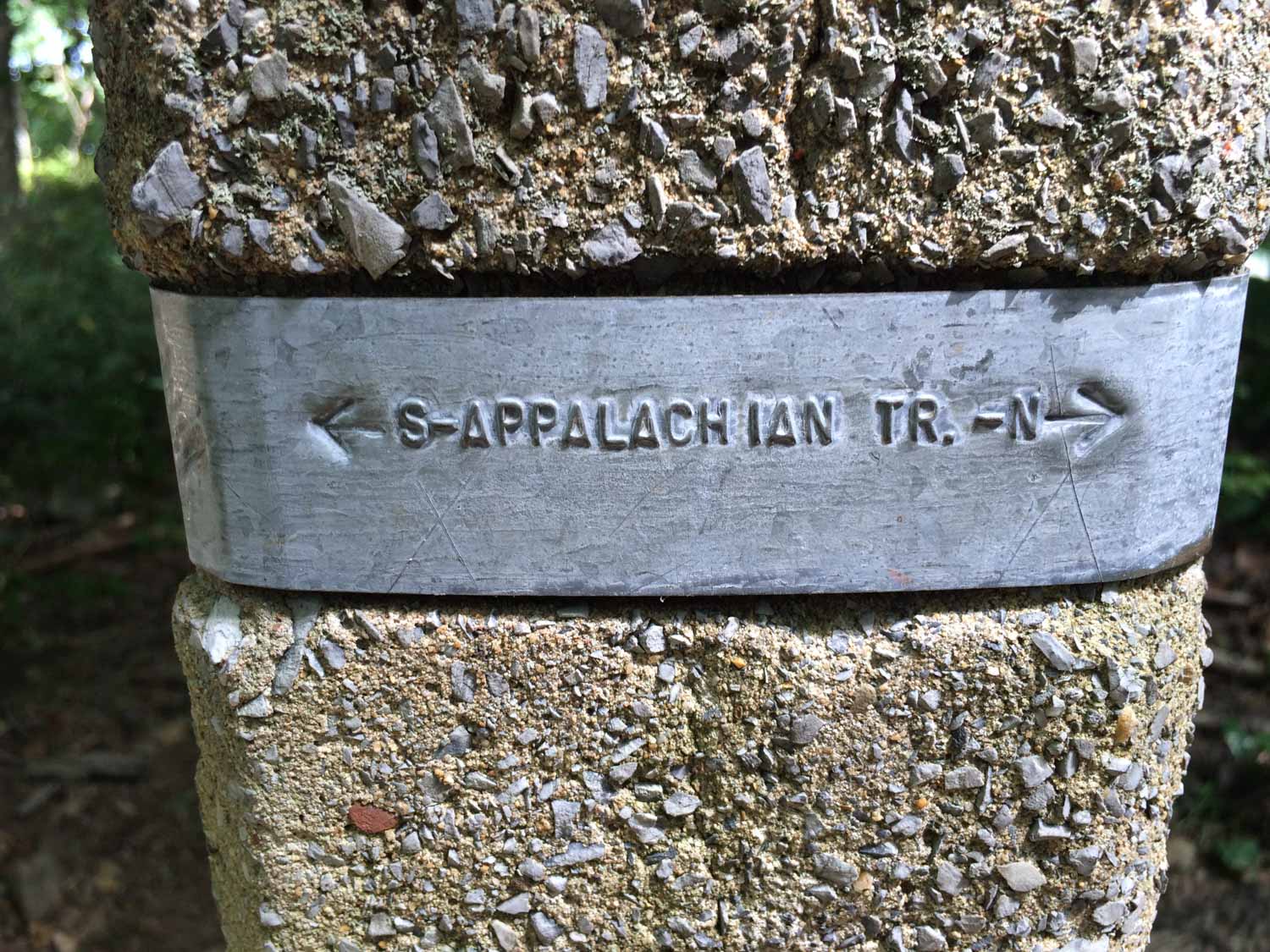 There are a lot of backpacking options in Shenandoah National Park. The best one of them all, however, is the Appalachian Trail (A.T.). Going for an adventurous Shenandoah National Park camping trip and backpacking the 105 miles of the A.T. running through the park is super-popular.
It takes 7 to 10 days to thru-hike the Shenandoah section of the A.T. You'll find more information about backcountry camping in Shenandoah National Park below.
Full-Time Campers Find Transformation While Backpacking in Shenandoah NP
---
Sunrises and Sunsets on Skyline Drive
One of the great perks of camping in Shenandoah National Park is that you'll always be near an epic sunrise or sunset spot. Whether a Skyline Drive overlook or rocky summit, watching the sun climb above or drop below the Blue Ridge Mountains is a major highlight.
Recommended Sunrise and Sunset Spots
Range View Overlook (Skyline Drive Mile 17)
Buck Hollow Overlook (Skyline Drive Mile 32.8)
Thorofare Mountain Overlook (Skyline Drive Mile 40.5)
Stony Man (Skyline Drive Mile 41.7)
The Point Overlook (Skyline Drive Mile 55.5)
Bearfence Mountain Summit (Skyline Drive Mile 56.4)
---
Wildlife Viewing Along Skyline Drive
Shenandoah National Park is a safe haven in the increasingly developed central Virginia for numerous wild animals. While driving Skyline Drive you are almost guaranteed to spot several white-tailed deer and a couple of black bears, the park's two iconic mammal species.
Other mammals that call Shenandoah home include coyotes, skunks, raccoons, bobcats, gray squirrels and foxes. Birds also thrive in these dense forests. You may spot wild turkeys, red-tailed hawks and Carolina chickadees.
Always keep your distance when watching wildlife in Shenandoah National Park. The recommended distance is 75 feet for deer and most other wildlife, and 150 feet for black bears.
You'll have the best chance of spotting deer and bears at dawn or dusk, when they're most active.
If you see a wild animal and would like to get a closer look, you may pull over only if all wheels of your vehicle are off the road. Never approach wildlife, though, and stay in your vehicle.
"I saw a bear directly across from my campsite one morning (as well as others throughout Shenandoah), but never felt threatened. Deer are everywhere, like squirrels in a city park. None came right up to people, but they had no problem grazing near us. Barred owls called all night under the Milky Way. Raccoons checked out my site overnight as well, no harm no foul, just cute footprints." —The Dyrt camper Caren L.
---
Front-Country Camping Off of Skyline Drive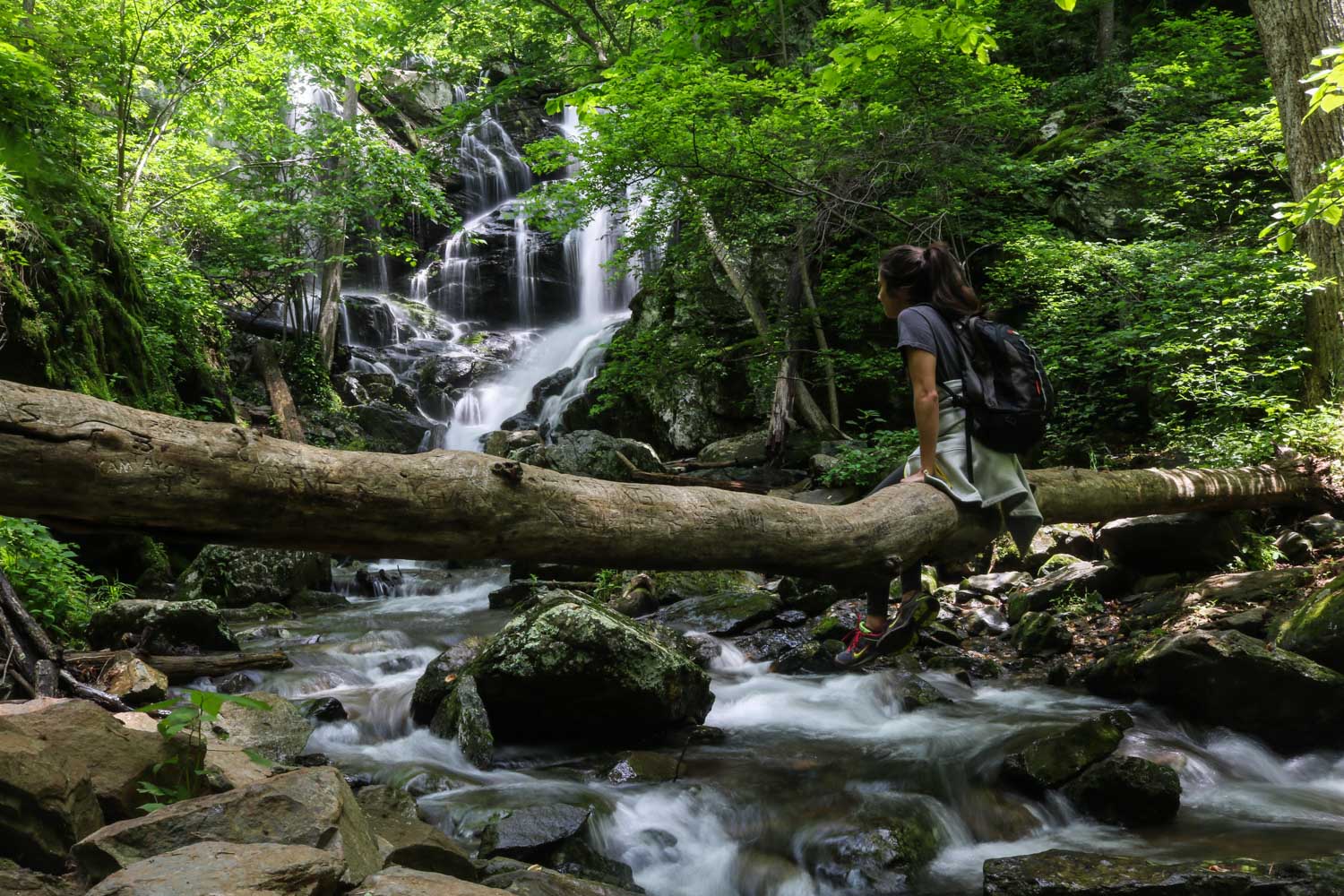 Cozy up around a campfire and listen to nocturnal nature waking up at night in Shenandoah's forests. Head over to Big Meadows and gaze awe-struck at a star-studded sky. Get up before dawn for a peaceful sunrise over the Blue Ridge. Shenandoah National Park camping allows you to experience and get to know these ancient mountains—one of the oldest ranges on Earth—much more intimately.
You won't have to venture far from your car to access these front-country campgrounds. But you'll be surrounded by wilderness.
The Mathews Arm Campground is the first campground you'll come across when entering Skyline Drive from the north. It lies next to a nature trail and the trailhead to Overall Run Falls, the park's highest waterfall. Two miles down the road, you'll find the Elkwallow Wayside, which sells camping supplies and food.
Skyline Drive Mile 22.1
Open from early-May through late-October
First come, first served
"Skyline Drive is amazing in itself with its vast forest and wildlife. Mathews Arm is one of the first campgrounds that you will encounter on your drive on Skyline Drive. You only pay 15 dollars a night, the staff is super friendly, and you get a front row seat to all the wildlife action your heart can handle. Also, the campground has a trail that leads to a 100-foot waterfall." —The Dyrt camper Casey C.
When it comes to facilities and services, the Big Meadows Campground has it all. Skyline Drive campers can choose from more than 200 campsites.
There are three waterfalls within walking distance to Big Meadows Campground. The Harry F. Byrd Visitor Center and Big Meadows are nearby as well. Additionally, there are restrooms and showers, a camp store, laundry facilities, and an RV dump station.
Skyline Drive Mile 51.2
Open from late-March through mid-November
First come, first served and reservations
"There are several hikes in close proximity to the campground and the Appalachian Trail goes through this part of the park as well. The staff are very friendly, the park is clean and there is wildlife everywhere. Loved hearing the owl at night! If you don't feel like cooking, the lodge is very close by with delicious food, a warm fireplace, local musicians and games." —The Dyrt camper Charlotte D.
For sunrise and sunset watching from Skyline Drive overlooks, this is arguably the best campground in Shenandoah National Park. It lies a short drive from wonderful viewpoints, such as The Point Overlook and Bearfence Mountain. Additionally, Big Meadows is only a fifteen-minute drive away.
This is a first-come, first-served campground as well as the park's smallest regular campground. So, arrive early to claim a spot.
Skyline Drive Mile 57.5
Open from late-March through late-October
First come, first served
"Lewis Mountain has all the amenities of home within walking distance if you just can't live without them: bathrooms, showers, kitchen sink, fire pit, small store and 2 personal vehicle parking spots steps away from the tent. They also offer cabins if tents aren't your style." —The Dyrt camper Lexa L.
The largest campground in Shenandoah National Park, the Loft Mountain Campground has more than 200 individual sites. All of them come with a picnic table and fire grate. Hook-ups are not available. Sites are $15 per night. This campground also has restrooms and showers, laundry facilities and a campstore.
Skyline Drive Mile 79.5
Open from early-May through late-October
First come, first served and reservations
"This campground has some spots that are reservable and some that are first come first serve. There are walk-up and drive-up sites, all including a fire pit with a grate and a picnic table. The bathrooms were clean and there was a campstore down the road. Great place to stay!" —The Dyrt camper Taylor K.
The Dundo Group Campground is the only one of the five Shenandoah National Park camping areas that's exclusively for groups. Groups must number at least 7 with a maximum of 20 people. All campsites have fire grates and picnic tables. Reservations are required and can be made up to one year in advance. Note that all check-ins are at the nearby Loft Mountain Campground.
Skyline Drive Mile 83.7
Open from early-May through late-October
Groups only, reservations necessary
"Very large and very open group campground situated on either side of the picnic area road back out. Each of the campsites provides plenty of tent space, a couple picnic tables, fire pit with grills, bear boxes, potable water, a shared vault toilet and parking for up to five vehicles at each site. Firewood, ice, laundry, showers and camp store are available three miles north at the Loft Mountain Camp Store." —The Dyrt camper Elliot B.
---
Backcountry Camping Along Skyline Drive
Shenandoah has 196,000 acres of backcountry and wilderness—plenty of room for you to immerse yourself in nature and leave everyday stress behind for a while. If you're planning on camping in the backcountry, you must have a backcountry camping permit.
There are, however, several regulations in place. They basically follow the Leave No Trace principles, with some local rules added.
You must have a backcountry camping permit.
Choose the right campsite, camping preferably occurs at pre-existing campsites.
Food, trash and scented items must be stored appropriately.
Campfires are no permitted in the backcountry.
Dispose of human waste properly.
Carry out all trash, leave nothing behind.
Maximum group size is 10 people.
Pets have to be leashed at all times, they are not allowed on some trails.
The maximum number of nights at one backcountry campsite is 2, the maximum number of consecutive nights camping in the backcountry is allowed is 14.
Some areas are closed to camping.
---
Related Campground:
Popular Articles: