Shari and Hutch live on the road in their vintage "canned ham" trailer. They just returned from backpacking in Shenandoah National Park, and they're here to share where they camped and why this place is so magical in the spring. 
---
We pause after a long winding uphill stretch of trail through the dappled sunlight of the forest. The ground beneath us is adorned with white and purple wildflowers; the day is warm and bright; the breeze is cool and refreshing and there isn't another soul in sight. This is day six of our trip, backpacking in Shenandoah National Park. We're less than a ½ mile from being back at the parking lot, and I'm feeling conflicted.
"I don't want to go back yet, can't we just keep hiking?"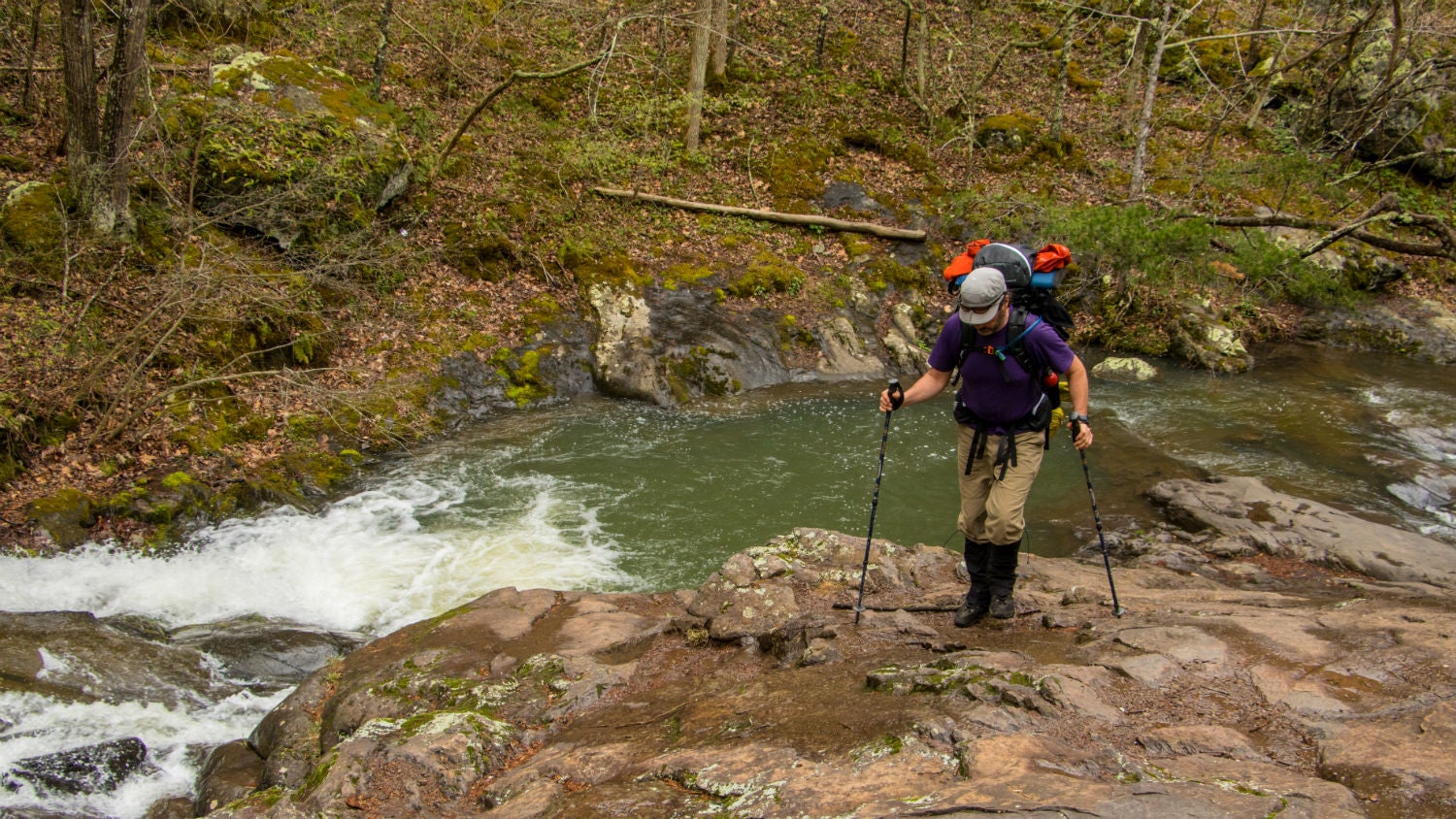 Shari smiles and admits to thinking the exact same thing. But our supplies are down to ¼ cup of trail mix, 2 packets of mayonnaise, ½ cup of ground coffee, and 2 misplaced gummi bears – they won't get us very far.
Our desire for a hot shower, large pizza, and glass of wine overrides our reluctance to leave – re-entry into the "real world" is imminent. We've lacked phone service for a week, but we're happy to leave it off for a while longer. No need to jolt us back into the digital world so abruptly.
Spring Backpacking in Shenandoah National Park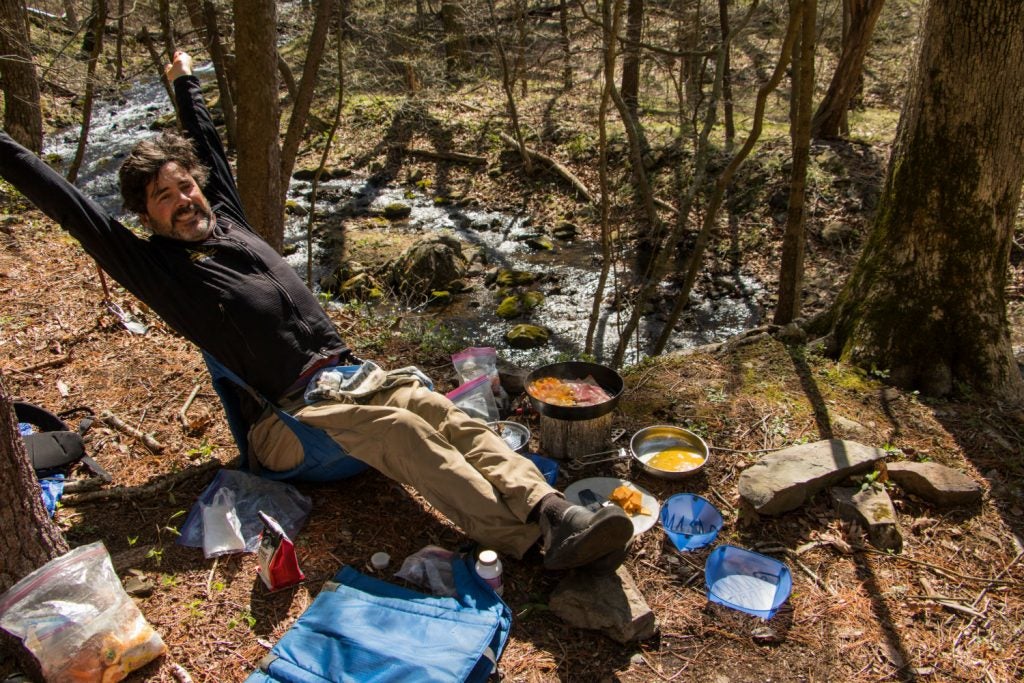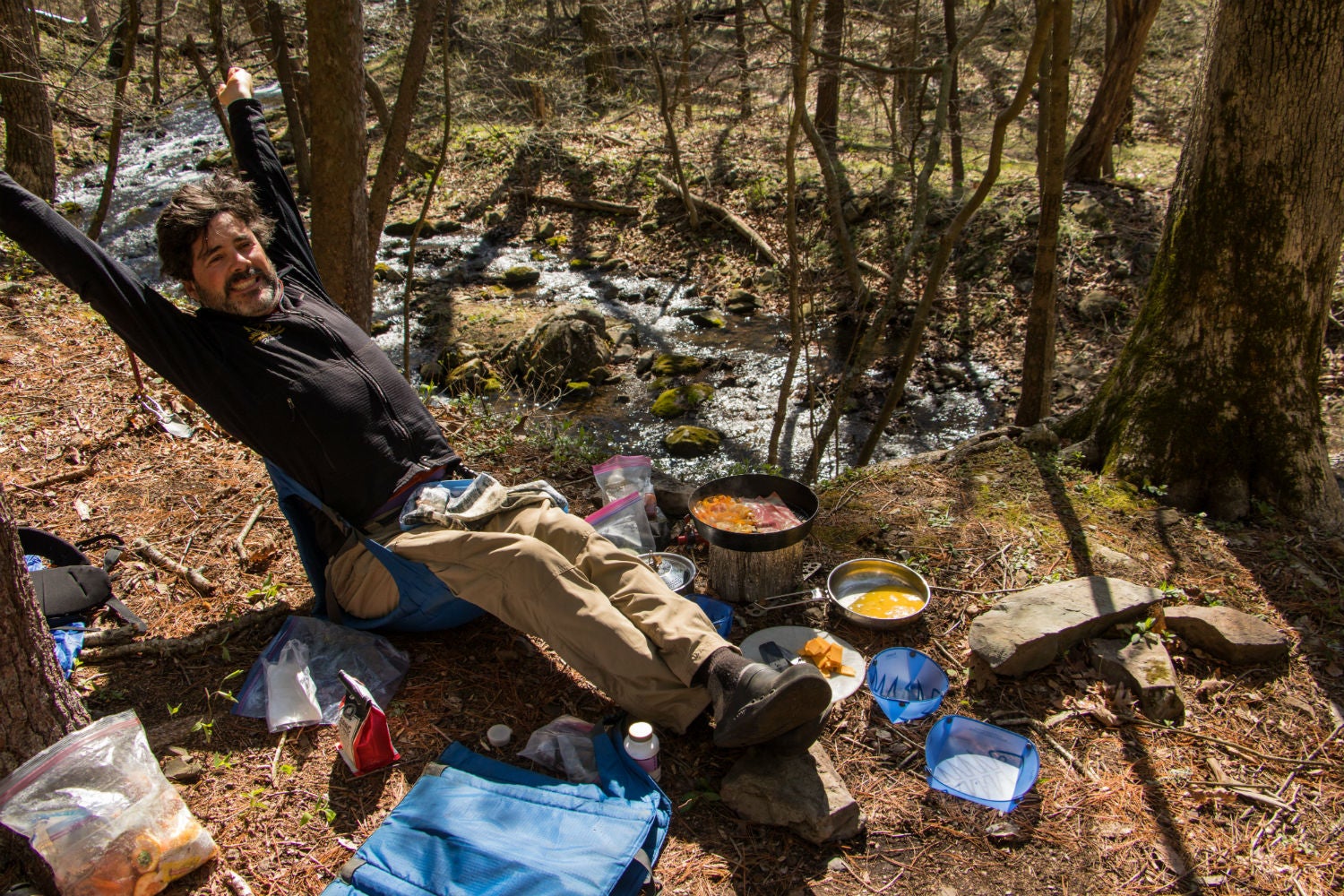 A week on the trail brings about a transformation in ourselves that we look forward to each year.
These transformations are worth waiting for, just like the gems we discover in this part of the Appalachians. Less dramatic than our nation's western mountains, these ancient hills reveal their treasures slowly. Along the way, we adjust to the changing landscape and climate. We experience our own transformations as we respond to the fickleness of spring weather, the physical effort of moving through the landscape while carrying a pack, the boost in appetite which never seems satisfied while walking, and the subtle settling into life on the trail.
Just a few miles from civilization, the Elizabeth Furnace Campground in the George Washington National Forest served as the perfect basecamp to prepare our food and gear along a beautiful trout-filled stream. With night approaching and our supplies nowhere near ready, we packed by lantern light.
Our hike started on the summit near mile marker #21 of Skyline Drive, elevation 3,400 feet, where winter still holds a grip on the vegetation. Our plan was to link several trails, to experience both sides of the mountains divided by the road and the Appalachian Trail which parallels it. Before we descended even 100 feet in elevation, we began to see a few early season wildflowers sprouting along the trail and the verdant green of false hellebore.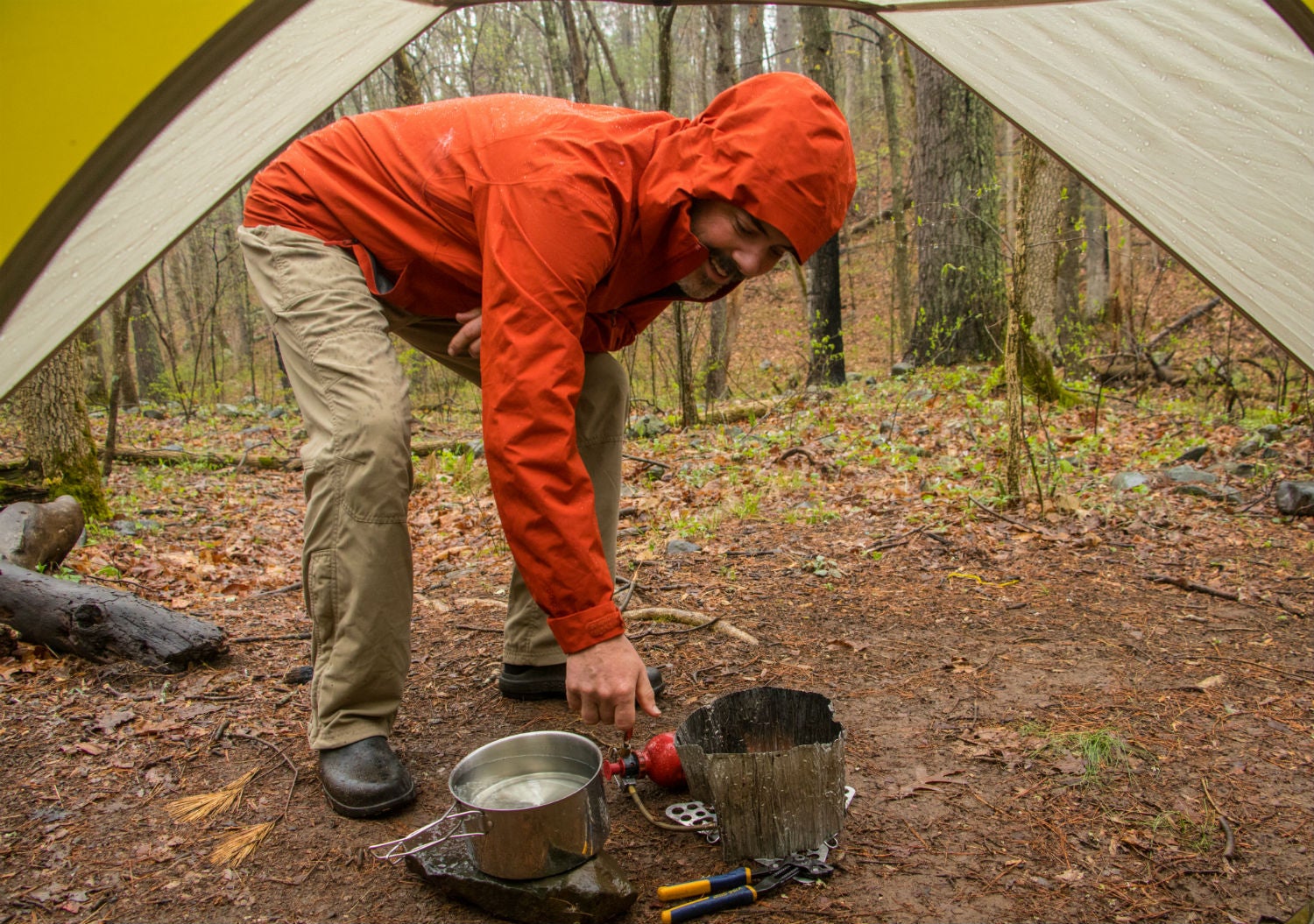 Descending further into the valley brings forth springtime with bright green leaves popping here and there and the pink clusters of Red Bud tree blossoms.
We kept our mileage high enough to challenge us but not enough to injure. We like to camp in remote places, and do so in comfort, which means that our packs are a bit heavy and our progress steady. This works for us and lets us linger in the forest and campsites along the way.
The extra weight is mostly dedicated to food, as eating well in the outdoors is all part of the experience for us — a backcountry cooking set is a must.
---
Related Reading:
---
We don't do backcountry meals like most people; our fare ranges from pizza to chili and homemade cornbread to Gado Gado and breakfast quesadillas. Fires are not permitted in Shenandoah and baking on a backcountry stove requires a soft touch. Who knew cornbread could be fried up and turned into a delicious french toast the next morning? What a perfect way to start a rainy morning, waiting for the skies to clear.
After exploring the western slopes, we hiked up and over Skyline Drive for the last half of our adventure. We saw fewer hikers, experienced more spring weather and foliage, and forded deeper creeks. Our pace allowed us to experience the forest on a different level and we caught sight of flora and fauna that many summit bagging hikers might miss – the flying squirrel staring back at us from the trunk of a Maple tree, the black bear cub curiously watching from the rise over Piney Branch trail, and the fiddlehead ferns unraveling in the spring kissed valleys.
This adventure kicks off our spring and awakens our spirits in grand fashion, leaving us yearning for the next. As we drive off toward pizza, we begin fleshing out details of our next big adventure, this time on bikes through Amish country Ohio as we wind our way to my 25th college reunion this May.
---
Read More from Full-Time Campers Shari and Hutch: 
Popular Articles: