Kingman, Arizona, lies in the Hualapai Valley, right between the Hualapai and Cerbat mountain ranges. This small town in a desert valley is central to innumerable opportunities for recreation, exploration, and entertainment.
Visitors can hike to Hualapai Peak right out of town, explore nearby national forests, visit national reserves filled with canyons and cliffs, or even make a trip to Las Vegas. Whichever you choose, RV parks in Kingman, Arizona, provide you with the perfect home base for countless desert adventures.
Kingman is your RV adventure base camp, whether you're a retiree looking for boating and hiking adventures or a van-dweller eager to climb and explore the wilderness. Here are some of Kingman's top year-round campgrounds.
Your Guide to RV Parks in Kingman AZ
Below is a list of RV parks in Kingman AZ, as well as a list of recreational opportunities nearby.
Hualapai Mountain Park
Hualapai Mountain Park is a first-come, first-served campground just under 25 minutes southeast of Kingman, making it closer to destinations like Prescott National Forest and Coconino National Forest. Nestled in the Hualapai Mountain range, it's practically neighbors with hiking trails that traverse the peaks.
This campground has it all: drive-in tent sites, RV sites, cabins, tent cabins, group tent camping, yurts, and walk-in sites. Sites without hookups are $20 per night, and cabins start at $50 per night on weekdays and $65 per night on weekends.
There are two RV camping sections, both of which have $35 daily rates, $210 weekly rates, and $475 monthly rates. Elk Ridge has pull-thru and back-in sites accommodating units up to 60' long.
The second RV camping section of Hualapai Mountain Park is called Pioneer Park. Pull-thru and back-in sites accommodate units up to 30' in length. Full hookups (electric, water, sewer, and sanitary dump use) are available in both sections.
Disc golf, hiking, guided walks, biking, and birding opportunities abound, and alcohol and pets are both allowed. Other amenities include a market, fire rings, barbeque grills, firewood for sale, picnic tables, trash service, phone service, showers, toilets, and drinking water.
Kingman KOA
Just 11 minutes outside of the town of Kingman and almost 1½ hours south of the Grand Canyon West Skywalk, the Kingman KOA is perfect for families, couples, and retirees. Unlike other Kingman AZ RV parks, this spot includes amenities like free mini-golf, a seasonally heated pool, children's train rides, Wi-Fi, and cable TV. There is also a laundromat and grocery store on-site. Firewood and propane are both for sale.
Reservable sites include ADA-accessible cabins, tent sites, and pull-thru RV sites that can accommodate up to 70-foot-long RVs. Water hookups, a sanitary dump, electric hookups, showers, drinking water, phone service, trash service, picnic tables, and sewer hookups help you camp with ease. Prices range from $45 per night and up. Extended stays are encouraged — contact the campground for monthly rates.
Crossroads RV Park
While it's a little over an hour away from Kingman, Crossroads RV Park is just minutes away from Mojave National Preserve, Dead Mountain Wilderness Area, and Havasu National Wildlife Refuge. This RV park features 136 RV sites. At $35 per night, this campground keeps it laid-back.
Dogs and alcohol are both allowed, and their modernized facilities are kept clean and ADA-accessible. Water hookups, 30/50/100-amp electric hookups, showers, well drinking water, laundry, phone service, trash service, Wi-Fi, picnic tables, and sewer hookups make it easy to stay for a while.
These are pull-thru, 30' x 60' concrete pad camping sites. As such, it's mostly a haven for RVers rather than tent camping. Stay for a night, a week, a month, or an entire season. Contact the campground for extended stay pricing.
Your Roadmap to Adventure Near Kingman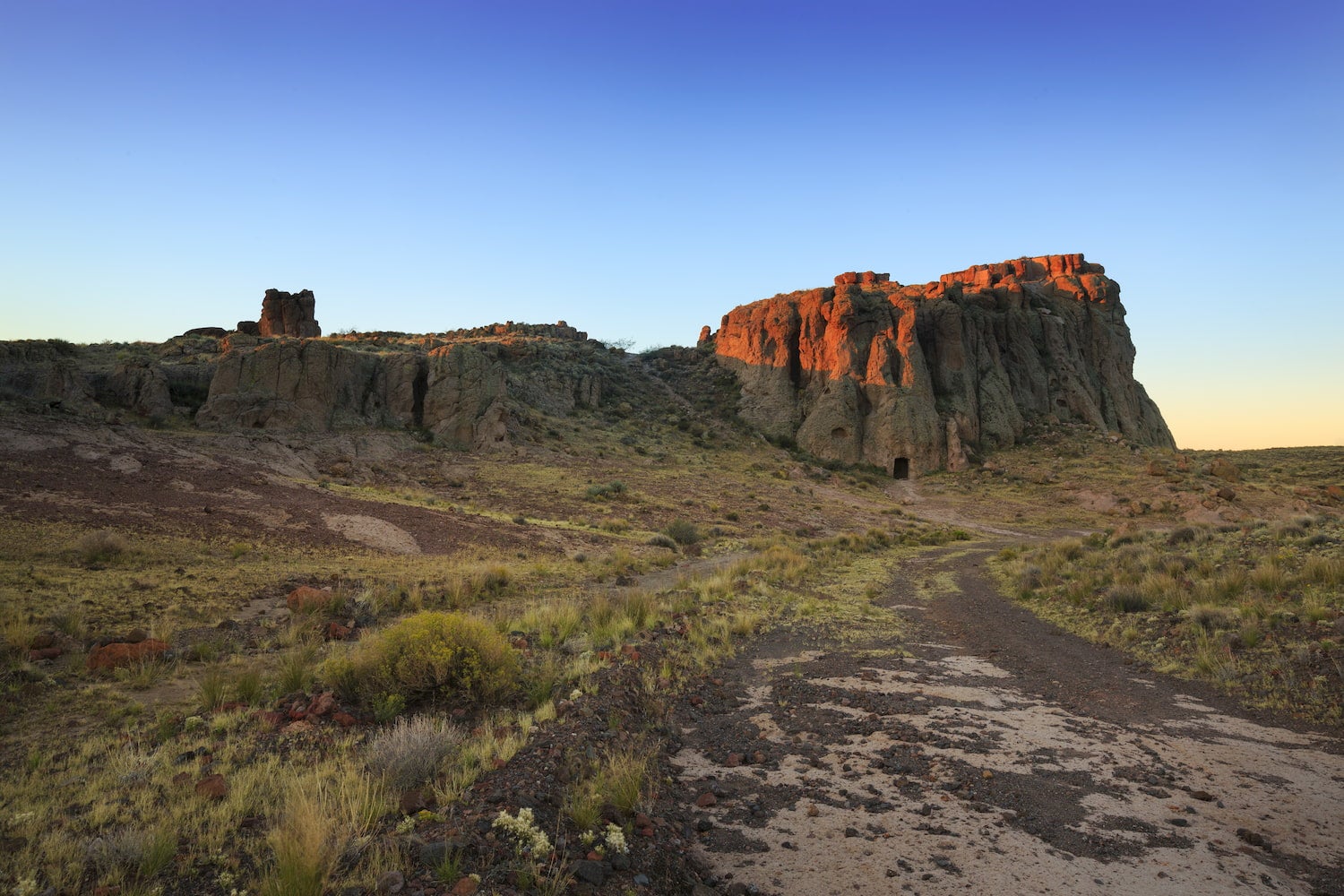 Camping near Kingman enables you to enjoy the charm and the amenities of a small town, from restaurants and bars to a small airport, while still staying close to nature. The Grand Canyon is only about two hours away. Many stunning, lesser-known recreation hotspots surround the town as well, all within driving distance.
Here's a snapshot of a few things there are to do in the area. Some of these spots are a perfect day trip for those who love to drive, and others make an excellent multi-day venture. Alternatively, mix and match for an epic desert road trip.
Havasu National Wildlife Refuge
Havasu National Wildlife Refuge is located about an hour southwest of Kingman. It's a refuge for bighorn sheep and the delicate, beautiful desert willow flycatcher bird. Other animals and birds also find shelter in this rocky landscape.
Lake Havasu is also the site of the old London Bridge. Built in England during the 1830s to span the River Thames, it was dismantled and relocated to Lake Havasu in 1967. In front of the Arizona desert backdrop, the bridge makes for a striking and gloriously out-of-place landmark.
Mojave National Preserve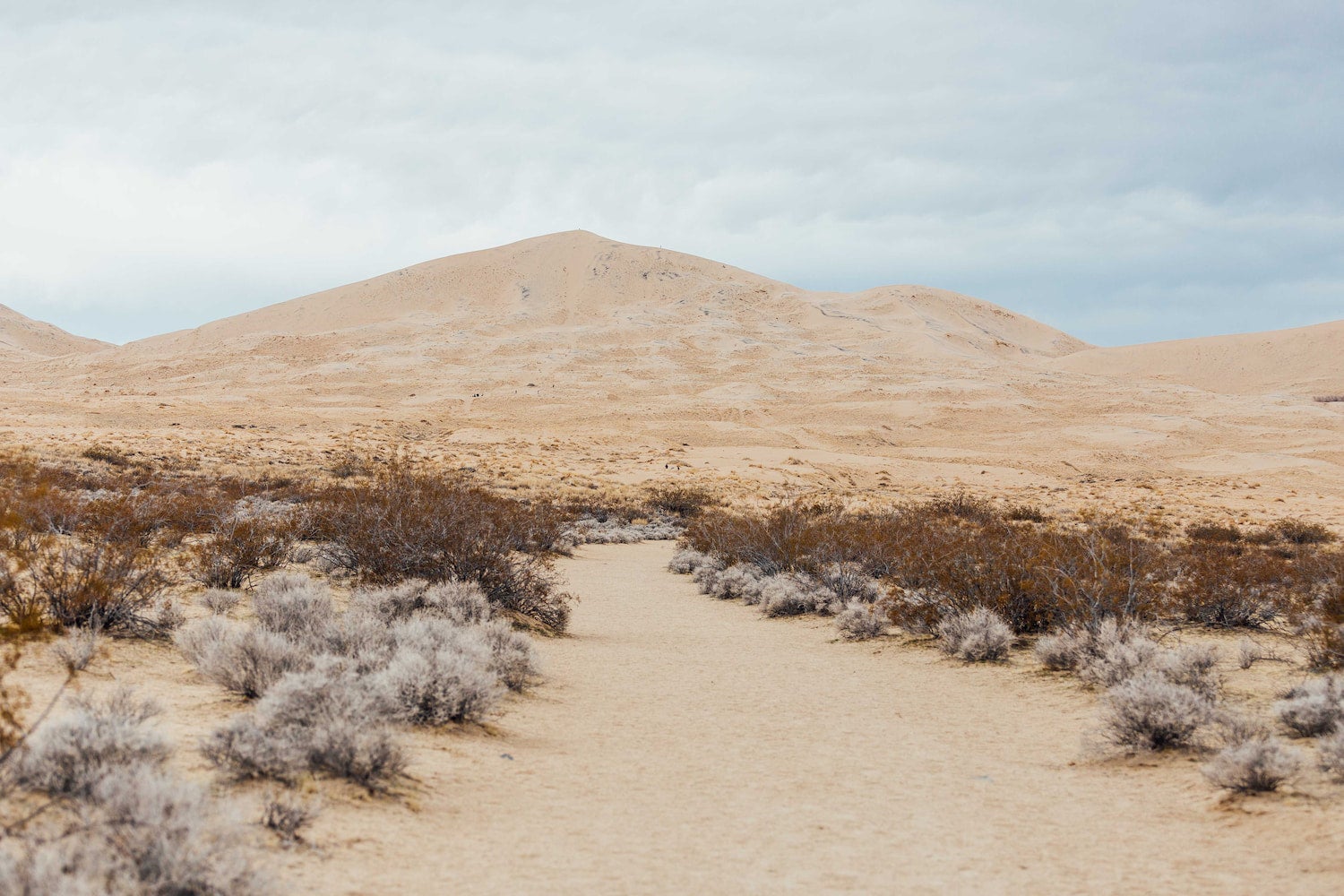 About an hour and a half west of Kingman and just across the California border, the Mojave National Preserve offers panoramic views, canyons, carpets of spring wildflowers, high mesas, and lots of wildlife. Joshua Tree National Park is also a short drive away.
Prescott National Forest
Prescott National Forest is located higher up in the mountains and offers a cooler climate. Snow sticks to the ground in winter and tall pine trees frame mountain lakes. Trails crisscross the forest, providing endless exploration. It's just over 2½ hours southeast of Kingman and 2 hours away from Flagstaff.
Coconino National Forest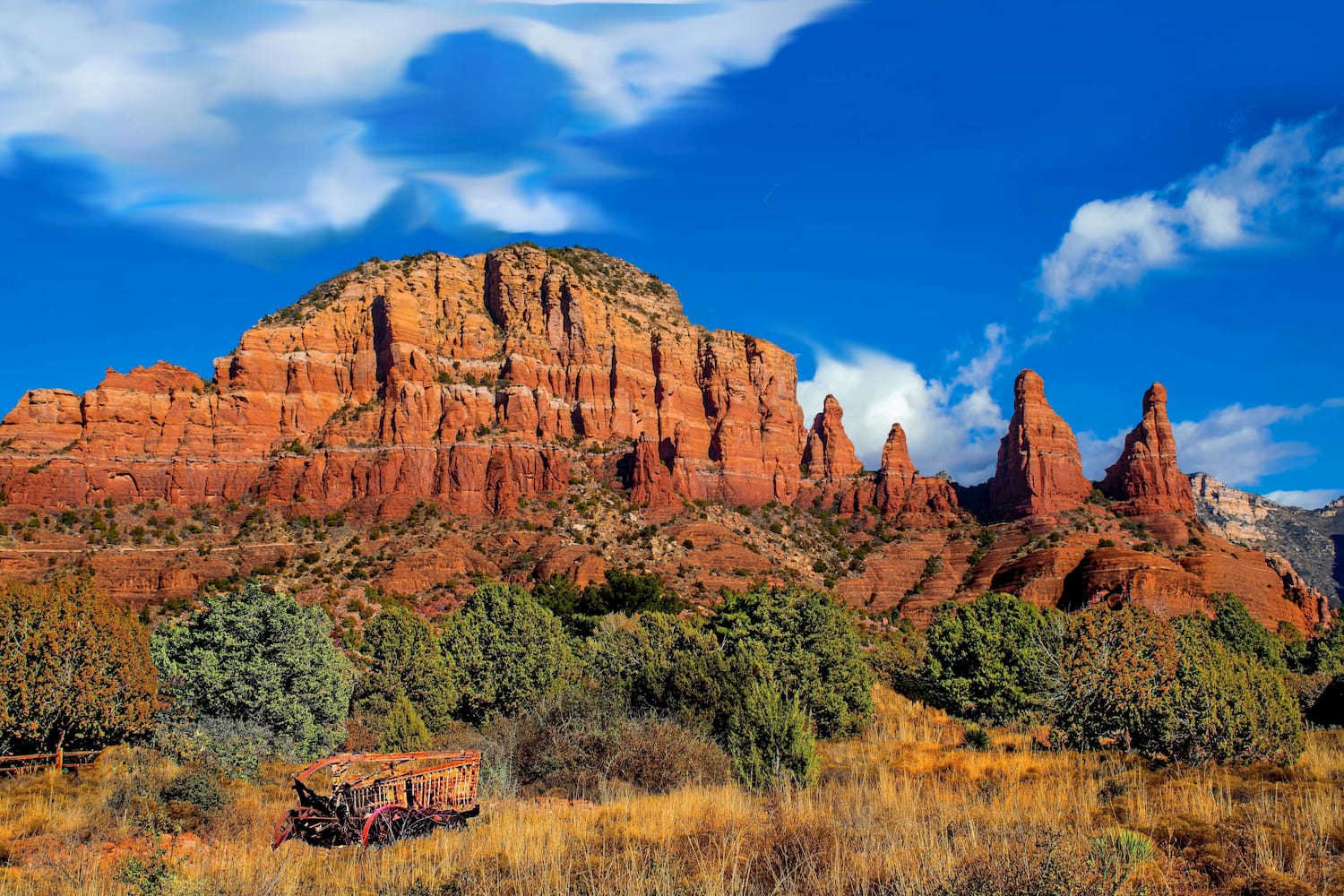 Coconino National Forest is just minutes away from Prescott and 2½ hours southwest of Kingman. It boasts one of the most diverse national forest landscapes in the entire country. Towering red cliffs, canyons, lakes, stately ponderosa pine forests, and lazy streams welcome visitors.
Las Vegas
Las Vegas needs no introduction. For better or for worse, it's the party city of the USA. It's also just over 1½ hours away from Kingman and located near several road trip-worthy recreation and conservation areas. Try your luck on the strip or stop in to see some unforgettable music and magic shows.
Lake Mead National Recreation Area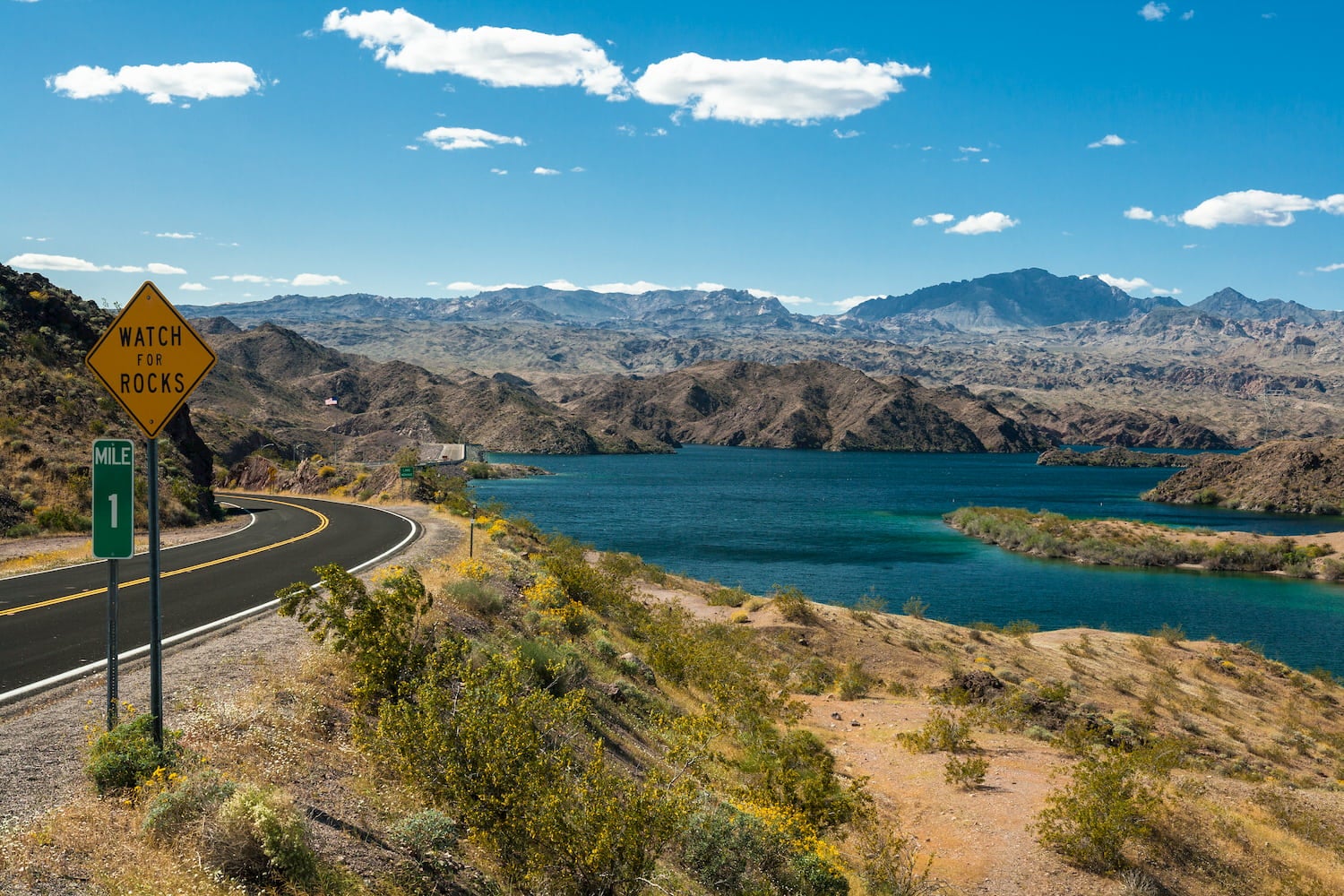 See the waters of the Hoover Dam, red rocks, and majestic peaks at this recreation area that's just minutes away from Las Vegas. It's less than 1½ hours north of Kingman and offers plenty of water-based recreation potential.
Red Rock Canyon National Conservation Area
A Mecca for climbers, Red Rock Canyon National Conservation Area, is known for monolithic red sandstone peaks that erupt from the desert floor and a maze of canyons and boulders.
Trad climbing, lead climbing, bouldering, top-roping, epic sport lines–this spot has it all. Whether you want easy-access top roping for beginners or multi-pitch trad adventure climbs, Red Rock Canyon is the favorite haunt of many Las Vegas climbers. Non-climbers can enjoy hikes, wildlife viewing, biking, and ADA-accessible interpretative trails.
Popular Articles: