Freeman Tilden, a pioneer in interpretive education who worked closely with the National Park Service in the mid-1900s, wrote: "There are higher peaks elsewhere, but for a sheer sense of towering density, of closely packed mountaintops, I know of nothing like this."
This quote refers to Rocky Mountain National Park, home to no fewer than 60 mountains higher than 12,000 feet. Tilden's observation stands true today about the 100,000-square-mile park, as few places in the country offer such sensational mountain scenery. This is one of America's highest national parks—even its lowest elevation is still well over 7,000 feet above sea level.
Hikes around Rocky Mountain National Park offer you the chance to experience the park at your own pace. This is a hiker's paradise, a playground of peaks, meadows and forests; lakes, waterfalls and glaciers, and hiking trails that get you to the best views and offer some of the best experiences along the way.
6 Amazing Hikes in Rocky Mountain National Park
Hikes in Rocky Mountain National Park are typically activities suitable for all ages and abilities. There are easy nature trails and strolls to waterfalls, strenuous thigh-burning ascents of mountain peaks, and everything in between.
We've started with Rocky Mountain trailheads, many of which lead to multiple hikes. Then we'll point you to one hike recommendation with a map.
1. Bear Lake
Situated at the end of Bear Lake Road and just up the road from Glacier Gorge, Bear Lake is one of the most popular areas in the park. It's easy to see why—several different Rocky Mountain National Park hikes take visitors through a variety of life zones. You can easily spend a day or two exploring this mountain wonderland.

You can spend the morning wandering around tree-ringed lakes and hike up to the Continental Divide and its towering peaks in the afternoon. The walk around Bear Lake itself is no longer than 0.5 mile; then continue toward Emerald Lake, merely 1.8 miles from the Bear Lake Trailhead. You'll pass two other lakes on the way, Nymph Lake and Dream Lake.
Bear Lake is also the starting point for hikes to Flattop Mountain. Fascinatingly, of all Rocky Mountain National Park hikes, this is the only day hike that takes you from the east side to the west side of the park. The summit of Flattop Mountain, located 4.4 miles from the trailhead, lies on the Continental Divide Trail and offers fantastic panoramic views. Access other major peaks makes this an attractive destination among backpackers as well.
---
Prepare for your next adventure by downloading maps. The Dyrt PRO lets you download maps and campgrounds without cell service. "My alternative to using pro would be to drive back out to cell service".
---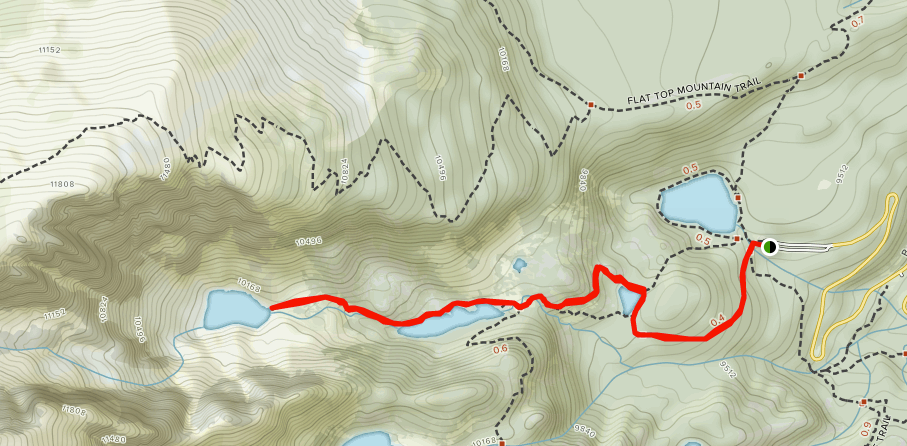 2. Wild Basin
For an amazing collection of waterfalls, alpine lakes, and meadows, head to Wild Basin in the far southeastern corner of the park. An abundance of scenic Rocky Mountain National Park hikes in this area make this a favorite destination.
Start at the Wild Basin Trailhead and you'll reach Copeland Falls after only 0.3 miles. About 1.5 miles further up the trail await the Calypso Cascades, while Ouzel Falls lies another mile ahead. That's three waterfalls in less than three miles! Intrepid day hikers can continue to Ouzel Lake or even Bluebird Lake, respectively located 4.9 and 6 miles from the trailhead.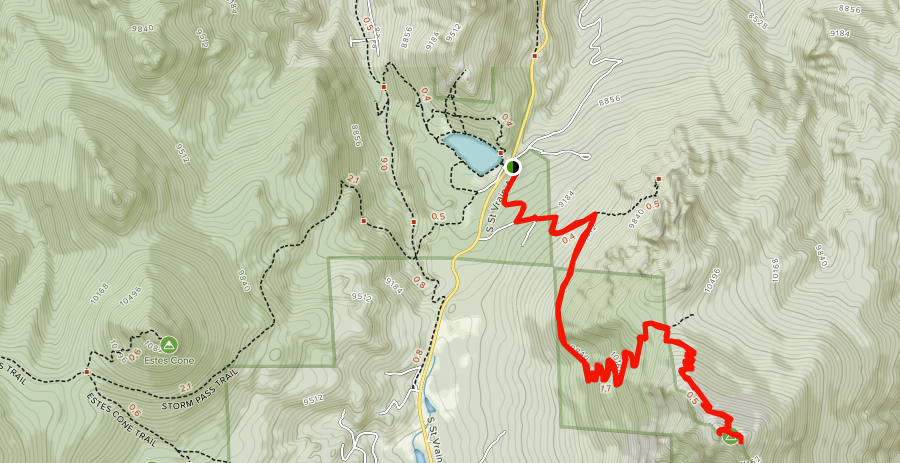 3. Longs Peak
The park's only "14er"—meaning a mountain higher than 14,000 feet—Longs Peak is considered to be one of the ultimate hikes in Rocky Mountain National Park by many avid hikers. The trailhead is at the Longs Peak Ranger Station and near Longs Peak Campground.
This is one of the most strenuous hikes in Rocky Mountain National Park. It's 7 miles one way, with the last two miles being an exposed ascent and rock scramble to the summit. The thin air makes it even harder, while people with a fear of heights should probably opt for another alternative. However, despite its difficulty and length, the Longs Peak trail is also wildly popular. In summer, the only time an ascent is possible without climbing gear and experience, you'll probably find a line of cars parked down the road from the trailhead.
The view from the summit is phenomenal, a plethora of granite peaks stretching out toward the horizon in all directions. Plan ahead majorly for this hike, as you can expect the trip to last 10 to 15 hours. Make sure to check trail conditions and the weather forecast before you go.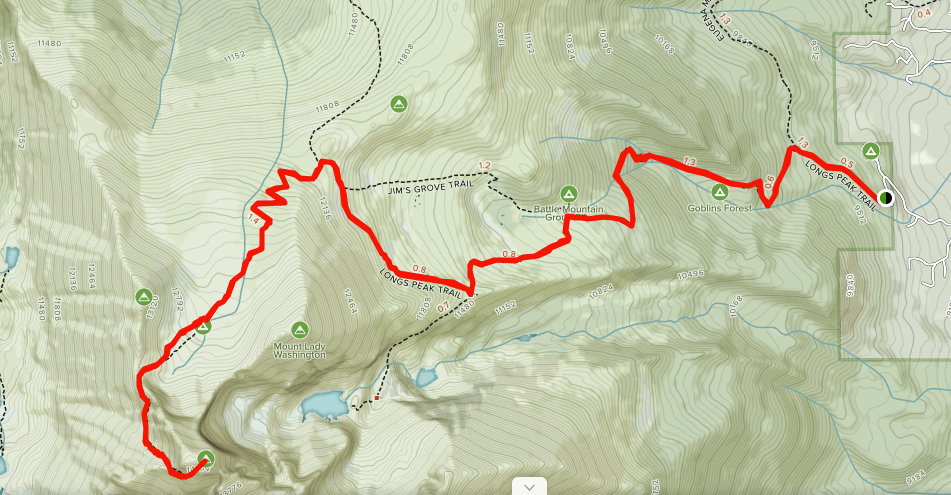 4. Glacier Gorge
The network of hiking trails at Glacier Gorge Junction spans a wide spectrum of difficulty. For those interested in taking it slow, the trail to Alberta Falls is an easy 1.6-mile roundtrip hike. Although that's a solid option, a more challenging hike in the area also offers more rewards.
For example, the 10-mile roundtrip hike to Black Lake is more intense, but passes by Mills Lake and offers some stunning alpine lake views. Another excellent choice is the 10.6-mile roundtrip hike to Andrews Glacier via The Loch. From the same trail, hikers looking for waterfalls can take the 9.8-mile roundtrip to Sky Pond, which takes you past beautiful Timberline Falls.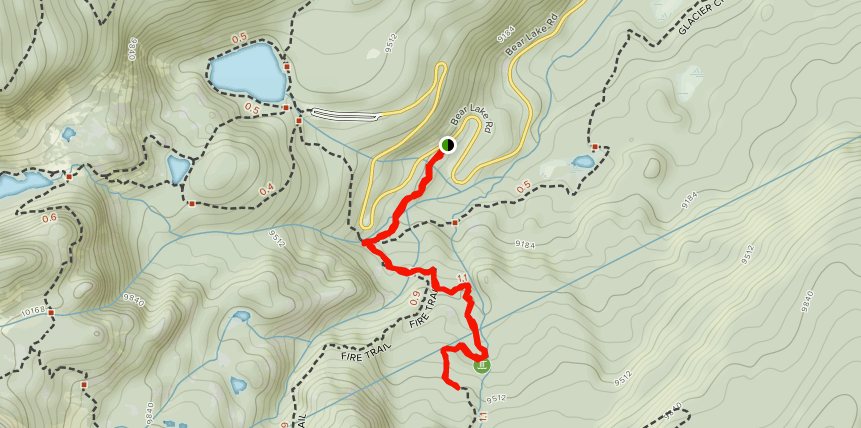 5. Twin Sisters Peak
People looking for a (slightly) easier alternative to Longs Peak but who still want to experience a tough Rocky Mountain National Park hike can opt for the Twin Sisters Peak trail. The trail starts just across the road from Lily Lake, a short distance north of Longs Peak and about 10 miles south of Estes Park.
Winding in and out of the national park on its eastern border, the trail switchbacks up to the two summits of the Twin Sisters. Although much shorter than Longs Peak, the Twin Sisters Trail does climb 2,250 feet in only 3.7 miles from start to summit. Despite being a pretty strenuous hike, this trail is pretty popular, so plan ahead and get an early start to beat any crowds.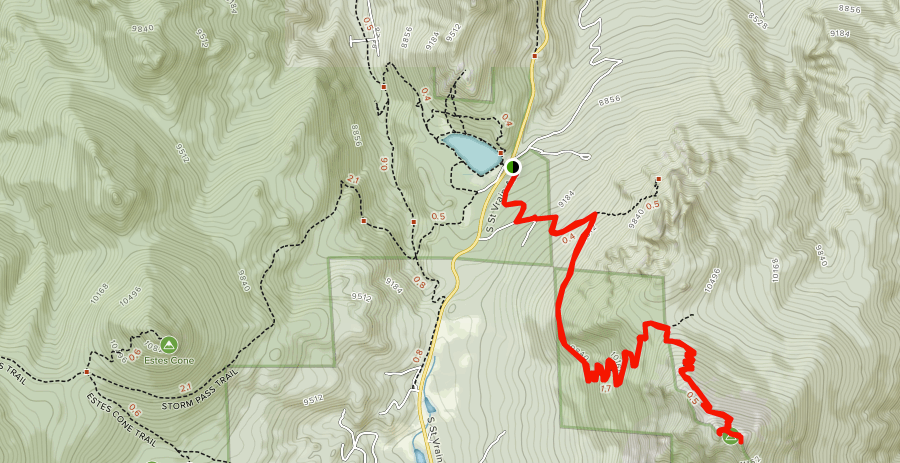 6. Fern Lake
The Fern Lake Trailhead near the Moraine Park Campground gives access to another beautiful glacial lake-dotted area. A 4.9-mile one-way trail takes you from the trailhead to Odessa Lake, on the way passing by The Pool, Fern Falls and Fern Lake.
You could also opt for a loop hike to The Pool and back via Cub Lake, a park favorite among lake-loving hikers. This is an especially gorgeous hike in the fall when the Colorado aspen groves are ablaze with color.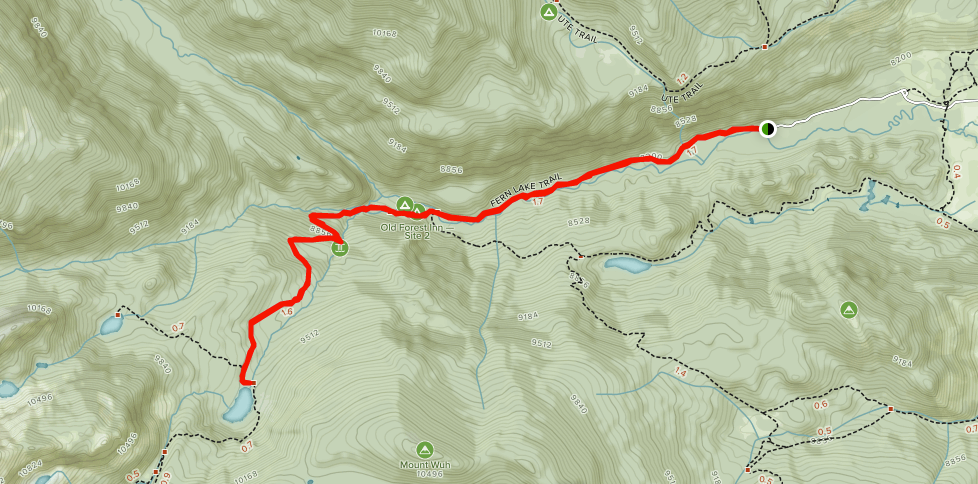 Where to Camp near the best Hikes in Rocky Mountain National Park
There are five campgrounds in Rocky Mountain National Park, but only three of them are of interest with regards to these Rocky Mountain National Park hikes. All hikes and hiking areas highlighted above lie in the southeastern part of the park. The following three Rocky Mountain campgrounds offer the easiest access to the trailheads.
Situated about halfway up Bear Lake Road, the pleasant Glacier Basin campground's strongest attraction is its location. Campers rave about the grounds' easy access to everything from the Bear Lake and Glacier Gorge Trails to the start of Trail Ridge Road.
The approximately 150 campsites lie scattered amid Ponderosa pine, lodgepole pine and Douglas fir woods, while wildflowers bask in the open meadows. Whether you like sun or shade, you'll find it here. The campground can accommodate both RVs and tents. Amenities include firewood sales, potable water, fire rings, an amphitheater and food storage lockers. This is bear country, so make sure to use the latter.
The Dyrt camper Scott M. recommends making reservations early. Open only in summer, Glacier Basin campground is full nearly every night. This is the best campground for Rocky Mountain National Park hikes in the Glacier Basin and Bear Lake areas.
The Moraine Park Campground lies on a spur road near the beginning of Bear Lake Road. Of the three campgrounds featured here, this is also the nearest one to Estes Park. Amenities are what you can expect from a national park campground: potable water, firewood sales, food storage lockers, fire rings, picnic tables. Nothing too fancy, but everything you need for a getaway in the mountains.
The Dyrt camper Jenna J. mentions that campers have the ability to see wildlife right from the campsite. "One side of the campground has gorgeous views of the mountains and on the other side is an area for elk crossing at night. Right outside the campground is a popular area for elk viewing at dusk."
There are almost 250 sites in total, all of which are reservable in the summer months. In winter, 64 sites remain open and are first come, first serve. If you'd like to explore the Fern Lake area, which includes Odessa Lake, The Pool, Cub Lake, Fern Falls and Marguerite Falls, this is a great base camp.
About 20 miles south from the town of Estes Park, just off of Highway 7, the Longs Peak campground has quick access to the Longs Peak Trailhead, meaning intense thru-hikers can wake up and roll out on one of the park's many famous long hikes. This small first-come, first-serve campground is open only in summer, which happens to be the best season for Rocky Mountain National Park hikes anyway.
Although there are only 26 tent sites available, the fact that it's first come, first serve is a blessing in disguise. Yes, you will have to get up early to scoop up a site, but the beauty is that there are open sites basically every day. No need to get frustrated about booked-up sites in advance; just show up early and you should find a site.
The Dyrt camper Kelly Z. managed to find a site in the middle of summer, two years in a row. "We didn't have any trouble finding a spot in the middle of the week in July when we stayed. We actually came back the next year and camped in the same spot because we loved it so much."
---
Related Articles:
---
Related Campgrounds:
Popular Articles: