This article about Long Beach, Washington camping is brought to you by Outdoor Element. Their firebiner multi-tools are essential no matter which campground you choose.
---
Stretching for 28 magnificent miles, Long Beach, Washington, offers uninterrupted views of the Pacific Ocean and a whole host of activities for families, adventurers, and culture-seekers.
Doing some Long Beach, Washington camping is an idyllic way to spend a vacation. Animal lovers will enjoy discovering a wide variety of local birds at the Willapa National Refuge's wetlands or whale watching from one of the designated viewing platforms.
There are plenty of pretty villages and curious museums, such as the World Kite Museum, to explore, and if you're looking for something active, why not go hiking, horseback riding, or cycling in one of the stunning state parks? Or simply stroll along the seemingly endless beach and boardwalk.
The Best Long Beach, Washington Camping Sites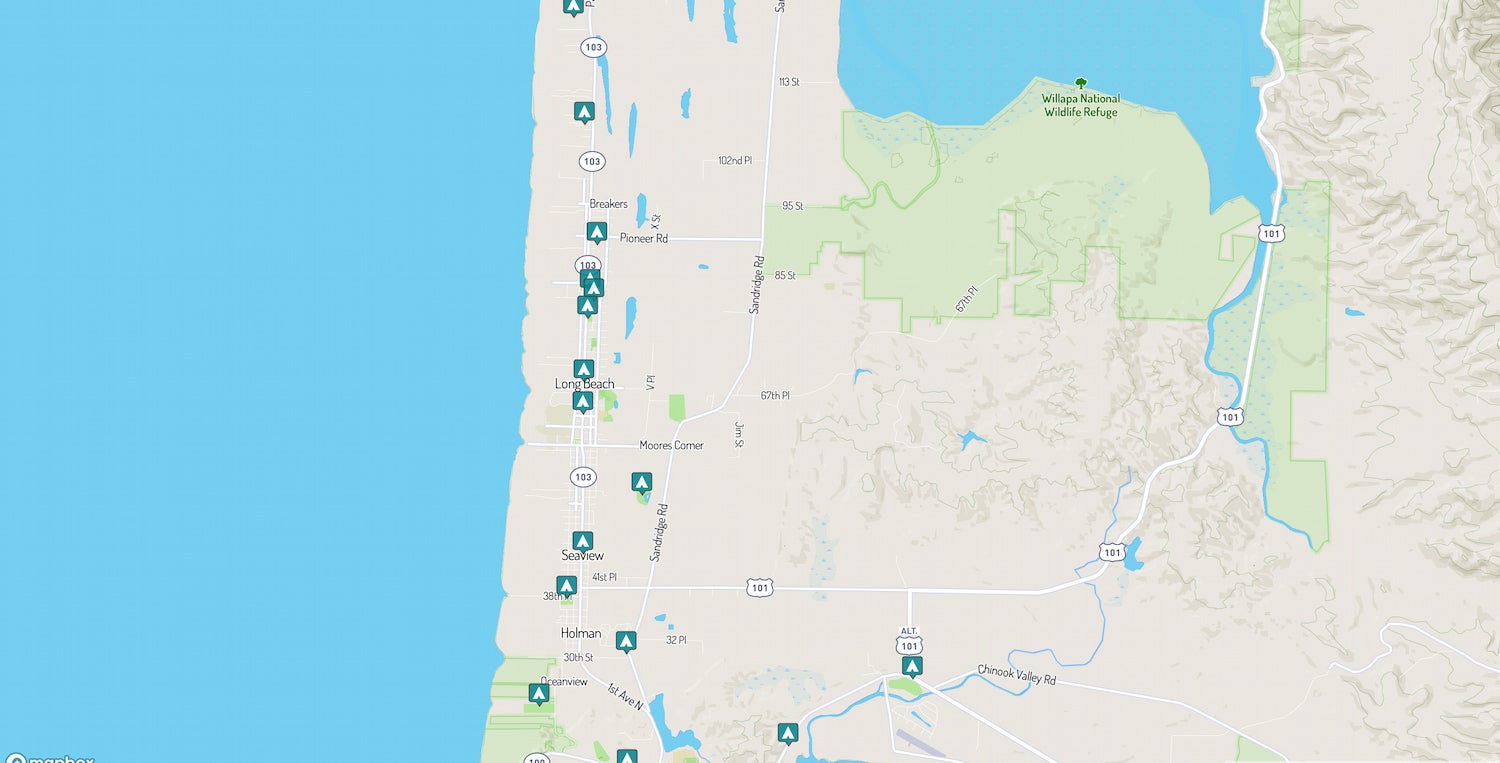 Uniquely located within Cape Disappointment State Park, this stunning campsite is surrounded by water. The Pacific Ocean and the Columbia River offer unbeatable views.
Cape Disappointment has something for everyone with a wide range of camping options from quirky yurts and cozy cabins to full hook-up sites and basic hiker/biker sites. The camp has extensive amenities, including a market, a dump station, and ADA access, so you can camp in comfort.
"Cape disappointment is beautiful and well maintained; the rangers are helpful and curious. I love this place and all of its beauty." – Cassandra M.
Campground Details:
Price: $20-85
Number of sites: 220
RV sites: Yes
Fires allowed: Yes
Pets allowed: Yes
---
Based on a historic military site by the mouth of the Columbia River, Fort Stevens State Park includes an impressive 4,300 acres right by the beach. It's the perfect site for people who like to keep busy as it offers a myriad of things to discover, such as trails, wildlife, a historic shipwreck, a freshwater lake, a disc golf course, and kayak tours.
"A great state park, incredibly well organized with great facilities and space. The location is 10/10, as it sits on a beautiful long beach with sand dunes and a ship wreck." – Dan N.
Campground Details:
Price: $11-108
Number of sites: 480+
RV sites: Yes
Fires allowed: Yes
Pets allowed: Yes
---
Lovers of the great outdoors and beautiful scenery will enjoy camp that's conveniently located between three Washington state parks and is a 5-minute walk through the dunes to the beach.
Cedar to Surf Campground is a relatively small site with a cozy, comfortable feel. The community building offers a lovely place to gather with a full kitchen and indoor and outdoor fire. And, if you plan to go fishing or clam digging, you'll be happy to discover the dedicated fish and clam cleaning rooms so you can keep your site smelling fresh!
"Quiet RV site with hookups. Short walk to the beautiful ocean. Friendly hosts." – Candace
Campground Details:
Price: $45-110
Number of sites: 36
RV sites: Yes
Fires allowed: Yes
Pets allowed: Yes
---
This RV spot is idyllically located just a short walk away from the 28 miles of Long Beach Washington Peninsula and the town of Ilwaco. Just 1,200 feet from the Pacific Ocean, it would be difficult not to fall in love with Long Beach RV and Camping Resort.
Whether you want to relax and recharge or keep you and your family active and entertained, the camp's superior amenities, including a swimming pool, hot tub, playground, clubhouse, hiking trails, and volleyball court, have something for you.
"Very clean, friendly, and fun place to stay. Lots of amenities, pool, hot tub, horseshoes, and walking distance to Ilwaco, Seaview and Long Beach." – Jamie R.
Campground Details:
Price: $44-195
Number of sites: 144
RV sites: Yes
Fires allowed: Yes
Pets allowed: Yes
---
This article about Long Beach, Washington camping is brought to you by Outdoor Element.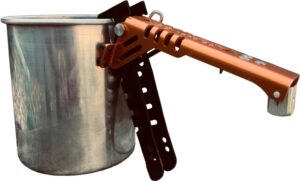 Their combination handled pot gripper and fuel canister recycler is now sold at REI
---
Nestled between the dunes and coastal forest of Long Beach Washington Peninsula, The Lamp Camp is perfectly designed for campers looking to mingle as they enjoy the breathtaking oceanfront surroundings.
This recently renovated, The Lamp Camp offers a "camp-cation" experience that balances relaxation with entertainment. Make the most of the attractive communal spaces, including the outdoor kitchen and dining area, the community lounge, outdoor fire pits, and the community herb garden.
"We loved our stay at The Lamp Camp. The owners were so fun to meet, bathrooms were incredibly clean with HOT water, and the location can't be beat." – Tiffany B.
Campground Details:
Price: $15-48
Number of sites: 30
RV sites: Yes
Fires allowed: Yes
Pets allowed: Yes
---
This award-winning site is situated in an unbeatable location right on the sandy shores of Long Beach, Washington. Andersens Oceanside RV Resort and Cottages is a family-owned and operated site that offers visitors privacy and tranquility in this beautiful part of the country.
Whether you're traveling alone, with your children, or your dog, you'll be impressed by this site's ample amenities such as a large fenced dog run, fish and clam cleaning facilities, and the largest private play set on the peninsula.
"We camp here every year and love the area. Staff is awesome and friendly." – Marty R.
Campground Details:
Price: $140-400 (two night stay minimum)
Number of sites: 65
RV sites: Yes
Fires allowed: Yes
Pets allowed: Yes
---
Located in the charming town of Chinook, halfway between Ilwaco and the Astoria Bridge, just 15 minutes from Long Beach, Washington, Columbia Shores RV Park and Resorts is a quaint campground and offers some of the region's best sport fishing.
Enjoy the park-like setting, access to spots of cultural and natural interest, and nearby restaurants or stay close to home and enjoy fishing in a stunning location.
"This is one of my favorite campgrounds in the Long Beach area. Very green and well kept. Each space has a picnic table with lots of green grass and shade! I enjoyed the park hosts and the surrounding beauty of the area." – Alicia F.
Campground Details:
Price: $30-45
Number of sites: 57
RV sites: Yes
Fires allowed: No
Pets allowed: Yes
---
The stunning state of Washington boasts areas of outstanding beauty, charming towns, and the country's longest beach: there's just so much to explore! These 7 campgrounds are some of the best that Long Beach, WA camping has to offer, but many more wonderful campgrounds are available. For more inspiration, peruse The Dyrt's complete list of the best camping in Long Beach, Washington.
Popular Articles: