This article about white mountain Arizona camping is brought to you by Watershed Dry Bags. Their Yukon dry bags will keep your gear safe whether out in the water or caught in a summer storm.
---
When people think about visiting Arizona, they usually concentrate on the Grand Canyon; however, the east of the state is home to the greenest areas where nature lovers can enjoy the stunning scenery and fantastic hiking trails.
Further into Eastern Arizona, into the Fort Apache Reservation, there are more areas of outstanding natural beauty, but there's also plenty of intrigue for culture-seekers, history buffs, and curious families to discover, such as Fort Apache Historic Park. From the prehistoric Kinishba Ruins to find local artisanal crafts and art exhibitions. You won't be disappointed by what White Mountain Arizona camping has to offer.
The Best White Mountain Arizona Camping Spots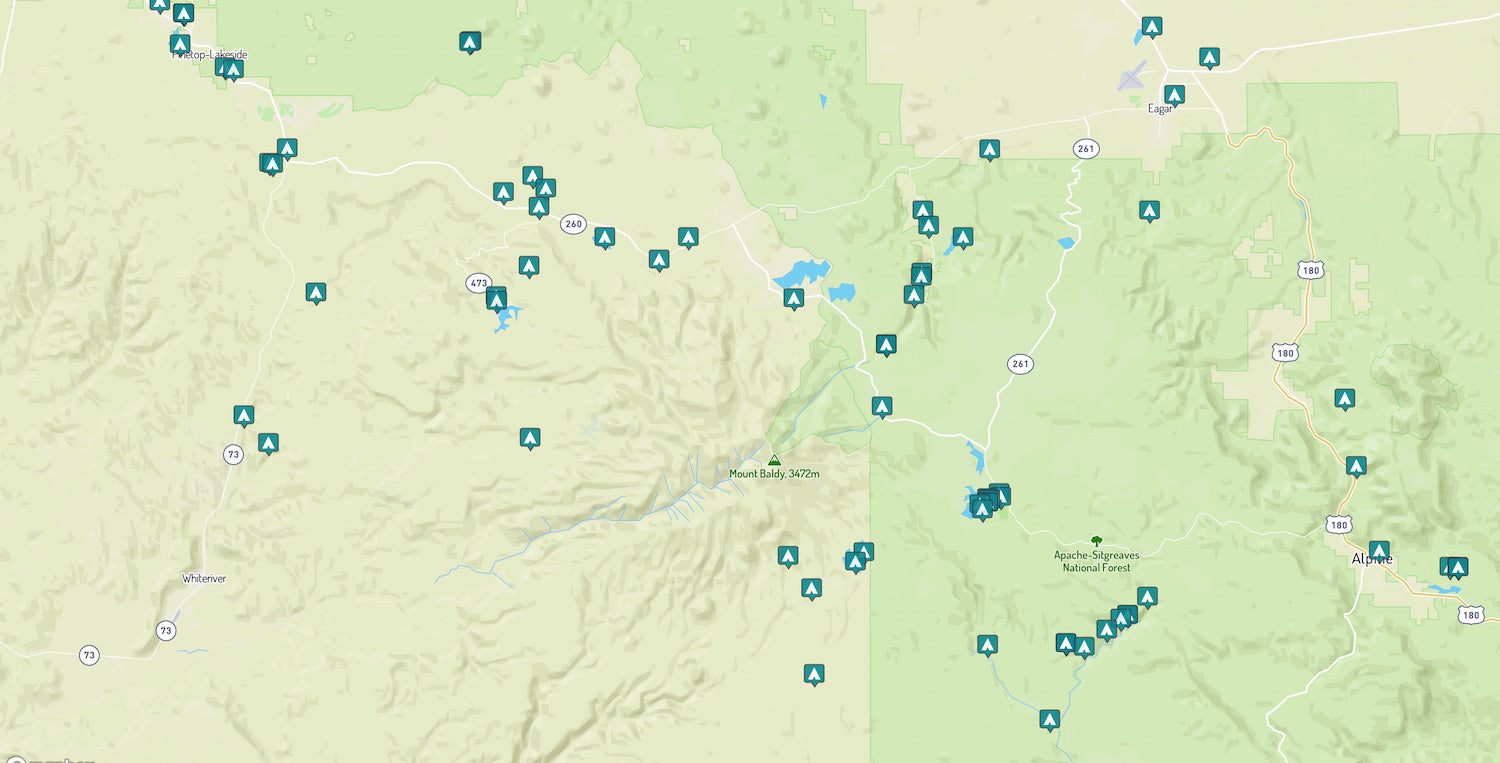 Arizona isn't known for its lakes, but you can get a classic lakeside camping experience at Fool Hollow Lake Recreation Area Campground. Camp under the tall ponderosa pines and make the most of the lake with boating, fishing, and swimming activities.
With wildlife observation points, recreational play areas, and access to many hiking trails, this well-equipped campground is popular with families and individuals alike and is a great place to start your White Mountain Arizona camping adventure.
"We were blown away by how beautiful Fool Hollow Lake was, and the sites were all spread out so much you'd think you're the only people there. It was quiet, family-friendly, and spacious. I really can't say enough good things about this place." – Drew S.
Campground Details:
Price: $25-35
Number of sites: 123
RV sites: Yes
Fires allowed: Yes
Pets allowed: Yes
---
This small camping site sits on the edge of a beautiful, peaceful meadow among stunning aspen trees. Although the facilities are minimal (there is no water source or garbage pick up), this makes for a tranquil camping experience.
The campground boasts easy access to horse riding (there are horses by the site and some sites have enclosed areas for you to bring your horses) and hiking trails. Los Burros Campground also has a curious feature: it is located on a former Forest Service Ranger Station site, and its old barn and corral are found on the National Register of Historic Places.
"Los Burros was a beautiful little spot, tucked away in the pines near Pinetop-Lakeside, AZ." – Ashley A.
Campground Details:
Price: Free
Number of sites: 10
RV sites: Yes
Fires allowed: Yes
Pets allowed: Yes
---
Campers heading to Eastern Arizona should consider making a stop at this charming lakeside campground. Show Low Lake Campground is at 6,500 feet elevation on the banks of a 100-acre lake, and its sites among the trees offer a tranquil camping experience.
The site is equipped with useful amenities such as electric hookups, a dump station, showers, a playground, and a seasonal convenience store where you can rent boats and pick up a fishing license. This White Mountains Arizona camping spot is a comfortable place to stay as you explore a beautiful part of the country.
"Gorgeous views of the lake which was a close walk, very clean sites, and staff who went above and beyond when we called to book on the same day." – Sheran K.
Campground Details:
Price: $18-250
Number of sites: 75
RV sites: Yes
Fires allowed: Yes
Pets allowed: Yes
---
This article about White Mountain Arizona camping is brought to you by Watershed Drybags.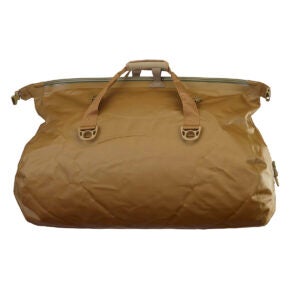 Their Colorado Dry Bags can hold a whopping 75 liters, allowing you to bring whatever you need to any of these campsites.
---
Sitting within a dense forest of towering ponderosa pines two and a half miles from Black Canyon Lake, Black Canyon Rim Campground is a popular spot with people traveling the General Crook National Recreation Trail.
Although the campground is easy to get to, the sites are secluded and private, making for a peaceful experience. The sense of being in the wild is enhanced by the regular sightings of a herd of wild horses that captivates campers. The flat sandy ground is ideal for setting up tents, and the campground has all the necessary facilities.
"If you are looking for a small, simple campground, this is a GEM!" – Sara S.
Campground Details:
Price: $20
Number of sites: 21
RV sites: Yes
Fires allowed: Yes
Pets allowed: Yes
---
If you're looking for a family-friendly campground in Eastern Arizona, Timber Camp Recreation Area and Group Campgrounds could be the palace for you. An ideal escape from the heat of the summer, the camp is hidden under ponderosa pines and juniper woodland. It is just 5 miles from the breathtaking vistas of the Salt River Canyon, known as "Arizona's other Grand Canyon."
Boasting an impressive array of facilities, including for both campers and horses and fantastic ATT access, the camp is open to both day and overnight visitors.
"Great spot to relax after driving thru Salt Canyon. Very convenient, close to highway, with very little noise. ATT was full scale." – Allan R.
Campground Details:
Price: $8-16
Number of sites: 13
RV sites: Yes
Fires allowed: Yes
Pets allowed: Yes
---
As an aged-qualified facility, campers visiting Venture In RV Resort must be 55 years old or over. Situated in the peaceful city of Show Low and a short distance from some of the best fishing and trails in the area, this campground is an ideal base for campers who want to experience Eastern Arizona's wilderness but stay close to amenities.
The resort offers a wide range of activities and facilities, appealing to adventurous visitors and those who just want to relax. These include weekly dances, yoga, quilting, bike trails, lawn bowling, and casino tournaments.
"Location is central to everything. In fact, we rode our eBikes to get to just about everything… Nice people in the park. Nice dog park and dog run." – Lyf Uninterrupted.
Campground Details:
Price: $50-57
Number of sites: 378
RV sites: Yes
Fires allowed: No
Pets allowed: Yes
---
Pine Flat RV and Campground is located in a lush, heavily wooded area. It offers visitors campfire rings, firewood, picnic tables, and cooking grills, along with restrooms and accessible drinking water for a comfortable yet authentic off-grid camping experience.
Many of the campsites are located off the banks of Oak Creek for pleasant swimming, wildlife viewing, fishing, stargazing, and photography opportunities. The campground does not offer shower facilities, so you'll need to be comfortable roughing it for the duration of your stay.
"Great spaces, well maintained, friendly host, and a small river to the west adds to the experience. There is a natural spring not far from the exit that has some very good clean drinking water. I'll stay there again." – Robert R.
Campground Details:
Price: $22
Number of sites: 60
RV sites: Yes
Fires allowed: Yes
Pets allowed: Yes
---
These campgrounds only scratch the surface of what Arizona campgrounds have to offer the adventurous traveler. When you're planning a White Mountains Arizona camping trip, there is no shortage of exciting locations to set up camp, whether you're seeking epic scenery, challenging hiking trails, or peaceful sunsets. For more options, browse The Dyrt's full list of the best Arizona camping spots.
Popular Articles:
---

---