After more than a century (yes, a century) of trying, Indiana finally has a national park. In January 2019, the Indiana Dunes National Lakeshore was re-designated as the Indiana Dunes National Park, the country's 61st national park in the National Park System. Being less than 50 miles from Chicago, this area has already been known to locals as a diverse and convenient getaway for Indiana dunes camping—but has now been elevated to the likes of famous parks like the Great Smokey Mountains National Park or Yosemite National Park.
This midwest park, however, has something unique—25 miles of protected, Lake Michigan shoreline, just waiting for campers and visitors to explore. This park's variance of massive sandy dunes, clear water and forested trails and campgrounds has the ability to transport you to a beachside paradise. Indiana camping just got beachier.
How to Go Camping at Indiana Dunes, The Newest National Park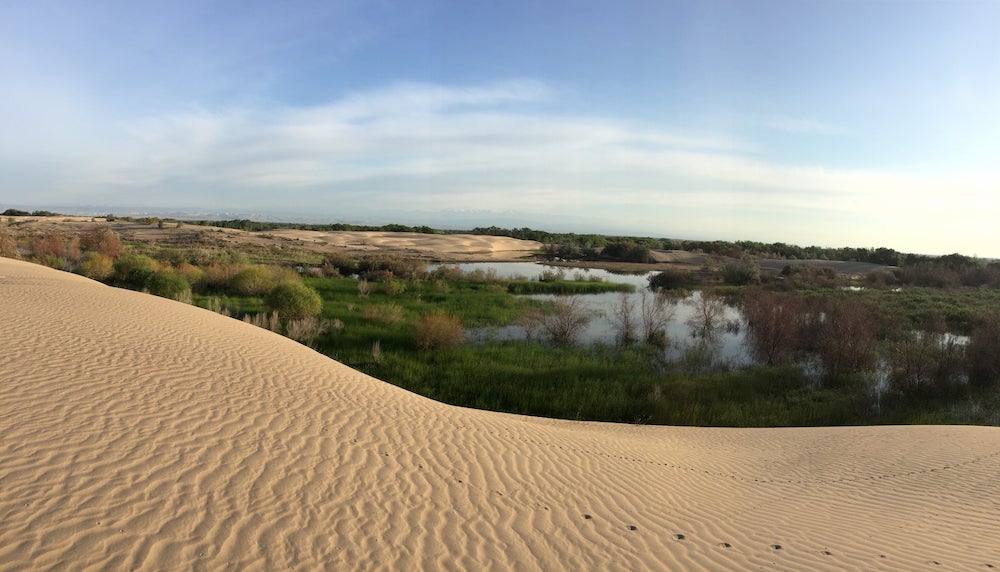 The Indiana Dunes National Park has about 15,000 total acres of land, containing a massive diversity of ecology and wildlife. Featuring towering sand dunes, swamps, hilly forests and stunning clear beaches (that more closely resemble an ocean shore), finding something similar in the Midwest is tough. This park might just be the new best midwest summer getaway.
Indiana Dunes Camping Options
The most important thing to remember for your Indiana Dunes camping trip is that you have options. This is a popular destination, no question. With crowds of people coming out from the city, and new tourism coming after there's plenty of shoreline to go around—but you need to choose wisely when it comes to your campsite.
There are several campsites to choose from, and plenty of great options for Indiana Dunes RV camping and tent camping. Many are quiet, and family-oriented with onsite amenities. Some are super convenient, with locations by train stops and major interstates.
One of the more popular spots for Indiana Dunes camping is the Dunewood Campground. The campground's name isn't just for show; there are campsites right on the sandy dunes themselves. If you're looking for more shade, however, there are also wooded campsites available amongst the 54 drive-in and 12 walk-in sites. Restrooms and showers are available, but there are not electric or water hookups here, so read below if you're an RV camper. Also, it's $25 per night, and they do not take reservations, so the place fills up fast.
"Stayed here on a Thursday night and it was quiet, lovely, and beautiful. Great sites with table, fire ring, and tent pad. Clean bathrooms with nice showers and kind rangers. Cheapest campsite in the area. 3 min drive to a beautiful beachfront on the lake. Would stay here again." —The Dyrt campers Niki and Sam S.
Sand Creek Campground is a great alternative if you want to avoid some of the busier Indiana Dunes camping options, if you don't mind being just a short drive from the dunes. It's just minutes from the Indiana Dunes State Park, but it's very peaceful, and family oriented. RV campers get full electric and water hookups, and there are hot showers, a picnic shelter, and even a pool.
"It was clearly recently renovated and very nice. It had 2 sets of bathrooms, a pool, a basketball hoop, and a prayer room. I didn't look for laundry, because I didn't need it, but the map indicates they do have it. The main office sold firewood and ice. Great location. Less than 10 minutes from the interstate." —The Dyrt camper Michael L.
This can be confusing, since the Indiana Dunes State Park is actually surrounded by the Indiana Dunes National Park. It's arguably the best campground location-wise for its proximity to the dunes, but that also means it can be very busy. The state park itself owns over three miles of beach along the Lake Michigan shoreline. For RV campers, every site has full electrical hookup. Plus, the campground has modern restrooms and shower houses.
 "It's so nice to have a great beachfront in the Midwest. There is so much to do here, wineries and breweries nearby. The beaches are not too crowded. Pet-friendly and lots to do for children. This is one of our favorite vacation spots." —The Dyrt camper Amanda W.
Michigan City Campground is a privately owned, 40-acre campground located only 10 miles from Indiana Dunes National Park. They have spaces for tents, pop-ups, hybrid trailers, travel trailers, fifth wheels, and motor homes of any size. At most campsites, you'll have sewer, water, electric up to 50 amps, and wireless internet. If you want comfort and amenities, and to avoid the crowds at the closer Indiana Dunes camping areas, this is your place.
"Stayed here 2 nights in the group tent camping area. Plenty of space to spread out and good firepits. Love the secure entrance and key card access. Pool and bathrooms were clean, although the bathroom could use a slight update. Will definitely be back if we are in the area!" —The Dyrt camper Beth B.
Things to Do On An Indiana Dunes Camping Trip
Indiana Dunes National Park might be a newly designated national park, but that doesn't mean it lacks in exciting hikes, beaches and more outdoor recreation. Here are a few
The Three Dune Challenge
Do you think you have the gusto to climb the three highest sand dunes in Indiana? Did you know you can accomplish this all in one Indiana Dunes camping excursion? Well, you don't have to, but the point is that you can! The three highest dunes are Mount Jackson at 176 feet, Mount Holden at 184 feet, and Mount Tom at 192 feet. For avid hikers and climbers, those numbers probably don't sound like much at all but be warned, some of the trails feature 40-degree slopes. Also, in case you hadn't guessed, it's a pretty sandy hike. So don't be surprised if sometimes you take two steps forward and one step back.
Plus, you can get free stickers, decals, and postcards for bragging rights at the Indiana Dunes Visitor Center.
The Beach is the Place to Be
On your Indiana Dunes camping vacation you'll have access to 15 miles of Lake Michigan shoreline with some of the best beaches in the region. All the traditional beach activities abound, like swimming, volleyball, snorkeling, sunbathing, and of course…doing nothing. In addition, while in the Indiana Dunes National Park, or within the Indiana Dunes State Park, you'll be able to trek into the dunes and explore the spectacular terrain.
While camping on the beach is not permitted outside of a designated campsite, both the Indiana Dunes State Park campground and Dunewood Campground offer sites within walking distance of the beach and the shoreline. The Indiana Dunes State Park also offers one of the more popular beaches, located close to the parking area for those coming from other campgrounds. The State Park beach has a designated swimming only section. Other popular beaches include Dunbar Beach, Kemil Road Beach, or if you're up for a long walk to a beautiful and secluded beach, Cowles Bog is a local favorite.
Hike & Bike the Indiana Dunes Trails
In addition to the beautiful dune hiking available, Indiana Dunes National Park also has picturesque wildlife-rich landscapes across prairies, barrens, forests, and wetlands. Also, there are many bike-friendly trails as well, including the paved 2.5 mile Dunes-Kankakee Trail from the Visitor Center to the State Park. You can also connect with the Calumet Bike Trail, and find nearby mountain bike trails like the 10-mile Outback Trail. For added convenience, you can take your bike to and from the South Shore Line train. The train line has designated cars for bicycles.
Get Out on the Water
On the water, there are plenty of opportunities for fishing, boating, and paddling. There's even the Kankakee River and the Valparaiso Chain of Lakes for even more paddling options. The Sammie L. Maletta Public Marina in Portage has a boat launch that costs $10. It's also a nice place to fish.
Spot the Birds of the Dunes
Birding is a popular activity on an Indiana Dunes camping trip; with more than 350 bird species that live or migrate through the Indiana Dunes area, even beginner birders can see amazing birds. The combination of the park's beaches, dunes, woodlands, prairie, and wetland make it a birder's nirvana.
The Heron Rookery Trail is a great trail for birding. The now abandoned heron rookery is home to several other species of birds, plus the endangered Karner blue butterflies.
One of the coolest things to do for birding enthusiasts at the Indiana Dunes National Park is to take part in the "backpack for birders" program. At five different locations throughout the area you can pick up a free birder backpack. The pack includes two sets of binoculars and birding books to guide you. The locations include Coffee Creek Watershed Preserve, Indiana Dunes State Park Nature Center, the Indiana Dunes Visitor Center, the Paul Douglas Center, and Taltree Arboretum & Gardens.
---
Related Campgrounds:
Popular Articles: