Shari and Hutch live on the road in their vintage "canned ham" trailer. They're sharing advice on full-time camping in South Carolina and beyond every Thursday.
---
As we paddle around a bend in the cordgrass, two dolphins break away from the feeding pod and swim toward us. We watch, open mouthed, as they approach, then dive beneath our sea kayaks with a casual kick of their flukes. One rolls to her side and stares at us curiously as she passes beneath, then shoots away, powering through the shallows. The experience lasts only a moment, but we are left awestruck. Did that just happen?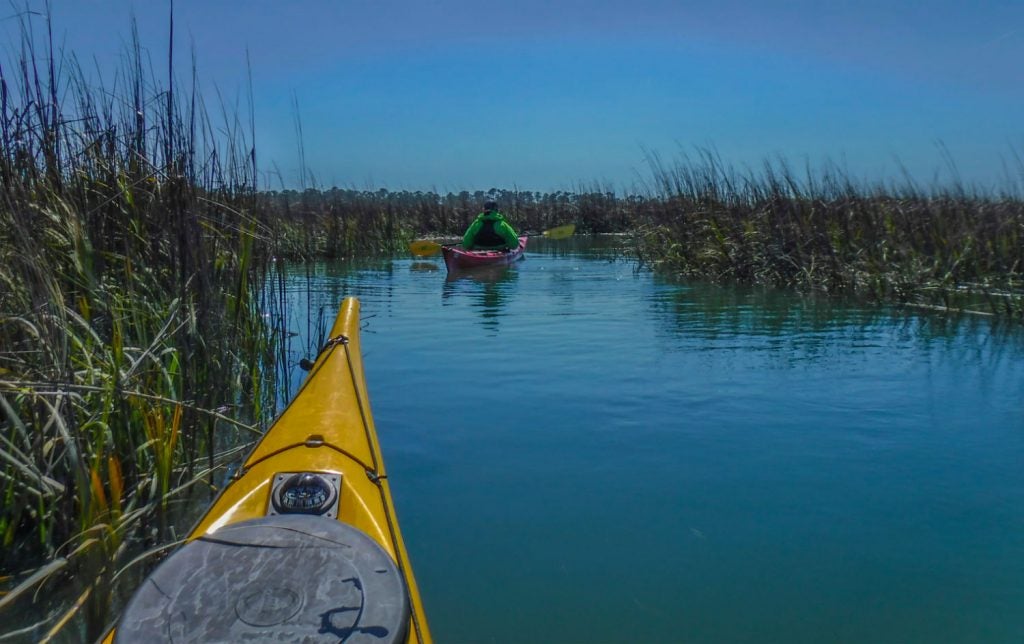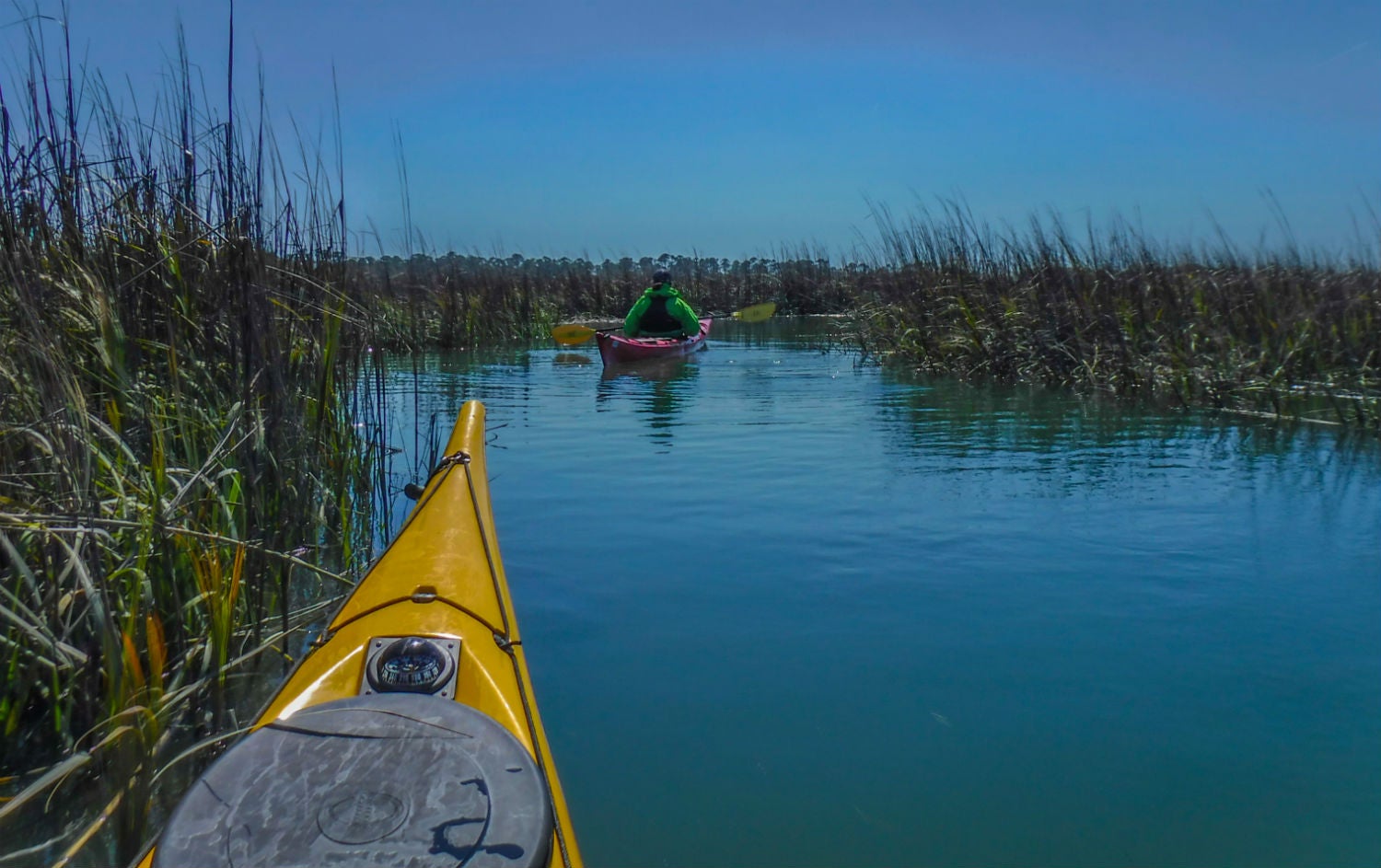 Only an hour earlier, I'd wondered aloud, "Maybe we'll get lucky and see dolphins?" But we never thought we would get this lucky. We've waited through 3 days of cold rain to get out into the sloughs off the coast of South Carolina.
The area offers paddlers a magical labyrinth of tidal-carved wetlands and coastal barrier islands relocating themselves further west after every major storm. The resident pods of dolphins call this region their home, and we feel as if they've welcomed us in.
Exploring and Camping in South Carolina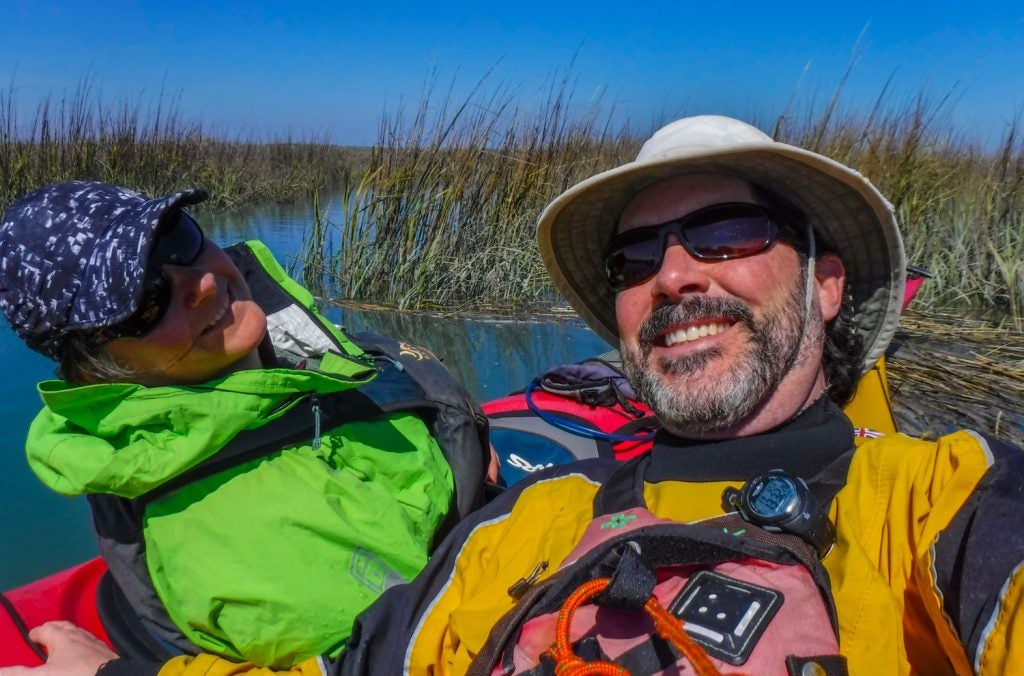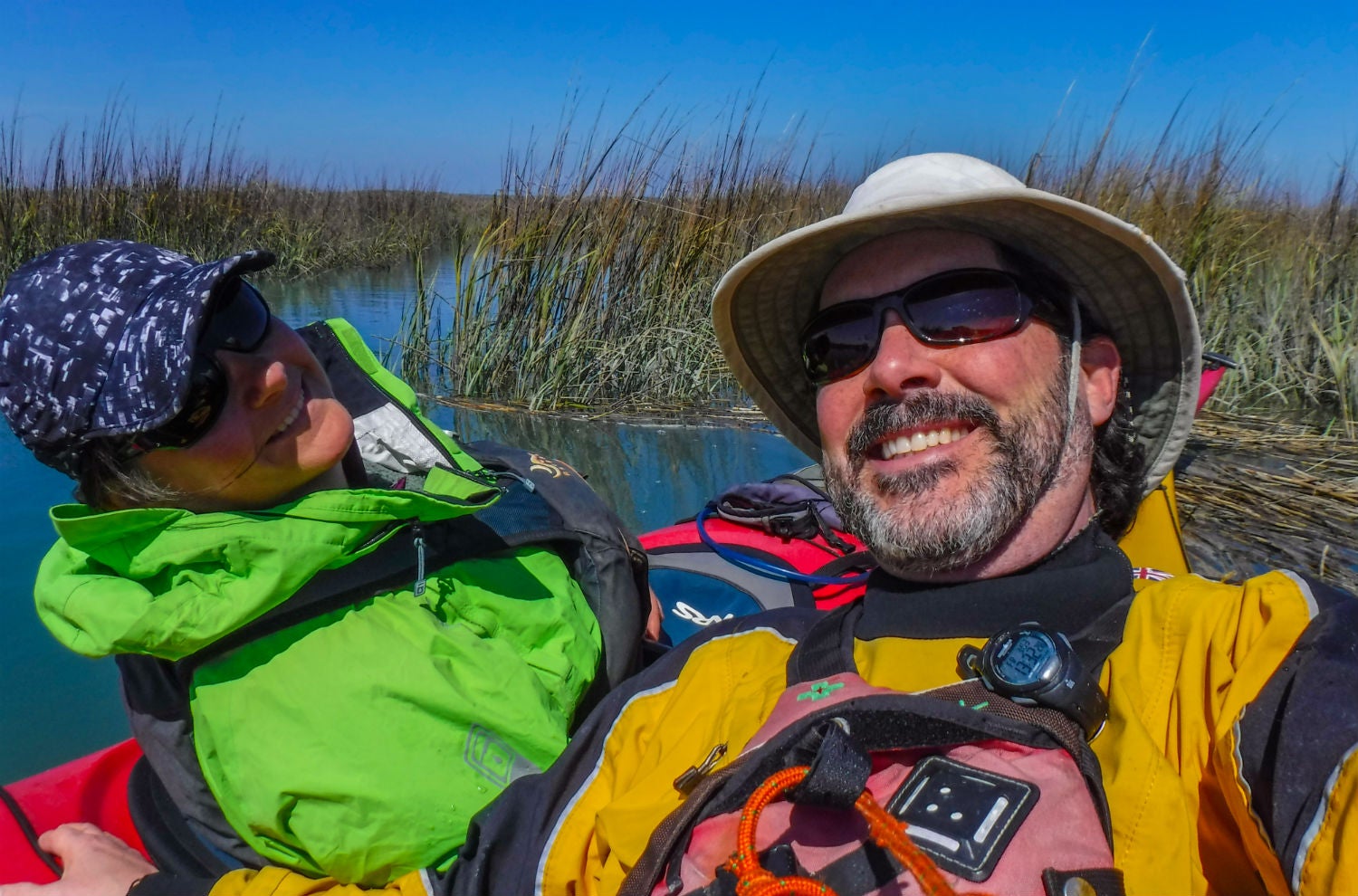 The low-country of South Carolina is closer to our high-country basecamp in Boone, North Carolina than the coast of our own state. We can easily drive from the mountains to the sea within an afternoon, and yet we rarely did during the 13 years we lived in the southeast.
With a few presentations and tiny-home open houses serving as anchors on our speaking calendar, the coast of this amazing state became a destination for our most recent 3-week wander.
Recharging at Hunting Island State Park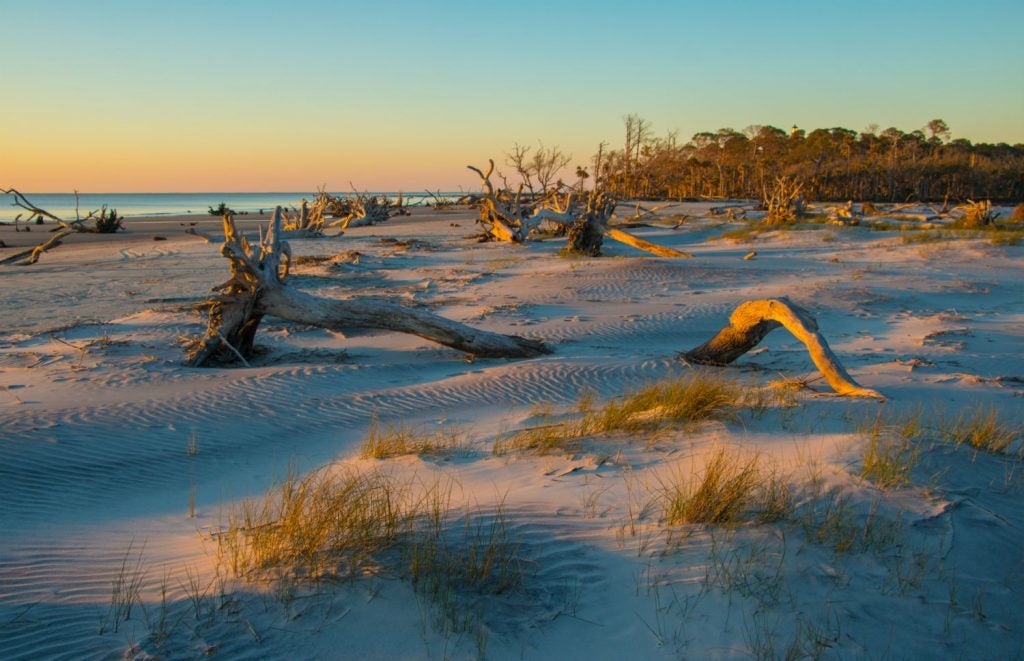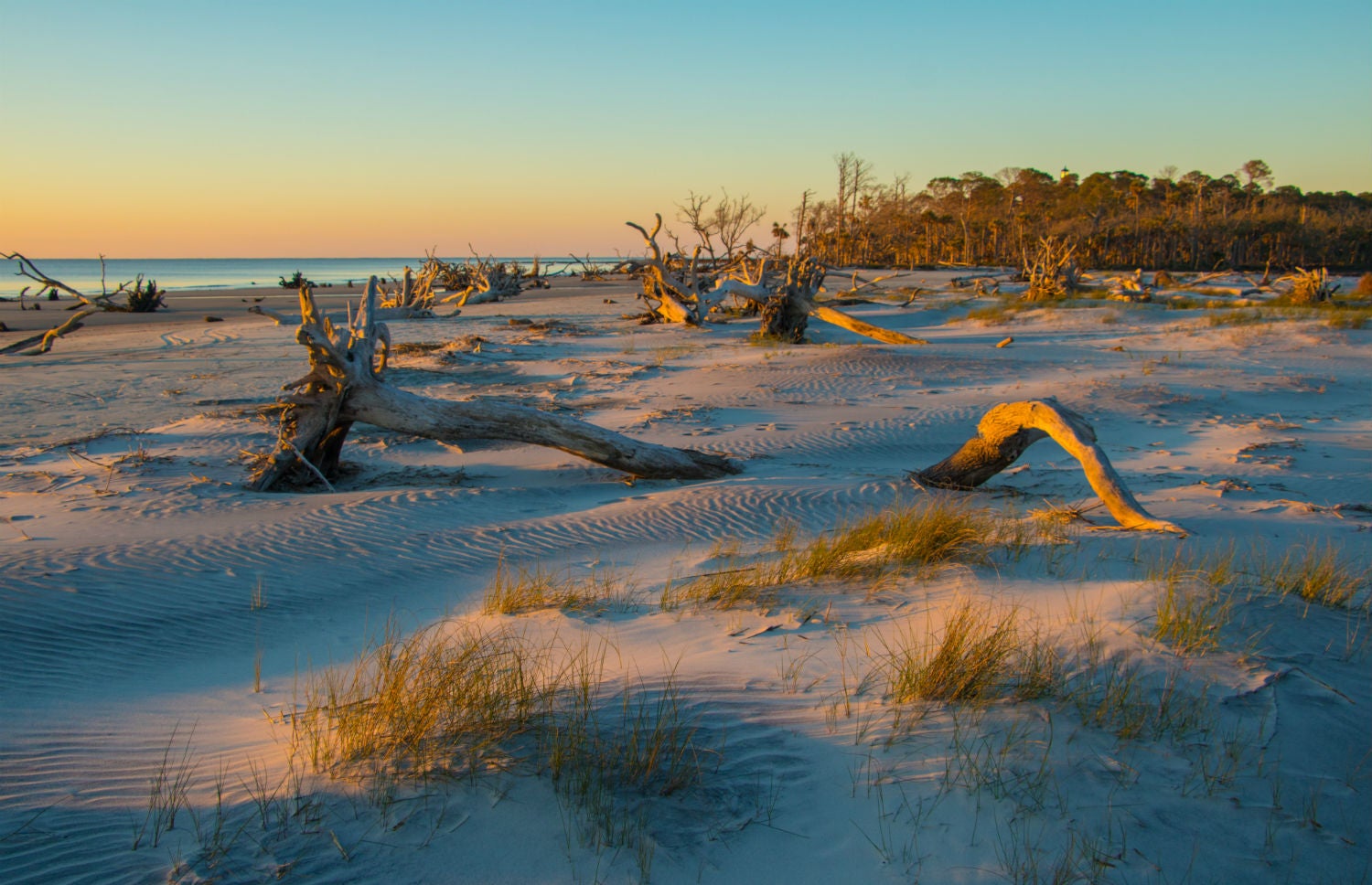 State Parks along the coast are the optimal location for beach goers wanting an inexpensive vacation, and they fill up quickly. Like many times before, we grabbed one of the last campsites at Hunting Island State Park. Offering full-services and charging around $50 a night, we rarely stay in parks like these.
However, when we've been primitive camping in South Carolina for over a week, showers and RV hook ups feel like a splurge.
---
Renogy's The Phoenix Generator Review:
Read Hutch and Shari's review of camping in South Carolina's Hunting Island State Park and The Phoenix Generator on The Dyrt.
---
We drank in all that Hunting Island had to offer. We walked along the beach at sunrise, climbed the 167-stair historic lighthouse, mountain biked on the trails lined with prehistoric looking foliage, and sea kayaked through the sloughs.
Seeing the damage done to this island by hurricanes Mathew and Irma, reminded us of the power of Mother Nature and the real price of global warming. Many of the state parks along this coastline experienced millions of dollars in damage, so supporting them during their recovery is truly important.
Visiting The Center for Birds of Prey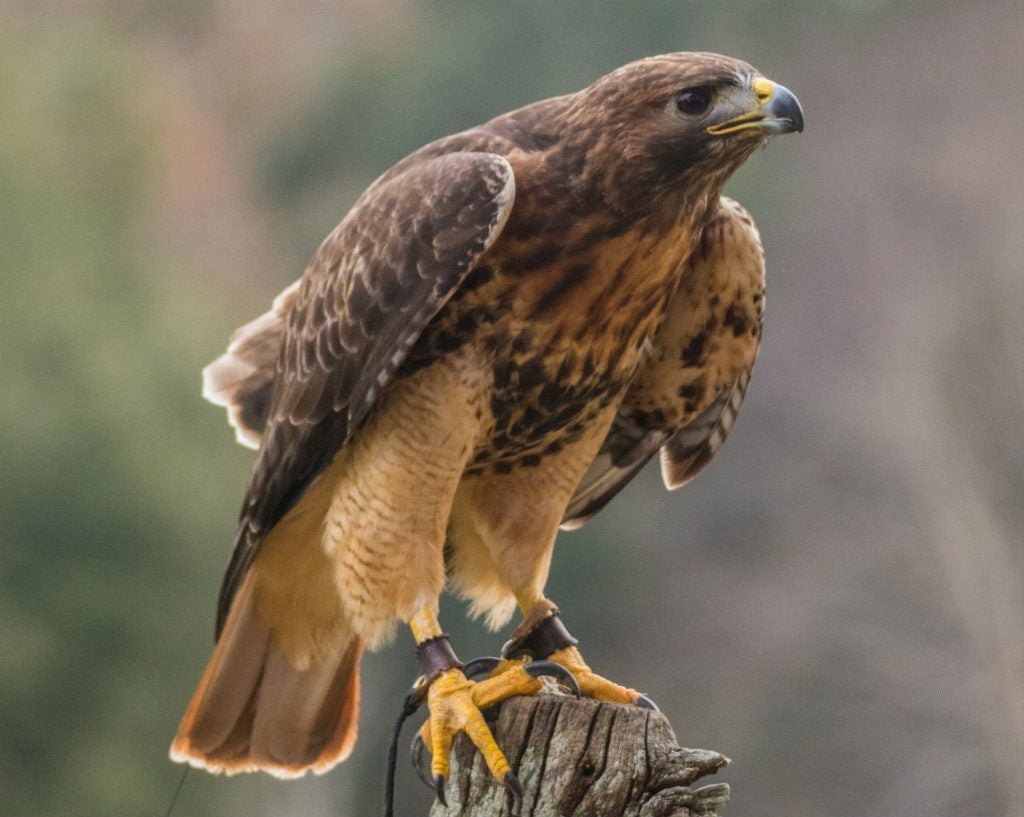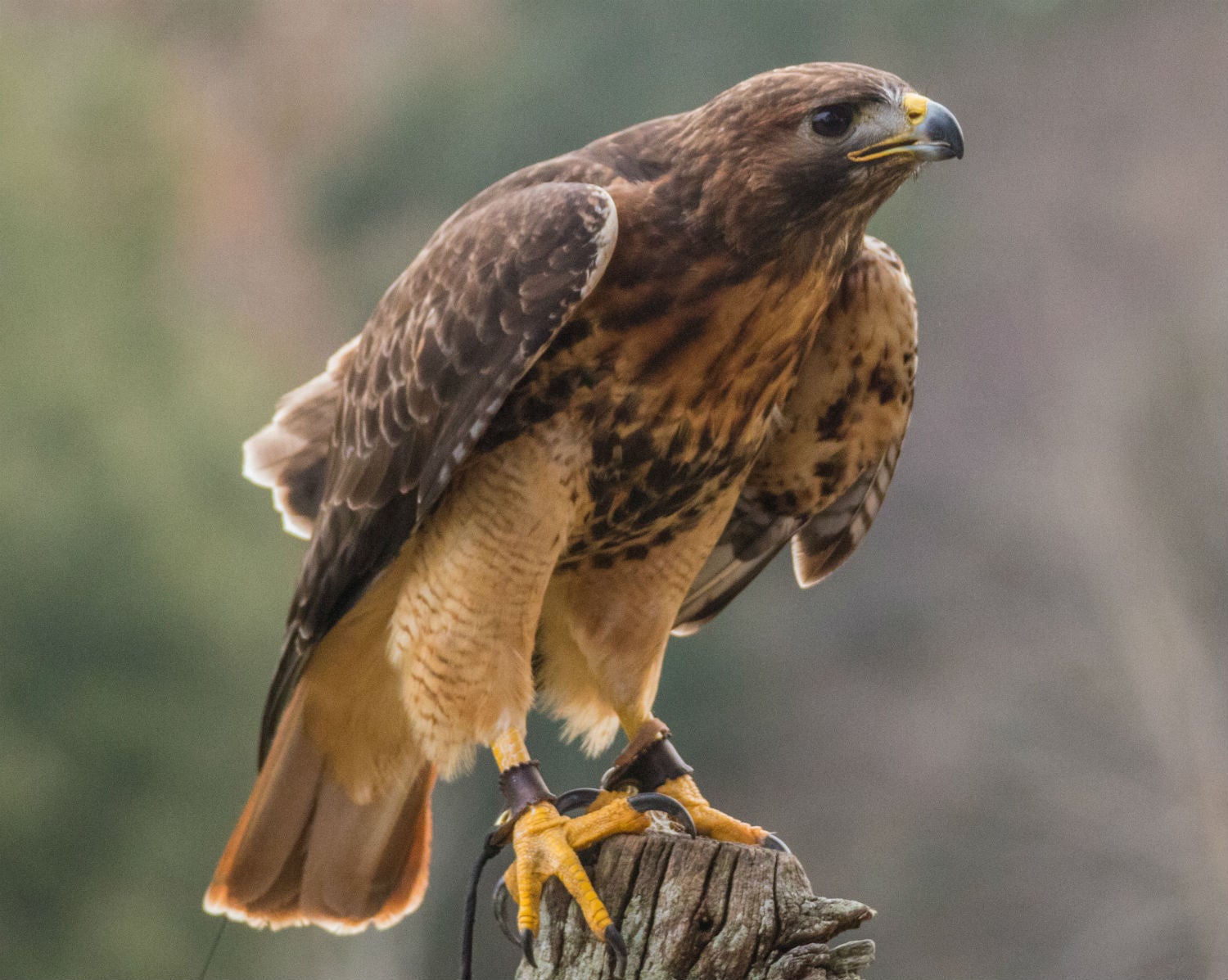 After 4 nights at this lovely park, we headed up the coast to check out the Center for Birds of Prey along Highway 17. We knew nothing about the place, but saw their sign which looked really cool. Cool is an understatement; this sanctuary, conservation, and education center is absolutely top-notch. Truly one of the best we've seen in our 5 ½ year journey!
We spent the afternoon fascinated by the birds and their education team (who give flight demonstrations) before landing at Buck Hall Campground in the Francis Marion National Forest. This coastal gem is located between Georgetown and Charleston along the intercoastal waterway.
No Reservations at Buck Hall Campground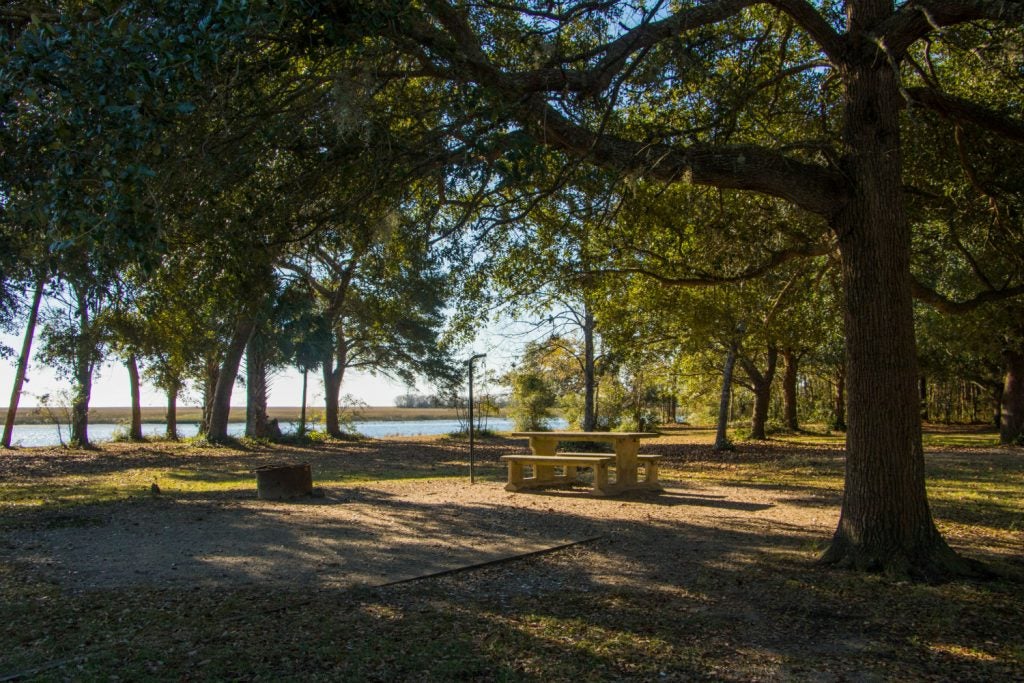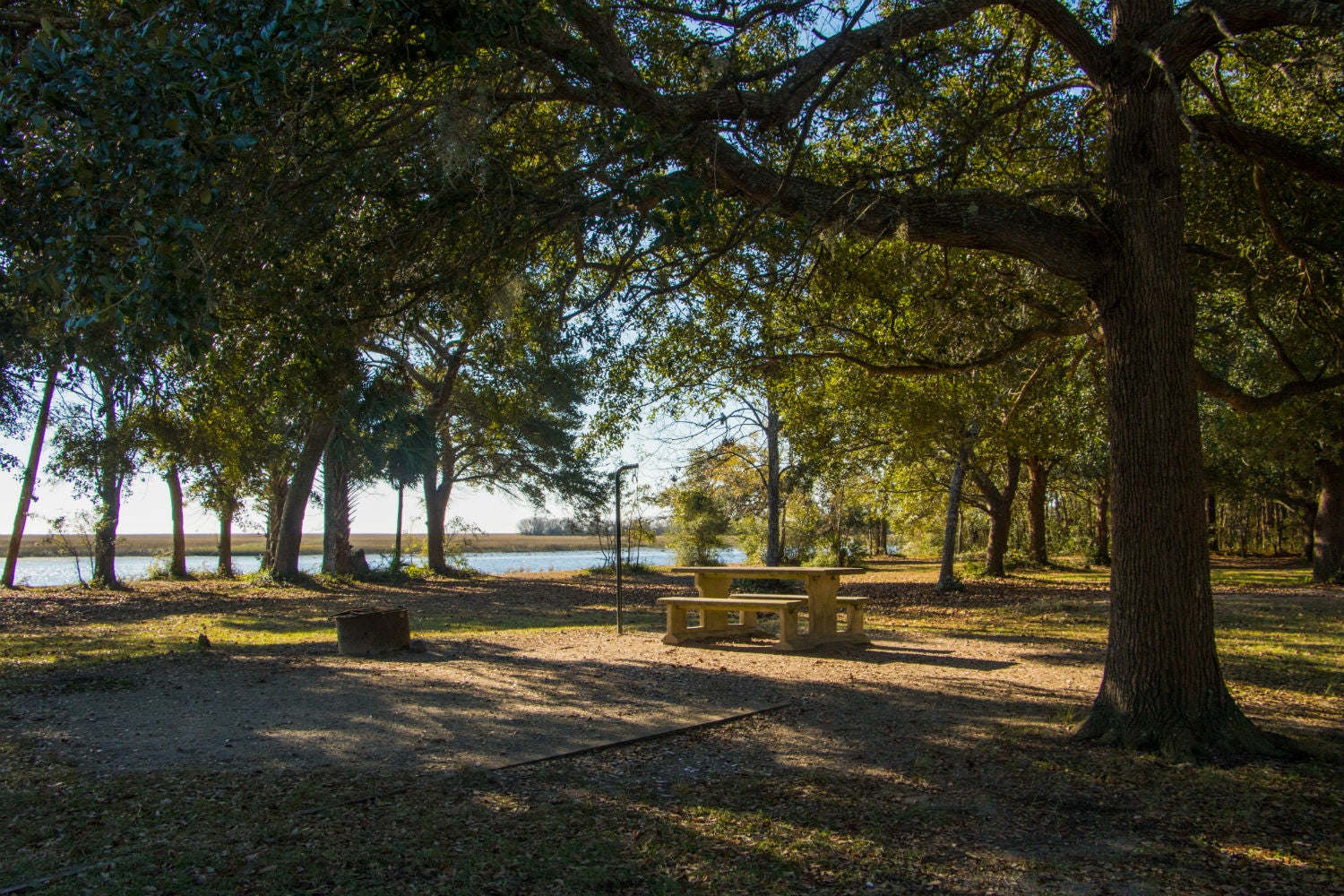 We arrived, as usual, with no reservations and stayed for 5 nights. Since this place is so popular and reservable (for those who plan ahead), we had to move sites frequently. Each morning, we'd head over to the Camp Host and ask,
"Hey Bob, where we gonna be tonight?"
Bob and his wife, volunteering here for over a decade, were fountains of great information about the ancient native shell mound trails and the Red Wolf rehabilitation project at the Sewee Visitor and Environmental Education Center.
There, we met Wolfman Rob, who has been taking care of the 4 resident Red Wolves for 8 years. A former high school principal, his Thursday afternoon lectures are like drinking from a firehose – you simply can't retain all this passionate man wants to share about his wolves.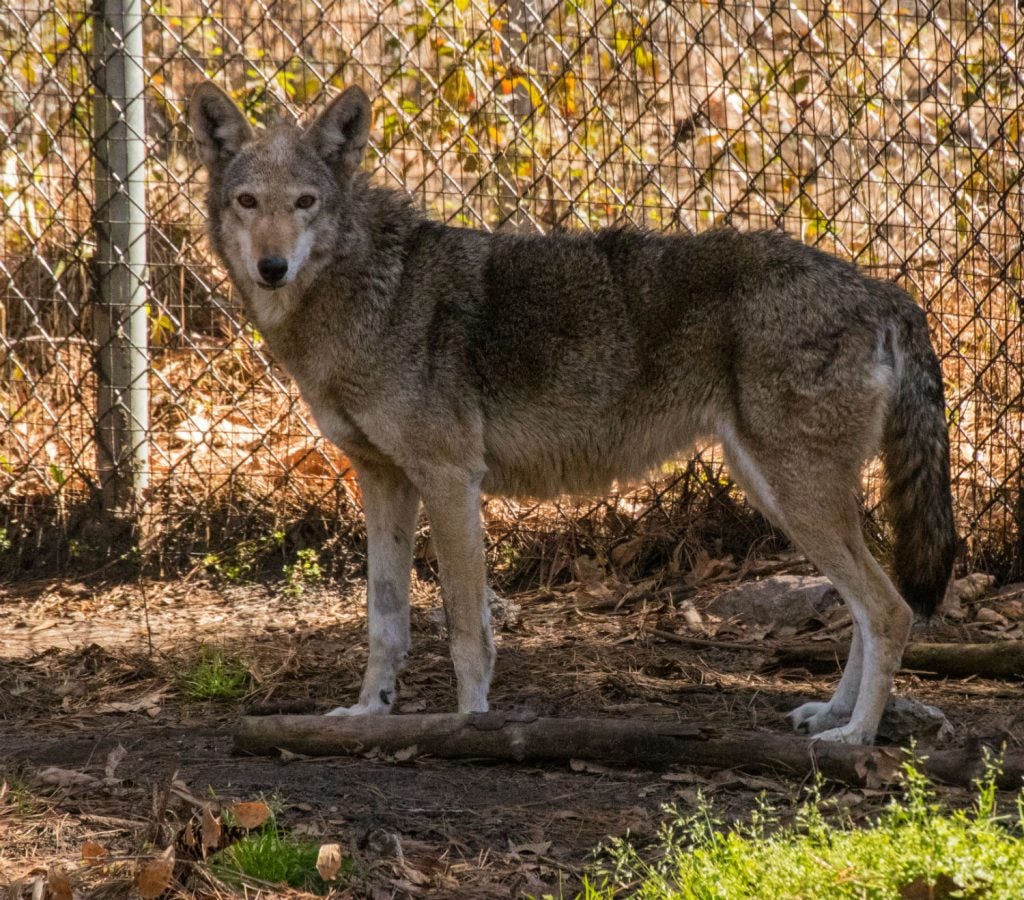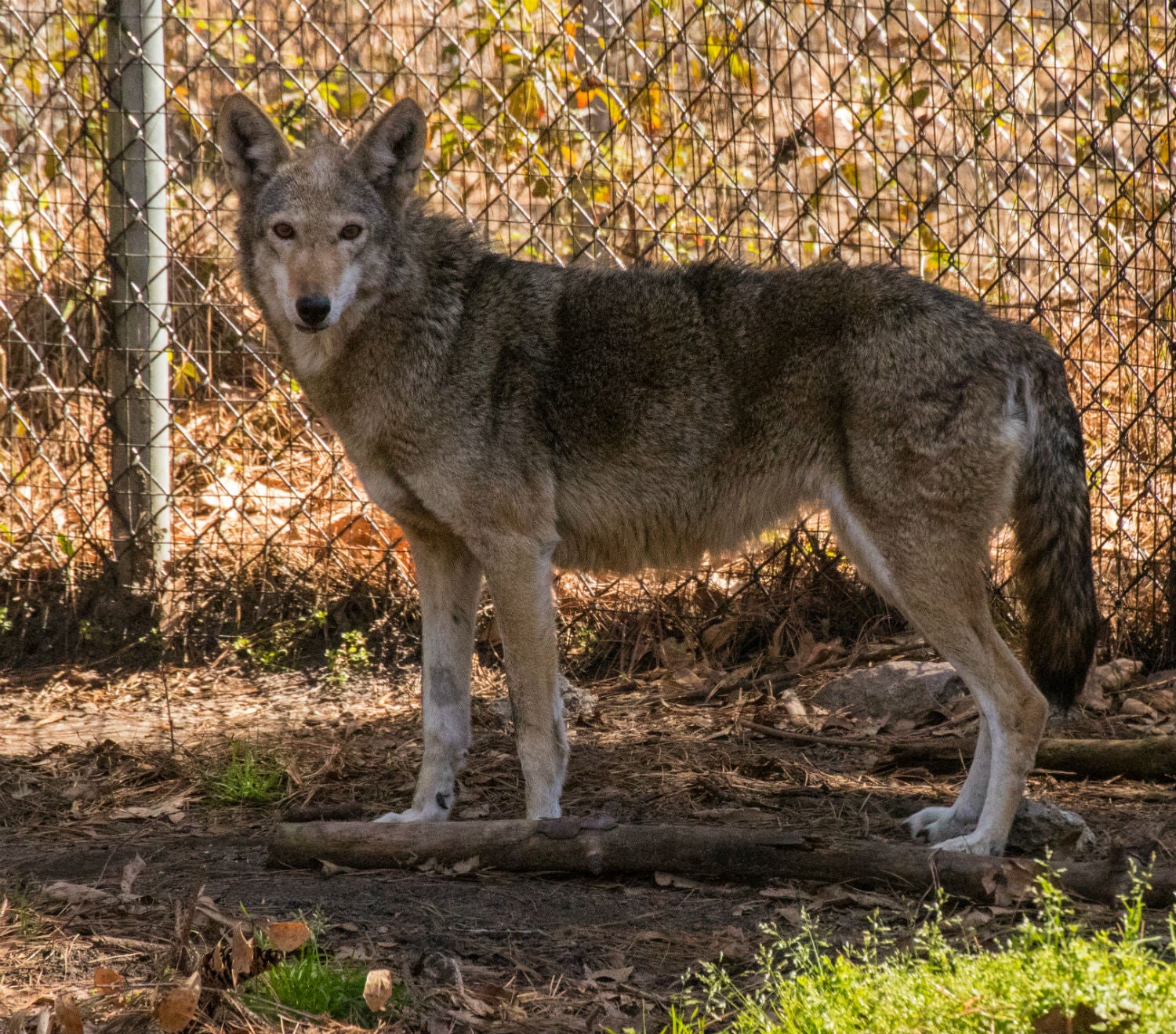 We left with a new friend, but also with a greater appreciation for the challenges this endangered sub-species faces in the southeast.
Free Camping in South Carolina at Elmwood Recreation Area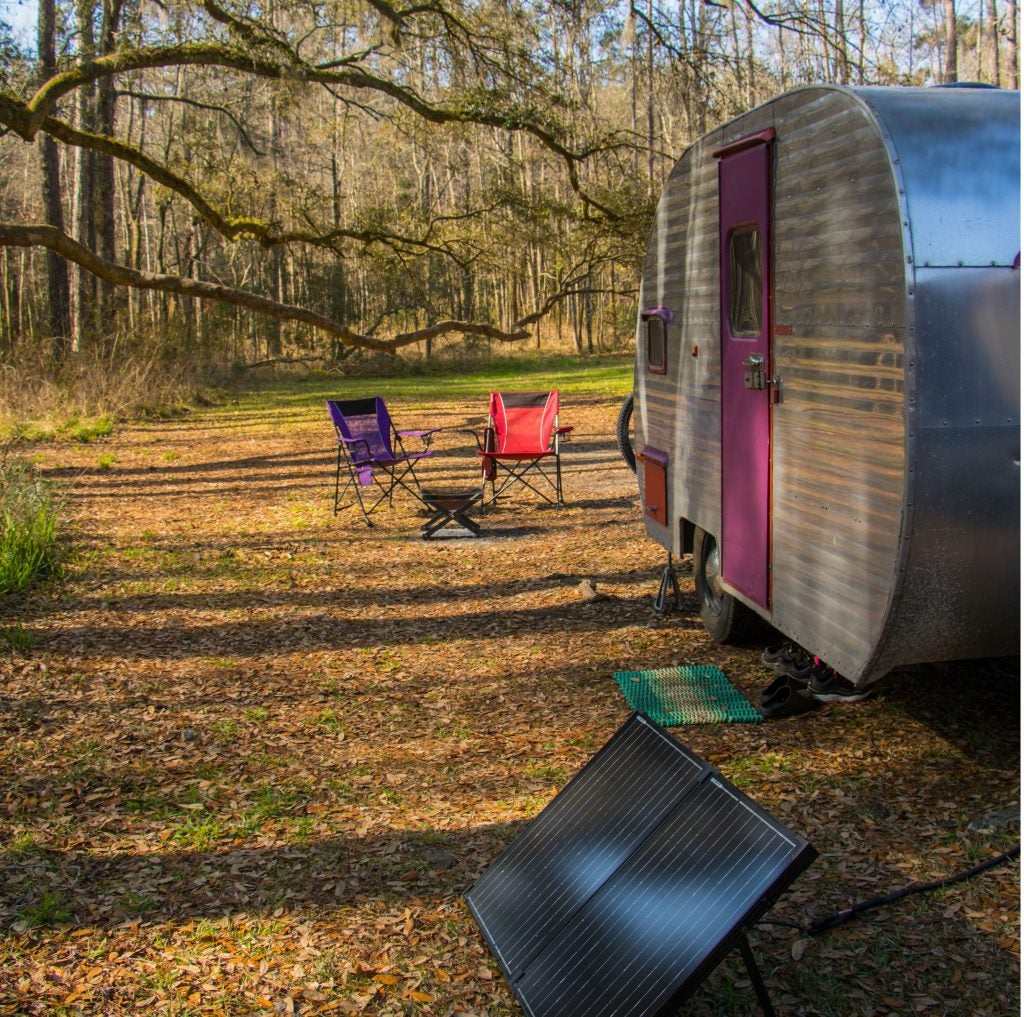 Next we relocated our rig to the free, dispersed campground of Elmwood Recreation Area in the National Forest, which became an excellent basecamp. Four nights here helped to even out the splurge at the state park. We cooked meals on our Primus Kamoto Openfire Pit, which also helped us cut down on expenses.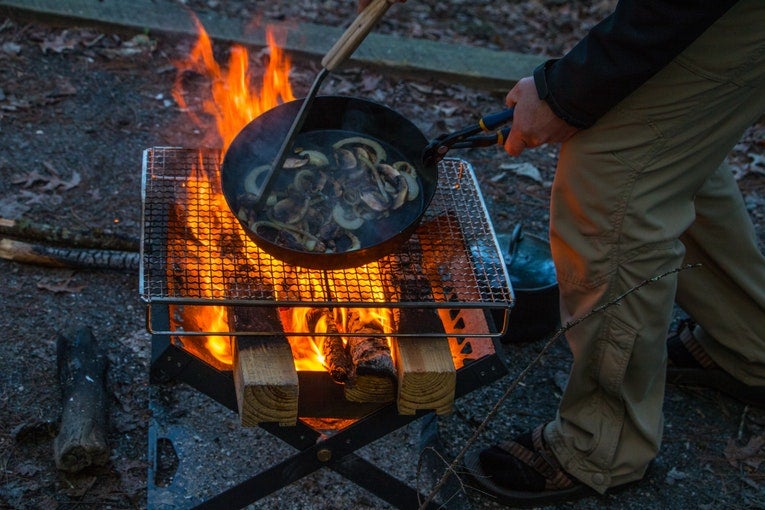 ---
---
We cycled through stately groves of Loblolly and Long-leaf Pine along deserted gravel roads. We explored two beautifully restored 17th- century relics of the "old south" which emerge from the forest as if from another time – Hampton Plantation and the St. James-Santee Church.
Traveling like this is our favorite way to explore an area, with no plans and no camping reservations, we were able to go where our curiosity led us. At this time of year most areas were uncrowded and completely chill.
We let the weather dictate our schedule and experienced everything from warm sunny beach days to cold rainy afternoons huddled inside with a cup of tea.
We're always fine with leaving a few places untouched, just so we'll have a good excuse to come back!
---
Read More from Full-Time Campers Shari and Hutch: 
The Dyrt is the fastest-growing camping app on web and mobile, with new features being rolled out regularly. If you love the outdoors, discovering ideal spots to pitch your tent, and being part of a rich and active community, then join us.
---
---
Related Campgrounds:
Popular Articles: