The Dyrt campers share their advice on camping in Cheaha State Park. 
---
Cheaha State Park is best known for being home to Cheaha Mountain, the highest peak in the state of Alabama at 2,407 feet. Appropriately named for its sizable stature, the word "Chaha" from the Muskogee language of the Native American "creek" nation, translates to "high place." With 2,799 acres of land to its name, hikers, campers, and explorers will find endless ways to fill their days with mountain biking, geocaching, fishing, and swimming in the cliffside pool.
For those looking to dive into local history, the Walter Farr Native American Relic Museum, located near the Country Store, is a great way to spend an hour or two getting lost in ancient artifacts. Be sure to double-check operational hours, as it is open seasonally and only several days out of the week.
Camping at Cheaha State Park
With the combination of elevated views, enchanting forests, and seasonal waterfalls (try capturing the flow on slow-shutter mode for a flowing effect), this park has quite a bit to offer. There were so many useful tidbits that we want to share a few  from your fellow campers at The Dyrt.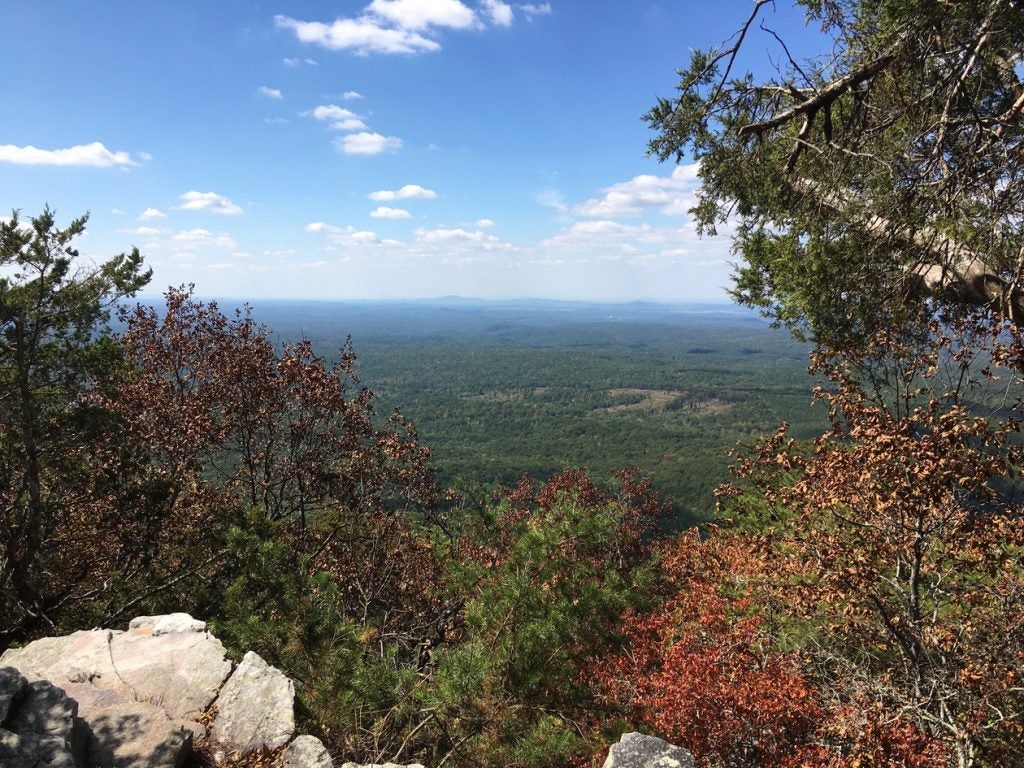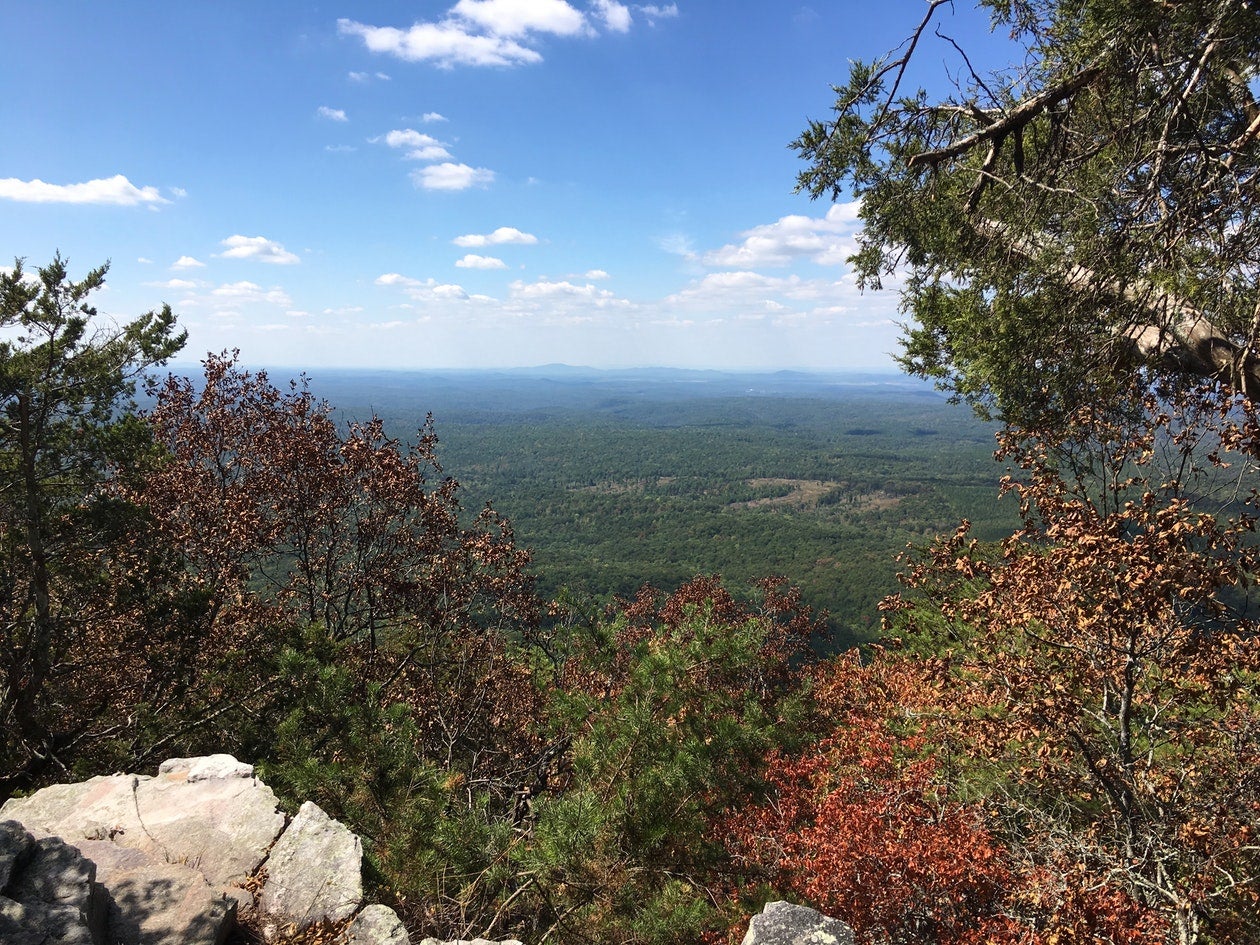 Image from The Dyrt camper Asher K.
1. Primitive campsites are worth it for the views
Camping and lodging options range from hotels, A-frame chalets, charming cabins, and group sites with both primitive and improved campgrounds. You might want to consider snagging one of the primitive campsites for extra privacy and better visibility of the surrounding Talladega National Forest. Don't be deterred by their being described as primitive, these campsites still have fire rings, communal water faucets, and restrooms.
"This is the nicest of all the campsites at Cheaha by far! While it definitely is a bit of a trek to get to, I promise you it is worth it! The views from this campsite are truly incredible, especially if you are lucky enough to have a clear sky for sunrise/sunset." – Ethan K.
2. Check out nearby attractions
Cheaha State Park is just within arms reach of several points of interests, including the 335-mile Pinhoti Trail, the 33-mile Chief Ladiga rail trail (perfect for cycling) and the historic downtown area on Heflin Main Street. At an easy 45-minutes away, you will also find the longest NASCAR tri-oval track named Talladega Speedway, which spans 2.66 miles of pure asphalt.
"The hiking here really is top notch and this location is great for exploring the area. In just under an hour you can Explore DeSoto Caverns as well as Little River Canyon National Preserve." – Sarah C.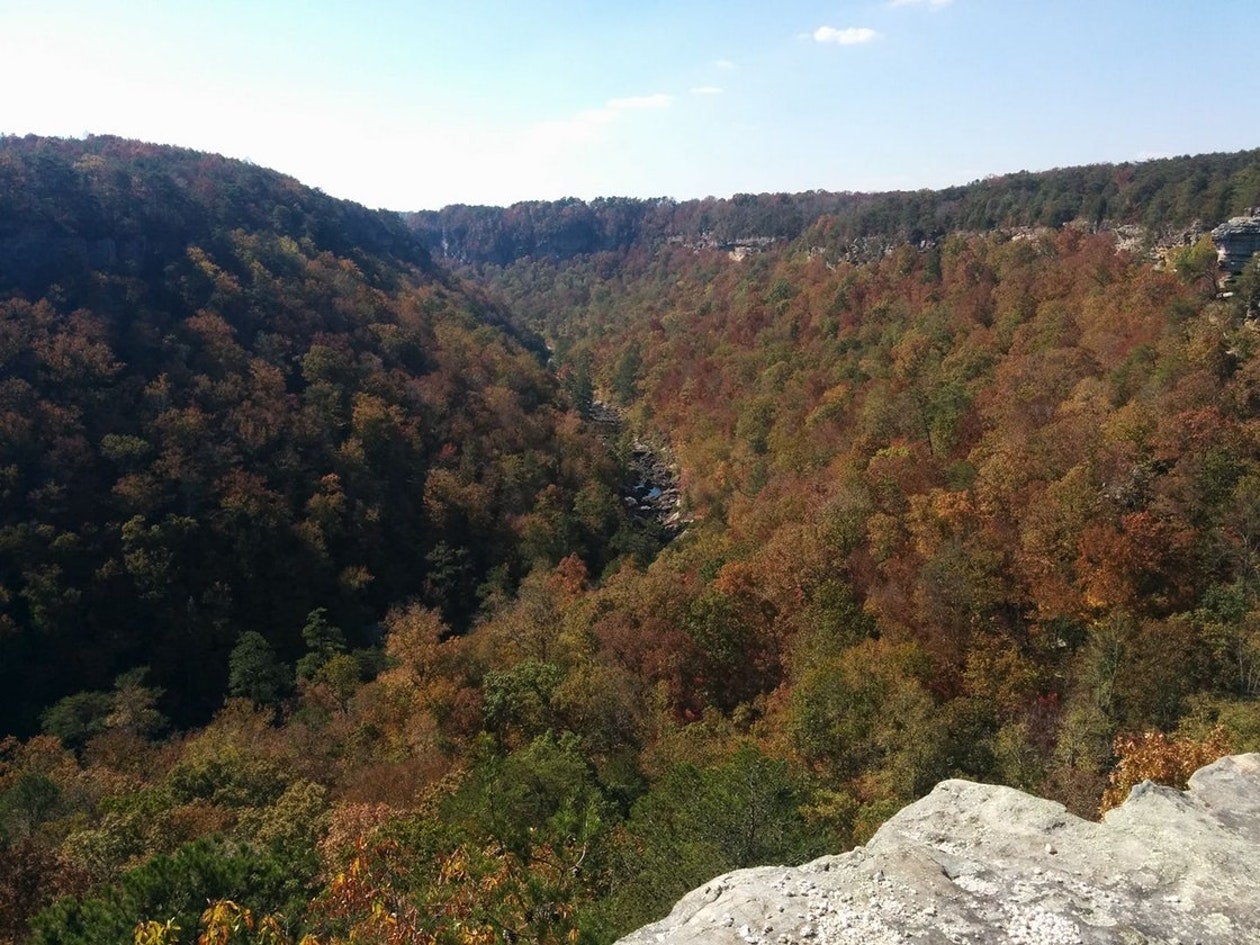 Image from The Dyrt camper Sarah C.
3. Make Cheaha State Park a stop along the Pinhoti Trail
This relatively new trail is making a name for itself in the long-distance hiking game. Established in 2008, the Pinhoti Trail spans 335 miles through Georgia and Alabama. The Cheaha trailhead that leads into this longer route begins right in Cheaha State Park, making it an ideal place to spend a night or two before continuing onwards. For more tips on planning a long hike on the Pinhoti Trail, take some time to read about preparing for a thru-hike.
"We recently did a one night backpacking trip with 2 close friends where we started at the Lake Chinnabee Recreation Area and hiked to join the Pinhoti trail then headed south before looping back around. There are so many amazing campgrounds along the way and the views you get after climbing onto the ridge are just incredible." – Asher K.
4. Prepare for hot days and cool nights
During the summer, temperatures in the park can reach into the low 90s during the day and then plummet into the low 60s at night. Make sure you wear fast wicking and comfortable layers that can adjust to a wide range of temperatures. Of course, it is always good practice to also bring extra sunscreen and a hat to protect your face. If the summer heat isn't your jam, plan your trip during late September through early November for daytime highs that typically remain within the mid-70s.
"This experience has been one of my best thus far since I have not hiked outside of the south eastern area of the country, it was hot during the day, but very cool during the night which allowed me to sleep spectacular." – Amar P.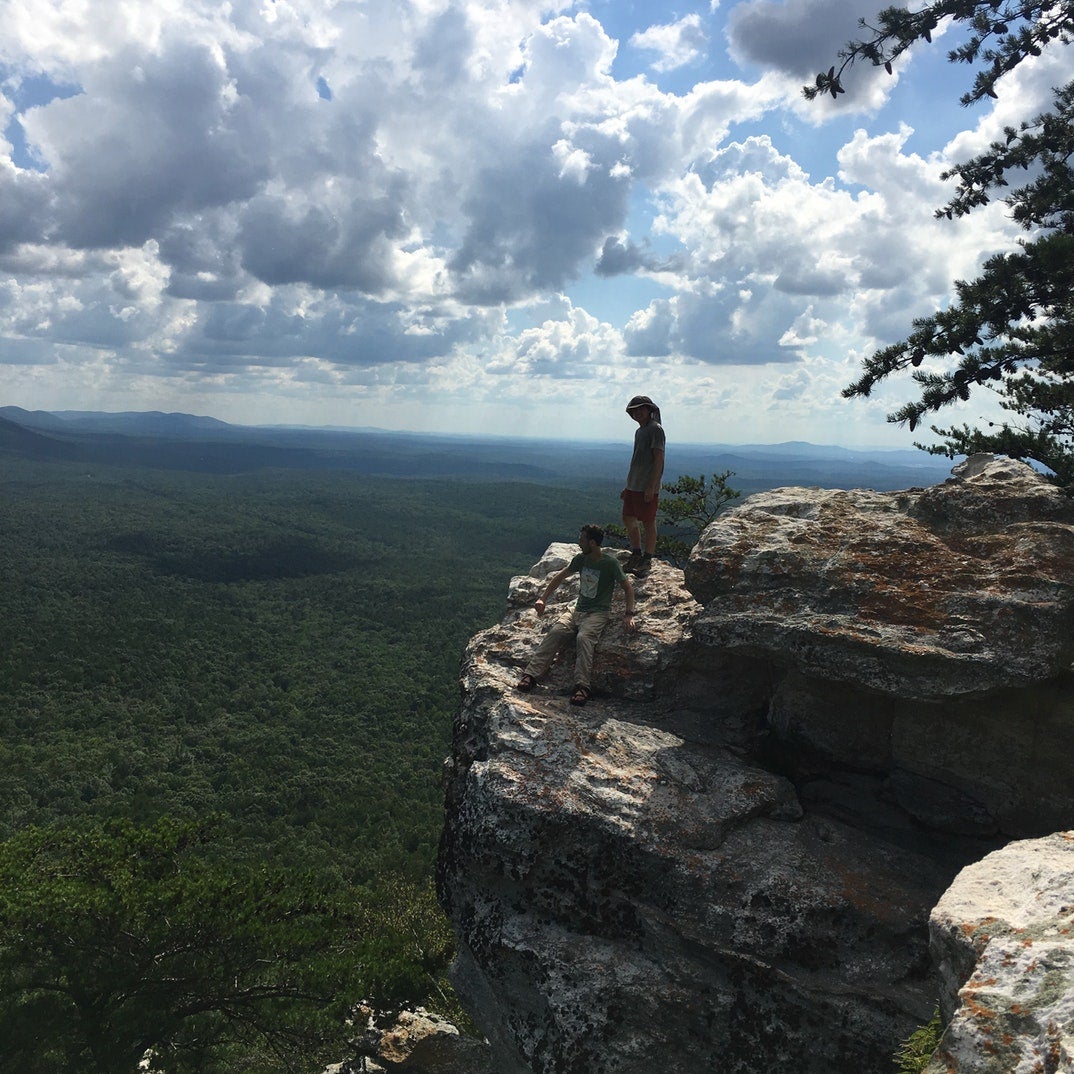 Image from The Dyrt camper Ethan K.
5. Great spot for rappelling and climbing
There's a mixture of bouldering, top-roping, and scrambling areas located inside of the park. Bald Rock is mostly known for bouldering, although there are opportunities for top-roping as well. Pulpit Rock favors crack climbers and the most popular area called The Rock Garden is an ideal spot for anyone looking to rappel. Most importantly, don't forget to grab a permit at the park store before you head out to any of these climbing sites.
"We spent about 2 hours rappelling off of some of the high ledges at the summit, an activity I would highly recommend, provided that all safety precautions are taken. We then began our hike in the backcountry down the side of the mountain to find a suitable camping spot." – Michael M.
6. Wheelchair friendly path to Bald Rock
Despite many modern advancements in the state park system, it can still be difficult to find wheelchair accessible paths for our friends and loved ones to enjoy. The Doug Ghee trail to Bald Rock has a 1,520 foot raised boardwalk with sturdy safety railings on both sides for smooth access. Take a leisurely walk or rest easy on one of the many benches located along the wooden path.
"Great park for hiking, there is actually a boardwalk for wheelchair accessibility to Bald Mountain overlook. Camp sites are pull through & larger than most we've been to. Highly recommended!" – Kelly W.
7. Indulge at the Vista Cliffside Restaurant
Take in the views while enjoying a juicy hamburger, a cup of chili, sirloin steak, or homemade potato chips in this restaurant, which you will find located inside the park. You can also fuel up for a day of hiking and climbing at the weekend breakfast buffets or the Sunday lunch buffet.
"The restaurant has a breath-taking view, and a very romantic atmosphere. I have been visiting this park for 16 years! I plan to continue many more years and share this place with my son like my dad shared with me!" – Jessica D.
Popular Articles: