Pick a great campsite and you'll hardly think about it for the rest of your trip. Pick a bad one, and it'll be on your mind the whole time.
There's no magic formula for choosing the best campsite, but there are some basic considerations that will put you on the right track.
If you need to lock in a campsite in advance, you can still nab the perfect spot sight unseen. Start by checking out campground reviews on The Dyrt to get inside information on specific sites from campers who have been before.
If a campground has a website, look for a map to get a better idea of how the sites are laid out. Some campgrounds have areas that are well-suited for groups, where you can create a private area by setting up your tents in a separate section. If you have a dog or kids, you might seek out a campground that is on a corner, with a neighbor on only one side, to give you a little more space.
Also, don't be afraid to ask questions if you're booking your site over the phone. You may be able to score a larger site or one in a prime location, like near the water, just be asking.
The Secrets to Picking the Best Campsite
At first glance, all campsites might seem the same. Take a few minutes to have a closer look and you'll find this isn't the case. Here are the things to consider when choosing your site in person so you can find the best campsite for your needs.
Flat ground
Have you ever attempted to sleep on sloping ground? A barely visible slope might seem like no big deal when you're looking at it, but once you're sleeping on angles ground, you'll get why this is to be avoided at all costs. It's not fun, and a rough night's sleep can put a damper on your day. The same goes for a site at the bottom of an incline or with a dip underneath—perfect for collecting a puddle of rain. Seek out a level site that keeps your head and your feet on an even keel.
Check for roots and rocks
While you're at it, make sure there aren't any sneaky tree roots or rocks where you plan to put your tent. It's obviously uncomfortable to find yourself sleeping on something hard, and it can also damage your tent floor.
Seek the shade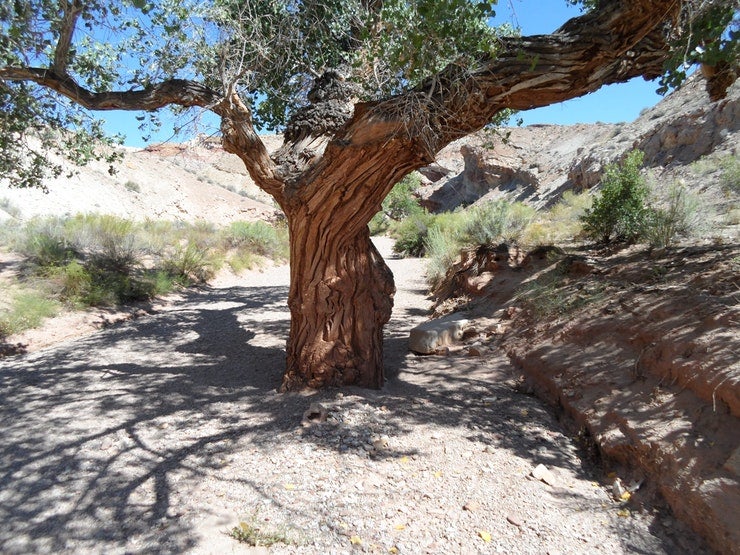 On a hot day, shade can be a much-needed respite from the sun's rays. It gives you a place to relax outside of your tent, and it also keeps the inside from turning into an oven. Scan for sites with sturdy trees and consider the position of the sun throughout the day.
Shade will also help you keep your cold food cold for longer. And it'll help prevent a melted chocolate mess in your trail mix.
Overhanging branches
Speaking of sturdy trees, avoid setting up camp beneath an ominous branch. Looks for low-hanging branches that could obstruct the roof of your tent once it's up, or precarious branches that look like they might fall. No one wants to wake up to that.
Natural dividers
Meeting other campers is a blast, but it's nice to have a private site where you can do your thing. If you want a bit of solitude, look for sites enclosed by bushes, rocks, or trees. Natural dividers also protect you from unwelcome gusts of wind that can whip your tent around.
Compatibility with your tent
Most tents allow for a flexible set up, meaning you can make it face any way you want. Consider the shape and size of your tent. What is the best way to set it up on the site? Will it open towards the sun, the shade, or a neighboring campsite? There's no right or wrong way to face, just your personal preference.
Bug check
This is camping, so you can expect an insect or two. You can't avoid them completely, but you can check to make sure you don't pitch a tent directly on top of an ant colony.
Choosing the best campsite is a process of trial and error, but with a little bit of practice you'll be able to tell in a glance which site will suit you best. There's only one way to get better at it, so get out there and get camping!
Popular Articles: