This article about camping near Virginia Beach was brought to you by Midland. Midland's weather radios are handy to keep track of the weather while you're out of the range of cell service.
---
Camping near Virginia Beach provides some of the most scenic and attractive along the United States' eastern coastline. One of the easiest and affordable ways to explore this region is to stay at a well-equipped campground.
Here is a list of 7 of the best and most conveniently placed campsites in and around Virginia Beach.
The Best Camping near Virginia Beach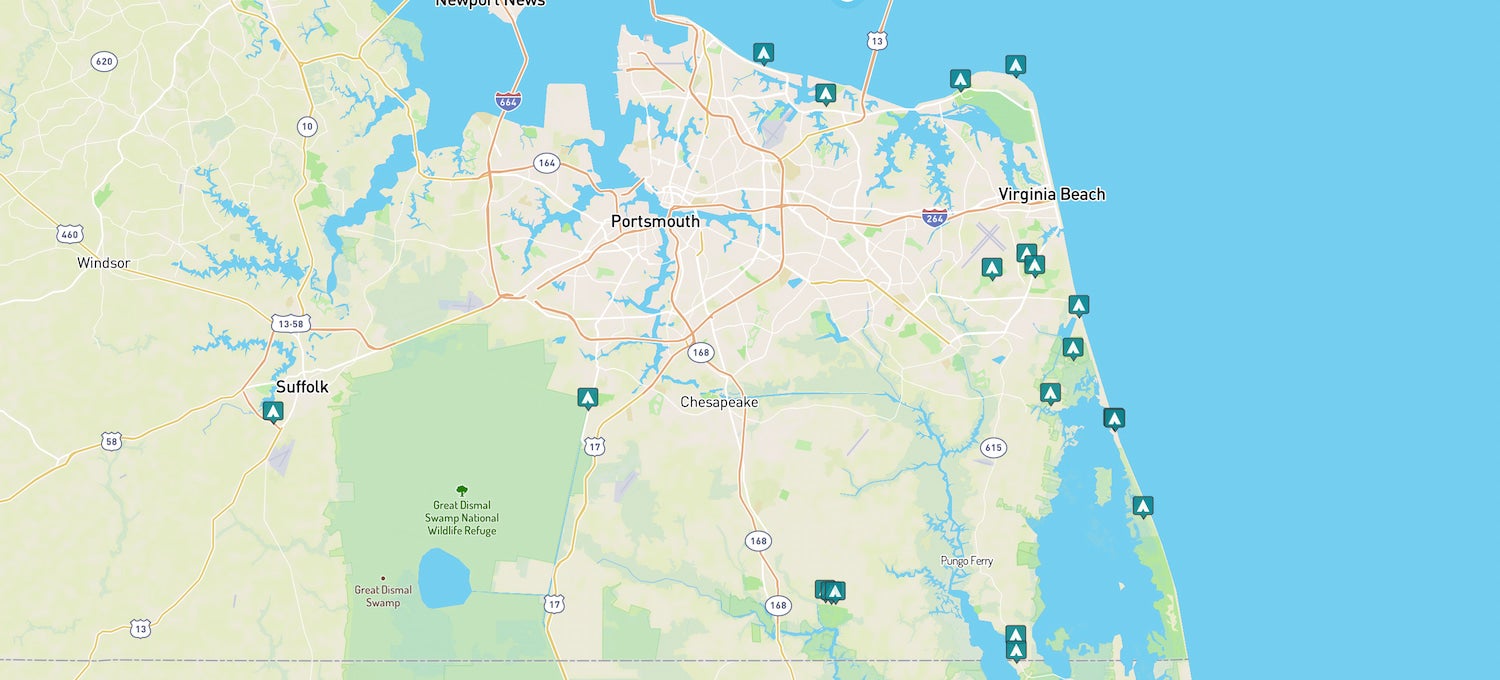 From Pacific Avenue near the oceanfront in Virginia Beach, follow the road north for just under 3 miles, and you'll find this campground in the residents' favorite outdoor spot – First Landing State Park.
Those looking for a quirky glamping experience should rent one of the yurts on-site, while watersports fans will appreciate the boating ramp in the southern section of the campground.
"This place is perfect to unwind and not be too far from civilization. We took the kiddos to the beach and just sat back and relaxed." –Frank E.
Campground Details:
Price: $28-35
Number of sites: 205
RV sites: Yes
Fires allowed: Yes
Pets allowed: Yes
---
For history buffs, it will take you just over an hour to get to this campground by car, which rests on the southern banks of the tranquil James River. The longer journey is worthwhile; nearby Jamestown is a historic and cultural hotspot.
Chippokes Plantation is still a working farm today, and you can take your kids to explore the old buildings and engage with the important events of the recent past. This is also an excellent base for exploring Colonial Williamsburg and enjoying Busch Gardens and Water Country USA.
"Love Chippokes! Feels country-esque but also like you're on a plantation! Beautiful trails. Great (paved) campground! Feels like you're a million miles away from it all"
– Ashley I.
Campground Details:
Price: $15-85
Number of sites: 50
RV sites: Yes
Fires allowed: Yes
Pets allowed: Yes
---
This KOA campground is 5 miles south of downtown Virginia Beach, near Red Wing Park, Ocean Breeze Waterpark, and Lake Tecumseh.
If you're looking for a luxury camping experience, try booking one of the deluxe cabins on-site, which come with snug mattresses, freshly washed bed linen, and a large flatscreen TV.
Your kids will love the campground's Adventureworks Zip Line and water slide, and you'll appreciate the free cable and Wi-Fi.
You are only a few minutes drive from the boardwalk, which hosts events most weekends in the summer, including the North American Sand Soccer Championships. The city of Virginia Beach also hosts family-friendly concerts every weekend on the boardwalk beginning on Memorial Day.
"There are so many options available here. Shuttle runs to assist with transportation (great if you are in a motorhome) and there are lots of activities" – Chris E.
Campground Details:
Price: $55-110
Number of sites: 733
RV sites: Yes
Fires allowed: Yes
Pets allowed: Yes
---
If you follow General Booth Boulevard south for 5 miles from central Virginia Beach, you'll find this privately-owned gem. Holiday Trav-L-Park has water and electric RV sites, primitive camping options, and gorgeous, air-conditioned cabins.
There's a laundromat and a café on-site when you don't feel like grilling or cooking. Pet-owners will love the fenced-in dog park, where you can let your four-legged friend roam leash-free.
Take the seasonal trolley or ride your bike on the 2.5-mile bike path to the beach, or spend a day with the kids at the Virginia Beach Aquarium.
"We enjoyed biking all over the place (including a family-friendly bike trail to the VB boardwalk), playing on the many small playgrounds, swimming in the dome-covered pool" –Amanda P.
Campground Details:
Price: $35-100
Number of sites: 700
RV sites: Yes
Fires allowed: Yes
Pets allowed: Yes
---
This large RV resort and campground is located along the eastern shores of Chesapeake Bay and is over 40 miles northeast from downtown Virginia Beach.
The on-site store is large and well-stocked, and the extensive and varied collection of boating equipment and fishing rods in the specialist bait and tackle shop is ideal for anglers. Cherrystone also has self-service laundry and washing machines. The resort hosts family-themed weekends throughout the summer.
"We have a blast every time we come here. The bathrooms are clean and updated. There is plenty to do. Pool, beach, fishing, boat rentals, golf, paddle boats, bike rentals, and crabbing" – Melissa P.
Price: $80-110
Number of sites: 700
RV sites: Yes
Fires allowed: Yes
Pets allowed: Yes
---
North Bayshore Campground lies on the banks of North Bay, a few miles west of Sandbridge Beach. The Back Bay National Wildlife Refuge surrounds the campground. This private site has plenty of impressive amenities, including a well-equipped recreation hall, communal picnic areas, and boating access.
You can rent kayaks and canoes on-site, and there are saltwater and freshwater fishing opportunities nearby.
"Great campground. The people that work there are super helpful and super friendly. The location is very convenient!" – Austin G.
Campground Details:
Price: $55-85
Number of sites: 100
RV sites: Yes
Fires allowed: Yes
Pets allowed: Yes
---
This picturesque RV campground is located under 50 miles to the northwest of Virginia Beach. It's a scenic and tranquil spot, with sites lying right along Chesapeake Bay's western shores.
If you want to cook for friends and family, you can rent charcoal or gas grills on-site, and the general store has every essential you'll need for a camping weekend away. It may take you just over an hour to get to The Colonies from downtown Virginia Beach, but this secluded spot is well worth the extra few minutes spent in the car.
"Smaller campground with plenty of camping space. This hidden gem has lots to offer. Beach access, country store, water on 2 sides" – Becky W.
Campground Details:
Price: $25-59
Number of sites: 23
RV sites: Yes
Fires allowed: Yes
Pets allowed: Yes
---
There are plenty of excellent camping opportunities near Virginia Beach, from privately-run primitive sites to vast RV resorts. For a full list of options, check out The Dyrt's extensive rundown of the best camping in Virginia Beach.
---
This article about camping near Virginia Beach was brought to you by Midland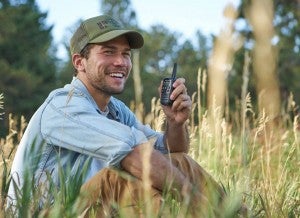 Their 2 way radios are handy during any outdoors excursion
Popular Articles: