This article about AMC huts was brought to you by AfterShokz, the designers of cordless earphones that make listening to podcasts or music comfortable and easy while on the trail.
---
In the rugged White Mountains of New Hampshire, eight huts managed by the Appalachian Mountain Club dot a 50-mile segment of the Appalachian Trail. These high mountain shelters can only be reached by foot and play host to day hikers and thru-hikers who can take refuge from the trail for overnight stays or daytime drop-ins.
The huts are rustic—they do not have running water or flushing toilets—but they have a number of creature comforts like bunk beds and a fireplace as well as a fully equipped kitchen and freshly baked bread for visitors to enjoy. Each hut is no more than eight miles from the next, designed for easier access into the backcountry, inviting families with children to hike the scenic trails by day and by night, gather up for communal dinners or play one of the board games stashed on the charmingly dusty shelves.
Chris Fisher has been visiting the AMC huts for over 20 years and often plans an annual trip to them with friends.
"The AMC huts to me are an oasis at the end of the trail where you can relax with hiking friends, both those you are with and new ones you meet. It is also a pleasure to meet with the hosts, hear about the mountains and experience creative mountain cooking," Fisher said.
Visiting the AMC huts is a fantastic way to experience the backcountry of the White Mountains and to visit one of America's most fantastical hut systems!
Explore the White Mountains in Comfort at New Hampshire's AMC Huts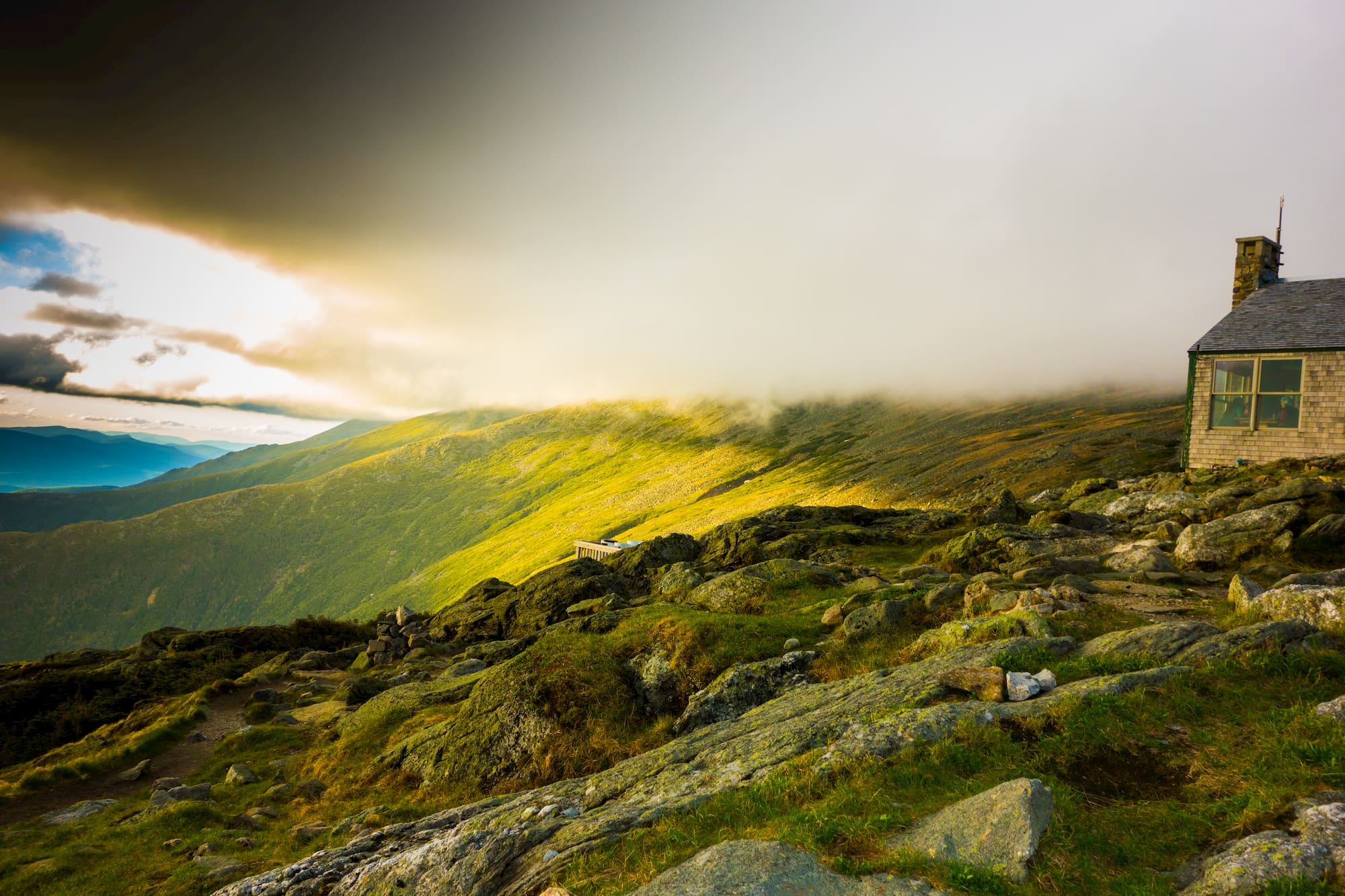 All You Need to Know About The AMC Huts
The huts are owned and operated by the Appalachian Mountain Club, who employ 'croo' members to maintain the huts eleven days on and three days off during the summer season. The croo members act like sherpas, making trips down the mountains for food and supplies for hikers staying in the huts. Croo members also host educational talks and activities at the huts during the summer months. Three of the eight huts operate year-round, but are self service during the off-season. Hikers can stay at just one hut, or 'hut hop'.
The first of the AMC huts was the Madison Spring Hut, built in 1888; it is the oldest hut site in the United States and has gone through several restorations over the 131 years since its construction. The seven other huts were added in succession, and have been modernized over time. Hikers can reserve a bunk in one of the huts, which comfortably house anywhere from 36 to 96 people. Lakes of the Clouds is the largest AMC hut, and perched at 5,030 feet, it is also the highest elevation hut. An average of 30,000 hiker stay at the huts each year.
During the summer season, the huts are "full service," meaning breakfast and dinners are included in the stay for a fee of $110-175 per person, each night. There are discounts available for AMC members' available to both individuals and families. Hikers are greeted by 'croo;' members, who pack in supplies and food for guests. They even host educational discussions for those interested.
The huts provide a strong sense of community, where visitors will cohabitate both common rooms and bunk rooms. AMC huts have co-ed sleeping areas, so expect communal living with your fellow outdoor-loving trekkers.
If you're looking for smaller crowds and incomparable peace in the beauty of snow-blanketed mountains, opt for a winter reservation, where you can snowshoe or backcountry ski during the 'self-service' season. In late fall, winter and spring, the Carter, Lonesome and Zealand Huts offer lodging-only stays at the self-service rate.
| | | |
| --- | --- | --- |
| Hut | Elevation | Capacity  |
| Carter Notch Hut | 3,288 feet | 40 |
| Galehead Hut | 3,800 feet | 38 |
| Greenleaf Hut | 4,200 feet | 48 |
| Lakes of the Clouds Hut | 5,030 feet | 96 |
| Lonesome Lake Hut | 2,760 feet | 48 |
| Madison Spring Hut | 4,800 feet | 52 |
| Mizpah Spring Hut | 3,800 feet | 60 |
| Zealand Falls Hut | 2,637 feet | 36 |
Organizing Your Trip
Check out the White Mountain Guide, a trusted resource for trip planning. When choosing which hut(s), you'll be visiting, be realistic about your fitness level before travelling. Reservations for summer are typically available the August or September before, so plan early for the huts you're interested, specially for ones that fill up quickly, like Lake of the Clouds. Other less popular huts can be booked for a weekend as late as Spring.
Transportation To The AMC Huts Area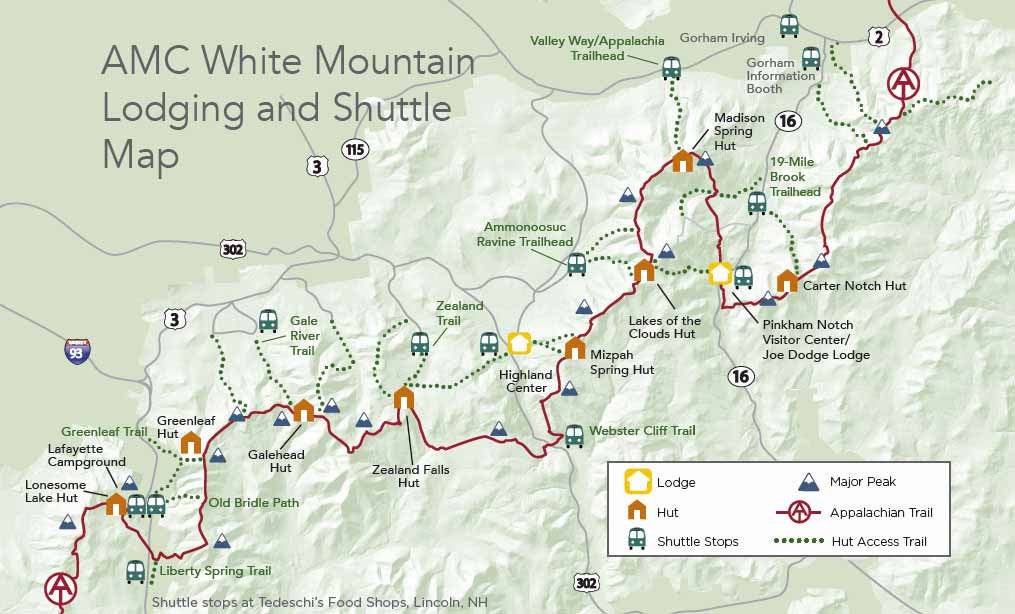 If you're keen to check out the AMC huts as soon as possible, you'll first have to plan how to get there. Many hikers start their journey from Pinkham Notch Visitor Center, a great launching point to the Appalachian Trail that continues to all of the huts. The visitor center is also a source for maps, small-item gear, and friendly guides with wisdom about the area.
The visitor center is a three-hour drive from Boston and a 6.5 hour drive from New York City. There is also a full-service shuttle from Logan International Airport on the Concord coach line, and a 3-hour train ride from Boston beginning at South Station Terminal, both of which drop visitors off directly at Pinkham Notch.
From the visitor center, hikers can directly access Lakes of the Clouds Hut and Madison Spring Hut. Otherwise, AMC shuttles take visitors to many of the trailheads that lead directly to the huts during peak season. Or hikers can opt to hike along the Appalachian Trail to access their hut. It all depends on your vision and fitness level.
The Terrain and Trail
The White Mountains have a reputation for being some of the most challenging terrain along the Appalachian Trail. There are uneven trailbeds and narrow and steep paths that require scrambling skills. As well, this portion of the Appalachian Trail often forgoes switchbacks and drives directly to the peaks of mountains, sometimes climbing 1,000 feet every mile.
Despite the strenuous terrain, hikers are gifted with panoramas of the Pemigewasset Wilderness and the Presidential peaks. For the fearless, Mount Washington is a major bucket list item for peak baggers, as one of the tallest peaks east of the Mississippi River, standing at 6,288 feet. The distance between the huts does not exceed eight miles, so be aware of your hiking speed, especially with children, to plan your trip accordingly.
A Day in the Life at The AMC Huts
Catching first glimpse of any of the AMC huts after a long day of hiking prompts feelings of relief and excitement. Upon arrival, you'll be greeted by a friendly 'croo' member who will guide you to the sleeping area where you can choose a bunk, stash your gear and finally give your legs a rest. Remember there are no private accommodations; sleeping areas are communal and co-ed, so get comfortable with meeting new friends and sharing meals. There are mattresses on each bunk and wool blankets and pillows are provided, but bring your own sleeping bag for the bunk bed to stay warm, especially in the colder months. There are gendered, composting toilets, but no showers or towels available.
After a jovial evening of delicious cuisine and chatting with friends old and new, the 'croo' members give educational talks on a wide variety of topics to those interested in learning more about the surrounding area. These talks range from information about the delicate, alpine vegetation in the area to the Zealand Falls Hut Hydroelectric Project. The huts have an early bedtime; quiet hours are from 9:30pm to 6:30am. Weather is radioed each morning to the AMC huts from the Mount Washington Observatory.
We hope this guide helps inform and excite you to visit the AMC huts for yourself for a unique and memorable way to experience the White Mountains.
---
This article about AMC Huts was brought to you by AfterShokz.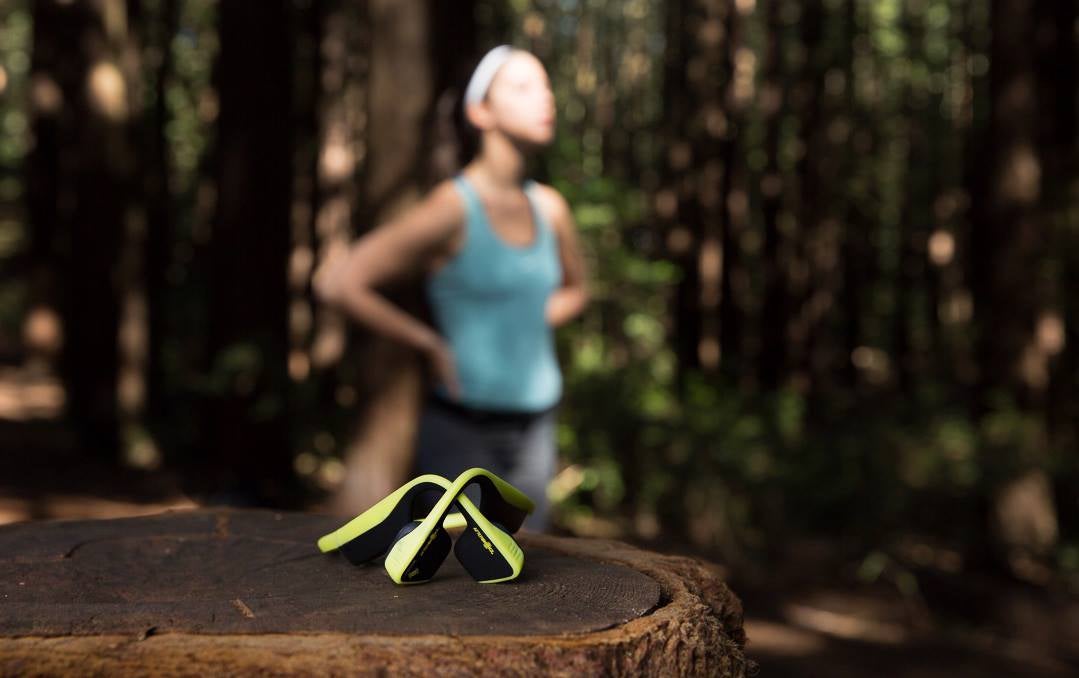 Aftershokz creates bone conduction headphones for hiking and trail running.
---
Related Campgrounds:
Popular Articles: