This article about hiking Acadia National Park in Maine is brought to you by Wenzel. As the weather warms up, check out their selection of pop-up shelters — the perfect way to enjoy the outdoors, while shielding yourself from sunburns and insects.
---
Acadia National Park is a gem in the national park system and one of the most visited parks in the country. In 2018, the park had 3.53 million visitors, and the number keeps growing.
With forests, granite mountains, islands, and ocean views, Acadia National Park will reward history buffs, outdoors lovers, birders, and hikers with its impressive span and beauty.
Tips for Planning an Acadia National Park Hiking Trip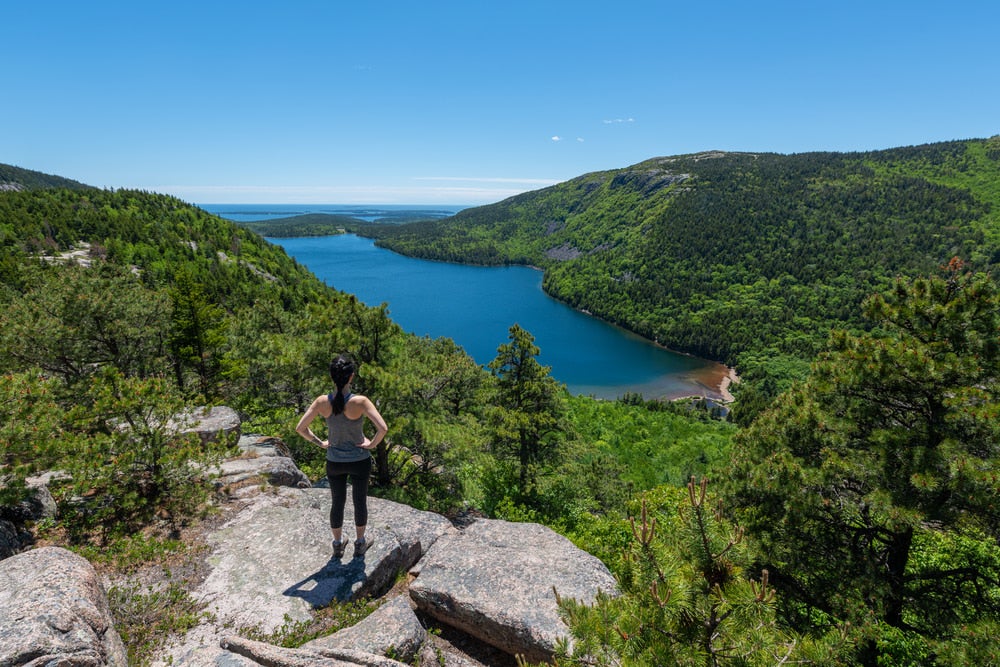 Acadia National Park encompasses the highest peaks on the eastern seaboard. It also has 27 miles of roads, 158 miles of hiking trails, and a smattering of carriage roads to hike along.
This national treasure spans the coastline of Maine—from Bar Harbor to Winter Harbor. The town of Bar Harbor, in particular, has a unique symbiosis with the national park, which lies southwest of the charming hamlet.
The park preserves half of Mount Desert island, a few other islands, and a portion of the Schoodic Peninsula. Some of the wildlife native to the park are black bears, moose, snapping turtles, and white-tailed deer. The Wabanaki Confederacy has held its annual Native American Festival in Bar Harbor, and the enjoining park, since 1983.
If you're planning to visit coastal Maine and the rugged beauty of Acadia, here are three helpful guidelines for a successful camping and hiking trip to the only National Park in Maine.
What to Know Before You Go
There are six different visitor centers throughout the park, and only one–Rockefeller Welcome Center–is open year-round. The main visitor center is located just northwest of Bar Harbor, at Hull's Cove. As well, from November until April, Bar Harbor's Chamber of Commerce works with the National Park Service to provide a visitor center for winter visitors to the park.
During the summer, parking at trailheads and designated parking areas can be an issue. So, a good alternative to keep in mind is the Island Explorer, a free ferry that takes passengers to various points in and around the park.
A scenic driving loop starts at Hull's Cove visitor center and runs 27 miles. The loop has access points at Thunder Hole, Otter Cliffs, Sand Beach, and Cadillac Mountain. Most of the park loop closes in the winter months, although some remain open for some unforgettable winter activities like cross-country skiing and snowshoeing.
Prices to enter the park are $30 for a private car, $25 for a motorcycle, and $15 per person. If you're sticking around for most of the summer, a season pass will only run you $55—then you'll have access to the park all season long.
Choose The Right Acadia Park Hike
Coastal Hikes
One of the most beautiful coastal hikes in Arcadia is the Great Head Trail, which is known for its breathtaking sunrise vistas. The loop covers a total of 1.7 miles, and is filled with short, steep sections over rocky granite trails. Plus, the ruins of a 1900s tea house will excite history buffs as they hike along this trail.
However, note that Great Head Trail is not an ideal hike for kids. Because, much of it runs along steep cliffs, so they must stay focused and keep well away from the edge
A more family-friendly beach hike is the Ship Harbor Trail, which loops around in 1.3 miles. This trail is peaceful and moderate, with places to enjoy serene ocean coves and plenty of birdlife.
Summit Hikes
Beehive Loop is not for the faint of heart, the inexperienced, or if the weather is wet or stormy. Exposed metal rungs bring hikers up from a forested gulley to the summit of Beehive. Follow the trail past the summit and down to a glacier-carved pristine mountain lake called The Bowl. The loop finishes on Sand Beach.
Pemetic Mountain Loop is a moderate-to-difficult loop of four miles. The trail begins along Jordan Pond with lovely views of South Bubble Mountain. Ascending the northwest ridge of Pemetic Mountain, there are a series of metal rungs leading to the summit, which rewards hikers with excellent views of Penobscot Mountain, Sargent Mountain, and Jordan Pond.
Forest Trails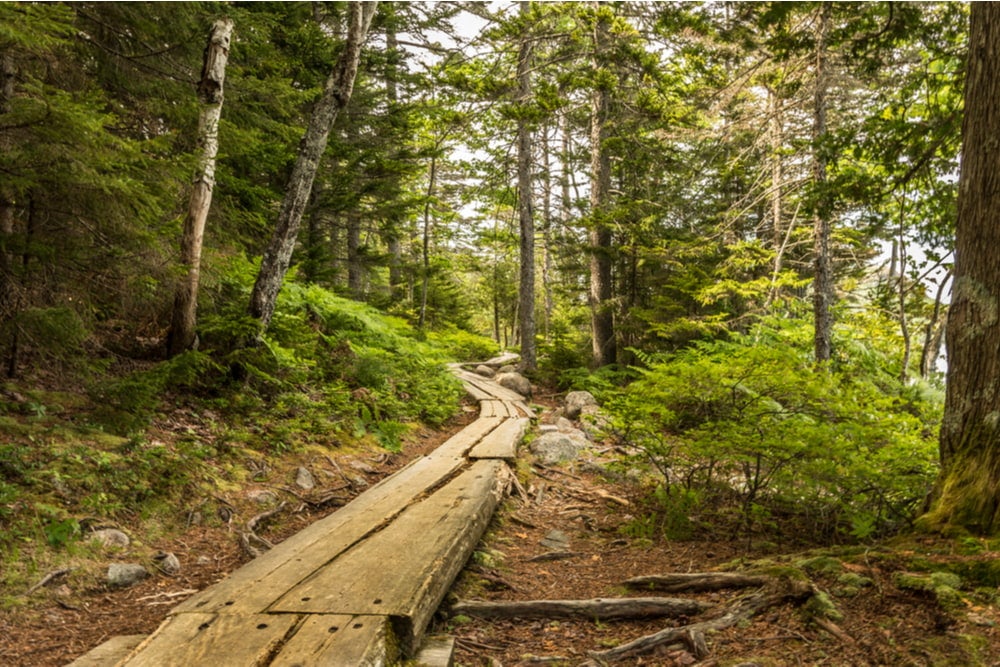 Canada Cliffs is one of the more challenging hikes in the park. Unfortunately, your four-legged companions probably shouldn't attempt this hike with you. Hikers will need to scale multiple ladders and steep granite stairs, on their way up to Echo Cliffs for a spectacular view. The 1.8-mile loop descends into a gentle trail through lovely, lush forests.
Alternatively, if you're looking for a trail that's a good fit for young hikers and dogs, Great Meadow Loop is a superb option. This two-mile loop leads hikers around a verdant meadow with full views of Dorr Mountain all the way. Minimal elevation gain and plenty of shade make this an ideal route for hikers with little ones or pets.
Reserve a Camping Spot During Peak Months
If you are planning on staying in the coastal areas of the park to take advantage of Acadia National Park camping, consider making a reservation well in advance, as these sought-after campsites go quickly.
Seawall Campground is an excellent choice for access to all coastal hiking in Acadia National Park. It's located four miles south of Southwest Harbor, on Route 102A. The campground sits on the waterfront and has over 200 campsites to choose from. Camping options include RV sites, tent sites, group sites, and cabins available for rent.
To camp within reach of multiple peaks, try Blackwoods Campground, five miles south of Bar Harbor. This popular campground has an impressive 281 available sites. Plus, you'll have access to flushing toilets, running water, and a dump station. As well as fire rings and picnic tables at every campsite.
Mount Desert Campground is another excellent overnight option and puts you right in the middle of the action on Mount Desert Island. In the off-season, you can bring your dogs with you; in peak season, dogs are not allowed.
---
This article was brought to you by Wenzel.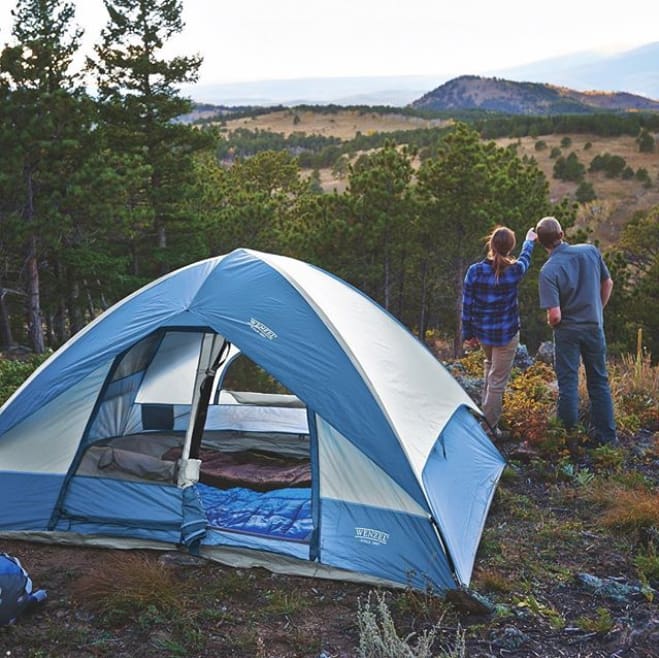 Popular Articles: