Motorcycle camping combines two all-American pastimes. The freedom of the open road can be daunting and uncertain, but exhilarating all the same. If you are ready to channel your Easy Rider and hit the open road, check out these tips to help your motocamping trip run as smoothly and safely as possible.
Get the Gear: Figuring Out Your Camping Style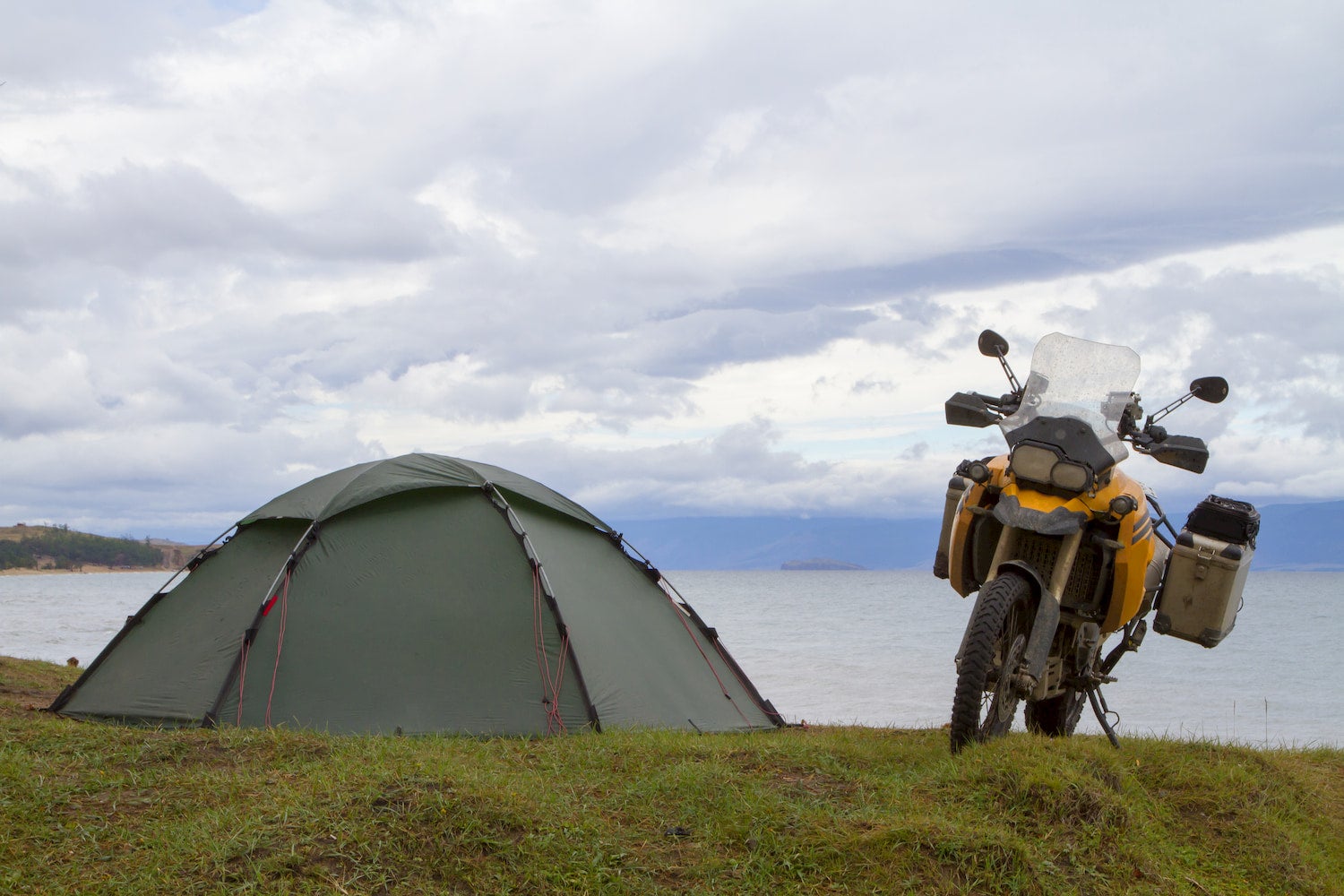 When you're traveling and living out of your motorcycle, you need the right gear. Light, compact gear alleviates any hassle or headache from lack of space.
The gear you'll need depends entirely on the adventure goals you have. Are you a rock climber? A hiker? Do you love the simplicity of just cruising all day and camping each night in a new spot? Decide what you'll need based on your dream itinerary.
If you intend to mix motocamping with other adventure pursuits, invest in gear that is as compact, lightweight, and multi-functional as possible. If you just plan to cruise and camp, you'll free up a little more space for more luxurious camping gear. You might have room for a fancy, inflatable air mattress, a perfect tent, and a folding camping chair for extra comfort.
Whichever option you end up going for, try to choose a tent whose poles fit into your panniers. You can use your tent rainfly as an emergency road-side garage for any rainy-day mechanical issues.
Food on the Road
For cooking while on the road, Consider investing in a lightweight camping stove. JetBoil makes rapid boil camping stoves with lightweight, compact attachments. This company has built its name on efficiency and dependability. Check out these camping recipes for your motorcycle camping cuisine inspiration.
Top Motorcycle-Friendly Campgrounds
Listed below are the best motorcycle-friendly campgrounds across the U.S. From Sturgis to Sandia Peak, these campgrounds are located in beautiful locations with motorcycle-friendly culture.
1. Sturgis, South Dakota
There are many campgrounds near Sturgis, South Dakota. This is due to the tremendous appeal of the Black Hills area. High, rugged hills jut out from prairie land, and steep cliffs line beautiful lakes. Tourist hotspots like Deadwood, Mount Rushmore, Chief Crazy Horse Memorial, and Reptile Gardens are all within short driving distance.
At Horsethief Lake Campground, towering ponderosa pines create a natural cathedral for campers to take shelter. Drive-in and walk-in sites are both available, and hiking, climbing, and boating opportunities abound.
If you're traveling through the heartland on your journey westward, Chain O' Lakes State Park campground provides motorcycle campers and RVers with serene, lakeside wilderness. Take a break from the road and enjoy renting kayaks to paddle around the lake or wander along the 23 miles of trails.
Phone service, showers, and drinking water provide you with ample opportunities to pause and hit the refresh button. Alcohol is also permitted on the campground.
Located a short drive away from Olympia National Park, Deception Pass offers a motocamping paradise. Over 77,000 feet of saltwater shoreline, 33,900 feet of freshwater shoreline, and rugged cliffs present motocampers with a beautiful alternative to more traditional motocamping hotspots.
With drive-in, walk-in, and bike-in sites, you can find your preferred degree of solitude. You'll wake up with countless options for waterside cruises, with miles of misty shoreline just waiting to be explored.
This U.S. Army Corps of Engineers campground is near Sandia Peak, one of the most celebrated mountains in New Mexico. It provides options for electric sites and walk-in tent camping.
The nights out by Cochiti Lake are quiet and full of magic. The stars shine bright overhead, and nearby Sandia Peak offers opportunities for an epic summit sky tram ride, skiing, hiking, and climbing. At Cochiti Lake, you'll be perfectly positioned to enjoy blissful cruises along desert backroads and highways.
The Takeaway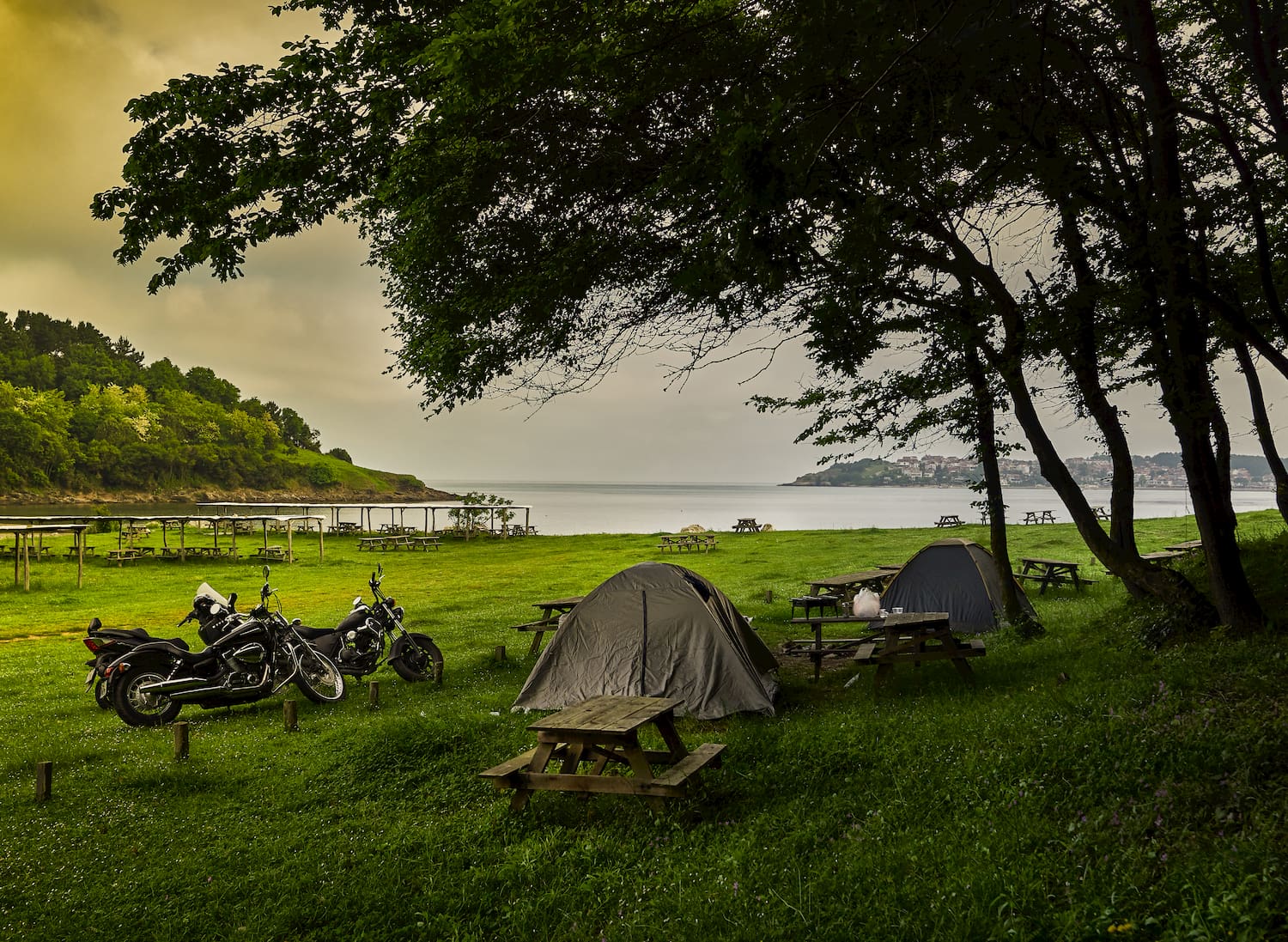 When you're about to head out on your first motocamping adventure and reconnect with nature, it can be challenging to know where to begin. This list of top motocamping destinations can help get you started. Plan ahead, travel light, and invest in gear that helps you enjoy life on the road.
Popular Articles: