What's better than cooking a delicious meal, surrounded by evergreen trees and overlooking a lake, with a day of hiking or angling behind you? Only needing to clean one dish at dinner time! The accessibility of easy one-pot meals is no secret, and taking them outdoors is a game changer.
I'm a staunch supporter of easy one-pot meals because life is busy and I'd rather spend my day reaching a summit than spending hours in the kitchen—at camp or at home. If you're looking to spend less time with your face in the campfire so you can venture away from the campsite, these easy one-pot meals will do the trick.
These 7 Easy One-Pot Meals are the Ultimate Camping Hack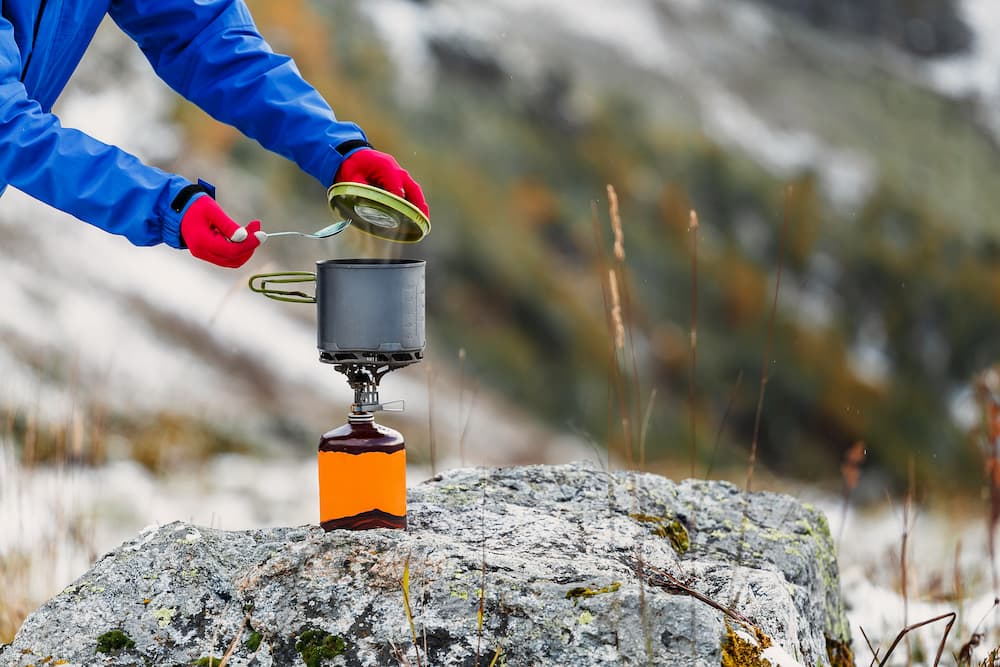 One-pot meals are easy for a reason: they require only a few refrigerated ingredients like meat and cheese, and the rest of the ingredient list includes canned products or shelf-stable items. They also prevent food waste, since they're all-in-one meals.These seven meals below shouldn't be a burden on your pantry, wallet, or time in the great outdoors.
1. Taco Skillet
Like tacos without the tortilla, this skillet can be adjusted easily to add or remove any ingredients to suit your diet or lifestyle. It's quick to make (under 20 minutes) and tastes divine—in fact, I've turned this into a breakfast skillet in the morning by adding potatoes.
Ingredients:
1 tbsp oil
1 whole green bell pepper
1 whole small onion
1 tbsp chili powder
1 tbsp cumin
Salt
1 lb ground beef
15 oz can fire roasted diced tomatoes
15 oz can pinto beans
1 package Mexican cheese mix
2 cloves minced garlic
Cooking Instructions:
Warm your skillet and add oil until it's warm, then saute onion and bell pepper for 3-5 minutes or until onion is translucent. Add garlic and cook for another minute then add the cumin, chili powder, and salt.
Once fragrant, add the pound of ground beef to the skillet and cook until brown all the way through—about five minutes.
Stir in diced tomatoes and beans and let sit until warmed thoroughly. Finally, add the cheese and let sit until it melts.
Recipe adapted from Delish.
---
Prepare for your next adventure by downloading maps. The Dyrt PRO lets you download maps and campgrounds without cell service. "My alternative to using pro would be to drive back out to cell service".
---
2. Baked Eggs With Spinach and Hashbrowns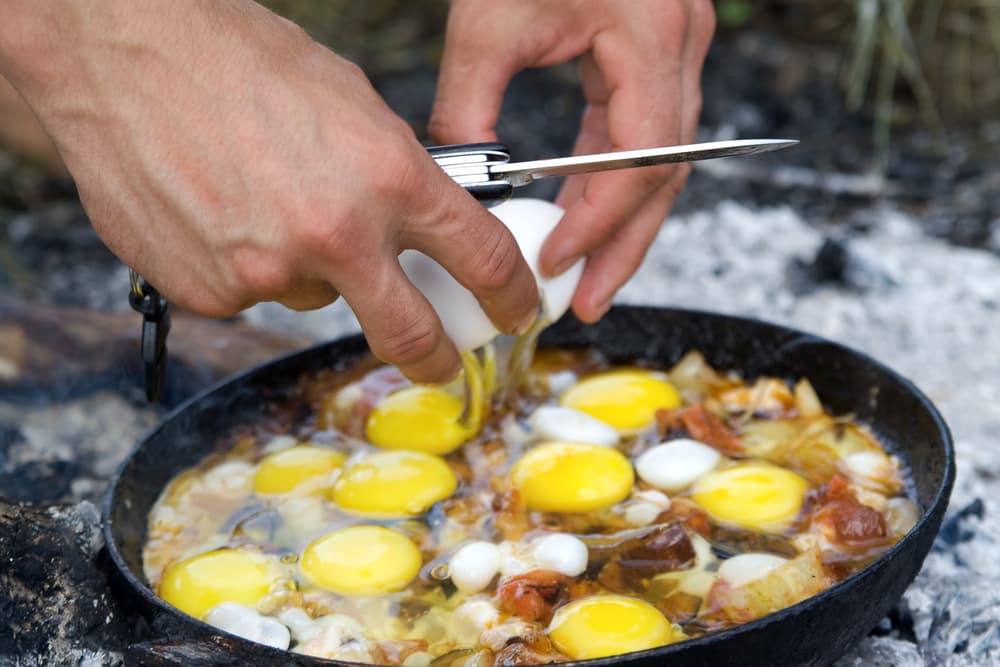 Breakfast is the best part of the day—no matter the time of day you prepare it. This egg, spinach and hashbrowns breakfast skillet will become a dinnertime and brunch favorite. Add a little sriracha if you like it hot.
Ingredients:
3 yukon gold potatoes, cut into ¼-inch pieces
Red bell pepper
2 bunches spinach
Medium yellow onion
8 large eggs
3 tbs butter
¼ cup grated parmesan
½ tsp chili flakes
Salt
Cooking Instructions:
Add diced potatoes and water to a cast-iron skillet and boil for about six minutes, until potatoes are soft to cut. Drain and set potatoes aside.
Add oil, onion, and red pepper to the skillet and saute until translucent. Add chili flakes and potatoes and toss until potatoes are golden. After 3 minutes, add butter and spinach and stir until melted.
Make wells in the potatoes and crack two eggs in each. Cover pan and let eggs cook from the heat until cooked with the yolks a little runny.
Recipe adapted from Martha Stewart.
3. Southwest Chicken Skillet
Growing up, my mom loved making easy one-pot meals (what mom doesn't?), and this Southwest Chicken Skillet was one of her go-to's. It's packed with protein and is as close to one-and-done as recipes get.
Ingredients:
1 cup white rice
1 cup salsa
2 cups pre-cooked shredded chicken
15 oz can black beans
1 taco seasoning packet
1 ¾ cup chicken broth
1 cup shredded cheese
Green onions, sliced
Cooking Instructions:
Add all ingredients (except cheese and green onion) to a large cast iron skillet and turn up the heat to boil.
Once boiling, reduce to a simmer, cover, and let sit for 15 minutes.
Remove lid after 15 minutes and fluff mixture with a fork, then add cheese and green onion on top of the chicken skillet.
Recipe adapted from Budget Bytes.
4. Pizza in a Dutch Oven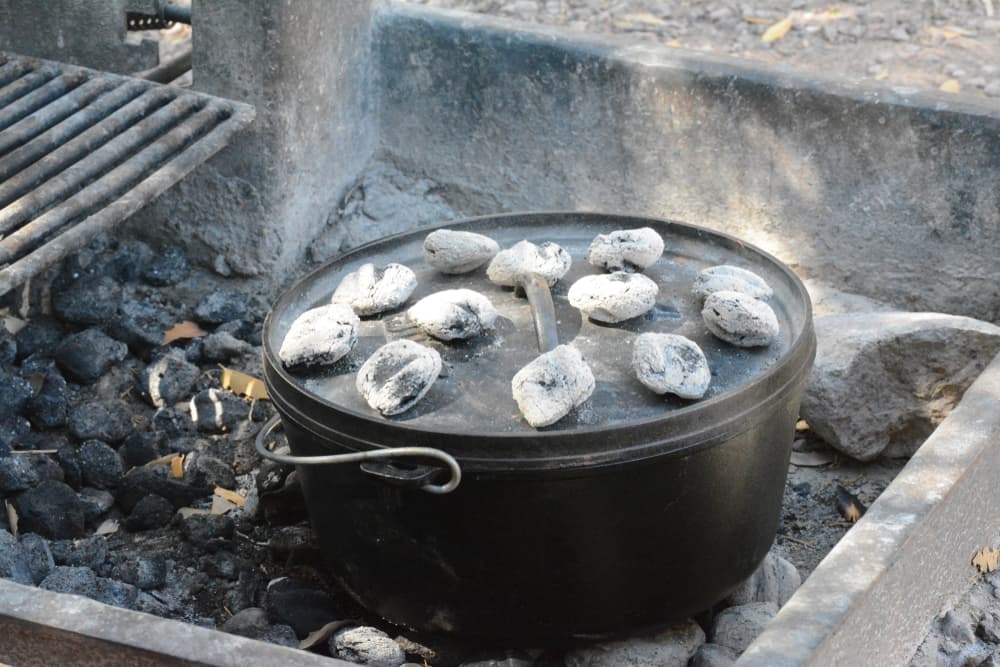 This versatile cooking dish comes in both indoor and outdoor versions so you can enjoy dutch oven meals wherever you go. We've become pretty fond of our dutch oven since moving into the van because it makes weekend meals quick and easy, and once summer rolls around, it'll be the way we do our meal prep. Not a bad life, right?
Ingredients:
Pizza dough
Toppings of your choice
1 tbsp cornmeal
Cooking Instructions:
Start the coals for your dutch oven in the firepit. For a 10" oven you'll need roughly 30 coals, and for a 12" oven about 33.
Sprinkle the cornmeal over a piece of parchment paper then place the pizza dough on top. Spoon pizza sauce onto the dough and add whatever ingredients you wish.
Put the parchment paper and pizza into the dutch oven and add 20 coals to the top and 10 coals below (or 22/11 for 12" oven). Add a roasting fork between the oven and the lid to let steam escape. Bake for 15-20 minutes.
Recipe adapted from Fresh Off The Grid.
5. Broccoli Cheddar Chicken Pasta
Pasta, cheese, broccoli, and chicken in one pot? And done in less than 20 minutes? This could be your new favorite camp recipe.
Ingredients:
2 tbsp vegetable oil
1 head of broccoli
1.5 lbs of chicken breast
1 lb sharp cheddar cheese, shredded
2 lbs dry rotini pasta
64 oz chicken broth
½ pint heavy cream
1 tsp garlic powder
Salt
Pepper
Cooking Instructions:
Add oil to a large saucepan and cook chicken all the way through
Combine broccoli, pasta, cream, and chicken broth in the pot.
Bring to a boil, reduce and simmer for 15 minutes.
Add ¾ of the shredded cheese, salt, pepper, and garlic powder and stir to combine.
Serve with remaining cheese sprinkled on top
Recipe adapted from Buzzfeed.
6. Chili Mac and Cheese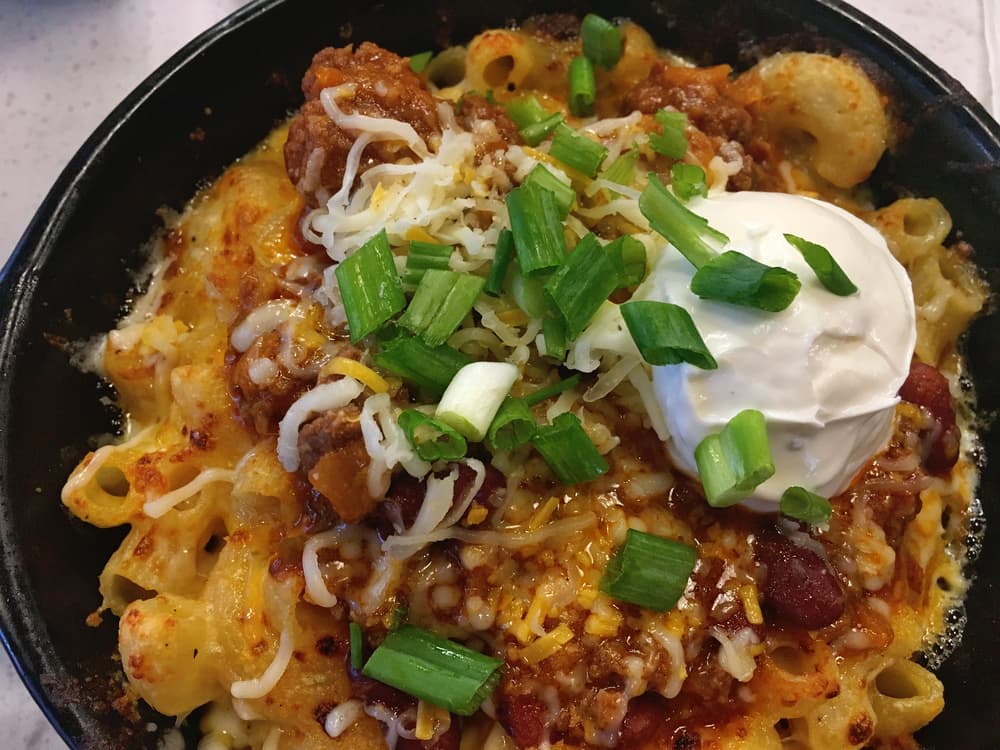 This easy, cheesy pasta dish is just what your body needs after a long day of outdoor adventures. The pasta combined with the chili makes a carb-and-protein-full mixture that'll keep you feeling full the entire night—that is, until breakfast time.
Ingredients:
1 tbsp oil
3 cloves garlic
Medium sweet onion
1lb ground beef
2 cups chicken broth
2 cups marinara sauce
1 can diced tomatoes
1 can pinto beans
1 tsp chili powder
1 tsp cumin
1.5 cups elbow macaroni
1 lb shredded cheddar cheese
¼ cup chopped parsley
Cooking Instructions:
Heat oil in a large skillet, then add beef, onion, and garlic. Saute until beef is cooked through. Season with salt and pepper then drain excess fat.
Add in broth, sauce, diced tomatoes, pinto beans, chili powder, and cumin then bring to a boil. Once boiling, add in pasta and reduce to a simmer.
Remove from heat and stir in cheese, plate, then garnish with parsley and additional cheese.
Recipe adapted from Bellyful.
7. Cilantro Lime Shrimp and Rice Tacos
While this is one of the simpler easy one-pot meals, it's packed with vibrant flavors–lime and cilantro, for a fresh summertime taste. You do have to cook the shrimp first and then remove them from the pan to cook the rice, but it's worth having to wash the extra bowl.
Ingredients:
1 tbs oil
½ large onion
4 cloves garlic
¼ cup cilantro
1.5lbs shrimp
2 tbsp lime juice
2 cups long grain rice
4 cups chicken broth
Salt
Tortillas
Cooking Instructions:
Heat oil in a large skillet, then add garlic and onion. Saute until translucent.
Add the shrimp and cilantro to skillet, tossing until shrimp is no longer pink
Remove shrimp from the pan and add the rice, cooking over low to toast the rice in the mixture.
Add the broth and lime juice, then allow the rice to simmer for about 15 minutes.
Uncover the rice and serve, adding additional garnish
Recipe adapted from A Saucy Kitchen.
Popular Articles: