This guide to North Pole, Alaska is brought to you by our friends at Aftershokz, the makers of open ear headphones that are lightweight, flexible, and resistant to dust, dirt, and sweat. 
---
If you're hoping for a glittering blanket of snow for the holidays, it's hard to find a more Christmasy town than North Pole, Alaska. Don't rely on your compass to get there— the real "North Pole" is somewhere under a lot of floating ice and freezing water. But North Pole, Alaska is a festive and stunning destination year-round.
If you drive a short distance from Fairbanks, Alaska, you'll run into this small town, named North Pole by developers in the 1940s, hopeful that the moniker might attract a toy manufacturer.
That didn't pan out, but North Pole, Alaska still has plenty of Christmas spirit, not to mention natural beauty. You can visit the Santa Claus House, which has alternately served as a wedding chapel, post office, and general store. Today, it's stocked with Christmas decorations, toys, gifts, and sugary sweets. You can purchase a very official-looking letter from Santa and snap a picture with a truly enormous statue of old St. Nick.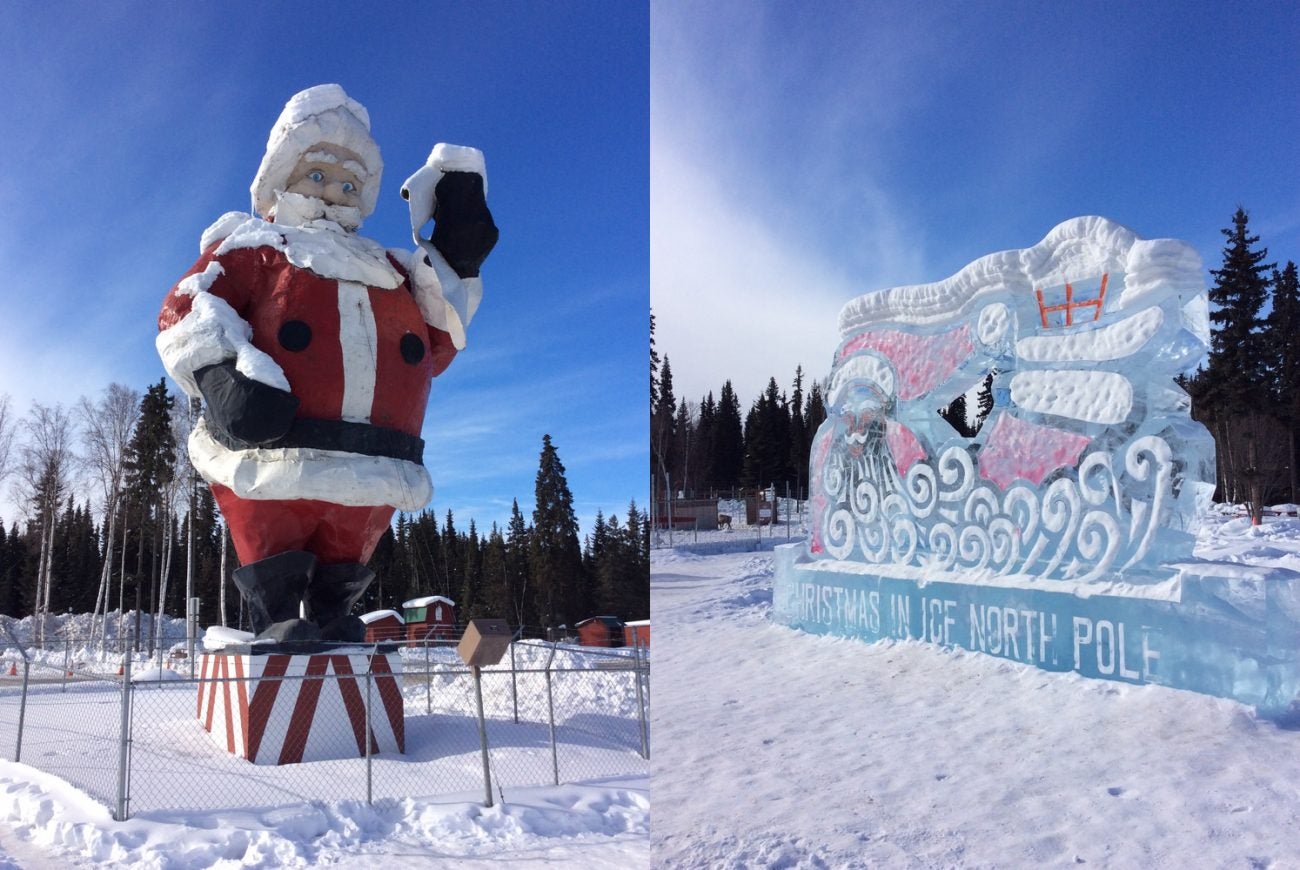 Around late November there's the Christmas In Ice event, in which 600 tons of local ice is carved up by ice artists who travel from far and wide for a chance to let their chainsaws rip and the ice crystals fly. Alaska's winter weather keeps the ice sculptures preserved throughout the season. You'll also find dog sledding, snowmobiling, and the spectacular Northern Lights during the winter months.
Looking to visit North Pole for milder temperatures? In July, North Pole, Alaska puts on a summer fest that will get you in the Christmas spirit quite early with a head start on holiday shopping. Visit in August to see thousands of sandhill cranes at the nearby Creamer's Field Migratory Waterfowl Refuge. Kids will love the Nature Education & Ecology Camps hosted there during the summer as well.

Our favorite way to experience North Pole, Alaska? Camping, of course.
Where to Camp Near North Pole, Alaska
If North Pole, Alaska sounds like your cup of (peppermint) tea, there are plenty of cabins to rent for cozy winter camping. Or, if you're feeling a little more adventurous, here are five places where you can camp nearby:
Depending on the season, there's always something to do at Chena, from riding ATVs, paddling kayaks, and rock climbing Granite Tors in the summer to dog sledding, snowshoeing, and snowmobiling in the winter. You're likely to see a variety of wildlife, and when you're worn out from it you can take a dip in the hot springs.
"Some of the campsites are on the river and some are across the street from it, but there is access to the Clearwater River from the day use area for all visitors. The campsite is still close to town if you need supplies, about a 20-minute drive. This is now one of my favorite sites in the state. A quiet, beautiful spot to camp, engage in watersports, and fish." —The Dyrt camper Anna C.
Camp Here
---
There are lots of nice perks to camping at Riverview, including 154 full hookup sites, laundry facilities, free WiFi, a club house, river-side dog walking area, and a put-put green. But the really nice thing is that it's run by folks who have been in the Fairbanks area for over fifty years. If you need anything during your stay, they'll know just how to help you out.
"There aren't any numbered tent spots here, but they have a nice grassy area with a few picnic tables to pitch. The bathrooms are a bit of a walk from the tents, but the wonderful and free showers are nice. The laundry, showers, and bathrooms are well-kept and a nice luxury. They do charge a key deposit for your shower key when you check-in, but it is refunded when returned." –The Dyrt camper Staci J.
Camp Here
---
Unique for being right in Fairbanks, this 29-acre park is ultra convenient, and it's also got ADA accessible sites, restrooms, and other amenities. There's free WiFi, too, if you need to plug back in during your stay, and firewood bundles are available for purchase. All that convenience can add up to full campsites, though, and there are no reservations—so get there early!
"This campground is perfect for those who want to experience camping but don't want to be in some super remote area. It's located right on the Chena river, which is great for canoeing, kayaking, and more, and is right in Fairbanks." —The Dyrt camper Sean M.
Camp Here
---
If you really want to see the jaw-dropping beauty of the Alaskan wilderness, Harding Lake is the place to be. The scenery is just magical, with glittering lakes, towering mountains, and lush vegetation in the summertime. It's easy to see why this spot has been so popular since it was founded in 1967. There's a boat launch, trout fishing, and a mix of RV and tent camping beneath the shade of spruces and birch.
"There were about 70-80 site options, nice walking/bike trails, picnic areas, fire rings, water play area. It felt like there were plenty of camping options with privacy. There were plenty of opportunities to view wildlife as moose came running through our campsite. There was a field through the woods that people were playing softball in late which was fun to watch. I feel like this was a pretty basic campground but the children loved getting into the water." —The Dyrt camper Samantha M.
Camp Here
---
About an hour from North Pole, Ophir Creek Campground is situated in the beautiful White Mountains. See some of their greatest hits on a 3-mile loop trail to Table Top Mountain. Kids might love visiting the historic mining tailings and trail to miner's cabin. Another great reason to use Ophir Creek Campground as home base during the summer is the put-in Nome Creek, which connects to Beaver Creek Wild and Scenic River for lots of paddling fun.
"The drive from FAIRBANKS is absolutely gorgeous, especially when you turn off at Davidson Ditch to drive into Ophir Creek Campground. There are great hikes on the way to the campground and when you drive in almost all of the spots have water in their "backyard" since the sites are usually situated on a bend near the creek. There is usually a good mix of RV's, trailers, and tents. The grounds are kept up nicely and it's usually pretty quiet." —The Dyrt camper Anna C.
Camp Here
Related Campgrounds
Popular Articles: