"It's so hard to put into words the magic that we get to see each time we're out exploring," explained Melissa Laurie in an interview with The Dyrt.
Laurie is the co-founder, along with Andrea Fourness, of Deciduous Learning Network (DLN), which offered a forest school for children in rural Wisconsin for the past three years. DLN was a first-of-its-kind program in the area that allowed kids to connect with and appreciate nature during their early developmental years, all while learning valuable life skills.
"I always love the days when kids have to change their clothes before they can get in the car to go home," Laurie said, "when mud puddles are so deep that they splash above your head with a big jump."
How Forest Schools are Enriching the Lives of Young Learners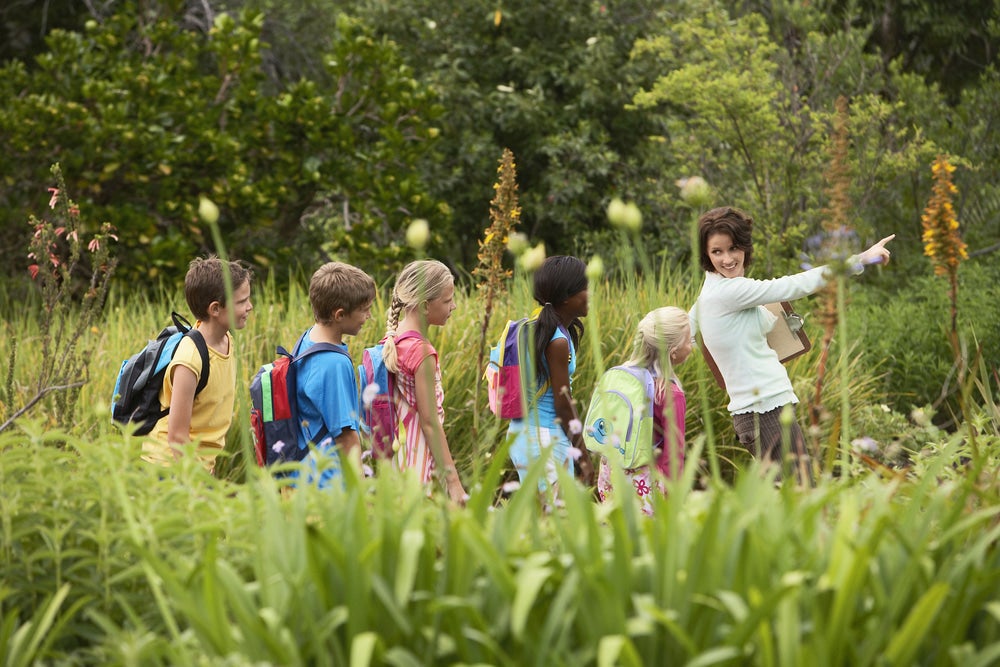 DLN began in 2016, shortly after Laurie had relocated to Baraboo, Wisconsin. She was struggling to meet new people when her husband came home and exclaimed, "I found you a friend—she was wearing Chacos!"
Not long after meeting a Chacos-wearing Andrea, the two discovered they had a shared passion for experiential education and alternative learning opportunities.
"Both of us were avid hikers, canoeists, and skiers when we were younger, but realized how much more difficult it is to get outside when you have kids," Fourness said. "Life becomes busier and more complicated. We wanted to make connecting to nature more accessible to everyone—especially families."
Within a few months, Laurie and Fourness were filling out paperwork to start the business, which would offer a range of outdoor opportunities for little ones and their families, but be focused on a forest school for 3- to 6-year-olds. Laurie refers to these young participants as "Learners," and has a twofold definition for what makes a forest school.
"It's a place that children can go back to week after week, month after month, where they develop a sense of place, a slice of ownership," Laurie explained. "It's also the opportunity for kids to learn more about themselves and their interactions with other people and the earth. We let the Learners decide what we do each day, so some days we're hiking, some days we're staying in one place. My favorite days are the ones where every child is fully engaged in their activity of choice and we do a little bit of everything."
Why Melissa Laurie Believes in the Power of Forest Schools
Laurie's career started as a curious young explorer around the forests and ponds in her hometown of Le Roy, New York. Today, she has more than 15 years of experience as an instructor, naturalist and director within the camp and environmental education field. This has included positions at camps such as the High Trails Outdoor Science School in the mountains of Southern California. She's now also the mother to three young children, a perspective that has heightened her advocacy for alternative education.
"As a parent, I have certain ideas of the type of education I want for my children," she said. "I think a lot of parents, myself included, are aware of how different the world is compared to when we were kids. As a society, we're so focused on the end goals that we forget about the journey. I want my kids to enjoy the journey, to have the opportunity to make mistakes as children, so they can handle failure as adults."
As Laurie reflected on this sentiment, she remembered an example from forest school that showed the power of experiential learning. Early last year, the forest school's Learners discovered a bees nest. Unfortunately, this discovery occurred only after one of the Learners stepped right on it.
"Not every day is easy," Laurie said. "Being outside has a lot of challenges. But, we got to see the group band together as a team for the first time that year. The two Learners who were stung were rightfully upset, but the other Learners began working together to fix the problem."
While the children who were stung recovered, the other kids got them ice for their bee stings, sat with them to provide comfort, marked off the area where the nest was, and made a plan for what they'd do differently next time.
"It was magic," Laurie said. "Not because kids got hurt, but because with very little adult interference, they solved their own problem, demonstrated incredible empathy and had the confidence to do it all on their own. These were 3- to 5-year-olds. Kids are amazing."
Effects of Forest School on the Well-being of Children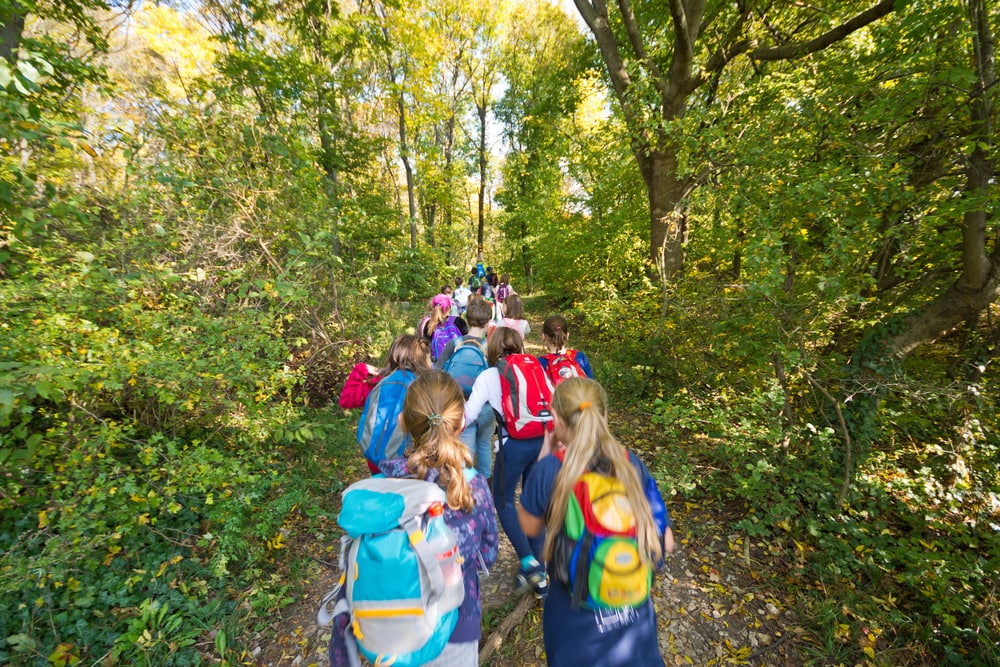 Forest school allows for learning through play, connecting to the natural world, creative problem-solving and community building.
"Giving kids the opportunity to freely explore with their peers, to play without adult interference, is allowing them to navigate social skills that will last a lifetime," Laurie said. "They are developing communication skills, both listening and talking, that will help them express their needs and ideas much further than the pine tree forest. They work together to solve problems, or accomplish tasks, like building forts, where they need their peers to accomplish their goals. They also have to learn how to trust themselves so they can make decisions and push their own boundaries. Allowing kids to challenge themselves physically and emotionally grows their confidence and trust."
Through their time outside in forest school, each child develops different skills through the activities they choose. Some children hone their observation skills, learning how to listen to birds, find evidence of animals and see the first signs of the seasons changing. Others learn about grit as they navigate the weather and prepare for its ever-changing conditions.
Some of DLN's Learners participated in the forest school for all three program years. Melissa has seen how these Learners, over that course of time, have been able to develop into part educators, as well. The children will share their ideas with first-year Learners, help answer their questions and encourage them to explore more of their surroundings.
"These Learners have had the same classrooms each year, have seen the seasons change, can climb trees a little bit higher, and are confident that winter will someday lead into spring," Laurie said. "The multi-age learning is easily one of my favorite aspects of this type of program."
Bringing Forest School into the Future
Research continues to support the power of play and the importance of getting outside. It's no wonder why parents are increasing their demand for options like forest school, which allow their children to reap the benefits of both of these natural medicines.
"I hope forest schools pop up in every town and city across the nation," Laurie said. "I want kids to play outside. I want adults to take a step back and observe how naturally outdoor play comes to a group of children. I hope the term 'forest school' becomes a casual term we all know because it's how we choose to start off a child's educational journey."
After beginning DLN, Fourness's family moved away from the area for other opportunities, though she remained connected to the organization and continued to help with its bookkeeping. Laurie led groups of Learners for three years, averaging around eight children per session. Just this past February, she and her family relocated to Virginia to work at Triple C Camp in Charlottesville, putting DLN on pause for the time being.
"Had our own families not moved away, I'm confident it would have easily continued and grown," she said.
For now, Laurie is focusing on this new adventure where her own kids will get to grow up at camp.
Popular Articles: