If you live in the Pacific Northwest, Pacific Crest Trail Days should be on your radar. It's a great reason to camp, check out cool outdoors brands, and go on epic hikes in the area.

The Quick and Dyrty Recap:
3-day event culminating on Saturday
Outdoor gear galore
On the Columbia Gorge River
Beautiful time of year in Portland area (usually… looking at you, 2015)
Camping
Good vibes and great beer
Camping
You can camp on Thunder Island, where the event is held, for $10 per night. There is a car-camping zone as well, which runs $25 per car per night. More info here.
Camping on Thunder Island is a unique experience. Brands mingle with campers for a night that is beyond fun. If you want to stay up and meet people at night, this is your spot.
If you'd rather have a quieter camping experience, there are plenty of 4 and 5-star camping options in the immediate area:
8.2 miles ★★★★★ Beacon Rock State Park
9.9 miles ★★★★☆ Ainsworth State Park
13 miles ★★★★☆ Snag Creek Trailhead Dispersed Camping
25 miles ★★★★☆ Tucker County Park
26 miles ★★★★☆ Dougan Creek Campground
Wherever you camp or stay, the culture of the outdoors is embodied at PCT Days.
PCT Days Gear Expo
Perhaps the highlight of PCT Days is being able to get on the ground with top outdoor gear brands. It's a chance to see what they're excited about and see their latest products.
The PCT Days Gear Expo runs from 9AM to 6PM on Saturday. The PCT Days crew describe it best: "If you want to learn about backpacks, tents, hiking poles, shoes, clothing, stoves, water purification systems, etc…..it's all going to be here!" See the full schedule here.
Here are some highlights from the 2016 PCT Days Gear Expo.
Best Booth of PCT Days 2016: Granite Gear
Credit is due where credit is earned. The Granite Gear crew put on one of the best booths we've seen at an expo like this.
First and foremost, they make great packs. What's more: they make great partnerships.
Granite Gear partnered with Packing it Out to support their mission of inspiring environmental stewardship via packing out trash. They've removed literally 1000s of pounds from the Appalachian Trial and Pacific Crest Trail systems alone, most recently removed 682 lbs of trash from the PCT.
PCT Days is a fun event and Granite Gear along with the Packing it Out guys embody that.
They were highlighting the Crown VC 60 pack, which weighs about 2 pounds, has a built in cooling suspension system, and has a roll-top closure that builds on the success of the longtime favorite Granite Gear Vapor Trail pack.
Bogg's Trail Butter
Trail Butter. It's like trail mix, but with peanut butter instead of peanuts, and with smaller chunks.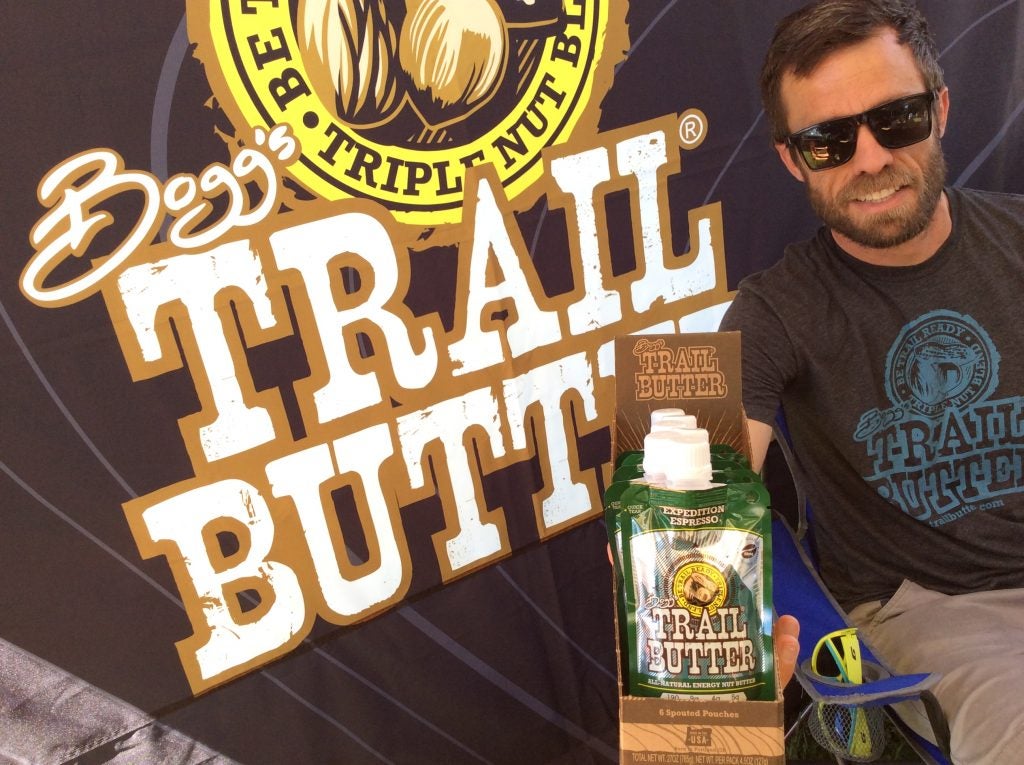 Frustrated with the space taken up by jars of peanut butter, jams, and nuts, Trail Butter founder Jeff combined all the jars and ended up with Trail Butter. Today, Trail Butter is served in squeeze packs, was named one of Outside's Best Energy Food of 2016.
There are few things better than awesome trail food. One thing that is better? Finding new awesome trail food. We found Bogg's Trail Butter at PCT Days, and we're glad we did. It's sure to come with us on a camping trip in the near future.
PCT Days 2016 Brand to Watch: Backpacker's Bistro
One of our favorite new kids on the block was Backpacker's Bistro. Founded in 2016, this is a brand new company with a lot to offer. Specifically, they have a lot of delicious backcountry food to offer.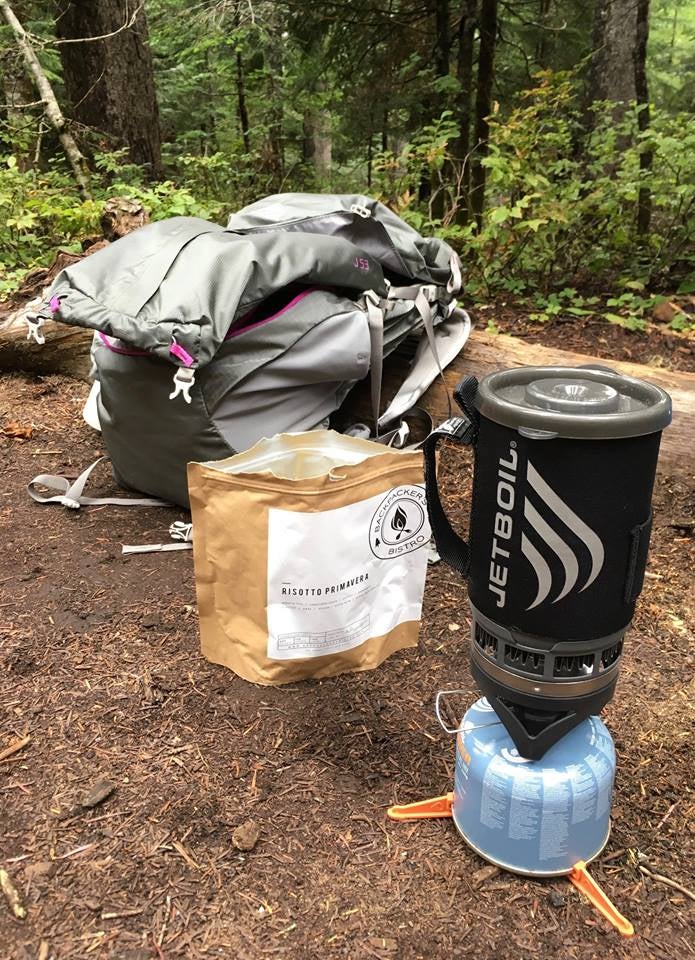 And when we say delicious, we don't mean "delicious-for-backcountry-food." We mean really good. Like, really good.
The food packs are two-serving and solve a major issue with some backcountry food: they actually have enough food for the backcountry.
Food packs are $12, have two servings, and range in total calorie count from 660–1060 depending on meal.
The combination of taste, amount of food, and price make us dub Backpacker's Bistro the PCT Days 2016 Brand to Watch. 
Check them out for yourself here.
Take a Break from the Gear with Grand Trunk
When you've seen more new gear than your wallet-bound heart can handle, you can head on over to the Grand Trunk booth and saw into a little ol' log.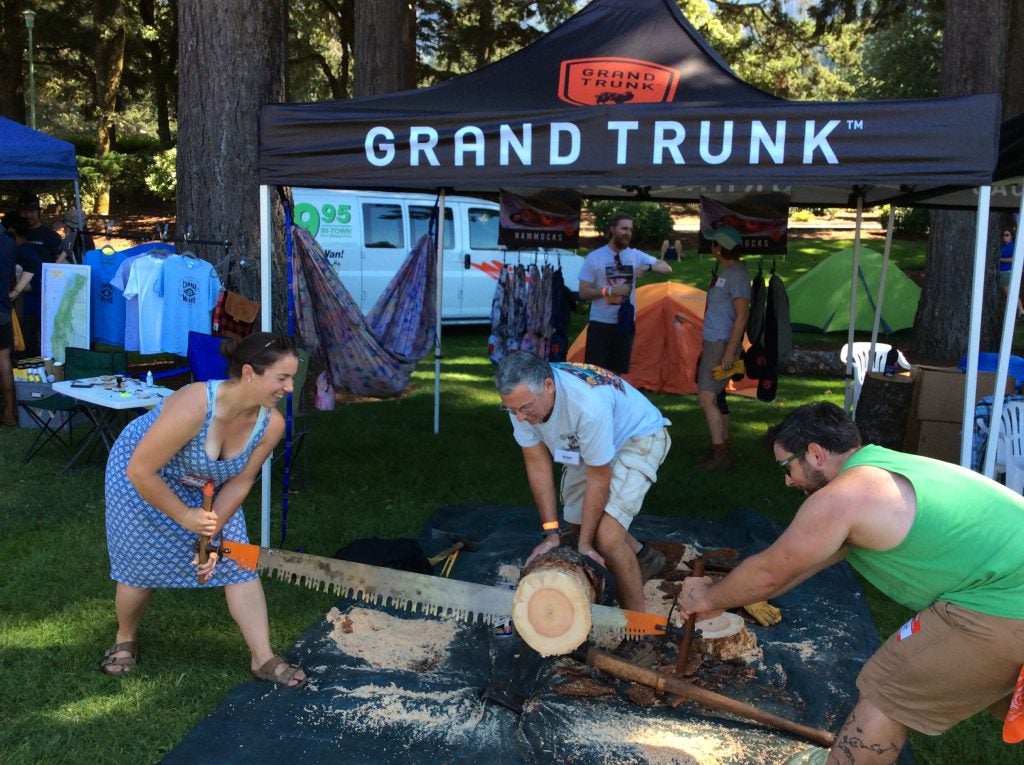 It's surprising harder than you'd expect. The good news: after getting sufficiently winded, you can hang out in a Grand Trunk Hammock situated close to the action (something tells us that's not an accident).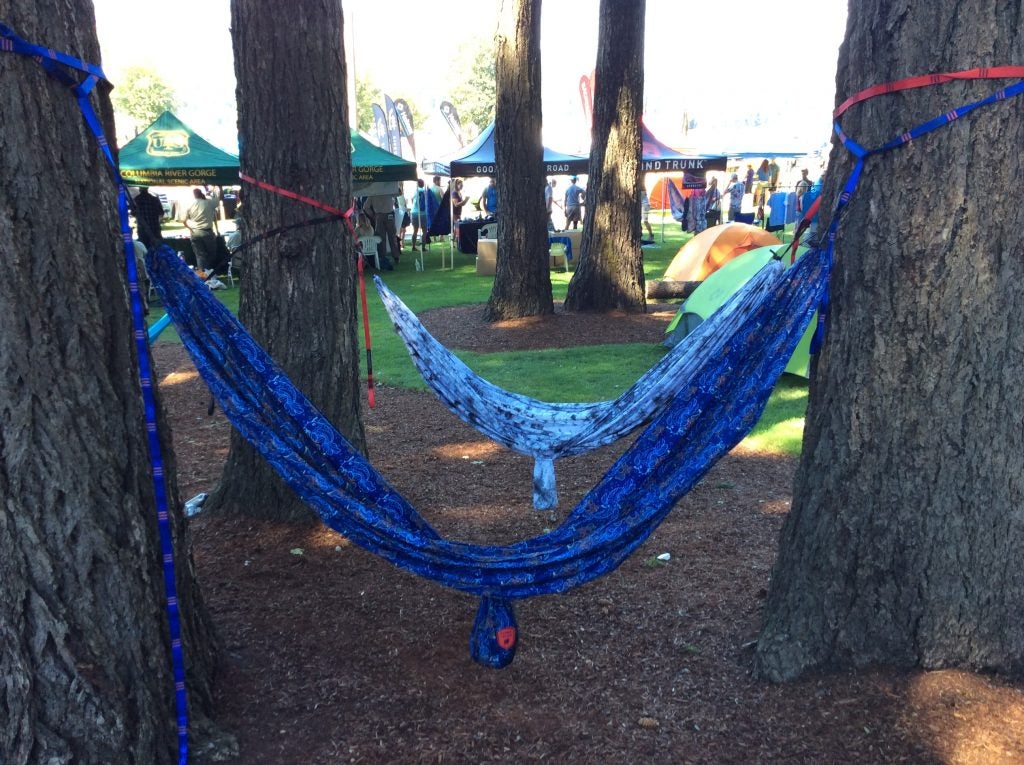 This is why we love PCT Days. Activities, gear, good times–it's all about interacting and having fun. What better way to learn about new brands?
Big Agnes' Lightest 4-Leg Camp Chair: The Helinox Chair Zero
We had the chance to check out the Big Agnes Helinox Chair Zero, which is the lightest 4-leg camp chair and a great way to get off the ground while camping.
The design of the chair lets you have a comfortable campsite seating option but at the same time doesn't add a lot of bulk to your camping kit.
The best part? It collapses into an easy-to-pack bundle. The Dyrt abides.
Beautiful Tents in a Beautiful Place: Locus Gear and Zerogram
Tents are a key element of a camping kit, so we paid extra close attention to the tents in attendance (a-tent-ance, if you will. We certainly will).
Two that caught our eye: Locus Gear and Zerogram.
These two companies know how to make tents.
Locus Gear's simple shelters will keep you covered in style. Lightweight backpackers will love their ease-of-setup and simple design. A pole and some stakes will take you from open-air to sheltered; it's that simple.
Zero Gram's PCT UL 2 is an impressively designed lightweight freestanding tent. They recently launched in the US and we're excited to watch them grow.
Most Interesting Product at PCT Days 2016: Me2 Pack
The Me2 Pack takes a traditional backpack, and removes a key feature: its straps. The result is a pack that shifts the load from your neck and shoulders to your trunk via its chest and waist strap.
Is this the future of backpacks? It's hard to say. There may be a reason we haven't seen this design before. But then again, some of the most innovative products are ones that initially look suspect.
The creativity and iteration that went into making the Me2 product makes it the most interesting product at PCT Days 2016.
Snow Peak Coffee Drip
There are certain products you come across that seem so obvious and so simple that you wonder [1] how in the world this has never occurred to you, [2] how you've never seen it before, and [3] how much money do I need to hand you right now to get one?
The Snow Peak Coffee Drip is one of those products. Simple genius at its finest: a collapsible pour over coffee maker, so you can enjoy the wonders of pour over without having to transport a plastic cone into the backcountry.
Snow Peak adds to their tradition of innovation with their Mini Flame. The Mini Flame is meant to be used at the end of your camping day for a low-key but well-designed light. It attaches to your gas canister, so it's best to use after you've cooked your food and purified any water you could need.
Combat the PNW Nighttime Chill with Woolpower
Another cool company we got to talk to was Woolpower, a Swedish brand since 1969.
It can get chilly while camping at night at PCT Days, at which point Woolpower becomes your best friend.
Wool garments responsibly made from yarn to the finished product, you know you're getting quality when you put on a Woolpower sweater, base layer, or sock.
Rounding out the PCT Days
At the end of a long day of gear (or even during a long day of gear) revitalization is not far away. It's actually very close, and it takes the form of Thunder Island Brewing Co.
Awesome beer and awesome people ensure that whether you're in the thick of a gear-discussion rabbit hole or if you're taking a break from it all at the brewery, PCT Days is a constantly interesting, fun, and memorable event.
With Thunder Island Brewing so close and a nearby town, you don't need to worry about much when you pack for this camping weekend. Bring a tent and some warm things, bring your smile and joie de vivre, and you can get everything else you need right from your campground.
Bonus Points – Relive Wild
The movie Wild, based on the book Wild: From Lost to Found on the Pacific Crest Trail by Cheryl Strayed, ends with Reese Witherspoon walking over the Bridge of the Gods, which is right near the PCT Days venue.
Walking the bridge was the culminating moment of her trek from California's Mojave Desert, and it's a great way to take a break from the festivities. While you're not reliving the entire trek, it's still a fun landmark from the classic PCT journey.
Cover photo © 2016 Outdoor Viewfinder, LLC
---
Related Campgrounds:
Popular Articles: