Gear report: four glasses brands to watch from Outdoor Retailer, Summer 2016.
In any outdoor activity, sunglasses are a good idea. They protect your eyes from harmful UV radiation, helping preserve your eye health over the long term while providing short-term comfort.
Sunglasses have been around since the 1300s, and popular since the 1920s, which means they have seen many iterations and withstood innovation after innovation. There have also been a number of glasses brands that have graced catalogues and online shopping directories for decades. While there are more familiar big name brands who mass-produce and inflate the value of cheap plastic frames, it is still possible to get a quality pair that will last.
In other words, the sunglasses we wear today are at the end of a long line of evolution and they're only getting better. New designs and technologies hit the eyewear market year after year. The need for shades will never go away, so glasses brands will continually push sunglass evolution.
At this past Outdoor Retailer, we caught up with a few innovative glasses brands who are doing some pretty great things with their shades. Here are four companies to watch.
Cocoons Eyewear
If you wear glasses, you probably don't also wear sunglasses. And if you do, you probably have a pair of super expensive prescription shades. Cocoons solve that issue with super durable sunglasses that fit over your existing pair of glasses–and that manage to avoid looking like a giant pair of cataracts sunglasses.
Bonus tip from Cocoons: "As the world's leading manufacturer of professional grade fitovers, we understand that finding the right fit online might seem difficult at first. However, we've created some excellent tools to help you. Before shopping for your Cocoons, use our online Size Finder or printable sizing guide to find the appropriate size to perfectly fit over your prescription eyewear. Taking this first step will make your shopping experience much easier and more successful."
Check out the full line of Cocoons here.
Jonathon Paul Fitovers
As with any good trend, there are a number of glasses brands offering sunglasses that fit over your existing pair. Jonathon Paul Fitovers is another one of those companies. For a slightly more trendy but less durable option than the Cocoons, check these out.
The Fitovers technology: "Jonathan Paul® Fitovers are the perfect sunwear solution for any outdoor pursuit. Driving, walking, motorbike riding, pool side reading, fishing and any number of other outdoor activities are enhanced with the complete UV protection afforded by a pair of JP's. The TR90 plastic frames are not only extremely durable, but also hypo-allergenic and light-weight. These state-of-the-art frames hold polarized Polarvue® lenses that offer 100% UVA/UVB protection and are made of durable polycarbonate material."
Check out their full line here. 
Native Eyewear
Native is a Colorado-based brand that focuses on sport and lifestyle lenses. Aside from their clean and classic look, Native is on our list of brands to watch for their lifetime warranty.
For those who live an active life, sunglasses are bound to take a beating, which is why we love Native: they get it. They make their sunglasses for an active lifestyle, and then they back it up with their lifetime warranty.
A promise from Native: "Instead of digging down for petroleum-based plastics, our frames are created from sustainable, agriculturally-derived materials. The biodegradable resin originates as the castor bean, which is widely grown throughout tropical regions. Offering a purity unrivaled by traditional ABS resin, our castor-based frames are more resilient and durable than those made of petroleum. With a higher strength-to-weight ratio than synthetic material, our frames are made of the lightest, strongest, and most earth-friendly materials available in the world."
Check out their full line here.
Proof Eyewear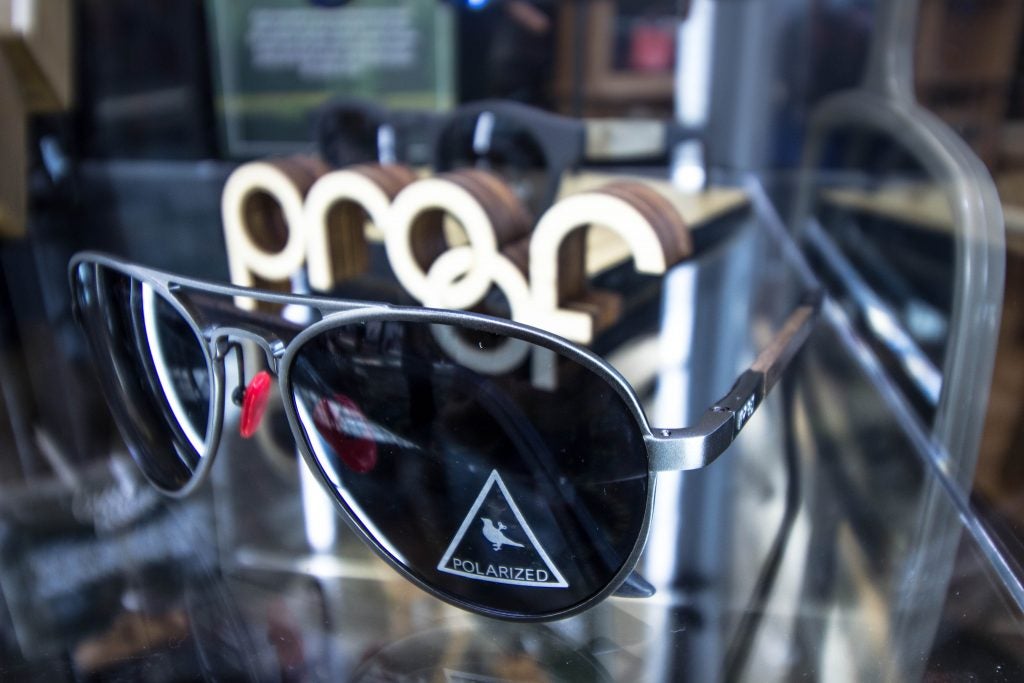 Proof makes lifestyle sunglasses with a consistent theme: wood.
Wood styling makes Proof sunglasses both light and unique. It's hard for glasses brands to come out with a product that makes classic styles look fresh, but Proof does just that.
The Proof is in the pudding: "Proof was founded in 2010 by 3 brothers Tanner, Brooks, and Taylor in Idaho, but its roots can be traced back to 1954 when their grandfather, Bud Dame, started a sawmill. The brothers grew up with sawdust in their veins working in the family mill and exploring Idaho. The idea to start the brand surfaced in 2010 when founder, Brooks, was building up the idea of a wood consumer product."
Check out their full line here.