I stood on ice in July, my hands shoved deep into the fleece-lined pockets of my 800-fill down jacket. My two partners and I stood at the base of the Lone Peak Cirque near Salt Lake City, eyeing our route for the next day. As they pointed out belay stations and their pointer fingers traced the crack system we would attempt, I tried to take in this remote, wild place that had crumbling granite flanks rising from fields of scree and wildflowers.
Our trek had been over six miles with 60 pounds in our packs. I lost my breath after every few steps, stopping to regain control of my lungs–or at least trying to. What I understood on the approach, which was confirmed on the three-pitch route we'd climb the next day, was that alpine climbing wasn't for the faint of heart. It required perseverance, pain, and a desire to engage with nature in a raw, try-hard way.
What to Know about Alpine Climbing — And How to Plan Your First Expedition
Alpine climbing, alpinism, and mountaineering all go hand-in-hand. The main objective of these disciplines is to reach the summit. Each requires a diverse skill, making it both dangerous and adventurous.
Alpine climbing has been around since at least the 1300s when the French poet Petrarch reached the summit of Mont Ventoux. Since that first summit, men and women (though women didn't start alpine climbing until the mysterious summit of Miss Parminter in 1799), have taken to the highest peaks of the world to test their skills and physical fitness.
Alpine Climbing vs. Traditional Climbing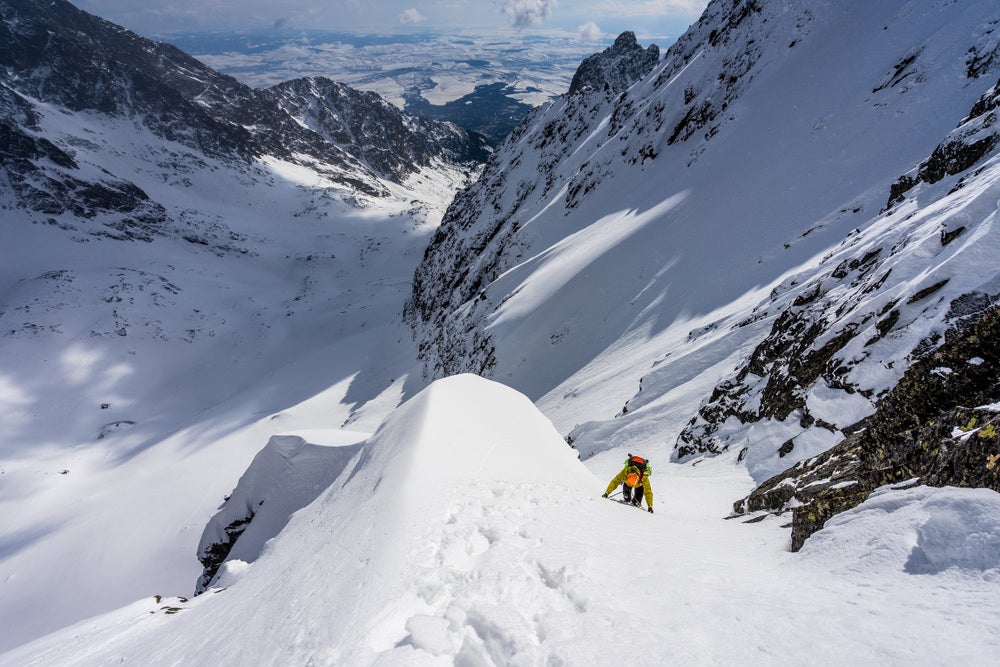 Alpine climbing is a multi-disciplinary sport. In order to successfully climb in the "alpine," which is generally defined as the region of a mountain above the treeline, climbers need to be able to climb rock and ice faces, hike long distances with heavy packs, and navigate glaciated terrain. Some alpine climbs will only require one of these disciplines, while others require all three to accomplish the objective.
For the rock portion, climbing at altitude can involve anything from scrambling over boulders with nothing but hiking shoes to traditional climbing which requires placing protection in the form of camalots, pitons, nuts, and hexes in cracks and holes in the rock as they progress vertically. Traditional (trad) climbing requires practice to know which size piece to place at each point. Unlike sport climbing when the climber just clips quickdraws into a bolt on the wall, there's nothing in front of trad climbers other than the natural features of the rock. This makes it simultaneously more adventurous and more dangerous.
Once climbers reach a higher elevation, they will often need experience in swinging an ice ax, stabbing crampon tips into thin ice, and boring holes for ice screws.
Navigating glaciated terrain includes crevasses rescue and travel and knowing how to self-arrest in case your crampons slip on the ice. It's also important to know how to travel on a glacier in the event of a whiteout.
Big wall climbing, or any climb that connects multiple pitches and generally require the use of aid gear when no climbing holds exist, occurs in more advanced and technical alpine climbs. A great example of big wall climbing in an alpine climbing scenario occurs in the climbing documentary, "Meru," where three accomplished mountaineers attempt the technical, demanding face of Meru in the Himalaya.
How to Prepare for Alpine Climbing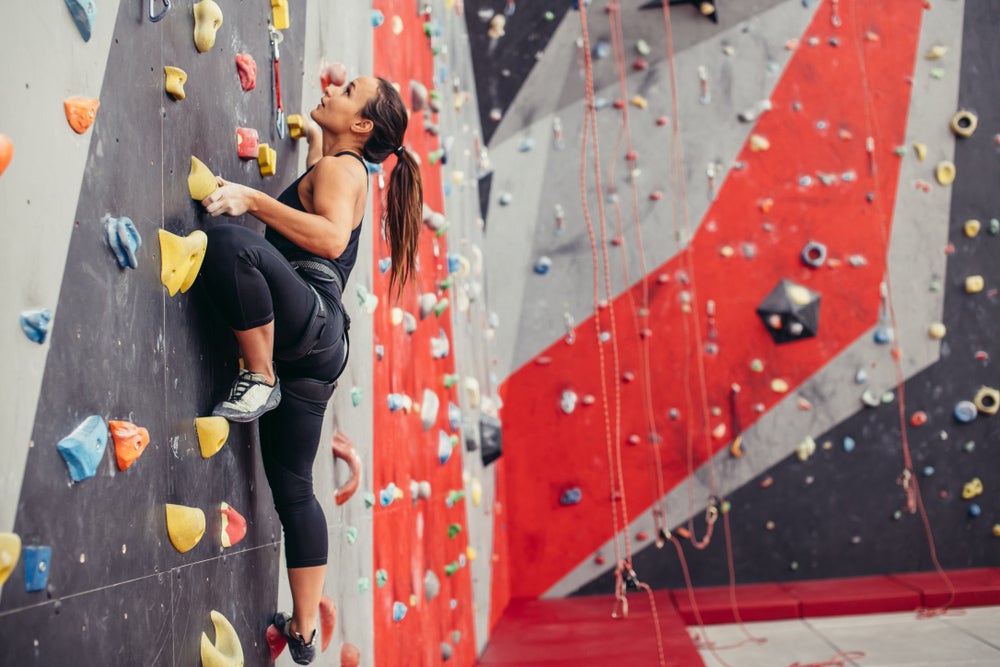 Alpine climbing is inherently dangerous: that point can't be emphasized enough. Between the complicated rope systems, technical knowledge, and rapidly changing weather patterns of alpine environments, any foray into high altitudes should be taken seriously and with extreme caution. These aren't skills that come overnight, but with dedicated practice and instruction from knowledgable guides or experienced friends.
The first step to getting ready for an alpine climbing expedition is to make sure you have the skills necessary to complete your objective. Rope systems and management are necessary to keep you and your partner(s) safe as you climb higher in altitude.
A few weeks before your expedition, make a checklist of gear to help prep for an alpine climbing expedition. This is an important step early on in the process so you can head to your local gear store to purchase any additional slings, carabiners, or medical supplies you might be missing.
Also in preparation for your climb, consider sticking to a training plan for the months leading up to your expedition. You'll want to focus on cardio—specifically weighted cardio. Consider working up to an hour or more on the stair stepper with a 40-60lb pack on your back. Plyometrics and weighted lower body exercises will also help you prepare.
Rescues during an alpine climbing objective can be difficult and take days (like the four climbers who were stranded on Rainier due to weather conditions), so prepping yourself mentally, physically, and with the right equipment can help reduce the chances of an emergency rescue on the mountain.
Get Started with Alpine Climbing Courses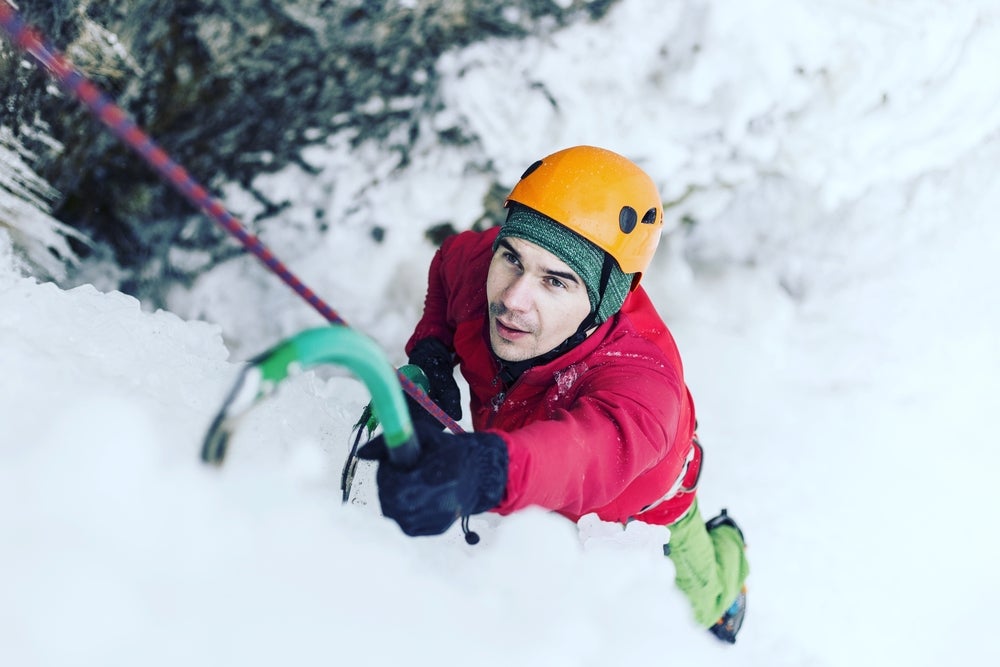 Because alpine climbing requires such in-depth knowledge, it's best to either rally a friend who has spent time in the mountains and has ticked off multiple alpine climbing objectives safely, or hire a guide. If you don't have anyone in your circle of friends who's an accomplished mountaineer, turn to an alpine climbing or mountaineering course from a guiding service to give you the rundown on the systems, gear, and technical knowledge required.
Local climbing gyms are a good place for aspiring alpine climbers to start. Spend some time at the bouldering gym working on strength and meeting other climbers–you might find someone who's willing to take you out and show you the ropes. Most gyms also offer climbing classes for technique on slabs, crack systems, or just how to manage the rope on multi-pitch climbs.
Beyond indoors instruction, many gyms now offer gym-to-crag programs to introduce climbers to climbing outside. These programs are the best way to learn the intricacies of outdoor climbing if your climbing network is small and your friends unwilling.
Notable U.S. Locations and Guide Companies
Most of the U.S. locations for alpine climbing are concentrated in the west, with the most epic and adventurous lines lying north of Canada in the Last Frontier—Alaska. Mountains like Mount Hood, Baker, Shasta, Rainier, the Rocky Mountains of Colorado, and Washington's Cascade Range also offer a diverse set of route options for both the beginner and experienced alpine climber.
In some areas, climbers can find mountaineering options without the added rock aspects in places like Utah's Wasatch or Uinta mountain ranges, the Idaho Panhandle and Wyoming's Wind River Range.
As mentioned earlier, alpine climbing is inherently dangerous and hiring a guide to take you on your first expedition will introduce beginner climbers to the necessary skills and techniques to summit mountains with proper knowledge.
Based out of Lake Tahoe, Alpenglow offers trips all over the world (including the seven summits) and has focused clinics and training programs in California, including plenty of skills courses to get started in rock climbing, multi-pitch climbing, self-rescue, and rock anchoring and gear placement. Once you've progressed through those courses you can embark on the High Sierra Alpine Climbing course.
Timberline Mountain Guides offers clinics and courses for all levels of climbers–from introductory anchor building and crevasse rescue courses to more technical routes up Mount Hood like the North Face and Sandy Glacier Headwall. If you want to go beyond mountaineering and alpine climbing, TMG also offers ski mountaineering and ski circumnavigation courses.
SWS offers international guided mountaineering trips, as well as local, and their local offerings are vast and varied. Climbers can attempt the summit of Mount Whitney via the standard summer route—which is ideal for beginner mountaineers–or via the more technical East Buttress or East Face. The client-to-staff ratio is low at 2:1 so climbers get a hands-on experience to grow their expertise.
Chicks Climbing and Skiing offers mountaineering, skiing, and climbing clinics specifically for women, lead by women. Their two mountaineering courses–on Mount Baker or in Chamonix–give women the opportunity to test their skills in a safe space. Climbers learn how to travel on glaciers, rescue from a crevasse, and how to navigate glacier terrain.
Located at the entrance to Mount Rainier National Park, RMI Expeditions guides clients up the flanks of Mount Rainier as well as mountain summits around the world–including the highest summit on all seven continents. RMI's Mount Rainier climb is ideal for beginners and includes two days of hands-on instruction before heading to the mountain for a summit bid. For climbers looking for an intro to mountaineering skills, RMI offers that as well.
Most of Exum's programs are focused on rock climbing, but their climbing instruction courses are a great place to start for aspiring mountaineers. They offer a course for multi-pitch climbing to hone rope management skills and a Snow School course to learn travel techniques for navigating snowy approaches.
---
Related articles:
---
Related Campgrounds:
Popular Articles: