This is the winter camping gear that makes the colder seasons fun and comfortable. 
---
Winter camping might sound like a miserable idea if you've never tried it. Getting out of bed is hard enough when you're cocooned in your blankets at home. But sleeping outside? In the snow? Sounds… really cold.
The thing is, if you have the right winter camping gear, sleeping outside in the colder months can be a rewarding experience, replete with quiet campgrounds and a landscape transformed by blankets of snow, the shimmer of frost, and the stillness of undisturbed wildlife. If you have everything you need to feel warm and cozy outside, then winter becomes something to explore—not hide from.
REI's annual Gear Up Get Out Sale is a great opportunity to save money on some new winter camping gear. From November 15 to November 25, you can score up to 30% off all full-priced items. In addition, REI members save an extra 20% on one full-priced item and an extra 20% on one REI Outlet item.
These are the pieces of winter gear we recommend adding to your kit to make winter camping a comfortable and enticing activity this season:
Our recommendations are based on providing value to campers across the country. This article contains affiliate links. By purchasing through our articles, you help support this camping magazine.
Winter Camping Apparel
First things first: let's focus on what goes on your body. Dressing in moisture-wicking layers is essential for winter camping.

If you're going to splurge on one clothing item for winter camping, make it your base layer. (And you don't have to splurge too much, with that Gear Up Get Out discount!) Remember: Cotton kills, especially in the cold. So you'll definitely want some wool base layers to keep you warm. These Merino Midweight Base Layer Bottoms are made from 100% merino wool that wicks moisture without any itchiness. They're designed to wear under additional layers in the daytime and comfortable enough to wear all night. Buy Now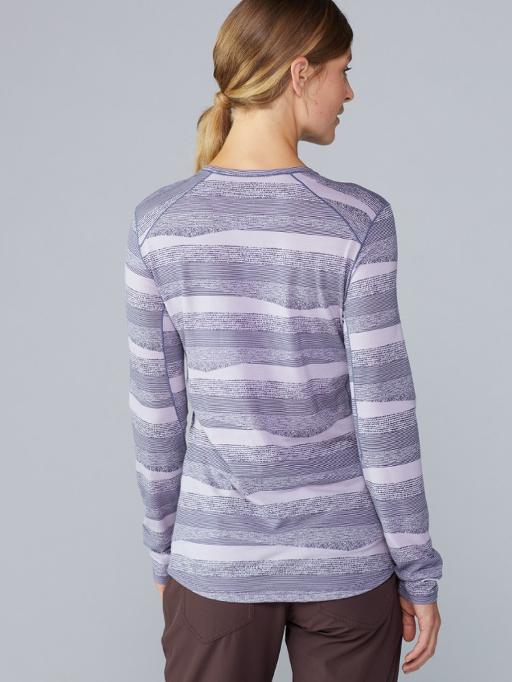 Combine your merino base layer bottoms with this base layer top, and you've got the foundation of a warm, versatile layer from top to bottom. The soft, merino wool top naturally wicks away moisture and resists odors, so you can keep wearing this for a few days. Buy Now: Women's Buy Now: Men's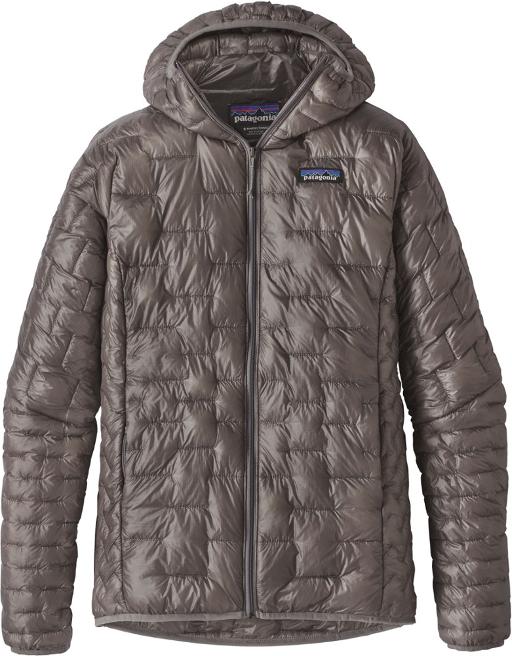 This might be the perfect puffy for winter camping. It's warm, super lightweight, and water resistant. It's great on its own for cold days, or layered beneath a bulkier coat for even colder ones. The hood and hand warmer pockets are two, must-have details in a puffy that keep you even cozier. One writer for The Dyrt called it the puffy she'll bring on every outdoor trip. Buy Now: Men's Buy Now: Women's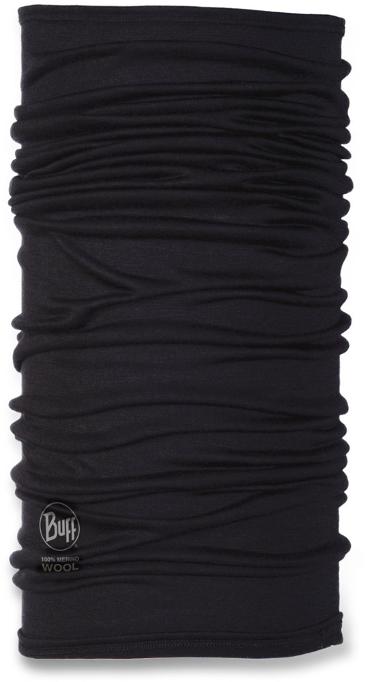 A Buff is such a versatile piece for a little extra warmth. Once you've worn one, you'll find yourself wondering how you ever ventured outside without the lightweight comfort of merino wool around your neck or your ears. It's easy to take on and off and stuff into a pocket when activity is keeping your blood flowing, then pull it on when the nighttime chill sets in. Buy Now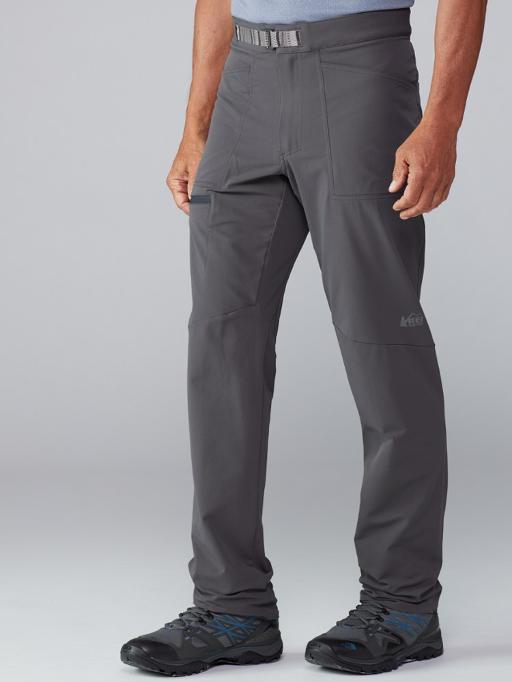 If you're not going to be carving powder on the slopes, you might not need full-on snow pants for your winter camping adventure. If that's the case, these are a great, middle-weight option that will keep moisture out and warmth in. Layer them over your merino wool bottoms for a comfy combo.
REI.com reviewer: "Comfort is off the charts. Been wearing these in all weather conditions, 20's to 75, snow and rain. For added warmth on cold days, a light base layer does the trick." Buy Now: Men's Buy Now: Women's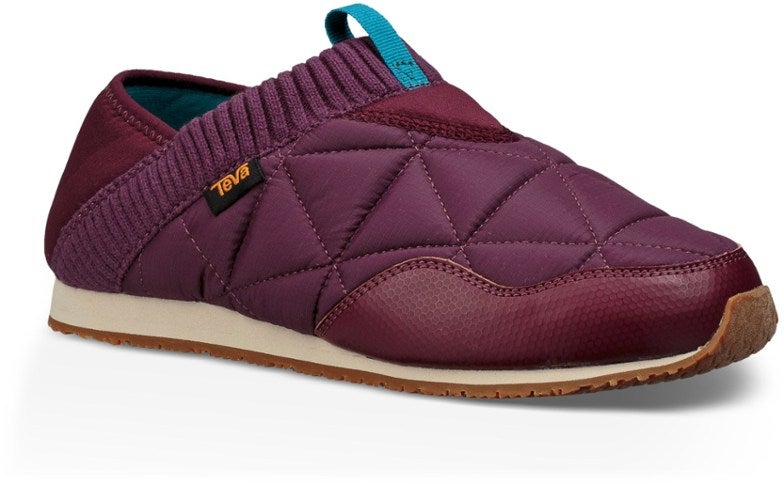 Whenever people start talking about their favorite camping gear at The Dyrt, these Teva slippers always come up. And they're especially awesome for winter camping, as a comfortable camp shoe that will keep your feet warm without the weight and restrictive bulk of your winter hiking shoes. Collapsible heels make them easy to slip into for a middle-of-the-night bathroom run and rubber outsoles keep your feet dry, even if you're darting through some snow. Buy Now: Women's Buy Now: Men's
Winter Camping Gear
And now we'll move on to the gear that makes winter camping warmer, safer, and more fun.
Your tent is your home and you want your home to be comfortable. Investing in a high-quality, 3-4 season tent, like this one from REI, is worth every penny. The Arete ASL 2 is great for those who are planning on some mild winter camping. The four-pole design offers a spacious interior that can hold all of your extra layers and winter camping gear and the welded construction keeps shiver-inducing moisture out. The best part might be that users confirm it's easy to set up, and when the winter wind is blowing, that is a perk you're really value. Buy Now

Extra layers on top is great but the key to staying warm while sleeping outside in the winter is protecting yourself from the cold ground. An insulated sleeping pad is a necessity for winter camping. The lastest version of the NEMO Tensor features Thermal Mirror technology to insulate in as cold as 10-20°F.
REI.com reviewer: "I love how the Tensor is quiet when I move around, keeps me warm, and is fairly lightweight for the amount of features." Buy Now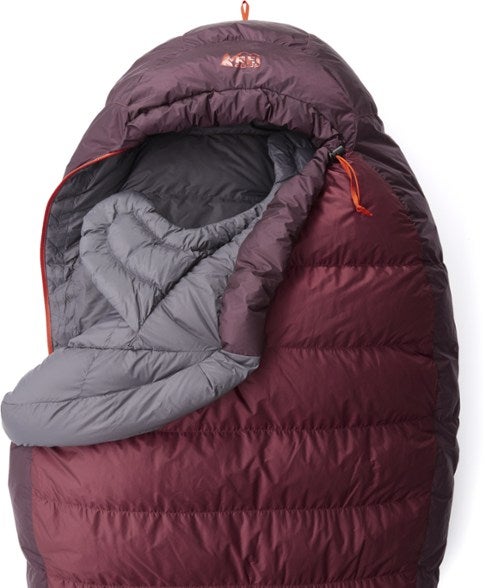 A warm sleeping bag is a game-changer when it comes to winter camping gear. This one is a 3-season, rated for 21 degrees (F). (It's generally agreed upon that your sleeping bag should be rated lower than what you're actually sleeping in, so for most people, 21 degrees F is perfect for around freezing.) The water-repellent down and breathable fabric will keep you dry and comfortable, even in snowy conditions. But this is a sleeping bag that you can use in the summer months, too. Audrey, a developer at The Dyrt, says, "It's the best sleeping bag I've ever owned." Buy Now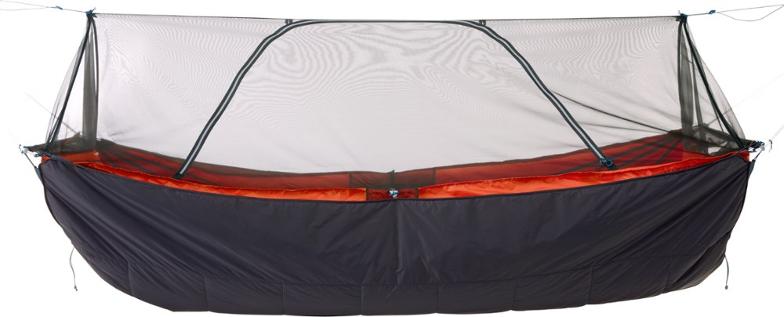 Hammock camping becomes a four-season sport when you have the right layers. This hammock under quilt from REI can be used in a variety of hammocks. Paired with a top quilt and a warm sleeping bag, it becomes a cocoon of cozy for winter camping. Buy Now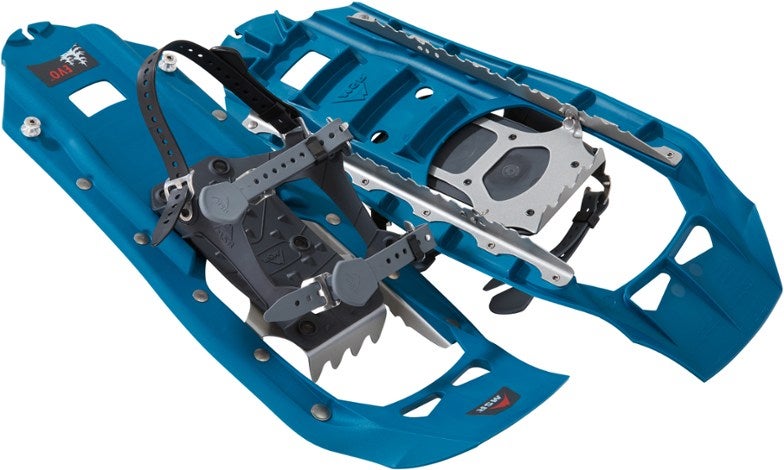 Snowshoeing is a great way to adventure around your campground, down quiet trails into a winter wonderland. They're easy to use and offer a great workout. While downhill sports can be intimidating to those without experience, snowshoes are low-risk and good fun. MSR Evo Snowshoes are trusted for ease of use and traction.
REI.com reviewer: "I bought these snowshoes as my first pair 8 years ago, they are great beginner shoes because they work for most terrain and they are fairly lightweight." Buy Now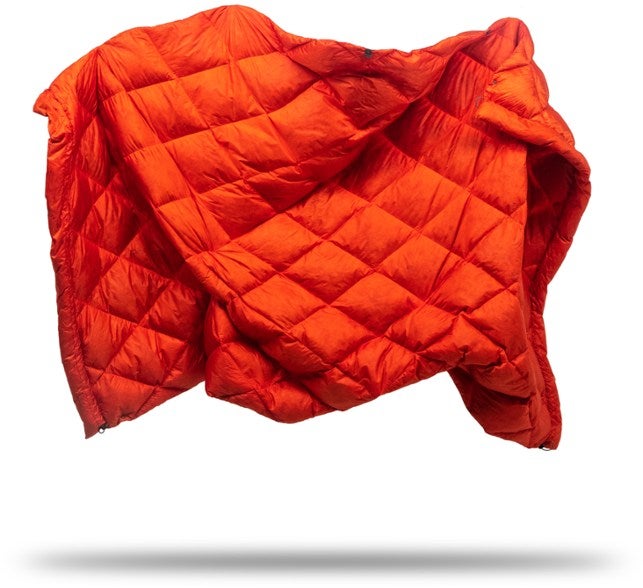 I personally never go camping without my Kammock Bobcat Trail Quilt. It's a lightweight alternative to wrapping myself in a full sleeping bag in the summer, and in the winter, it's an added layer of warmth on top. If you're someone who struggles to get out of your sleeping bag in the morning, this is easy to wrap around yourself while you acclimate to the air outside of your tent and drink some coffee by the fire. Buy Now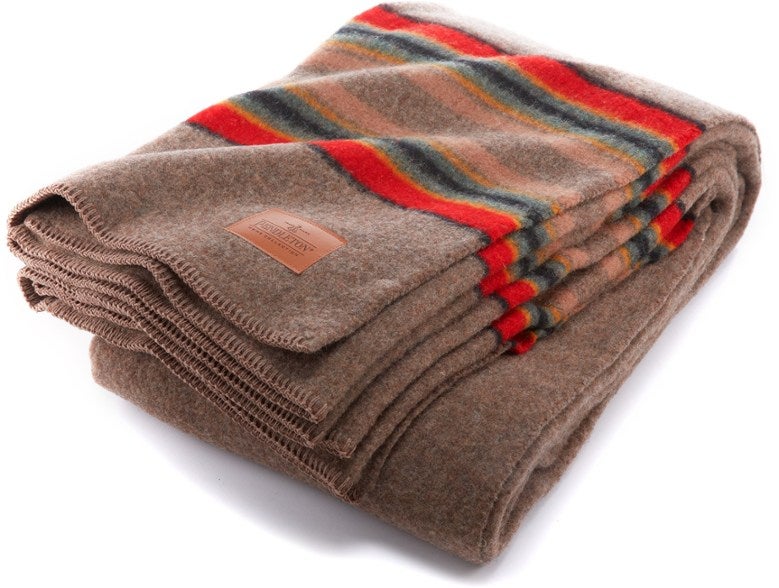 Speaking of blankets, a wool blanket is what you'll want for the coldest of nights. Drape a Pendleton on top of your sleeping bag for a level of winter comfort like no other. Also, they're so darn pretty. You'll have the most stylish tent interior in town. (Also because no one else will be out there.)
REI.com Reviewer: "I love this blanket. I bought it for a trip winter cabin trip and plan to use during my camping trips. I was nervous because this seems expensive and wasn't a "performance" fabric but I was wrong. This blanket is so warm and comfortable." Buy Now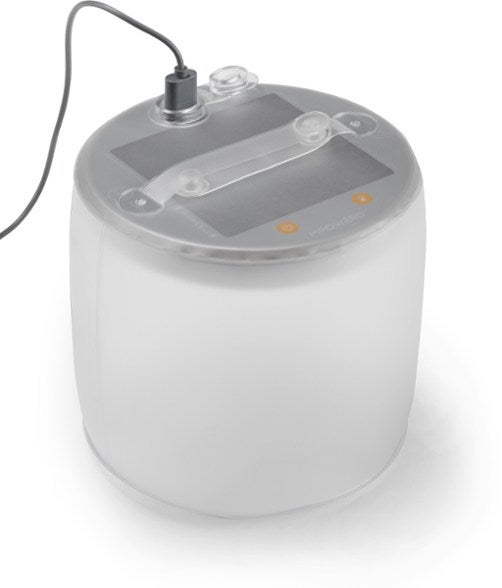 This solar-powered light source is handy year-round, but in the winter, you're looking at more hours of darkness. While a headlamp is most handy for cooking, ready, and finding your way down a dark snowy trail, this inflatable Luci Base Light is bright enough to give off a warm glow in a wider area. It makes hanging out in your tent significantly less gloomy and transforms a dark picnic table into a well-lit eating space. Buy Now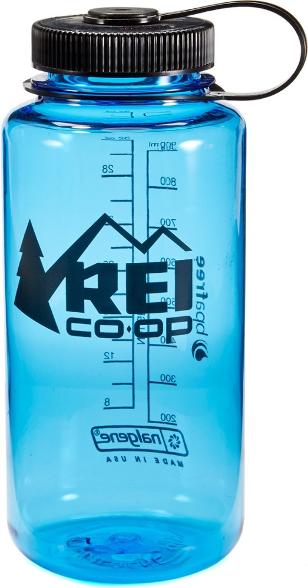 The cheapest but also one of the most awesome piece of winter camping gear is a classic Nalgene water bottle. Fill it with boiling water and place it at the bottom of your sleeping bag for a convenient and safe little space heater. Buy Now
Popular Articles: