It's hot, hot, hot out there this summer. Don't let the heat drain your energy for outdoor activities!
Outdoor lovers look forward to the summer sun. It's a time for swimming, rafting, hiking, and of course, camping. But that summer sun can all too quickly become too strong — especially in the southern states. That doesn't mean you need to camp in front of your air conditioner. With the right precautions and planning, you can still get outside and embrace the summer, even on some of the hottest days.
5 Tips for Cooler Southern Camping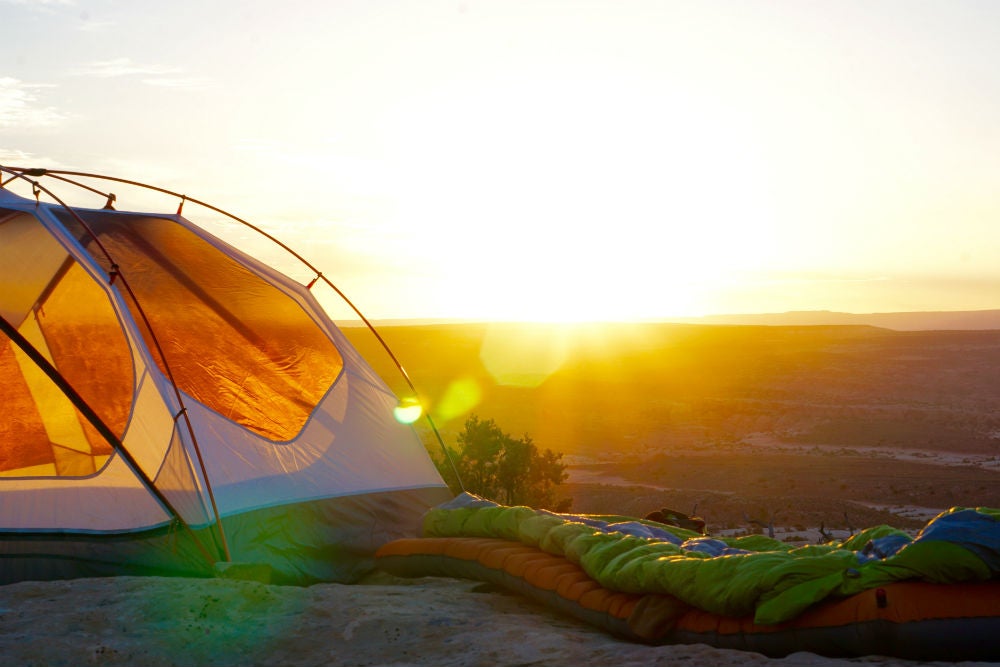 Here are some ideas to help you beat the heat.
1. Find shade ahead of time.
Nothing is worse than finding yourself in a shadeless campground on a hot day. Plan ahead and look for wooded areas for your summer camping adventures. You might even want to call the campground to make sure your site offers shade. (Or you can check out our campgrounds reviews on The Dyrt for more information about specific sites.)
Keep your tent and your car (or RV) in a shady spot so they don't turn into ovens. And don't forget to keep your cooler and other food out of the sun. Summer heat can quickly melt your ice and leave you with spoiled meals — and we hate to waste food!
If the trees don't provide sufficient shade for your and your crew, bring a tarp to string up in the trees.

2. Sleep in a hammock.
It's hard to keep your tent cool. Even when the sun sets, the heat from the day can linger in closed-in spaces. A hammock offers a refreshing alternative to the tent. You can sleep under the stars with the cool night breeze, wrapped around you.
Hammocks also keep you off the ground so you've got air flow on all sides. Bonus: You won't have to worry about sleeping on rocks!
3. Dress for outdoor success.
Wear light-colored, loose fitting clothing and a well-ventilated sun hat. Moisture wicking clothing will help in keeping the sweat away from your skin. While less might seem like more, long sleeves can be useful in protecting your skin from the sun. Nothing ruins an outdoor trip faster than a sunburn.
If you're still too hot during the day, try soaking your hat in water or tie a wet bandana around your neck. If you're bicycling, make sure your helmet has adequate ventilation.
4. Get going early.
Plan your activities at cooler times of the day, or center them around water. Early mornings and evenings when the days are long but the sun is low can be great for more vigorous activities. Otherwise, plan hikes and bike rides near lakes or along rivers, where you can stop off and splash around when the sun is high in the sky.
5. Create your own breeze on a bike.
Biking is a fun way to create your own breeze and cool off during the day. Pick up speed and you'll be treated to a nice, refreshing wind. (Just be sure to choose a route that isn't too challenging — the heat can still get to you if you're going uphill.)
If you're looking to bring your bike on your next camping trip, check out Saris for a great selection of bike racks and stands to fit all bikes and vehicle types.
Will you brave the summer heat for some epic camping trips this summer? Review your campground on The Dyrt and you'll be entered to win free camping gear from Saris and other great outdoor brands.
Popular Articles: