I love hiking because it's simple. You drive to a trailhead, load up your pack, and you're immediately in the wilderness.
Hiking requires minimal gear and costs almost nothing. In some areas, hiking trails are just outside your front door. But for those who haven't prepared themselves for a hike—or are taking a stab at it for the first time—there can be an intimidation barrier. For starters, you might not know what to wear. And feeling like you're wearing the wrong thing can make you less confident and less excited about your day in the wild. Not to mention, choosing the wrong gear for a hike can lead to discomfort from cold, heat, or sweat. And we definitely don't want our walk in the woods to be uncomfortable.
What to Wear Hiking: A Beginner's Guide
We've put together a guide of considerations and recommendations on the very basics of hiking apparel so you can strut down that trail, feeling good about what you have on.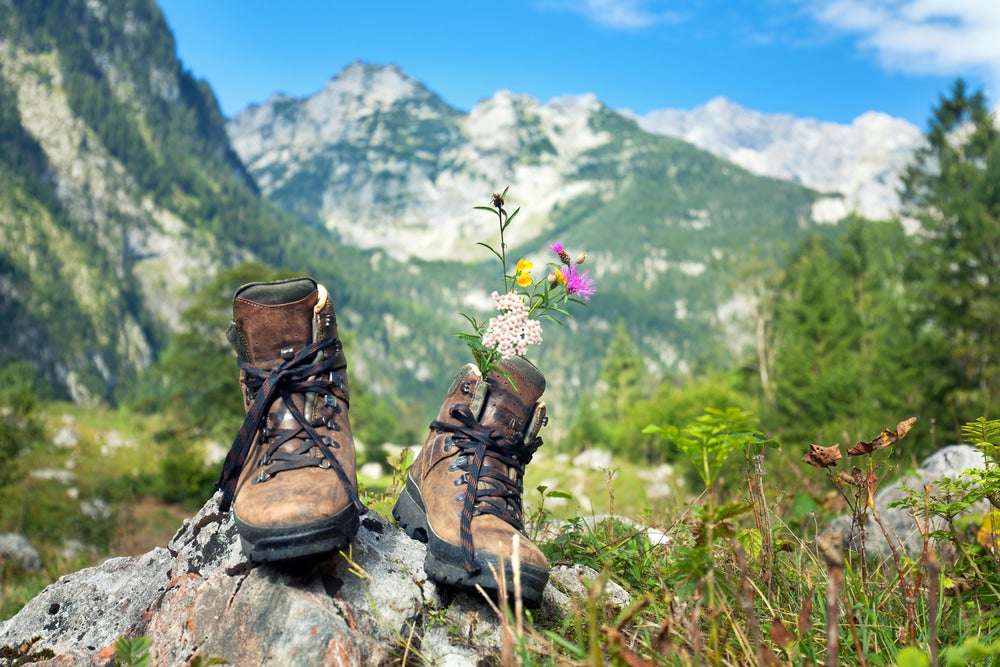 But First… What NOT to Wear Hiking
Let's start with what not to wear hiking. An old colleague of mine once told a story about backpacking in the Upper Peninsula with his wife, and after a day of sweating, they went to bundle up in their tent for the night, and his wife couldn't stop shaking from the cold. It didn't make sense: she wore the appropriate gear–wicking layers, merino wool. And then she realized her bra was cotton and had trapped all her perspiration from the day.
The lesson here? Wearing the wrong thing hiking can lead to serious trouble.
Cotton: Cotton is a hydrophilic fabric, which means it absorbs water, making this one of the most common fabrics to avoid when thinking about what to wear hiking. Our kitchen towels are made of this fabric because they sop up messes every day, and our sweatshirts are made from cotton because it's warm and cozy. But, the second anything made from cotton receives moisture, it absorbs and takes hours to dry.
Denim: Manufacturers make denim using heavy cotton yarn. So, wearing denim into the backcountry or while hiking will cause the same problems as any other type of cotton clothing. It will absorb water, and leave you damp, cold, and unable to warm up.
How to Choose Hiking Clothes
It's important to note that your anticipated destination could vary in temperature, so be sure to sort out your location when planning what to wear on your hiking trip.
Layering: Chances are, you'll start off in cooler weather, warm up as the hike climbs, and cool down as you descend. You'll want layers to adjust to your changing temperature throughout the day.
Comfort is key: You want garments that will keep you comfortable as you maneuver through rugged terrain, over shale, and through tree roots aiming to take you down. Different clothing brands offer different fits, so try on a few different styles to find the best for your body type.
Prepare for the weather: Mountain terrains are notorious for changing weather throughout the day. Look at the NOAA website to get a quick play-by-play of what to expect and plan accordingly. 30% chance of rain? Bring waterproof layers (or an umbrella, which are increasingly popular with thru-hikers).
Overprepare: We can all agree it's better to have a few extra layers than not enough. Nobody wants to make the summit unable to feel their fingers. Bring an extra pair of gloves, throw in some hand warmers. You won't regret being overprepared.
Picking the Right Fabric for Your Hiking Outfit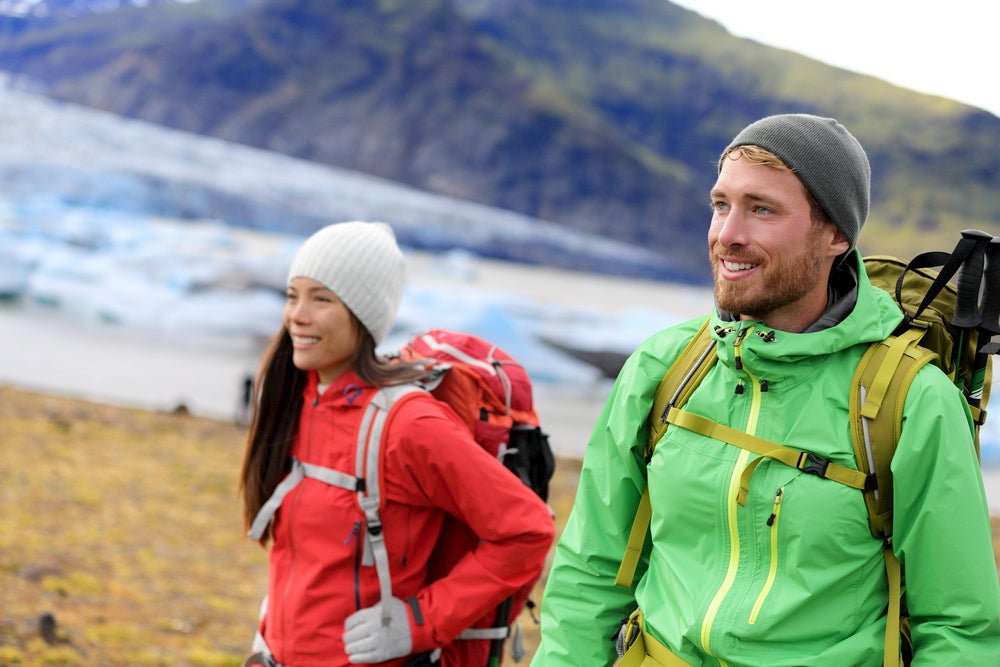 Merino wool: Merino wool, made from sheep, is the choice fabric for outdoor enthusiasts. Wool has come a long way in the past few decades. It used to be itchy, terrible fabric that you wouldn't want to wear near your skin. Now, it's soft like cashmere and wicks moisture like a boss. Wool won't retain moisture, either, so you can wear it for days at a time without worrying about a stench.
Nylon: Rip-stop nylon performs best as an outer layer because its tear-resistant and extremely durable. Many manufacturers include nylon in outer layers combined with polyester for wicking and windproof capabilities.
Fleece: Fleece, made from polyester, has been a long time favorite of outdoor enthusiasts because it doesn't retain liquid and has insulating properties.
Polyester: A champion of wicking and windproof, polyester was a go-to before we found a better way to process wool. Polyester works well as a baselayer for these reasons, and you can usually find it at a lower price point.
Down: Down jackets aren't ideal in wet conditions, but are ideal for keeping warm in dropping temps. Down jackets are easily packable and don't take up as much space in your pack. But, as soon as they encounter moisture, the feathers clump into a wet, useless mess.
Synthetic: As an alternative to down, many outdoor companies have created their own synthetic blend to resemble the properties of down insulation. They're hydrophobic, so they don't lose the ability to warm when wet, and dry quickly in the event of rain.
How to Layer Your Hiking Gear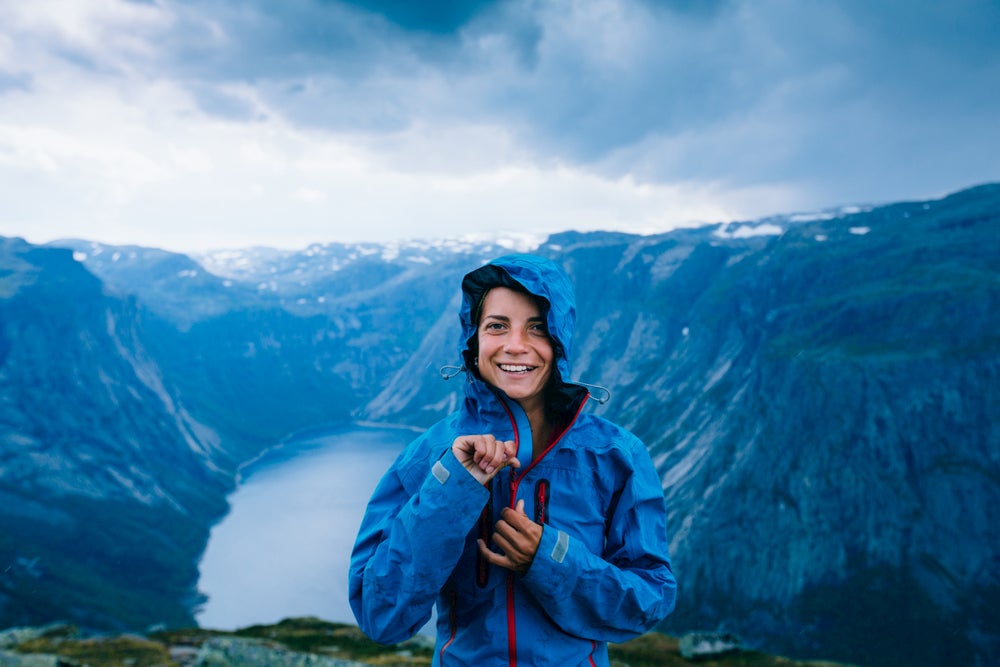 Layers are the foundation of a comfortable day of hiking. Here's some layering basics to know when deciding what to wear hiking
Underwear/bra: Start with a synthetic or wool pair of underwear and bra. As the first layer, you want to ensure the piece of clothing closest to the skin will wick moisture away from sensitive areas.
Baselayers: For hikes in temperate climates, you might not need a base layer. Base layer refers to the layer of clothing closest to your skin (aside from underwear). For hiking in colder temperatures, having a merino baselayer on your legs and arms will help wick sweat, and regulate temperature.
Insulation: Once you've regulated temperature and starting moving moisture away from the body, you'll want to trap all the heat you've created. Similar to insulating a house–if you warm it up, but don't have a way to keep it in, you'll soon be cold. Down and synthetic fabrics help trap the heat and keep it close to your body.
Outer shell: There are two types of outer shells: softshell and hardshell. Softshells are made with more flexible fabrics to keep movement to a maximum. They're wind resistant and water resistant, but in a downpour, might not stand up to the rain. Hardshell layers are usually constructed with GoreTex technology and are 100-percent windproof and waterproof. They work to trap all the heat that you've created.
Types of Shoes to Wear Hiking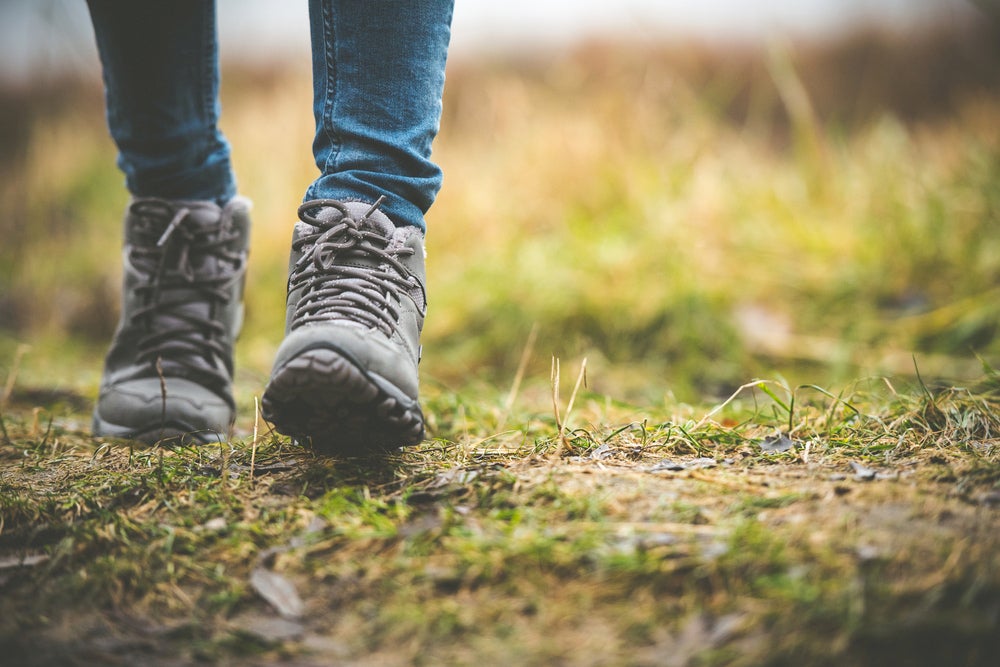 It used to be easy to pick out a pair of hiking boots, but now the walls of outdoor stores offer a spread of various boots, shoes, and sandals intended for hiking. How do you choose?
Traditional hiking boots: The ankle length, heavy tread hiking boots are the traditional go-to for a lot of hikers on the trail. They're sturdy and protect ankles when maneuvering tricky terrain, like shale, boulder fields, or tree roots. Waterproof hiking boots are less breathable, but worth it when traveling in wet conditions, and mesh hiking boots are better for summer hikes for air to enter your boots and cool your feet.
Hiking shoes: Hiking shoes are growing in popularity, especially when weight is a consideration, and you're not worried about ankle stability. They're a better option for shorter hikes when fatigue isn't a factor.
Hiking sandals: Originally used around camp or on multi-day river trips, hiking sandals have extended their use to backpacking, hiking, and everyday use. Hiking sandals come with heavier tread to withstand tricky terrain and cinch down tight enough to feel secure. Many hikers love hiking sandals for wet hikes like The Narrows in Zion National Park.
Trail running shoes: Less traditional and increasingly popular trail running shoes are becoming a top choice by thru-hikers and other light-and-fast trekkers. Some trail running shoes have hearty tread to navigate all types of tricky terrain and won't weigh down your feet. They don't offer tons of support, so if you're carrying a heavy pack, a hiking shoe might be a better option.
Recommendations for Hiking Top Layers
These top layers serve different purposes, so depending on your activity level or destination, choose what to wear hiking wisely.
Technical t-shirts: These are a great option for late spring, summer, and early fall hikes. If you're going in the middle of the day, wearing a wool or polyester technical tee like the Journey T-shirt from Ridge Merino will help keep you cool and dry throughout the day.
Technical long sleeve: Similar to a tech tee, these long sleeve shirts are wicking, and temperature regulating. You can also wear sun shirts which have long sleeves and made with lightweight fabric to keep the sun off your skin, while also keeping you cool.
Fleece/synthetic/down pullovers: Many outdoor brands now offer some type of pullover or zip up as an additional layer to keep you warm on cooler hikes. These hiking layers either wick moisture or retain heat.
Recommendations for Bottom Layers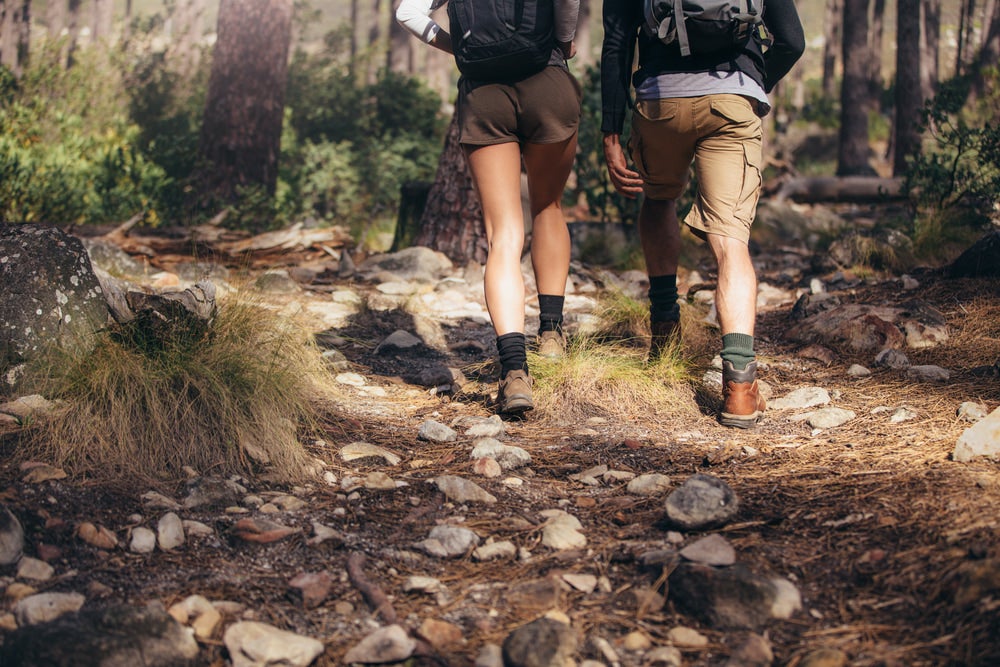 Some additional considerations for what to wear hiking are required when it comes to bottom layers. What type of terrain are you hiking in? If you might come in contact with poison oak, consider wearing pants, even if you're hiking in warmer climates.
Hiking shorts: Hiking shorts are perfect for moving quickly through the wilderness, and are made with fabric that wicks and protects.
Hiking pants: Many hiking pants are made in a convertible version now, so you can get two for one. You can purchase hiking pants based on weight as well, and some are even lined with fleece for additional insulation. If you're planning to hike and climb at your destination of choice, check out the Brise Pant from Foehn, a premier outdoor brand dedicated to making high-quality products that thrive in a multitude of conditions.
Yoga and fitness leggings: Leggings can be great for flexibility, but if you have to travel through any type of brushy terrain, you can consider them trashed. Most aren't made with fabric to withstand rugged environments.
Accessories for Hiking
A few additional accessories can take your hike from comfortable to downright luxurious. Here are our recommendations.
Sunglasses: Especially useful when traversing snowy terrain, or in the midst of glorious summer days. Protect your eyes, and enjoy the views.
Sunhat: Sunhats are helpful for keeping the sun out of your eyes, and for protecting sensitive areas like ears, neck, and hairline from sun rays.
Gaiters: Keep dirt, mud, burrs, and sticks out of your shoes with gaiters. Gaiters easily attach to hiking boots or shoes and also come in a Goretex version for wet and rainy conditions.
Microspikes: Microspikes are a total game changer when hiking on packed snow or ice. There are a few different versions of microspikes for the type of terrain you're navigating, but if you don't want or need to invest in crampons, a pair of microspikes will likely do the trick.
Popular Articles: