If you've been using Ziplock bags for everything from toiletries to snacks ever since your parents packed your crustless sandwich the same way, we get it. Those little zipper baggies are endlessly useful. But they're also disposable plastic that falls out of campground garbage cans and floats away in rivers and streams.
Your camping toiletries deserve better than disposable plastic. And so do the campgrounds.
We Love This Waterproof Dopp Kit from Nite Ize
Nite Ize offers handy alternatives. We checked out their newest gear, the Runoff Waterproof Toiletry Bag, at Outdoor Retailer, which hit the market just in time for spring campers to replace their disposable Ziplocks with a more sustainable option. The compressible toiletry bag is way more durable than a ziplock, and it's waterproof, too. You can pack toiletries, campground accessories, your headlamp… whatever fits. And you won't have to worry about any water getting in.
The Runoff Bags from Nite Ize feature their patented Tru Zip technology. The slide-zipper silently seals your contents in the bag and keeps moisture out. The waterproof dopp kit can be fully submerged, and the Tru Zip will keep everything safe. Your Ziplocks definitely can't do that.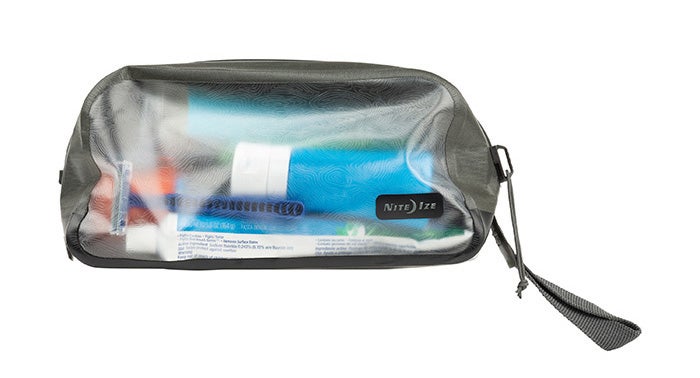 Buy Now: $40
Popular Articles: