Camp food is traditionally simple: think hot dogs and beans over a fire. But the reality is, much of what you cook at home can be cooked at the campground. There's just one catch—you need to have the right camping cooking gear.
Making mouthwatering camping meals is so much easier when you have good cooking gear. But with so much gear to choose from, what do you really need for your camping trips?
The Big List of Essential Camping Cooking Gear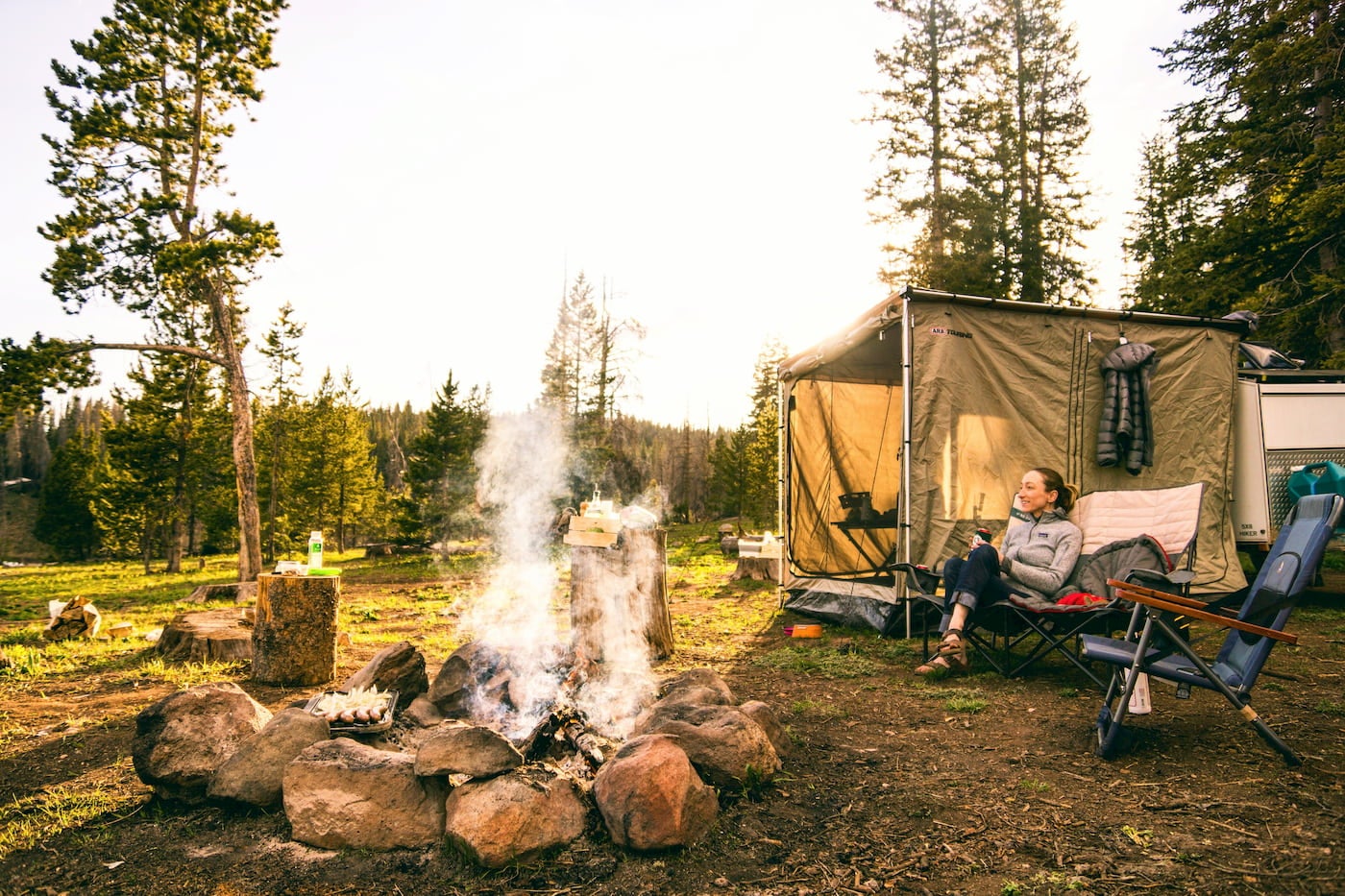 Every camper that's planning on cooking needs to have a few staple items in their camping kitchen arsenal. First up? A camping stove or a campfire. You'll also need something to cook in, something to serve with, and something on which to place your delicious camping grub…and finally, something to eat that grub with.
Camping cooking gear differs depending on the type of camping you're doing; a car camper might bring different items than a backpacker or RV camper. These basic items will get you started, no matter what kind of camping you're doing:
Cooler
Reusable ice packs
Cast iron pot and pan
Cooking spatulas
Knives
Cutting board
Plates, bowls, cups
Eating utensils
Cooking Gear for Car Campers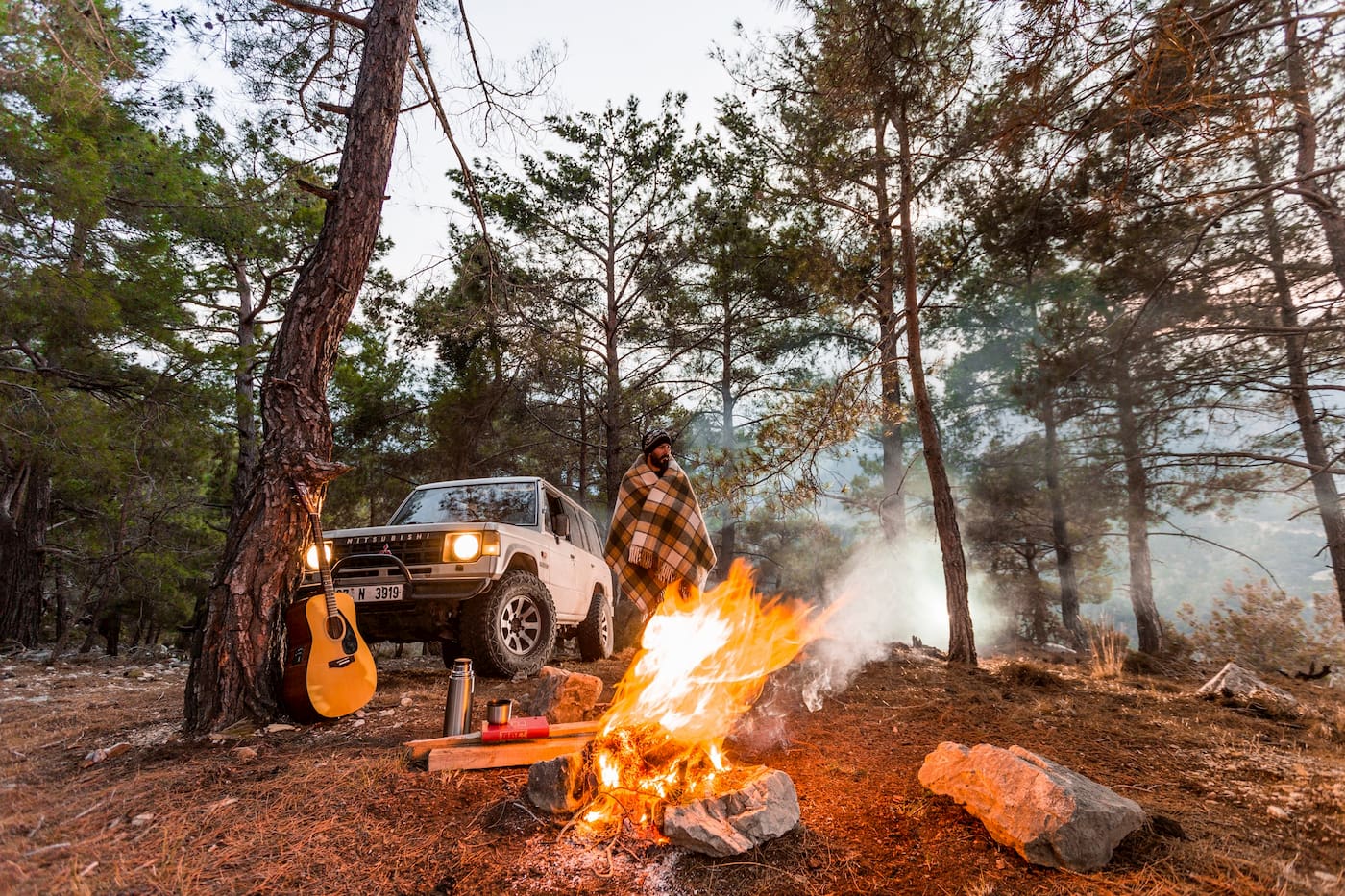 Car campers may have more room to transport gear, but that doesn't mean you should throw in, well, the kitchen sink. Keep it simple with easy-to-clean items you'll use for every meal.

Most campgrounds have campfires with grates, but that's not always the case, especially if you're boondocking. Over-the-fire grates allow for that tasty open-flame flavor synonymous with campground cooking (and honestly, the best part).
Wooden spoons are a favorite around here both for home-cooked meals and cooking at the campground. They're best for sauteing, stirring, spooning, and taste testing.
Spatula
Rule of thumb: use plastic, silicon, or nylon spatulas for nonstick egg pans (you don't want to scrape off the nonstick coating), or a metal spatula for cast iron pans. Spatulas are easy to forget, so keep one specifically for camping in your collection of gear.
Okay, lots of cooking gadgets are bogus, and this goes for camping cooking gear as well. But egg holders? They are actually quite useful. Eggs and camping so perfectly compliment each other in campground breakfast recipes, but typical cardboard containers can quickly fall apart in the cooler.
Upgrade with an egg holder to keep your eggs from smashing where you least want them to—all over everything else.
Tongs might not seem like a go-to item, but they come in handy for corn-on-the-cob, fire-roasted potatoes, and grill-toasted bread with your fireside morning coffee. When you're cooking with fire, tongs give you that extra reach to grab your food without getting burned.
Canned goods and camping often go hand-in-hand, so forgetting that trusty can opener could be a disaster. Sure, you could MacGyver something, but a spare can opener in your camping gear is so much easier.
Speaking of openers, don't forget this critical item! Boxed wine has come a long way, and sure there are fantastic beers with twist off tops or in a can.
But how many times have you been camping and discovered the true tragedy that is needing a beer or wine opener and not having one? I keep one in my camping bin and it stays there. Always.
For fire-roasted veggies, meats, and fruits. Need we say more?
I'm a total coffee snob, I'll admit. But there is nothing better than fresh-ground coffee beans. I've ground them before leaving the house, but the flavor just isn't the same.
This hand grinder from Javapresse saves the day. Trust me, it's worth it.
Along with fresh-ground beans, coffee drinkers may also want a quality coffee maker…but one that's easy to use and requires no electricity. This French press is our go-to coffee maker whether at home or in the woods.
Cooking Gear for Backcountry Campers
Backcountry camping requires a different set of rules when it comes to camping cooking gear. First, you need light, nesting-style cooking utensils, and reliable, hardy cookware that can handle some wear and tear.
You'll also need minimal items—the least number of items possible. You never know where you'll be setting up, and having lightweight, packable gear is a must.
Backpacking Campstove
At less than three ounces, the MSR PocketRocket 2 Stove is an easy-to-use, fast-boiling backpacking stove that allows you to cook hearty camping meals even when you're in the middle of nowhere. This stove may be tiny, but it's surely mighty.
Nesting Pots and Pans
This cooking set is a backcountry camper's cookset dream. Whether you're backpacking or boondocking, you'll have access to quality nesting cookware that doubles as a washing set, and is incredibly lightweight at only 1.8 pounds.
Backpacking Utility Cooking Utensils
Carrying around wooden spoons, spatulas, knives, and a cutting board can and does get rather cumbersome. A cooking utensil set, like this one, is packable, lightweight, and incredibly handy.
Eating Utensils
By this we mean:
Plates
Bowls
Cups
Forks
Spoons
Knives
While there have been plenty of times I've eaten straight out of the pan with my fingers, things feel a little classier with actual utensils. Sea to Summit has a variety of hardy lightweight collapsible plates, bowls, nesting mugs, and eating utensils.
Spice Containers
I don't know about you, but I can't stand the taste of bland, boring food. I cook everything with spices, adding flavor however I can in almost every single meal I cook, including camping meals. This spice holder is brilliant — compact, lightweight, and waterproof.
Backcountry Water Filter System
If you're backcountry camping, you'll likely need a water filtration system. There are a few ways to go about this; one option is a tab that dissolves into water, such as aquatabs, essentially voiding all harmful bacteria and viruses, rendering it safe to drink. Alternatively you can filter the water through a portable filtration system, drinking straight from the filter pack or pouring it into a reusable water bottle. The Sawyer Squeeze Water Filter System is a good bet.
Cooking Gear for RV Campers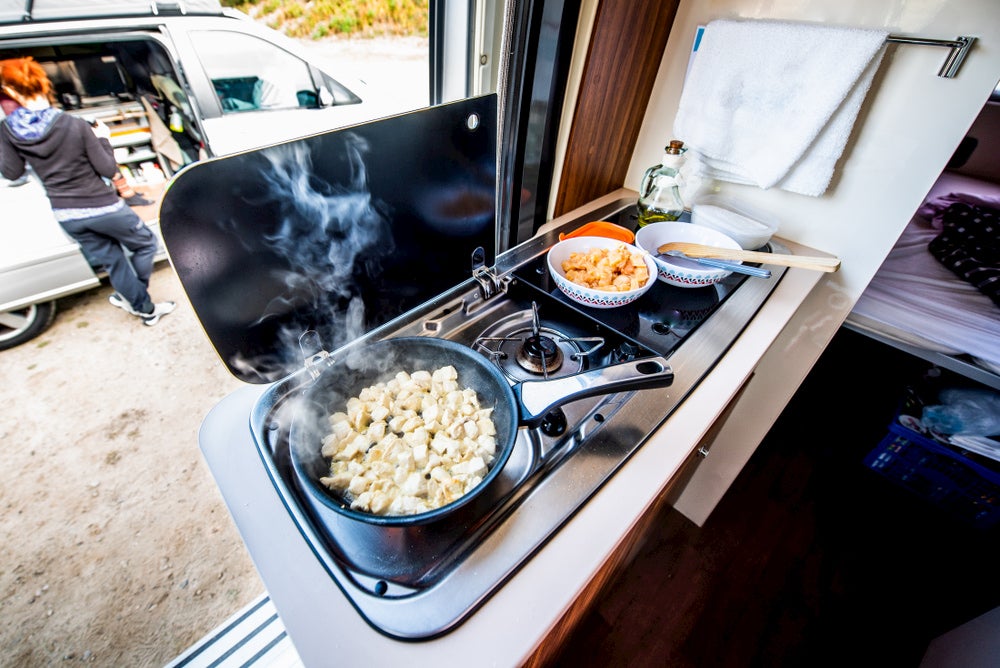 RV campers typically have a stove on which to cook, as well as cupboards, counter space, and an oven. This makes cooking in an RV similar to cooking at home, so your needs are similar to what you'd expect at home. But because weight is also an issue for RV camping, it is best to have minimal camping kitchen gear that's light to mid-weight, compact, and stackable.
Car camping cooking gear is also useful for RV campers. To create a truly functional camping cooking space, use this list of additional items to create an arsenal of supplies that will level up your RV cooking game.
3-in-1 Multifunction Breakfast Deluxe Center
With a toaster oven, griddle, and coffeemaker in one, this 500-watt multi-functional kitchen appliance is more than just a gadget.
Ideal for storing leftovers in your RV fridge, these Thinstore Collapsible bowls will lay flat when not in use, and turn into food storage containers to store leftover campfire food.
If you need extra room for meal prep, a sink and stove cover will do the trick. Pop on these bamboo cutting board covers and create that much-needed counter space.
A quality cookware set is key to creating delicious camp meals on your RV stove, and a nesting set means you'll have quality cookware while taking up as little room as possible, a must with limited storage space.
Because what's the point of having access to an oven if you don't have the tools to create a treat? Collapsible measuring cups are lightweight, handy, and take up very little room.
---
Related Articles:
Popular Articles: