This article on the best rooftop tents is brought to you by Midland, whose long distance walkie talkies allow for communication up to 65 miles away. They're the perfect addition to your overlanding rig, or as an accessory to go along with your newly purchased rooftop tent.
---
As the outdoor industry catches up to the space race that is modern technology, outdoor brands have taken a bolder approach to getting outside. From electric trucks to portable power stations for the campground, it's getting harder and harder to keep up. Speaking of "hard," innovations in rooftop tents are making it easier and more comfortable to get off the hard ground when you're camping. And campers are loving them.
The best rooftop tents on the market offer greater comfort, efficiency, and aerodynamic transportability. Unsure of where to start when it comes to picking your perfect rooftopper? We've compiled a list of a few of the best rooftop tents available today, so you can start planning your next family road trip ASAP.
The 12 Best Rooftop Tents for Convenient Car Camping
These tents aren't just shelters, they're livable extensions of your vehicle. Whether you prefer the box style rooftop tents, or the extendable platform-based tents, there are innumerable options when it comes to decking out your adventure ride.
This medium-sized efficiency machine is another dynamite product from the geniuses at Tepui, whose rooftop tents seem to make every outdoor gear list every single year. This tent is a great way for drivers of medium-sized vehicles to take advantage of the rooftop tents craze without having to purchase a larger vehicle.
The hard-shell fixes onto your roof like a cargo box, and contains canvas walls and a three-inch foam mattress that holds two campers with ease. The bonus of this style of tent is that both the mattress and the canvas can be removed, transforming the shelter into a functional outdoor cargo box.
Buy Now
Made in South Africa, Front Runner's Feather-Lite model is the epitome of lightweight, efficient gear that doesn't skimp on strength and durability. This rooftop tent comes with a rain fly, and is built to lean out over the ground with the support of a ladder that also functions as a stabilizer.
The doors and windows are all screened, and setup of the Feather-Lite is as easy as the cargo-box style tents on this list. The best part? The top of the tent includes a zip out window, so you can watch the stars while you drift off to sleep.
Buy Now
One of Tepui's best-selling series of tents, the Kukenam is a must-have for dedicated tent campers looking to take their rooftop camping game to the next level. Complete with interchangeable canopies to fit with any weather pattern or climate, this tent is built for year-round adventuring. It features a soft shell canopy for the warmer months and an aluminum canopy for colder conditions.
The best part? The Kukenam sleeps up to 3 people, making it extra roomy for just two and something akin to a palace for solo campers. Built with the iconic A-frame design, this tent is a great place to hang out as well as sleep, making it one of the best rooftop tents on the market today.
Buy Now
Another cargo-box tent, the Roofnest is incredibly easy to setup, and offers the space and convenience that allows your vehicle to become its own shelter on wheels. This rooftop tent includes a number of quality features, including sound-dampening foam on the interior of the shell, mesh windows, and entrances built into the tent on either side. Did we mention it's easy to setup? Most campers take minutes to get the Roofnest Sparrow X completely rigged, making it a simple choice for those seeking a fast, lightweight rooftop tent.
Buy Now
It was only a matter of time before the cargo-box giant got in on the rooftop tent boom. The Yakima Skyrise is the result of a collaboration with Poler, the renowned outdoor brand famous for its sleek designs and quality outdoor gear. This tent takes about 15 minutes to assemble, but, like the others on this list, excels in the areas of lightweight durability and is surprisingly roomy.
With a 2.5 inch, wall-to-wall mattress, and breathable mesh panels that zip open for increased ventilation, this (relatively) cost-effective tent is an excellent option for beginners to the world of rooftop tents.
Buy Now
When it comes to the best rooftop tents, we'd be remiss not to mention the slimmest hard-sheller on the market. At six inches when closed, the GFC Rooftop is as aesthetically pleasing as it is effective. The pin-latch opening system makes setup of this rooftop tent faster than even the Roofnest, and when fully open the shelter offers plenty of headroom for sitting up, playing cards, or escaping the weather.
As a bonus to the gearheads among us, this tent includes an aluminum track on top of it that enables you to mount a gear rack, so you can haul your tent and your kayak the next time you hit the road.
Buy Now
This sleek and well-designed rooftop tent is an adventure-enabler when it comes to camping on the road. It's easy-to-latch design makes setup a breeze, and nearly universal shape allows it to be mounted on almost any vehicle with roof rails. The storage in this rooftopper is also a plus, as it includes a mesh storage pouch in the ceiling to complement the side pouches throughout the tent.
Comfort-seekers rejoice! This tent's mattress is memory foam, meaning you won't have to sacrifice a good night's sleep for a weekend trip to the backcountry.
Looking for just a little more space? The Tuff Stuff Ranger is among the best rooftop tents on the market large in part because it's cost includes an annex room that attaches to the tent at ground level. The annex added onto the already functional tent offers room enough for another mattress, a changing area, or a small table and chairs, so you can eat or play cards even when the weather changes for the worse.
The main tent area is enabled to fit onto most roof racks, and can be fully setup in under an hour. Each window is equipped with an awning, allowing for ventilation without too much sunlight streaming in.
Buy Now
Made specifically for Jeep Wranglers, this rooftop tent is a legendary way to enhance your already outdoor-equipped vehicle. Whether you're planning a genuine overlanding marathon or just jetting out for the weekend, this tent offers a durable and stress-free way to take your shelter with you wherever you go.
With netted windows in the roof you can stargaze without worrying about bugs, and mesh-paneled windows allow you to stay cool, even in the warmer months. Including a 2-inch, nearly queen-sized mattress, this rig easily fits two sleepers and even contains built-in lighting so you don't have to fuss with your headlamp in the middle of the night.
Buy Now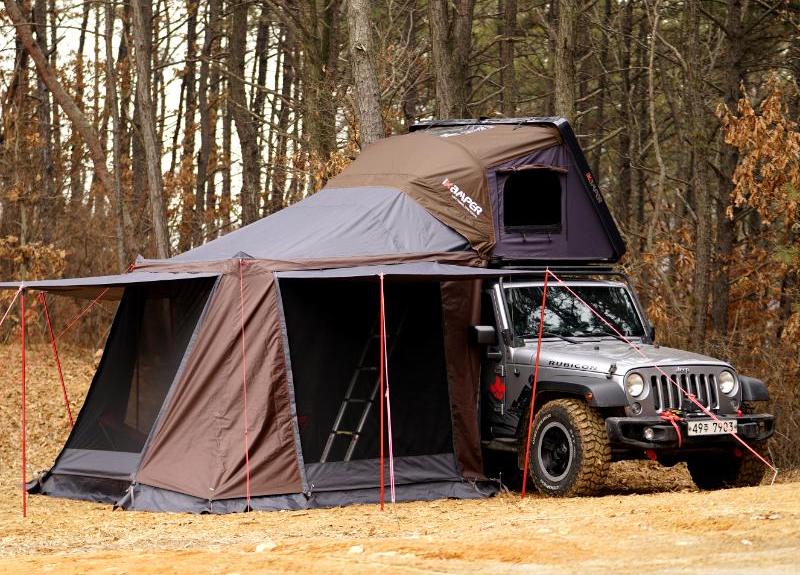 The Skycamp was born out of a Kickstarter that raised over $2 million dollars, and it has largely lived up to the high expectations set before it. A premium option for campers looking to break into the rooftop scene, the Skycamp by iKamper is a hard shell tent that appears to be the cargo-box style, but that actually folds out into a spacious living area large enough to sleep three adults or two adults or two children. It's the largest floor plan on the rooftop tent market, and its "Skyview" window is a urethane pane that allows campers to get a clear glimpse of the night sky while still maintaining a weather proof exterior.
Like other tents on this list, the Skycamp can be customized with an annex, additional canopies, or interior storage shelves.
Buy Now
This tent was a former winner at the Overland Expo, and for good reason. It's made for hardcore overlanders or backcountry travel, and is equipped with an array of features that make its high price tag well worth the spend. Made to fit mostly solo travelers (or, at most, a couple), this hardtopped tent is made from super strong aluminum that is as aerodynamic as it is durable.
Also made from UV resistant material that is also 100% waterproof, the GEN3 Expedition can be camped in in almost any weather conditions without fear of leakage. Optional add-ons to this tent transform it from a durable traveling camp to a true overlanding accessory, including the ability to add internal electricity, storage, and even USB charge points.
Buy Now
Another tent that offers the option of an annex, the ARB Simpson III is the newest model in a long line of successful rooftop tents. The tent is perfect for campers craving convenience, ease of setup, and hassle-free takedown, as it's simple latch-to-open mechanisms allow for the process to run smoothly and efficiently every time.
The interior of the tent is spacious without being too large, and includes a 2.5-inch foam mattress standard among the best rooftop tents. Small conveniences like mosquito screens and window awnings make camping in the ARB Simpson III a positive experience all the way around.
Buy Now
---
 This article is brought to you by Midland
Pick up a pair of kids walkie talkies from Midland today!
Popular Articles: