Glamping: a mashup of glamour and camping which promises the comforts of home against the backdrop of mother nature. This luxurious camp style can be a way to ease into the wilderness, without sacrificing all of the luxuries of a traditional vacation. And while it might just look like extra work, the right glamping tents can make the experience more than worth it.
Whether you take the trend seriously or not, it has become a multi-billion dollar industry. Many of your fellow campers are already pairing the sounds of nature with a side of champagne and artisanal chocolate s'mores. Others are waking up to 360-degree views while suspended over rugged terrain.
Whatever your tent style develops into, we're positive one of these tents will fit you just right.
These 10 Glamping Tents Will Feel Like Home
Are you looking to add some luxury to your next camping experience? Just want to ogle at the opulence? You're in luck because these glamping tents are sure to impress:
Price: $1,024
Product Weight: 66lbs
Size: 9ft diameter
Recommended Capacity: 2 person
Material: PVC
Season(s): All
For many of us, it would be a dream to sleep unprotected beneath the stars and wake up with the sun the next morning. Unfortunately, fears of bugs and other invaders can often burst that bubble – but not this time! Set up camp in this uber-futuristic Inflatable Bubble Tent and get ready to make all of your friends jealous. Never again will you miss the sunrise peeking between mountains, or the vibrant night sky above.
The tent comes with an 220-volt blower to keep the bubble inflated, so you can't go too far off-grid without some portable power. However, you will undoubtedly develop a closeness with the great outdoors that you won't be able to resist again.
Buy Now: $1,024
2. The Fernweh™—Canvas Cottage Tent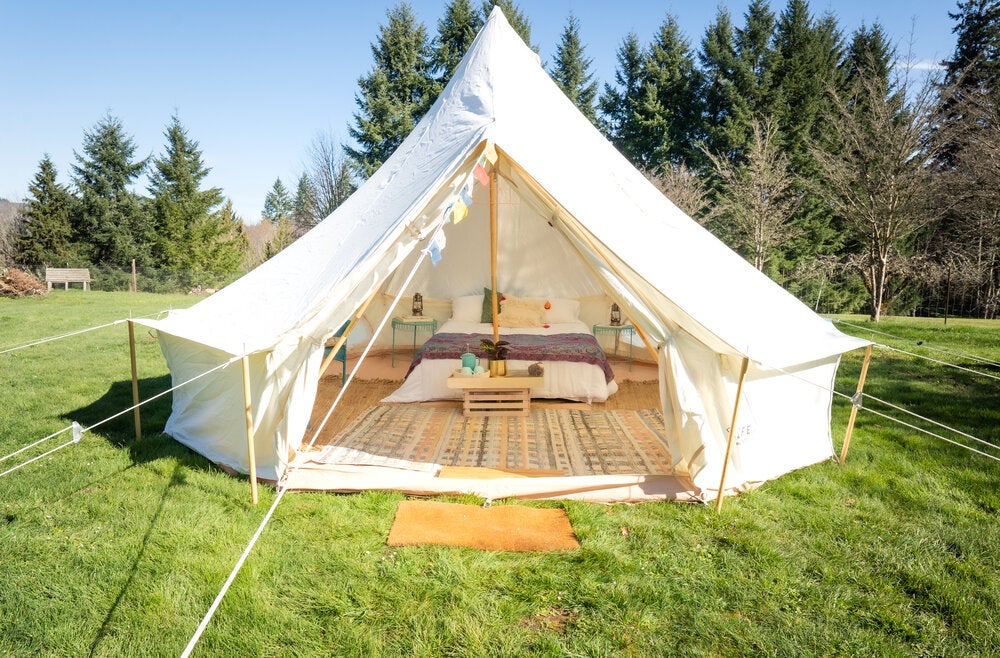 Price: $1,590
Product Weight: 105lbs
Size: ~16ft diameter (5 meters), 9.8ft at highest point
Recommended Capacity: 4-6 person
Material: Waterproof Cotton Canvas
Season(s): All, with winter heater or wood stove
A plain canvas yurt might not scream "glamour" from the outside, but with a 16-foot diameter,
you can fit a lot of comfort inside of this four-season glamping tent.
This canvas bell tent is significantly more practical than the bubble tent for those seeking refuge
in the backcountry, since it is neither see-through nor electric-powered. With screened doors,
windows, screened walls that roll-up, and a Sunforger rain- and mildew-resistant coating, it'll
keep the comfort in and the elements out all year-round. Weighing in at around 105 pounds, we don't suggest carrying suggest carrying this one into the wilderness alone. But for a long-term getaway or onsite
rental, the canvas cottage tent will have you and your guests feeling right at home.
Buy Now: $1,590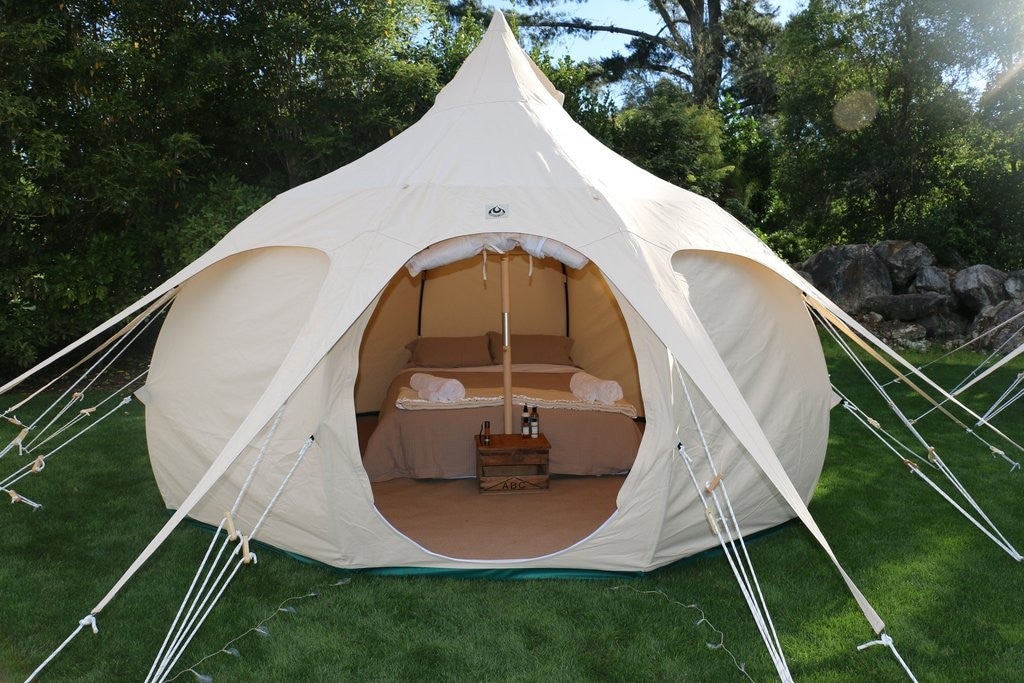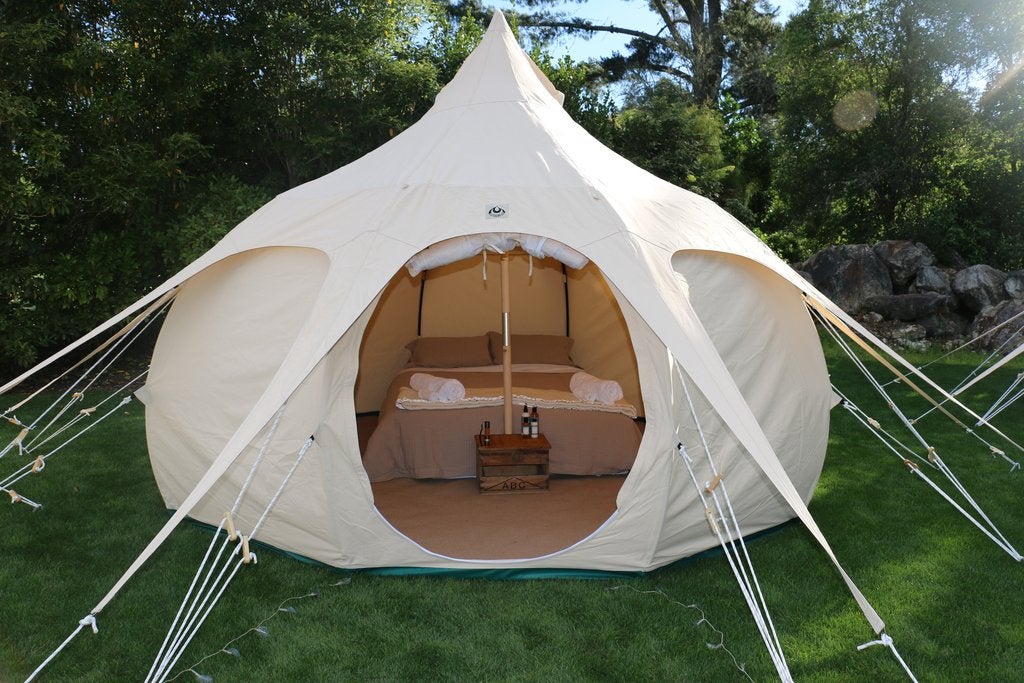 Price: $3,600
Product Weight: 150lbs
Size: 20ft diameter
Recommended Capacity: 6 person
Material: Waterproof Canvas
Season(s): 3-season
The Lotus Belle Tent offers a whole lot of space–around 400 sqft–and more of a circus vibe, for those of us looking to make a statement. This higher-end glamping tent is designed with stability in mind so your entire group can rest easy in any conditions.
Suitable for all climates, the Lotus Belle has roll down canvas blinds, mosquito nets behind its doors, and large roof vents to maximize breathability. It also looks like an upside-down lotus flower (check out their color options), which we think is pretty cool.
Buy Now: $3,600
Price: $6,500
Product Weight: 500lbs
Size: 8ft diameter
Recommended Capacity: 2 person
Material: Waterproof Cotton
Season(s): Best in Warm Weather
The Cocoon Tree is made of aluminum covered with a waterproof membrane. It can be suspended from trees or placed on the ground.
This mammoth of a glamping tent is unlike most other suspended options as it requires a few healthy, well-placed trees to hang properly. But once you're in the air, the floating orb will support over 2 tons of weight. So if your friends are down to hang, you're going to have a good time.
Most importantly, it looks very, very cool on a beach.
Buy Now: $6,500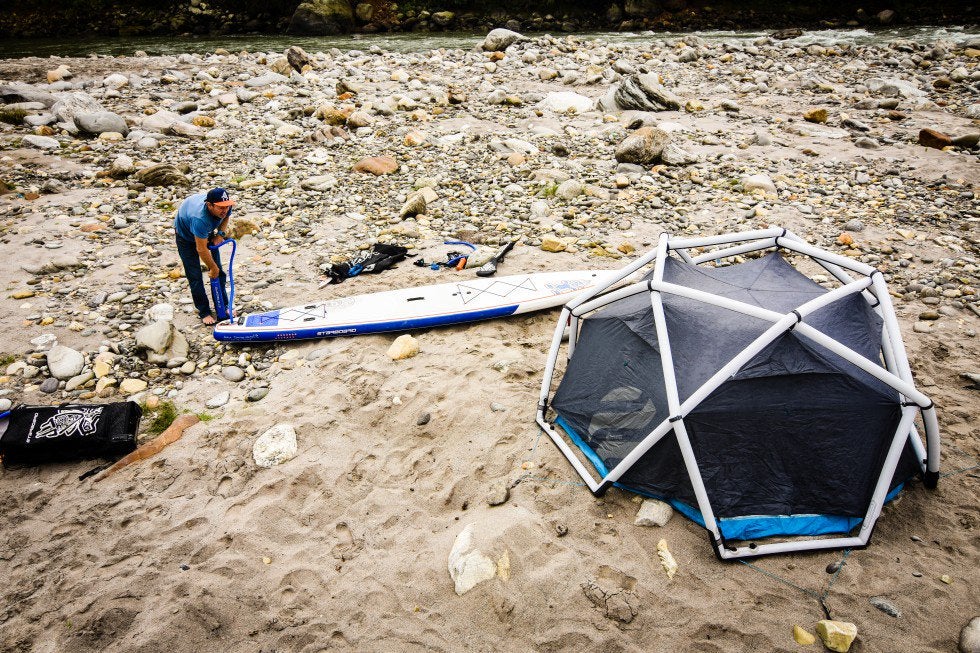 Price: $790
Product Weight: 12lbs
Size: ~7ft diameter, 5.9ft tall
Recommended Capacity: 2-3 person
Material: Nylon
Season(s): 3-season
Who doesn't love a giant, inflatable igloo? Heimplanet Tents have a science fiction meets the arctic vibe. Designed to accommodate 3 people, their Cave tent promises to withstand winds up to 180km/hr. Just as sturdy, the Mammoth tent is rated for up to 10-people and comes with 5 foldable doors and windows for enhanced luxury in the extreme elements.
Both fully inflatable, they're one of the few glamping tents that aren't impossible to carry. Stop fumbling with tent poles and relax with Heimplanet.
Buy Now: $700 – 6,500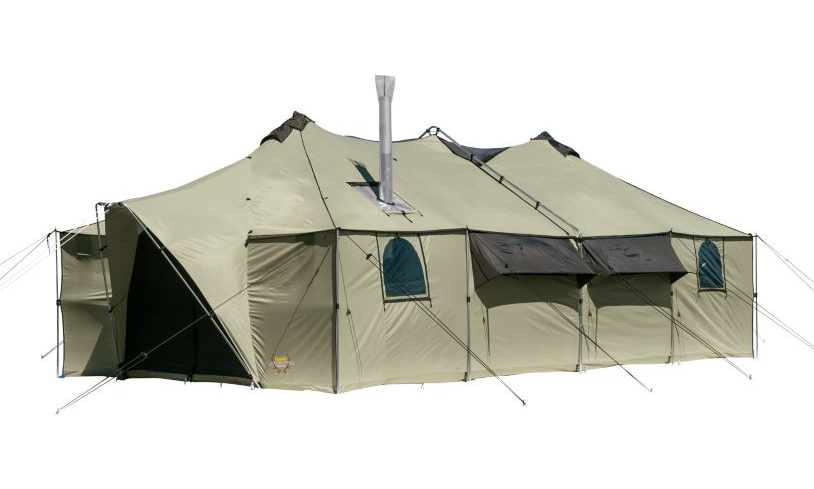 Price: $1,500
Product Weight: 107lbs
Size: 13ft x 27ft
Recommended Capacity: 11 person
Material: Waterproof Polyester
Season(s): All, with winter heater
We're loving this glamping tent for its sheer ginormous-ness. The expansive structure is the perfect starter to build your home-away-from-home. Just take it from the countless number of loyal Cabela's outdoorsmen and women who have taken this beast into the snow, humid swamps, and everywhere in between.
It's most distinguishing feature is a zipper panel that accommodates a wood-burning stove. With room for 11 large cots, it makes the perfect base camp for groups of adventure seekers. Or you can kick everyone out and do a bunch of cartwheels inside, we won't blame you.
Buy Now: $1,500

Price: $7,500
Product Weight: 77lbs (canvas only)
Size: 21ft diameter
Recommended Capacity: 8 person
Material: Waterproof Canvas
Season(s): All
Whether you're shelling out for an event or just want the most unique gear on hand, the Baby Tipi from the Tipi Company is sure to impress. Intended to be a more authentic tipi structure, this option is anything but primitive.
Designed to fit eight people sleeping (or 20 people standing), this glamping tent stretches up 14-feet in the air. It is just begging for some extras like twinkle lights, a colorful rug, and some decorative throw pillows. Dress it up and make it yours!
Order this glam alternative directly from The Tipi Company, where you can customize your camping experience with doors, windows, flooring, and more. Check out their brochure for more details.
Get Started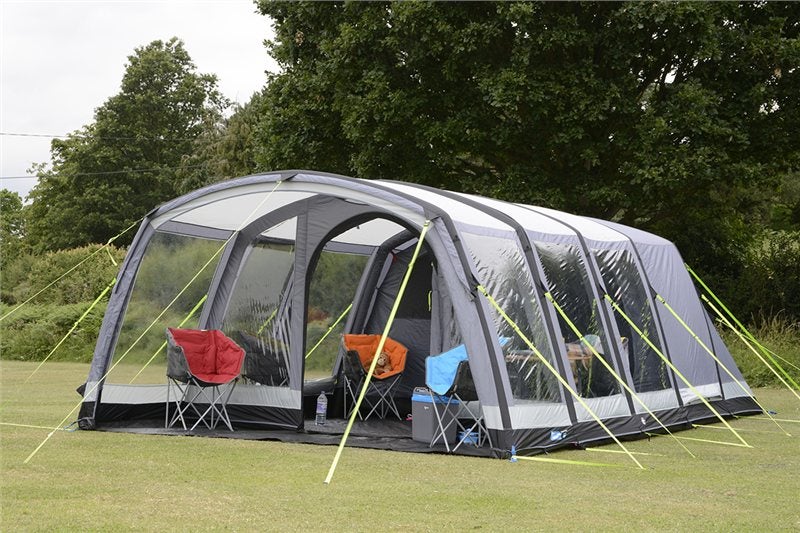 Price: $1,000
Product Weight: 64lbs
Size: 12.5ft x 20ft
Recommended Capacity: 8 person
Material: Waterproof Polyester, Polycotton, and PVC
Season(s): 3-season
Another inflatable option, the Air Pro Tent is allegedly a breeze to set up. With separate rooms, all of your family and friends can enjoy each other's company around the campfire, then sneak away when everyone is ready for some privacy. The front canopy provides a roomy living space for the whole crew to enjoy on those not-so-sunny camping days.
Bring your board games and all your favorite camping accessories. With all this space, who even needs to roam around outside?
Buy Now: $668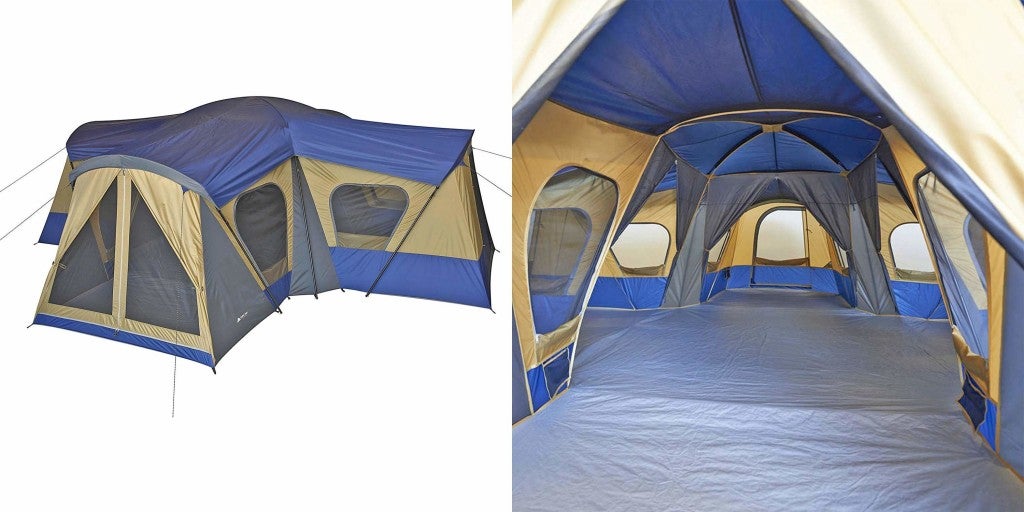 Price: $237
Product Weight: 53lbs
Size: 20ft x 20ft, 6.5ft fall
Recommended Capacity: 14 person
Material: Nylon
Season(s): 3-season
If you want to go even bigger, establish your own Base Camp, big enough to fit 13 of your closest friends and all of your favorite gadgets.
Despite being one of the largest glamping tents on this list, it is also one of the most lightweight and easiest to setup. Of course, that means all of your extra space can fit glamping staples like air mattresses (it fits 5 queens!) and even an inflatable kayak. Trek into the backcountry and enjoy the luxuries of home while peering up at the night sky through your new mesh roof.
Each room has its own privacy divider, as well as private entrances and multiple windows, so everyone in your crew will find their happy place.
Buy Now: $237
10. Glamping Hammock Tent from Lawson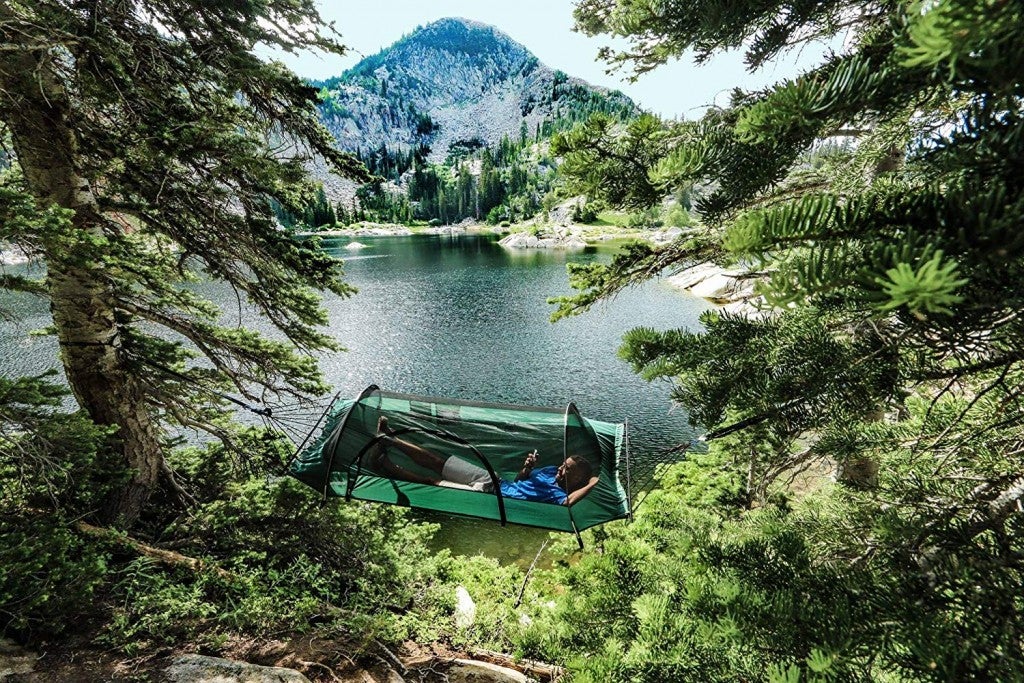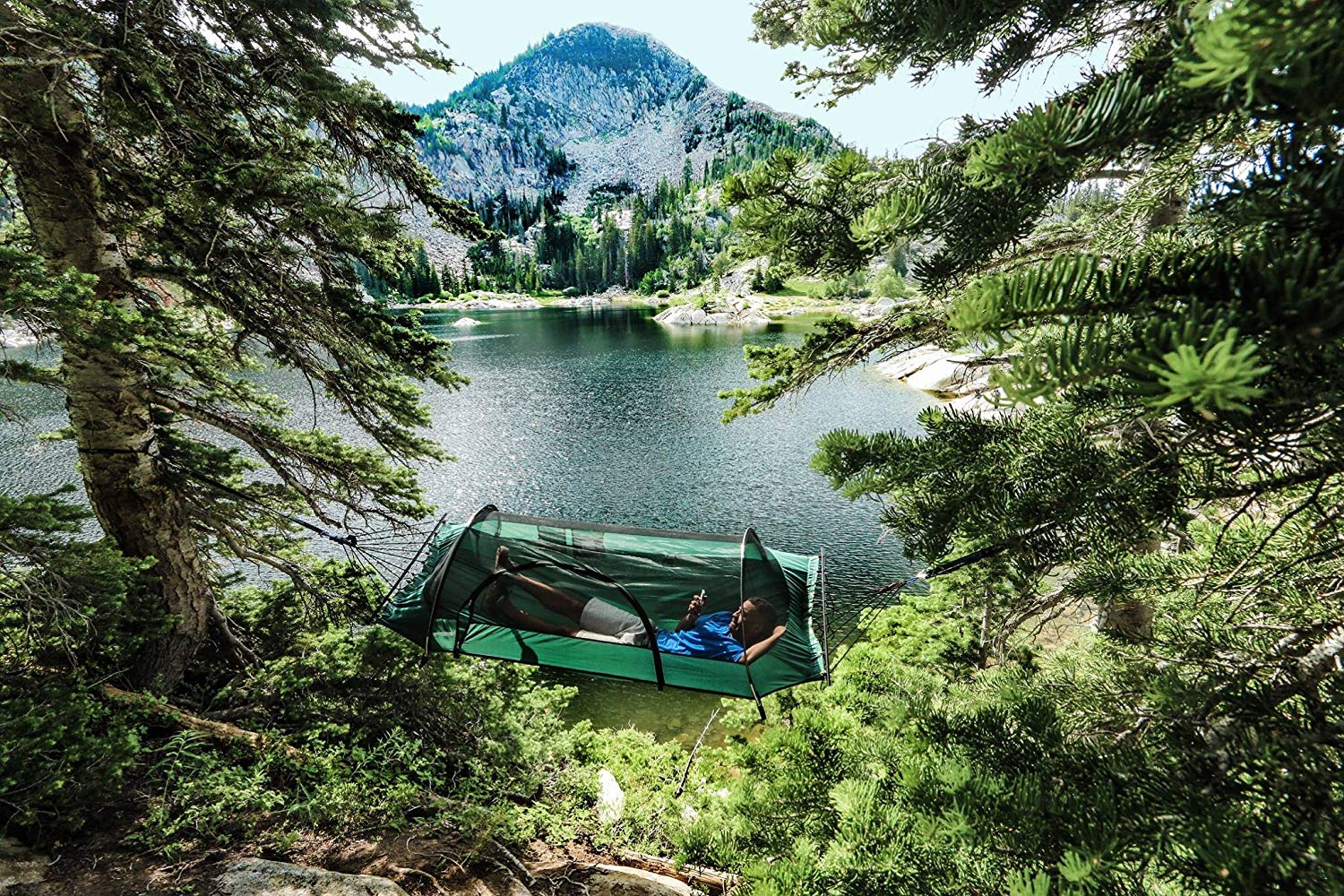 Price: $200
Product Weight: 4.25lbs
Size: 3.5ft x 7.5ft
Recommended Capacity: 1 person
Material: Nylon and Mesh
Season(s): 3-season
We can't let you get out of here without reminding you that hammock camping can be just as glamorous as sleeping in a big glamping tent. And luckily for you, this one comes with plenty of options.
Suspend yourself in the air for ultimate views, or recline on the ground the old-fashioned way; either way, Lawson's patented design will keep you taut and secure. Gone are the days of finding yourself crumpled in a ball in the center of your hammock, creating the banana effect that turns so many us off from this style of camping. Instead, a support bar and arched poles eliminate that risk, providing extra square-footage and saving you from claustrophobia.
The built-in bug net saves you from the hassle of securing a cover in windy environment, and the attachable rainfly adds a layer of security when needed. Don't worry about waking up wet and covered in bugs because half of your tarp collapsed overnight–yes, it happens and no, it's not easy to come back from that one.
So elevate your hammock glamping game, you won't regret it.
Buy Now: $199
---
Related Articles:
---
Related Campground:
Popular Articles: