Located in the heart of Yosemite National Park, Upper Pines Campground is a popular home base for exploring Yosemite Valley.
Enjoy the woody fragrance of the thick valley forest and camp next to California black oak, Ponderosa pine, White fir, and Whiteleaf manzanita. Fall asleep to the gurgling rush of the Merced River. But also, be warned: You'll be camping next to lots of other campers. Yosemite is one of the busiest parks in North America, and Upper Pines Campground is the largest of the three reservable campgrounds in the park.
With paved roads, drinking water, fire rings, picnic tables, flushing toilets,  knowledgable camp hosts, and access to the Yosemite Valley Shuttle System, Upper Pines Campground offers convenience and comfort, surrounded by breathtaking scenery. But it's not for everyone.
Upper Pines Campground in Yosemite National Park
The Dyrt campers have provided lots of feedback on tent camping at Upper Pines Campground. We've collected their most helpful advice below, to help you make the most of your Yosemite camping trip.
1. Bring Earplugs to Upper Pines Campground
Some people will love the communal vibe of camping with lots of other campers. Some people won't. But if you're coming to Upper Pines Campground, don't plan to enjoy much solitude.
"Probably the most crowded campgrounds I've ever been to. felt more like a refugee camp as I could literally hear full on conversations from my neighbors." – Heidi T
2. Reserve Your Spot Early
It's not easy to get a reservation this campground in Yosemite Valley, especially if you're looking to visit in the peak summer season. Consider booking your trip in May or September instead. May is when the waterfalls and the wild flowers are most impressive, and September brings stunning fall colors.
"With Yosemite being one of the BUSIEST campgrounds in California it took over a year and a half to reserve a campground where we could reserve 4 consecutive sites for 4 RVs to camp together. It was absolutely wonderful and worth it." –Natasha H
3. It's a Great Home Base for Yosemite Highlights
Upper Pines is located in the center of Yosemite Valley, which contains many of the most famous features of Yosemite National Park. The unique and challenging hike to the top of Half Dome begins not far from Upper Pines. Glacier Point is also easily accessible, with some of the best views of Half Dome and the surrounding granite cliffs and forest of the park.
"Upper Pines is a great home base for seeing all of the sights of Yosemite Valley. The valley shuttle runs from right outside the campground." –Molly & Armand K.
4. Don't Plan on Sleeping In
With so much to explore in Yosemite National Park, you probably won't want to, anyways. Be prepared for early mornings as surrounding campers start their days. Some of them will be up well before sunrise to beat the crowds to the popular hikes.
"The individual sites are all pretty close to each other. Once it hits 7-8 am, your many neighbors will make it hard to sleep any later. " –Leslie R. 
5. Keep Your Food Locked Up and Your Campsite Clean
Just because Yosemite is a popular and busy destination, doesn't mean it isn't wild. Despite their presence on the state flag, grizzly bears no longer live in the state of California — but there are still several hundred black bears in Yosemite National Park. No one has ever been killed or seriously injured by a black bear in Yosemite, but it's still important to exercise caution, as they may show aggression in order to protect cubs or food.
Visitors are advised to stay 50 feet away from black bears if they spot one in a remote area of the park. If a bear is present in a developed area, such as a campground, visitors should make the presence big and loud. Waving your arms and yelling at the bear should scare it away. Be sure to take advantage of food storage containers and store all food and toiletries appropriately.
"WARNING: Because Upper Pines sits alone and is so exposed to the forest, there is HEAVY BEAR ACTIVITY. Keep your campsite clean, keep all food/toothpaste/sunscreen/anything that smells (even canned beer or alcohol) in the bear bin. I have stayed at Upper Pines about a dozen times and about half of those trips there will be a bear incident someplace in the campsite." –Derek B.
6. Upper Pines Campground is Well-Suited For families and First-Timers
Families (and all kinds of campers) will enjoy the amenities and convenient accessibility at Upper Pines Campground.
"Upper Pines is very relaxing and has a great family vibe to it. I would recommend this to any camper, whether an avid camper or a first timer." –Aaron S.
7. Bring Your Own Toilet Paper
When you're dealing with crowds, unfortunately things can get messy — and by things, we mean bathrooms. While Upper Pines does generally have well-kept bathrooms, it's not a bad idea to bring your own toilet paper. Just be sure to dispose of it properly.
"The restroom is fairly clean but sometimes it runs out of toilet paper like I experienced my first time here." –Phillip L.
8. Enjoy a dip in the river after hiking
With so many beautiful hiking trails around Upper Pines Campground, you're bound to work up a sweat. The Merced River offers a refreshing opportunity to take a dip and cool off after a day of activity.
"Upper Pines sits along the Merced River, and just on the North edge of the campgrounds for the valley. It location is great for access to the trailheads for Half Dome, Mirror Lake and Nevada Falls. The whole campsite has a great view looking up at Half Dome." –The Dyrt camper Derek B.
9. Read More Reviews + Photos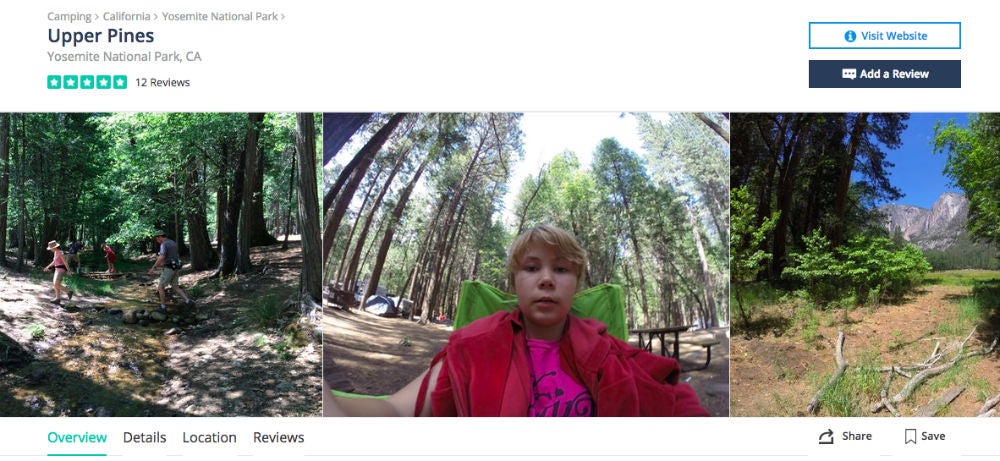 TheDyrt.com provides all the information you need to enjoy Upper Pines Campground, from campground reviews and photos to facility details and directions. More Reviews
Popular Articles: