This article about RV camping in San Francisco is brought to you by Banner & Oak. Banner and Oak snapback hats will keep you shaded as you leave the city behind to explore.
---
The RV camping in San Francisco is surprisingly impressive. With all the lush forests and imposing mountaintops, it's easy to forget the city is only a few miles away. You don't have to go far to immerse yourself in nature, with all the hiking, biking, and swimming you can ask for. Jump in your RV and get ready for a refreshing weekend among the redwoods. We're here to bring you the best RV camping in San Francisco.
The Best RV Camping Near San Francisco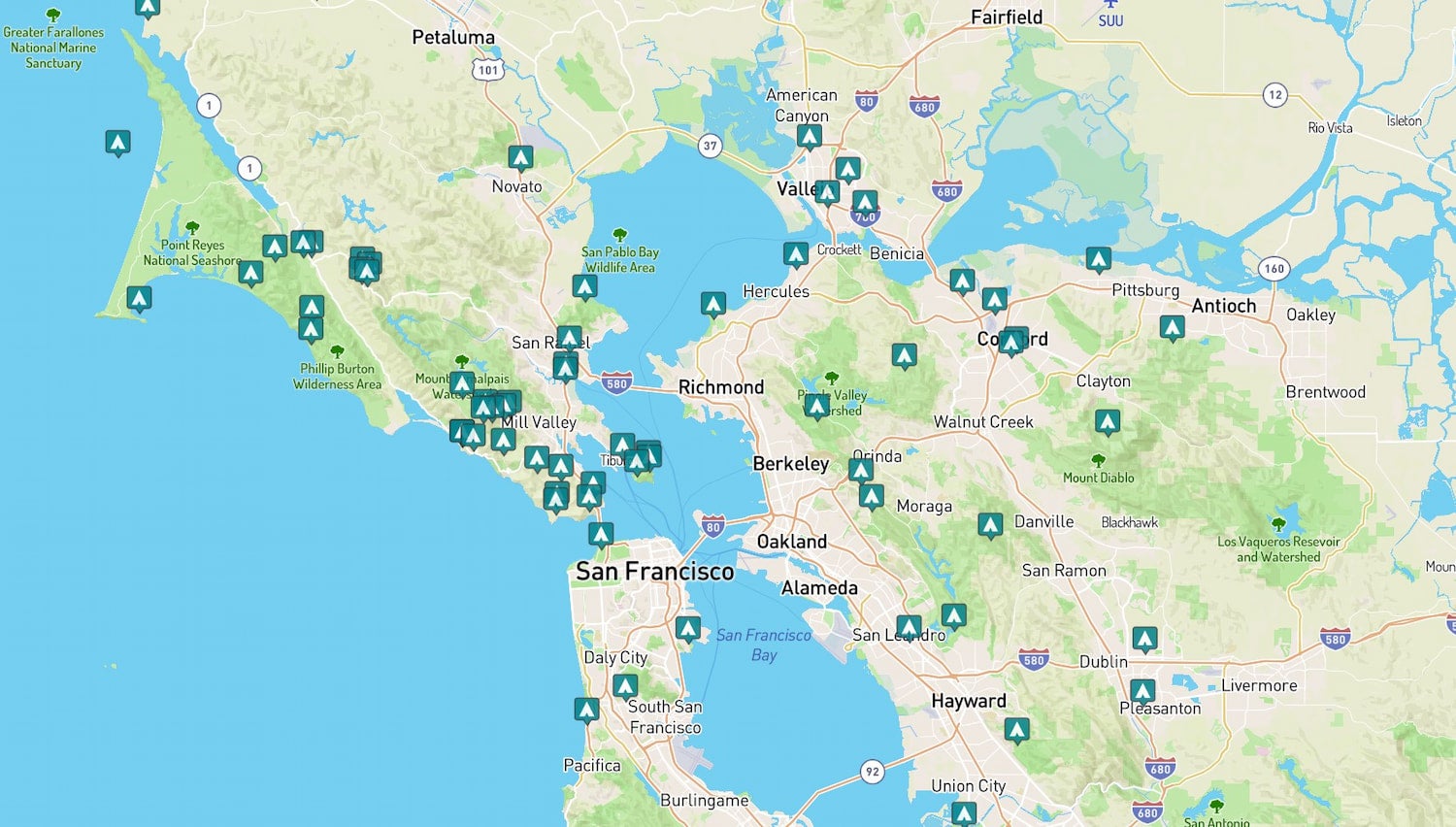 ---
The Samuel P. Taylor State Park campground is 30 miles northwest of San Francisco, nestled in a beautiful redwood forest. This quiet campground has sites that accommodate non-electric RVs up to 27 feet. Amenities include fire rings, flush toilets, showers, and food lockers. Some of the sites run along Lagunitas Creek, where you can enjoy the adjacent multi-use path or go fishing. It's not uncommon to see wildlife roaming around the campground. You can hike the park's trails, watch the salmon spawn, or take in the majestic old-growth redwoods. Samuel P. Taylor State Park is a great spot to enjoy a quiet weekend in nature.
"One of the most beautiful campgrounds in the state is literally just outside the city. Campsites are well maintained and under beautiful and huge trees. It was lovely to wake up in the morning and not have to go far to spend time in Point Reyes or Mt. Tamalpais. Being that it is so close to the city, I would avoid this spot on major weekends or holidays. Lots of hiking and biking usually but the bike trail is under construction now." – Hayley K.
Campground Details:
Price: $35
Number of sites: 61
Fires allowed: Yes
Pets allowed: Yes
---
About an hour north of the city, the Sugarloaf Ridge State Park campground has sites for non-electric RVs up to 28 feet. The campground offers picnic tables, Wi-Fi, flush toilets, and showers. If you can't get a reservation, take advantage of their first-come-first-served system. Every morning at 10 a.m., they hold 12 spots open for last-minute phone reservations. There are no hookups or dump stations, so come prepared. The campground is next to Sonoma Creek, where you can dip your toes in to stay cool. The park has diverse scenery, like meadowlands, forests, gorges, rock outcroppings, and waterfalls. Take advantage of the 25 miles of hiking trails with spectacular views.
"The views to the front of us were amazing! Then right behind us there was an incredible never ending hill covered in ferns and tall trees, and grey fox dens! We had a ton of shade and enough sun to warm up. You can walk to a trail to check out a waterfall from there (pretty darn steep!) and you can walk to the Robert Ferguson Observatory as well! It is an amazing campground with gorgeous sites and hikes. They have everything you need for a great weekend!" – Syd D.
Campground Details:
Price: $35-45
Number of sites: 47
Fires allowed: Yes
Pets allowed: Yes
---
The Anthony Chabot Regional Park campground is 26 miles east of the city, on the other side of San Francisco Bay. The campground, situated on the eastern shore of Lake Chabot, has shady year-round sites for RVs up to 35 feet. Amenities include full hookups, flush toilets, showers, and a dump station. You're steps from several trails, including a 1.5-mile trail to the lake. Rent a boat and fish for largemouth bass and trout. The park has frequent wildlife sightings, beautiful scenery, and breathtaking lakeside views. If you want to enjoy lush eucalyptus forests without sacrificing comfort, Anthony Chabot Regional Park is the place for you. Due to its proximity to the city, the campground fills up, so reserve your spot early.
"Anthony Chabot Campgrounds sits high up on the Castro Valley Hills overlooking Lake Chabot. There are several awesome hiking trails going down to the lake as well as some equestrian trails. The hiking trails go around the lake. Lake Chabot has a marina that rents boats for recreational use and fishing. They have tent and RV campsites, but no RV hookups." – Ed E.
Campground Details:
Price: $35-40
Number of sites: 12
Fires allowed: Yes
Pets allowed: Yes
---
The Portola Redwoods State Park campground sits on a majestic hillside of redwoods 50 miles south of San Francisco. The campground has sites for non-electric RVs up to 24 feet, with storage lockers, flush toilets, and showers. You're set amid a grove of redwoods, inducing a sense of peaceful tranquility. Enjoy the 18 miles of hiking trails showing off the old-growth trees, bubbling creeks, and gorgeous waterfalls. Even though Portola Redwoods offers modern amenities, you'll be reminded of a simpler time as you take in the serene atmosphere of the towering redwood wilderness. It's a great place to unwind and relax after a stressful week of city life.
"Located in secluded redwood forest the campground is quiet and serene. Fallen trees make for great climbing for the kiddos. The creek with sandy shore is great for an afternoon cool down. The only draw backs were the mosquitos (they were plentiful in late June) and the Yellowjackets. Otherwise a great weekend." – Liz M.
Campground Details:
Price: $35
Number of sites: 6
Fires allowed: Yes
Pets allowed: Yes
---
Mount Diablo State Park is 40 miles east of San Francisco, in the hills of Mount Diablo. The park's three campgrounds have sites for non-electric RVs up to 20 feet with fire rings, flush toilets, and showers. Hikers love the 150 miles of trails leading to breathtaking views. The main draw of Mount Diablo is the famous view from the summit, which you can get to by vehicle. You can see almost 200 miles out, with incredible views of the Farallon Islands, Mount Hamilton, Mount Loma Prieta, and Lassen Peak. The park has several other remarkable attractions, such as the Wind Caves, Fossil Ridge, and rock formations. If you're looking for unique views of the valley and beyond, head to Mount Diablo and soak up the scenery. There's no other place like it.
"We camped at the Juniper Campground, 3/4 up the mountain. Register in advance, but it's first-come-first-serve once you get to the campground. We watched the sunset over the Bay Area, whew, it was spectacular. Hiked to the top of the mountain, to the lookout point, on a trail through the woods and brush. Oh, btw, because it is fire season, campfires are not allowed." – Linda A.
Campground Details:
Price: $59
Number of sites: 30
Fires allowed: Yes
Pets allowed: Yes
---
RV camping in San Francisco is your gateway to mountaintop views, miles of hiking trails, and some of the best fishing in the state. There's no better way to enjoy the bay than setting up camp in the most beautiful scenery it has to offer.
---
Banner & Oak has you covered. Don't leave your snapback hat behind on your trip to check out any of these RV camping spots in San Francisco.
Popular Articles: