Rising 2,421 feet above sea level, the titular mountain in North Carolina's Pilot Mountain State Park is a remnant of the ancient Sauratown Mountains, and one of the state's most iconic geological features. Located in the northeastern part of North Carolina, just 16 miles north of Winston-Salem, Pilot Mountain has stood for millions of years as time and the elements eroded the peaks surrounding it.
Today, Pilot Mountain looks as though it has risen abruptly from the ground. That impression is due to the rock being a "monadnock," a rock formation that stands high above a flat plane below, appearing almost suddenly formed.
Pilot Mountain is capped by two pinnacles, aptly called Big Pinnacle and Little Pinnacle. Big Pinnacle rises 1,400 feet from the valley floor and has exposed walls of bare rock. The top of Big Pinnacle is covered in vegetation. A narrow saddle connects Big Pinnacle to Little Pinnacle. Hikers love Little Pinnacle for its easy access and hundred-mile views.
The Camper's Guide to Pilot Mountain State Park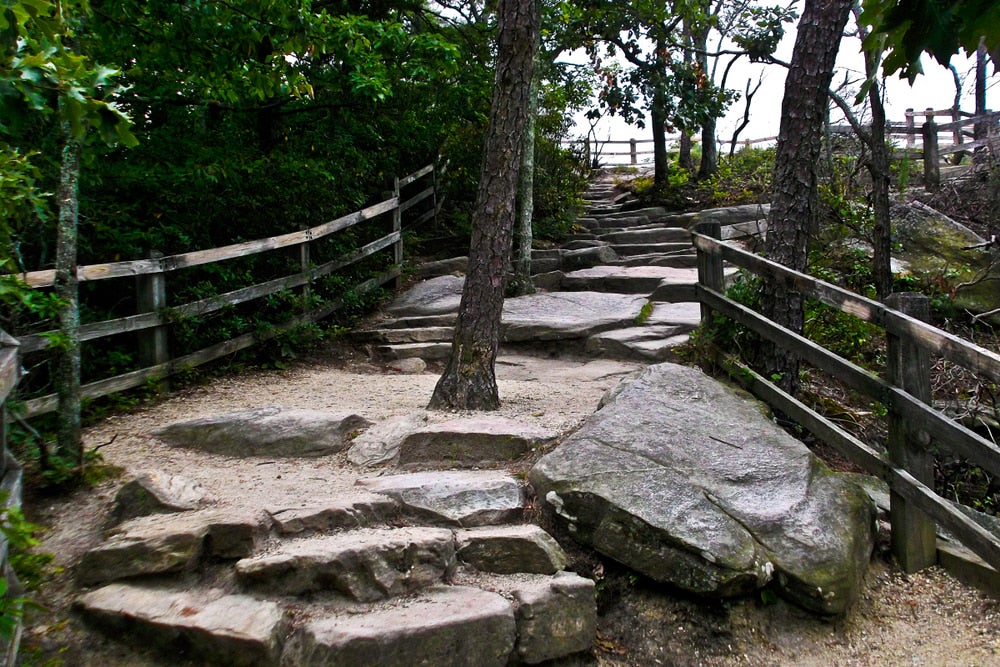 Pilot Mountain State Park draws visitors from around the state of North Carolina and is a popular spot for camping, hiking, biking, paddling, climbing and fishing. Here's what you need to know to play and camp at Pilot Mountain State Park.
The History of Pilot Mountain State Park
The earliest-known inhabitants of Pilot Mountain were the Saura Indians and called the rock Jomeokee, meaning "Great Guide" or "Pilot." The mountain earned the name because Native Americans and early Europeans used it as a guidepost while hunting.
In 1751, Joshua Fry and Peter Jefferson—the father of President Thomas Jefferson—mapped the entirety of the mountain. Once North Carolinians had a sense of the unique rock feature they had in their backyard, the mountain area turned into a commercial tourist attraction, until an effort to protect it from further commercial development lead to the area becoming North Carolina's 14th state park in 1968.
When Should I Go?
Pilot Mountain State Park is divided into three sections: the Mountain section, and the North and South Yadkin River sections. The North and South River Sections are 10 and 20 miles, respectively, from the Mountain Section of the park and have different operating hours; check on the state park's website for opening and closing hours of access. All of Pilot Mountain State Park is accessible year-round, while camping is limited from mid-March to the end of November.
What Can I Do?
Hike (and Learn)
The nearly 4,000 acres of Pilot Mountain State Park offer many miles of trail to explore by foot, horse or canoe. The park has 13 hiking trails to suit all levels and abilities, including the half-mile round-trip Pilot Mountain Kids Track Trail that offers great views and is easy on little legs, and the Mountains-to-Sea Trail—North Carolina's 1,175-mile hiking trail that enters and exits the park. Kids and adults alike enjoy the educational and interpretive programs held regularly by rangers in the park, often including a walking tour of one of the park's many areas. Check the park's events calendar for a list of upcoming events.
Swim, Paddle and Fish
Paddling is a well-loved pastime at Pilot Mountain State Park. The Yadkin River Pee Dee Trail, a 125-mile trail that follows the course of the river, runs right through a 2-mile stretch of the park. It's also possible to raft the river at certain times of the year. Canoe rentals are not available from the park, so make sure to bring your own. Pilot Mountain State Park is also popular with anglers. Sunfish, crappie and catfish can be caught in the Yadkin River. Make sure to obtain a state fishing license before casting your line.
Find a Thrill
For those looking for a more physical adventure, climbing and rappelling are two of the most popular activities in the park. Pilot Mountain's rocky cliffs offer a challenge even to experienced climbers, and comparable climbing is hard to find in the state. Climbers must register with the park by completing a free climbing and rappelling registration and activity permit, available at the kiosk in the Summit parking lot. Climbing is permitted only in designated areas and is not allowed on the Big Pinnacle itself. Experienced cyclists yearning for hills often bike the park's main road, as there are no mountain bike trails in the park. The road averages a 10-percent grade for 2.5 miles and has sections of a 16-percent grade. Biking in the early morning hours is the best way to avoid traffic.
Where Should I Camp?
At the base of the road winding up to Pilot Mountain sits the Pilot Mountain State Park campground, a 49-site campground for tents and trailers huddled beneath oak and hickory trees. Select sites can accommodate RVs.
Each site has a tent pad, picnic table and fire pit/grill. Potable drinking water is available at the campsite and so are bathhouses with flush toilets and hot water showers. There are no hookups at the campground.
Additionally, the park offers two canoe-in campsites available by reservation. No water or toilet facilities are provided at these sites.
Popular Articles: