Have you ever wanted to escape the demands of modern life and spend weeks (or months) in the woods? Two long-distance hikers are sharing their journey on the AT and the PCT, and showing how you can do it, too. 
Join us for first-hand accounts as they tackle the country's most iconic long-distance trails; the Pacific Crest Trail and the Appalachian Trail. Jenny R. and Shelly B. are both hiking enthusiasts with busy lives that make it difficult to take a whole summer off. So they're covering sections of the trail instead of going end to end, proving that you don't have to take off for months to experience the thrill of thru hiking! Jenny and Shelly are each testing out a Gregory Maven Pack to see how it holds up for long-distance hikers.
---
In this first installment we'll meet Jenny R. who hiked the Oregon section of the Pacific Crest Trail with her husband Jeremy, their dog Delilah, and her Gregory Maven 55. Jenny shares her journal entries from the first third of this epic hike.
Read on for tales of the hikers' bear sightings, blisters, and gorgeous views of Oregon…
Day 1: First Steps of a Long Journey from the California Border
We are excited to be on the trail at last. We were surprised to see so many through hikers at camp but loved hearing all their stories and learning about their gear.
Definitely pushed ourselves in miles today. Made it to our goal campground but with lots of foot pain, mainly blisters. Spent last night with 10+ through hikers (started in CA). They told great stories and it was a great learning experience.
It was interesting to see a lot of couples hiking together, then they join up with a single or two. We had to carry Delilah's backpack for a while today. She was hurting on some of the uphills later in the day. She (and we) made it though.
Scenery was beautiful! Saw Shasta most of the day. Snow was a savior for Delilah late in the day. She rolled and played in patches of it so hard—super funny.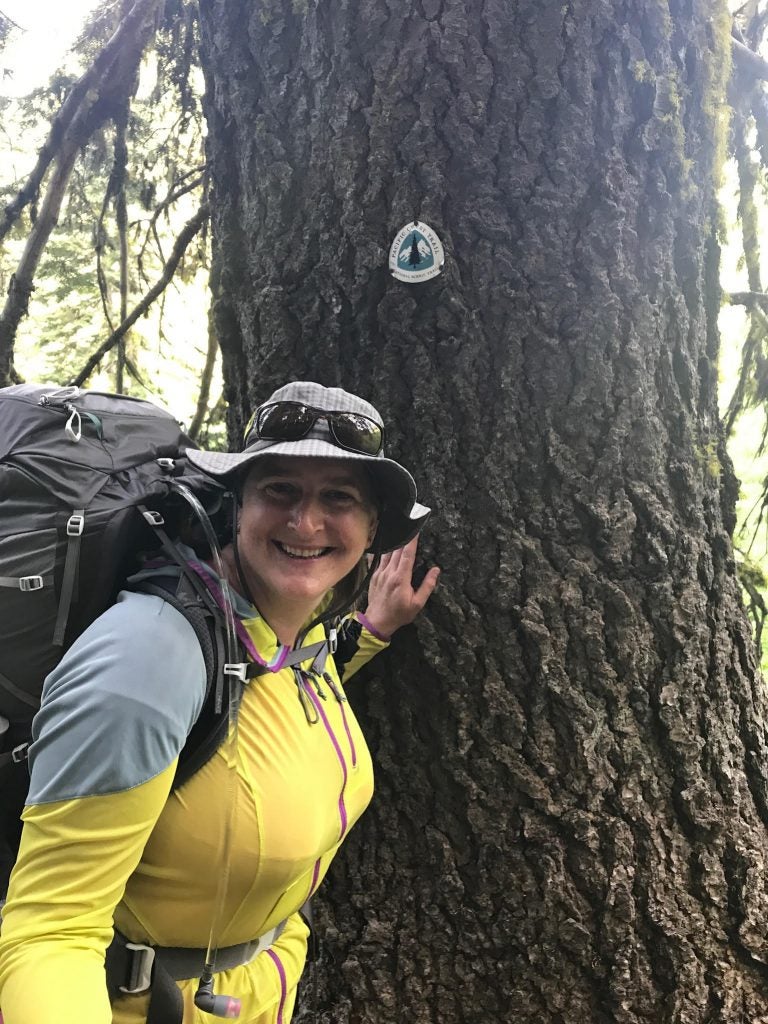 Jeremy had massive blisters from yesterday and they were bad today. This made for short and slow going. Good thing it was mostly downhill and easy terrain today.
We are sleeping at Callahan's today—nice soft grass under our tent. We also got showers, laundry and a free beer. Ate lunch at the restaurant. We also did a shakedown of our gear to cut weight. We are planning on going into Ashland tomorrow so we will mail it all home. Cutting the weight was great but Jeremy and I bickered a fair amount about it. Starting to show some frustrations on both sides.
Day 4: Ditching the boots in the Backcountry, near Pilot Rock
Had a pre-trip unplanned trip to Ashland today to get new shoes for Jeremy. The boots just aren't working for him and his blisters are bad. I am doing okay and want to stay in the boots. We hitchhiked into Ashland from Callahan's and got a ride from a Brazilian in a POS Subaru—I thought it would fall apart on the interstate.
Mailed our package of excess weight (almost 12 pounds including shoes) but I was feeling ready to be back on the trail. We were both starting to get irritable the more time we spent in town—plus it was really hot. Took the Yell-Oh taxi back to the trailhead and managed to make it a good day hiking.
Day 5: Bear sighting in the backcountry
It was a long day today. Hiked more miles than we were planning. We starting walking by 6:30 and didn't stop until close to 9. Part of the long day was due to not good water for 10+ miles toward the end of the day and a super sketchy campsite near good water. So we filled up and continued on to a better spot.
Delilah was really feeling it by the end of the day and was tired. I think we have pushed close to her max.
Jeremy came upon and scared a bear today—at the bear scared him! Pretty cool to see up close.
We passed out last night! Got into camp late, made food then right to bed. We were so tired.
We made it to Hyatt Lake and our first resupply box in the AM. Jeremy hiked in and the owner came down to the road and picked me and the dog up to take us to the resort. The lodge is amazing—super friendly staff and great food. They are very hiker friendly. We had a hearty breakfast and picked up our box. Yay we made it to our first box but it made our packs heavy again.
Delilah was hurting so we are glad it was a short day. Definitely learning how to hike with the dog with regards to her needs vs. ours. Hopefully her ankle—which seems sore—gets better tomorrow.
We met 2 women hikers—hard core trail hippies. Got to the campground for water and I wanted to get back to the trail to keep going but we decided to stay at Klum for the night. Had an amazing shower which was needed and we washed our clothes. Still have our huge heel blisters. I popped one and there was lots of fluid.
---
Stay tuned for Part II and III as Jenny shares her journey across Oregon on the Pacific Crest Trail! We'll also be joining Shelly B. as she hikes on the Appalachian Trail. 
Popular Articles: