Have you ever wanted to escape the demands of modern life and spend weeks (or months) in the woods? Two long-distance hikers are sharing their journey on the AT and the PCT, and showing how you can do it, too. 
Join us for first-hand accounts as they tackle the country's most iconic long-distance trails; the Pacific Crest Trail and the Appalachian Trail. Jenny R. and Shelly B. are both hiking enthusiasts with busy lives that make it difficult to take a whole summer off. So they're covering sections of the trail instead of going end to end, proving that you don't have to take off for months to experience the thrill of thru hiking! Jenny and Shelly are each testing out a Gregory Maven backpack to see how it holds up for long-distance hikers.
---
When everything you need to hike, eat, and sleep must be carried on your back, your backpack becomes your most trusted companion — or your worst enemy. Every little detail about your bag, from the pockets to the points of contact with your body, can have a big impact on your hiking experience.
AT & PCT: We Put the Gregory Maven to The Test on Both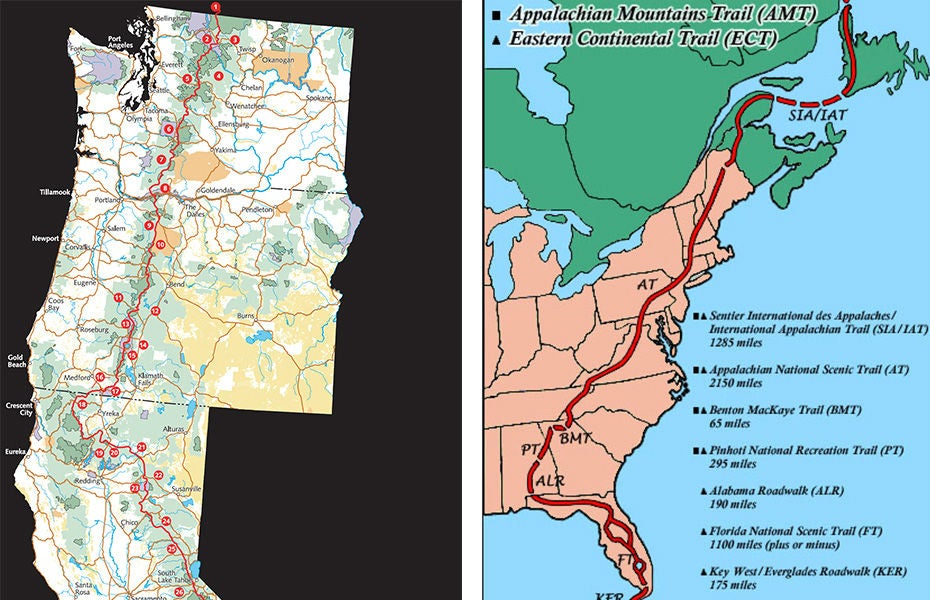 When it comes to long-distance or thru hiking, the Pacific Crest Trail on the West Coast and the Appalachian Trail on the East are the ultimate challenges. So we wanted to know: How does a Gregory backpack hold up on these iconic trails?
Jenny R. Brought the Gregory Maven on The Pacific Crest Trail
Jenny, accompanied by her husband Jeremy and their dog, Delilah, tackled the Oregon section of the Pacific Crest Trail, covering 450 miles from the border of California to the border of Washington. She carried the Gregory Maven 55. Let's find out what she thought…
A good balance of structure and comfort
"The Maven is lightweight but provides a good balance of structure and comfort not really seen in other designated lightweight backs. Even though this pack is not the lightest lightweight pack on the market, it makes up for it in comfort and stability. It does provide a lot of lumbar support which added some of the weight and took a little getting used to but once I got it adjusted and fit to me it was great. The Maven is a half-pound lighter than my original pack with everything on it, but Gregory paid attention to details and I was able to cut pack weight by taking off unneeded items without sacrificing the performance of the pack."
Micro-adjustments for the perfect fit
"Besides having the standard big three adjustments (hip belt, top load lifter, and shoulder straps) you could micro adjust your hip belt forward and back as well your back/torso length up and down. This pack is sized by a range (small/medium or large/extra-large) so you can really take the time to find your sweet spot.
"There was a few days on the trail that the pack and I just couldn't get in sync no matter what I did. This could be because my body had changed enough that I essentially had to refit the pack. Once I did that, everything fell into place and the Maven was essentially an extension of my body again."
Options to cut back weight
"Finally, as I noted earlier, you are able to cut pack weight without sacrificing performance or functionality. Specifically, you can remove the top and any unneeded straps as any potentially unneeded straps are not sewn in rather they are looped through. And while this may seem silly, when it comes to cutting weight, ounces can really add up quickly."
Trouble with free standing
"It doesn't free stand very well, especially if you have any gear in the front mesh pocket. We took the tops off so it didn't have that counter balance to the pack which may be part of the reason. But in any case, the constant need to hold your pack up (or propping it on a tree) while packing or having it tip over and spill out your gear was a bit annoying at times."
Water bottle pouch difficult to reach
"It also has an opening for on-the-go water bottle access. That feature just didn't work for me. Either I wasn't flexible enough or you couldn't have other things in the pocket. In any case, I needed a second person to get water bottle in and out of my side mesh pockets."
Jenny's Verdict
"Overall, I couldn't have asked for a better pack to take on my month long trip. For you ladies reading this, I have long legs, short torso and a large chest and I was able to comfortably fit this pack. They seemed to have designed it with a women's physique in mind. I only got a couple of rub areas on my hips and under my arms but that is standard when you are breaking in a new pack and they didn't hurt."
Read Jenny's full review of the Gregory Maven, and follow along as she shares journal entries from the PCT. 
Shelly Brought the Gregory Maven on the Appalachian Trail
This was Shelly's third time tackling the Appalachian Trail, which she hopes to someday complete in its entirety. This year, Shelly solo hiked from Bellvale, New York (at the border of New Jersey) to Cheshire, Massachusetts (just south of Vermont). She offers feedback and video on how her Gregory backpack handled the hike.
Ventilation helps your back breathe
"The Maven has a Matrix Ventilation System, which provides exceptional ventilation on the pack's back panel. This kept my back from being its usual sweaty mess!"
Side pockets keep your water cool
"The second feature that blew me away was how cool my water stayed in this backpack! With other packs, the water gets warmed up from heat radiating off the hiker's back. This didn't happen with my Gregory pack! Every pull off my water – from the beginning of the day until hours later – provided me with a refreshingly cool drink. I actually questioned other hikers with Gregory packs to see if I was the only one experiencing this – The other hikers, who had different Gregory models, confirmed that their backs and water were staying cooler too!"
Slackpacking in style
"Slackpacking," is when you have someone drive your big backpack to the next destination while you hike with a smaller bag.
Shelly was thrilled to discover the Gregory Maven has a little secret that makes slackpacking a cinch. Check it out in the video, below…
Shelly's Verdict
"I used this pack for 2 1/2 weeks backpacking over 200 miles on the Appalachian Trail through the states of New York, Connecticut, and Massachusetts. The Maven did an outstanding job keeping my possessions organized and dry as well as keeping me comfortable and happy on the trail! This will definitely be my pack of choice for future hikes!"
Read Shelly's full review of the Gregory Maven 55. 
---
Stay tuned for more from Shelly and Jenny's adventures with the Gregory Maven on the Pacific Crest and Appalachian trails.
Popular Articles: